Peter Chalke has been named this year's Ray Geiger Chamber Champion, a prestigious honor usually given to past board chairs, for service to the chamber itself. But perhaps no one in the community has devoted so much time- 33 years, in fact- to bettering LA than Peter Chalke, the recently-retired CEO of Central Maine Health Care (CMHC).
STRONG ALLY
"The chamber needs allies – people who take initiative to do something monumental for the community," says Chip Morrison, recent past-president of the chamber. "Peter is one of those people."
What Is The Ray Geiger Award?
The Ray Geiger Award is the highest honor given to a member by the Lewiston Auburn Metropolitan Chamber of Commerce. It is the chamber's most prestigious award. It is given to an individual who has proven to be a champion of and for the chamber. The award is presented to an individual who has invested a great deal of time, energy, and resources into furthering the chamber's mission and working toward bettering our communities.
Morrison credits Chalke for recognizing that Central Maine Medical Center (CMMC), as one of our community's biggest employers, should play a supportive role within the Chamber, even in light of the hospital's non-profit status.  As an example, CMHC has been a sponsor of the Chamber's Leadership Program for over a decade.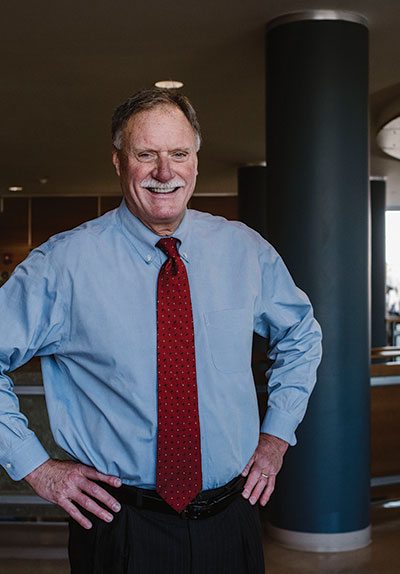 Senator Susan Collins put Chalke in the big picture: "The economic and cultural renaissance in Lewiston Auburn would not have been possible without the outstanding medical services that Peter has fostered," adding, "His extensive involvement with the community adds to his legacy."
Indeed, Chalke has encouraged CMMC employees to volunteer in the LA community. He proudly calculates, "That's 3,000 people 'giving back' in innumerable ways."
Where does such a dynamic leader come from?
MENTORS
Chalke studied economics at Ithaca College, followed by a graduate program at George Washington University. In 1974, Chalke found his first job working under Holyoke Hospital CEO Harold Pine. Strict but fair Pine became Chalke's mentor. Chalke recalls, "Harold treated physicians and nurses the same way he treated the guys in the boiler room."
Chalke would find his second mentor in CMMC's CEO, Bill Young. By 1983, Chalke was certainly qualified to run a hospital, but he chose to be part of CMMC's corporate reorganization effort.
Over the 16 years they worked together, Chalke was given many titles. As Young eyed retirement, he began to groom a protégé to take the helm. Why Chalke? "He built relationships with everyone- from physicians to board members to subordinates."
Chalke certainly adopted Pine's common touch, getting to know every employee. Susan Horton recalls, "It was amazing to go into the hospital cafeteria with Peter and watch him 'work the crowd.' He knows who's on the other side of every handshake."
And in private, he would reach out if employees were going through personal hardship. Colleagues note that he arranged escorts for staff going through domestic situations.
STRATEGIC MOVES
Anyone would be proud to claim just one of Peter Chalke's achievements, let alone all of them. While their sheer number is impressive, they are all driven by one strategy: "To be the provider of choice for the Central Maine region, so people could get all the care they need here." He ticks off a wide range of services including obstetrics, neo-natal intensive care, a heart program, a trauma center, neurosurgery, orthopedics. "96-98% of the care they need is right here, so the 400,000 people in the Central Maine region would have no reason to travel elsewhere."
Chalke views his strategy merely as a continuation of that of his predecessor and mentor, Bill Young. Since his start at CMMC in 1974, Young sought to raise CMMC from a primary hospital, with only 50 doctors, to the next level. He devised a three-pronged approach, which Chalke helped him enact: recruiting specialists, upgrading equipment and expertise, and developing supportive services. Under Young, CMMC became a regional referral, or "secondary" center.
When Young announced his plan to retire in 2000, the Board of Directors considered a national search. However, a consultant determined no candidate was a better fit than Chalke. In 2000, Young retained the title of CMHC CEO, while Chalke became CEO of CMMC. Then in 2001, Young retired and Chalke became CEO of both entities.
From 1983 on, after Young's retirement, Chalke has certainly followed in this path. His development of the Central Maine Heart and Vascular Institute (CMHVI), the only major service CMMC didn't yet provide, elevated the hospital to the coveted full 'tertiary" level designation it now enjoys.
Steve Closson, former CEO of Androscoggin Bank and 15-year board member of CMMC and CMHC, calls Chalke a "visionary." "Being the head of a healthcare organization is nothing if not challenging. You have to be both creative and strategic, and that's what Peter is."
William Chalmers, CMHC board member likens Chalke to a "race horse- fast, focused and dedicated to win," but also cites his "unwavering commitment to the quality of healthcare."
"Hospitals need more revenue than expenses, or they go bankrupt," reasons Steven Michaud, President of Maine Hospital Association. "Peter would always bring it back to what was right for the patients."
TEAM APPROACH
The Geiger award notwithstanding, Chalke insists he didn't do this work alone. "I had the CEO role, but I couldn't have done anything without the 3,000 people working at that hospital," Chalke insists. "Healthcare is too complicated now. With the amount of medical information coming out on a daily basis, no one knows it all."
The team model isn't just ideology for Chalke; there is a practical result. "If everyone is working independently, there will be a tendency to do more – more tests, more surgery, more errors. If there is a team, you're more likely to say, 'What does this patient actually need and how can we provide that care?'"
ACCOMPLISHMENTS – Physicians groups
One of Chalke's major accomplishments has been expanding the Central Maine Medical Group. In 1990, CMMC started a physicians' group in response to primary care doctors' lament that the business of medicine was taking more time than practicing medicine. Now CMHC has 400 providers in 82 practices on its hospital campuses as well as in 17 towns around the region.
Rumford and Bridgton hospitals, once run under a management contract, became subsidiaries of CMHC in 1999.
"Peter was key in establishing trust in those small rural communities, and CMHC was interested in making these hospitals stronger," says Laird Covey, former president & COO of Bridgton Hospital, later COO and finally CEO of CMMC.
ACCOMPLISHMENTS – Trauma Center
The research shows that, if you should incur a multisystem trauma, you have a better chance of survival if you can get to an operating room within the first hour – the "golden" hour. Beating that hour poses a real challenge in a rural state like Maine, but CMMC rose to it, creating a practice for surgical critical care and trauma surgery.
"Peter took a big gamble on it," recalls Dr. Larry Hopperstead, Chief of Trauma Surgery. Offering trauma care was a substantive investment in the future, but both risk and expense were enormous, and expectations had to be realistic. Resources, training, and staffing had to be just right, in order to support the critical needs of patients.
"It's like a surfer riding a wave," says Hopperstead, "you can't get ahead of it…taking next steps, but not jumping into phase II too early. The timing of enhancements was excellent."
He also credits Chalke for bringing in the best physicians, and supporting them passionately. While establishing high expectations for them, he also found the means for staff to reach this new horizon.
Put in perspective, the success of the trauma center can be seen as a stepping stone to future service opportunities like Lifeflight, which Hopperstead likened to "a Good Housekeeping seal of approval," and the heart center, making CMMC a comprehensive yet specialized hospital. If trauma was a gamble, CMMC has seen an impressive payout on the bet.
ACCOMPLISHMENTS –  Lifeflight of Maine
Lifeflight of Maine was designed to meet Maine's geographic challenge: some patients were just too far from critical care. Created by a supergroup of healthcare leaders from CMHC and Eastern Maine Medical Healthcare, Lifeflight would provide emergency helicopter services for the entire state.
When it began in 1998, Governor Angus King said, "Maine just got smaller."
"That was a team, a well-oiled machine that got things done." Chalke recalls. "We hired good people. It's not just providing leadership to the team, it's getting the right people on the team.
Tom Judge, Executive Director of Lifeflight and Lifeflight Foundation, was one of those 'right' people. Judge had unique experience in paramedicine development and policy. However, Judge feels Lifeflight's system design was more important to its success. "It had to be clinically-led, not market-led, and based on safety, reflecting the ethos of what's important about medicine: community"
"Peter's desire to do 'the right thing' was remarkable," notes Judge. Running down a list of Chalke's leadership traits, "He could implement a vision, work hard, and hold people accountable without micromanaging," he added, "but he was also willing to change in the face of evidence."
Judge says Chalke built a culture that embraces change and can, therefore, accept more risk through accountability. Perhaps that's why Lifeflight was accredited after only 5 years in operation; after 10 years, it was named 'best in North America' for its impeccable safety record.
Under Chalke's leadership, Lifeflight added a fixed wing aircraft last fall, and has ordered a third helicopter which will serve the southern part of the state. To date, this non-profit emergency air transport operation has served over 20,000 patients and every hospital in the state of Maine.
ACCOMPLISHMENTS – CMHVI
Chief among Chalke's accomplishments is his role in developing CMMC's Heart and Vascular Institute (CMHVI), offering advanced cardiac care.
When a study revealed that Central Maine residents were traveling long distances for cardiac care, CMMC explored whether they could support a heart program.
Chip Morrison credits Chalke for leading a community-based effort to garner state approval. Recognizing the long-range importance of this initiative to the region, the Chamber supported his efforts.
'"We asked for a proclamation from Lewiston and Auburn to support the heart program, and 30 more came in from other towns in the region," Chalke beams.
Then CMMC held a mandated public hearing, the type which typically draws a very small turnout. Chalke recalls remarking to former CEO Bill Young, "This could be very good, or very bad."
Hundreds of people showed up.
"People were saying, 'For my heart, I want something close by,'' interprets Chalke. "It was rewarding to have public support."
"The heart center," declares Morrison, "has taken the hospital to a whole new level."
Chalke credits his colleagues, "a multidisciplinary team of doctors working together in best interest of the patient."
And Chalke hand-picked that team, according to Susan Horton, Executive Director of CMHVI. Together, she and Chalke interviewed every physician for the cardiac program. "Peter is great at motivating people. As a leader, he inspires others to strive to be their best."
ACCOMPLISHMENTS – Partnership between CMHC and Boston-based Massachusetts General Hospital
It was relationships that led to CMMC's affiliation with Massachusetts General Hospital. "I would ask our doctors where they send patients, if they need advanced care. I wondered, how could our patients benefit if we worked with one of those institutions?"
When Chalke approached Mass General about collaborating in a strategic partnership, "They said, 'We don't want your patients, just ones that need advanced care.' And they would help us upgrade our staff and services, and bring visiting physicians here."
Mass General has afforded CMMC access to telemedicine consultation, genetic testing, clinical trials, and more. This partnership is poised to grow into the future.
Says Susan Horton of CMHVI, "Knowing my patients can be referred for other therapies at Mass General is very helpful. Patient needs are so complex now that we need partners with quarternary services to be part of our care team."
"We always try to find the best services and physicians for our population," Chalke hearkens back to his strategy, "so they don't have to travel long distances to get it."
ACCOMPLISHMENTS – Establishing The Dempsey Center
Hollywood heartthrob and Turner, Maine, native Patrick Dempsey approached CMHC with the idea of a cancer care program that would provide free support services to patients and family members as they go through their cancer journey. Of course, most of these services aren't covered by health insurance.
What's a CEO to do?
Recognizing its value, Chalke fostered this idea, becoming a founding partner, and envisioned fundraising efforts for the center's self-sufficiency.
And Dempsey services are available to anyone with cancer, regardless of where they get their treatment– even if it's not at CMMC.
"Peter Chalke is a businessman, but he's all about helping people attain a higher quality of life," extols Wendy Tardif, Executive Director of the Dempsey Center.
Tardif was brought in to develop The Dempsey Challenge, an enormously popular annual event, which has raised millions for the center, as well as promoting wellness, since 2009.
Tardif views Chalke as a mentor. "You can bring an idea to him, and he thinks about how it fits into the bigger picture." She recalls, "He gave us the latitude to do our work, and listened to us so we could grow."
Architect Tom Platz, of Platz Associates, also a Ray Geiger Award winner, commends Chalke for recognizing that the hospital needed to 'give back' to the community with the Dempsey Center.
Working together, Platz helped Chalke see how adaptive reuse of the Knapp Shoe building would embody Patrick Dempsey's interest in honoring L/A's industrial heritage. And when Platz showed Chalke the dilemma of fitting services into half a floor, Chalke gave the center a whole floor.
NO REGRETS
"Peter, what are you still doing here?" Chalke heard a few years ago, after a late night workout in CMMC's fitness center. Just a casual question- or was it?
"It freaked me out. Was I supposed to leave?" Chalke was rattled. "It caught me by surprise, but it made me think." Chalke realized how much he enjoyed his job, the community, and the people he worked with.
Does Chalke have any regrets? "No, not for staying here for 33 years. I kept getting promoted. Bill (Young) would give me another job to do, so I was 'going places' right where I was."
"When I retired," reflects Chalke, "I realized there have been just three people running the hospital over a 65-year period: Dana Thompson, Bill Young and me. That will never happen again. Today, CEOs often turn over every four or five years."
Chalke's father had a difficult childhood. But he served in WWII, retired  after 20+ years in the Marine Corps as a full colonel, and became a successful businessman. He had told a young Peter, "You never want to retire and say 'I wish I had done this or that…'"
No chance of that, for Peter Chalke.