by Michael Krapovicky | photography by David Fuller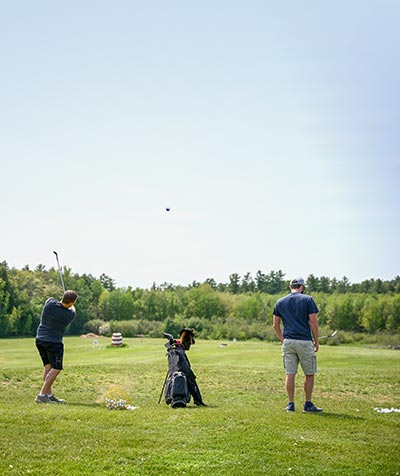 Roy's All Steak Hamburgers & Golf Center, on Rt. 4 in Auburn, is much more than merely a stop for tourists on the way to their lakefront camps, and a place for LA residents to enjoy themselves. Roy's is known for it's delicious fare, and family activities of all sorts – but also as a fixture of the Auburn business landscape, providing employment to many just entering the workforce. Established by Michael Roy, a brilliant entrepreneur and family man, and his equally industrious wife Jeannine, Roy's All Steak Hamburgers & Golf Center is presently owned by Michael's son, Jon, and his wife, Ashley Roy. They honor their predecessors' legacy by continuing the operation of a family-owned, family-enjoyed, LA institution.
Father of Roys
Michael Roy worked with his father Gerard and brother Regis at Roy's Foodland in New Auburn. Michael was primarily a butcher there, and his goal was to make "the perfect hamburg." He went on to turn a simple sandwich stand on Minot Avenue in Auburn into The Big S, a successful restaurant and tavern. However, Michael, a devoted family man, was looking to move away from a nightlife-centered business, and was inspired by his pleasant childhood memories of visiting Old Orchard Beach with his parents. He envisioned a place like Wassen's Grove in OOB – with simple food served quickly, and games that folks of all ages could enjoy – right here in Auburn.
"I was in the sixth grade in 1983 when my parents bought an old farmhouse and the surrounding land just beyond Lake Auburn," Jon recollects. "Once his management team at the Big S was in place, he began working demolishing old buildings, tearing down the original structure and rebuilding the house with all repurposed lumber."
Within a year from completing the family home, Michael Roy built a small facility with a simple kitchen from similarly salvaged materials. Shortly afterwards, Jeannine and he started the business Michael had foreseen, and began plans to implement such amenities as batting cages, a driving range, and eventually, a nine-hole golf course they named Pine Acres.
"One of the biggest reasons we are successful is how hard Michael and Jeannine worked – the hardest working people I have ever known," Ashley asserts. "Their dream day was getting daily tasks done, alongside family."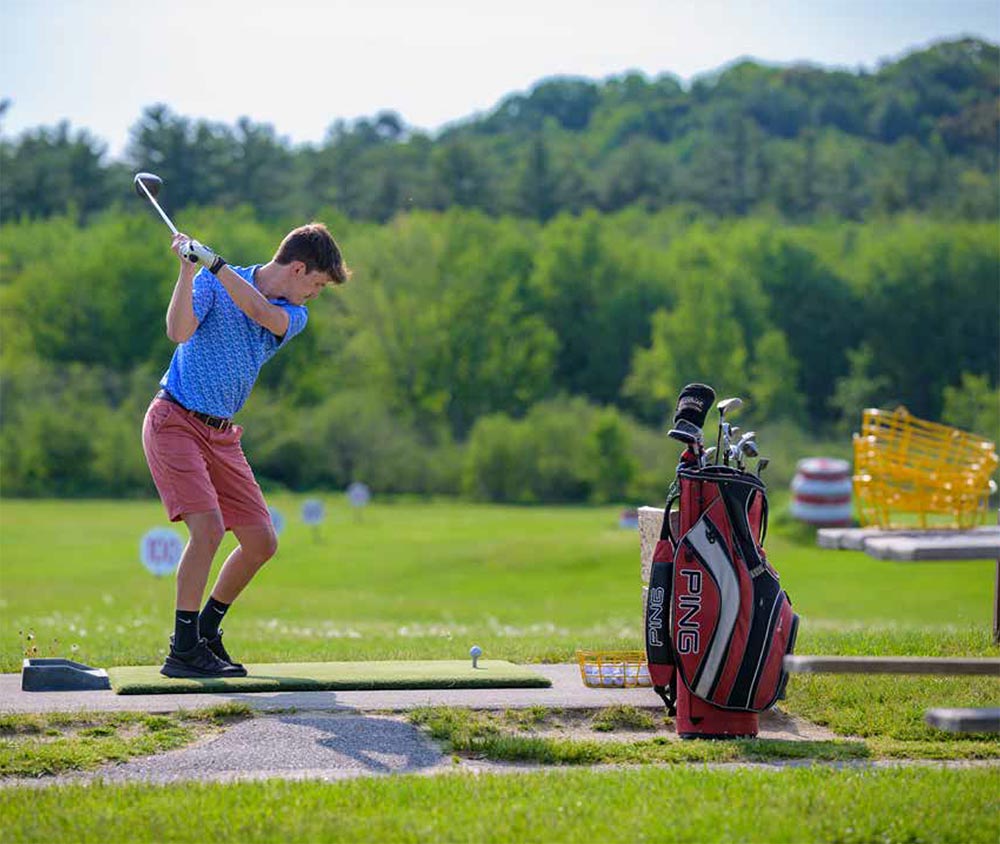 Love of Burgers
Ashley and Jon could attribute their entire relationship to Roy's All Steak Burgers.
"Our first date, we fired up the grills here and ate an obscene amount of hamburgers," Ashley mirthfully relates. "I love a Roy's burger."
As the two continued dating and eventually married, they transitioned into working at the restaurant more and more as full partners with Jon's parents.
"His mother taught me so much about the job – how to clean things properly, time-management, what order to prepare food items, just the basic day-to-day routines." affirms Ashley. "Jeannine trained a lot of young people on their first job, teaching them the basics that they could take on to other employment, building relationships that would last into their adult lives."
Ashley held equal respect for Michael, especially with his work ethic and problem-solving skills.
"Michael loved a challenge, and was always looking to innovate," says Ashley.
"After he saw me lugging hoses all over the landscape, he built me a water wagon out of an old riding lawnmower he had, which saved me a lot of work."
Passing the torch
Jon Roy's initial plans for his future was not necessarily to follow in his parents' footsteps.
"I didn't think I would continue with the family business," admits Jon. "I told my parents it would be too hard, and went on to study mechanical engineering at the University of Maine at Orono."
Yet, Jon realized his own fortune as a child growing up next to a recreation hub like Roy's, and wanted to share that with his own children – Ava, Grace, Lilah, and Wyatt.
"I had a lot of fond memories here as a family," recalls Jon. "It's a great experience living right next to the property and working alongside your kids."
"Its a great family business, with the kids helping out – picking up trash and washing golf balls," Ashley agrees. "Every day has different trials and tasks to overcome – it helps kids appreciate where things come from."
Jon purchased Roy's All Steak Burgers and Golf Center from Michael in 1998, and with the help of his father, set out to put his own ideas into play.
Mini-Golf
One of Jon Roy's first improvements to the establishment was to build an outdoor, 18 hole mini-golf course.
"My father bought an indoor/outdoor miniature golf course made from pressure-treated wood," states Jon. "One of the first things I did when I came on board 25 years ago was develop a better course."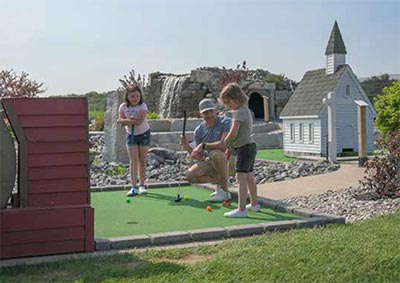 Laying all the stonework, and building a culvert were a few projects that Jon spearheaded over time. He utilized pieces of curved granite, using cardboard templates to get the angles correct. Over time they added a natural water feature, with cascading waterfalls, ponds and streams. A trench system helps to keep the water away from the stonework, and also if the ball goes into the water, there is proper drainage so they can be easily retrieved.
"It was a really fun thing to do – it's a whimsical thing to build a golf course, using your imagination to figure out what obstacles would be the most fun," Jon attests. "There are hidden passageways to discover the more you play, and ways to get an easy hole-in-one – if you know the tricks."
Ashley also was able to use her artistic side to adorn the course's features.
"I added iridescent mosaic tiles to the obstacle over the winter break, cutting and gluing all the pieces,"  says Ashley. "We really have something the whole family can be involved with, creatively."
The water feature has no chlorine as it is filtered by plant-life, requiring extra maintenance, and there is a significant amount of upkeep required to keep the flora in working order.  But the Roys take that as par for the course.
"We like doing landscaping stuff, moving trees to a more optimal location, things like that" says Jon. "The flowers are a lot of work – the pruning, weeding – but the middle of summer, when everything is in bloom, that's when it's really impressive."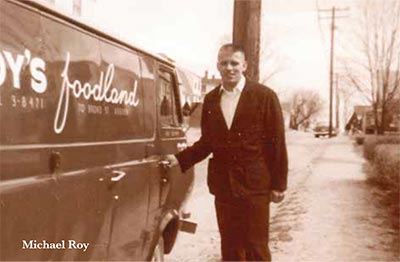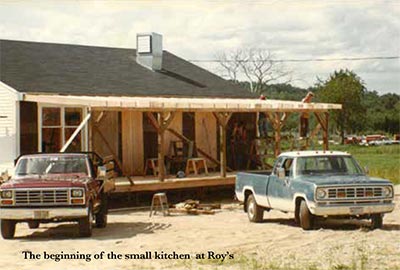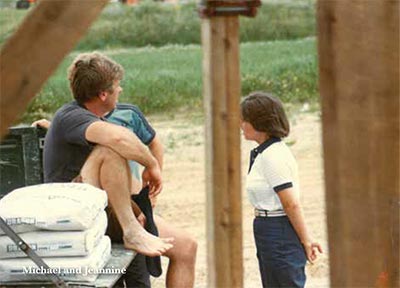 Disc golf
Udisc.com, a popular website, has rated Lewiston Auburn the number one city in the US for disc golf, and the Roys sought to capitalize on the burgeoning trend. The Roys converted Pine Acres into an 18-hole disc golf course in 2018, when Michael was 75 years old.
"Together we converted it into a disc golf course – put in all the concrete pads, and baskets, everything we needed," says Jon. "We had a guy named Ben Dunlop help us with the design, developing the property to its full potential."
The elder Roy was particularly enamored with the activity.
"My father loved being part of this growing sport," recalls Jon. "He would talk to the disc golfers, listening for the newest changes and improvements, and would tell them 'we won't stop until we're the best'."
The conversion made sense to the Roys and has many positive aspects.
"Disc golf is a growing sport, requires much less maintenance than a ball golf course, and brings in more families and children," says Jon. "We are still adding more features to the disc golf course to improve it."
Customers can play by the round or an entire day, and the sport is fun for all ages.
Keep it simple
The family tradition is steadfastly adhered to at Roy's.
"My father's motto was keep it simple, have a limited menu but do what you do better than anybody else," Jon attests. "We've tried to keep to that same principle – streamline, just offer the best product we possibly can."
As did Michael and Jeannine, Ashley and Jon use tried-and-true methods with a seasoned eye for quality in their food preparation.
"We do things the same way as our parents did it – we cut our own choice steak and grind it into hamburgers, and we hand-cut our french fries.
Although they stay faithful to the original Roy's model, Ashley and Jon still are constantly adapting and improving.
"We've added on to our ice cream menu – it's much more diverse than it ever has been," says Jon. "We have soft-serve and hard, constantly offering new flavors."
Tradition
A big draw is the activities offered at Roy's, much as Michael predicted. In addition to their miniature and disc golf courses, they have batting cages, a driving range, and host occasional Cruise and Bike Nights. For many, a visit to Roy's has become a summer tradition, with a lot of folks making it a destination spot when they are visiting other Maine locations. Route 4 is well-traveled, and there is a wellspring of positive comments from tourists and residents of Maine who have had enjoyable times with their families over the years.
First jobs
A well-managed and fostering work environment has led to a low turnover rate with their staff over the years.
"We've had employees that have worked here as long as I've been around," Ashley maintains. "Entire families have worked here over the years, all the siblings."
Even after continuing their education or obtaining other employment, former employees would often return to work for Roys for supplemental income or as they were needed.
"They move on to other full-time jobs, but still would do occasional shifts at Roy's when their availability allowed," says Ashley. "We're very lucky."
Monumental
The community had a great loss in 2022 with the passing of Michael Roy. His obituary states, "A man who could and did accomplish anything he set his mind to, he worked tirelessly to provide for his family. He will be remembered for his strong work ethic, teasing jokes, fearless nature and a confidence that was unparalleled."
"Losing Michael this past winter was such a big blow for us," expresses Ashley. "He was here every day, he could fix anything, and he was the most easy-going man I've dealt with."
The Roys owe much to their father's perseverance, courage, and vision.
"Michael was such an amazing man  – he really took a chance back then, will this investment work, he was never afraid to follow his dreams and make his dreams a reality," Ashley says. "Even though he had attained success, he was never afraid to change – he was fearless in that aspect."
"He made a large impact on the community, hired a lot of people over the years," adds Jon. "I'm getting a lot of condolences from customers stopping in, telling me stories."
They plan to further recognize Michael's contributions with a commemorative tribute.
"We are having a monument made in his honor," Jon reports. "Without him, none of this would be here, and he was really proud of what he'd developed."

The Future
The Roys have many goals for the future – chiefly to promulgate the legacy left to them by Jon's parents.
'We are trying to maintain the same level of quality that Michael and Jeannine established, in their honor," Jon avows.
Continued prosperity and making changes for the better inspire Ashley and Jon as they look to provide for the next generation.
"One of our goals is to make the business successful enough that one of our kids would be willing to take it over – they all have dreams of their own," Jon states. "The legend of Roy's is that it's always evolving – what's the next thing – and we hope the kids will follow in our footsteps."
Roy's All Steak Hamburgers and Golf Center
Auburn | RoysGolf.com