Written by Donna Keene Rousseau | Photography by Brewster Burns
It's been thirty years since Lewiston-Auburn hosted its first Great Falls Balloon Festival. After a two-year hiatus, while the world adjusted to a new normal due to COVID-19, it seems apropos that the 2022 theme was "Returning from the Wild" with specialty shape balloons that included Simba the Lion and Tico the Sloth.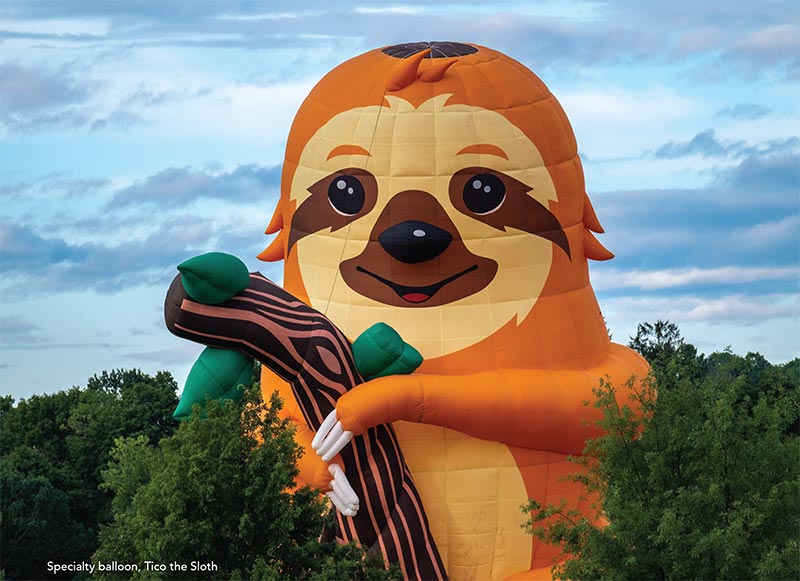 Floating the dream
With the skyline dotted once again with the magic of hot-air.balloons, it certainly was a celebration marked by local Maine pilots and those from across the country. The event also celebrated the return of pilots who flew in the first festival: Joel Jones of Alabama, Bruce Bryberg, Remax balloon from New Jersey, and Randy Lee from North Carolina.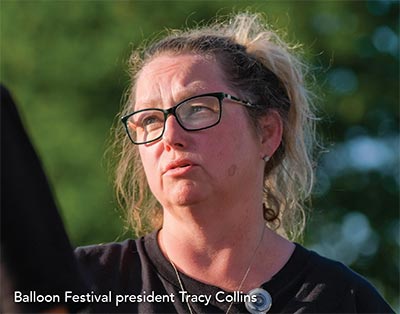 Tracy Collins, Great Falls Balloon Festival President, says it was two years of start and stop due to the pandemic. "It saddened the Board [not to be able to bring the festival to the community], but we believed we would hit the ground running in 2022. We decided to start fresh with a fun theme," she says.
It was in 1992 when a group of civic and business leaders, along with interested community members, conceived the idea of a hot-air balloon festival. The goal was to help raise money to support area non-profit organizations while positioning Lewiston-Auburn as a destination spot for fun and recreation. As the event took shape, the Board of Directors worked gathering sponsorships, vendors, volunteers, and entertainment, as well as pilots, to create a weekend full of colorful and majestic balloons, music, food, and fun. As a result, the first Great Falls Balloon Festival lifted off in 1993.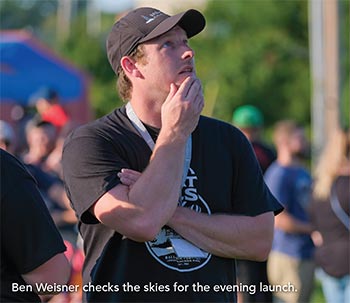 Balloon Meister, Ben Weisner, says over the festival's history, the number of balloons has ranged from ten to twenty, with this year's event featuring thirteen in attendance.
"The festival is by invitation only," explains Weisner. "We send out invites to those that have come before and new balloons we find during the year."
At the planning of each new festival, the Board of Directors pool their ideas for event themes. Once chosen, they begin searching for interested pilots and balloons that illustrate the theme. A pilot information page found on the festival's website also helps the efforts in fielding pilots interested in flying in the event.
Piloting with purpose
Lewiston-Auburn's location along the Androscoggin River, combined with its cityscape of bridges, spires, and outlying countryside, make for bountiful, sightseeing flights for pilots and their riders. Wherever the wind takes you determines what anyone might discover from a bird's eye view while floating above and beyond liftoff.
Weisner says many pilots welcome the opportunity to rally around the mission of raising funds for community non-profits. He adds that most balloon rallies do not have the variety of offerings their festival does, contributing to interest in participation. After morning and evening flights depart, there is much to do.
Food booths, from lime rickeys to tacos, and everything in between, are available to tempt every palate. In addition, craft vendors, live music, and various other activities make for a lively weekend for festival goers and pilots.
Historically, hundreds of thousands of dollars have been raised by non-profit organizations during the festival, with the economic impact in excess of 2.3 million dollars for the community, sixty-five percent of which stemmed from outside the community. The economic benefits of hotels and other area businesses stretch far beyond the flight fields. Collins says a new economic impact study is currently underway.
On average, the festival has attracted over 100,000 visitors throughout its weekend, traditionally held during the third weekend in August. According to Collins, this year's event, in the preliminaries, showed an increase in revenue compared to the 2019 festival.
Beyond a crew
As pilots need a chase crew, the Great Falls Balloon Festival also requires many hands for the event to take flight. Like so many events and businesses, COVID-19 continued to affect the planning for the 2022 festival; sponsorships, vendors, and supplies, including food and propane, were difficult to secure due to a lack of employees and funding. "Many organizations couldn't find enough employees or financially couldn't make it work," explains Collins. She says sponsorship income helps the Board in securing medical and security staff necessary for an event of this magnitude; in-kind donations from Lewiston and Auburn help manage the use of public works, police, and fire departments.
Logistics for the event include permits for parking garages as well as the use of Simard-Payne Memorial Park and Festival Plaza. With light towers, wiring, porta-potties, staging, and tents, it is a substantial undertaking for the Board, all of whom are volunteers. "It is a struggle every year to find volunteers. From balloon crews to general volunteers, we need, on average, between 40 to 70 volunteers," says Collins.
Learning to fly
Flying in the air with the greatest of ease takes a village, and for a balloon festival, that village includes trained pilots. According to Balloon Meister, Ben Weisner, and Jim Rodrigue, a local Maine pilot who has flown with the festival since 2000, the criteria for becoming a private pilot is no small endeavor.
"A balloonist goes through all the same training as a fixed-wing pilot," explains Rodrigue.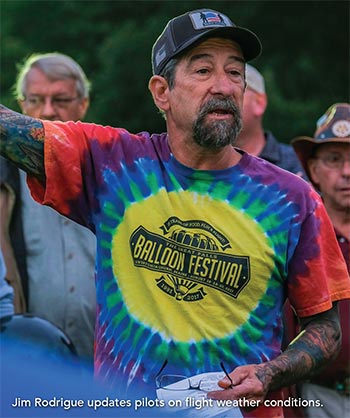 Weisner says pilot criteria includes age appropriateness (candidates must be 16 or older), the ability to read, write, and speak English, health that permits the ability to operate an aircraft safely, and completion of the Integrated Airman Certification and Rating application to obtain a student pilot certificate. From there, student pilots must complete 10 hours of flight instruction with a seasoned pilot, pass the Federal Aviation Administration's written knowledge test, and pass an FAA inspector's oral and flight practical knowledge test.
Rodrigue, who began crewing for his cousin in 1994 with the Bearship and had his first ride in 1995, now holds a private and commercial license for piloting a balloon. During the 1996 festival, after crewing for Bill Whidden and his Skyballoon, Rodrigue finally caught the piloting fever.
"Bill gave me my first lesson after the festival, and I was hooked. I took my lessons with my cousin and earned my private license in 1999, followed by my commercial license in 2000." He has owned two commercial balloons, built two amateur balloons, and has been with the festival since 2000.
Sky-high hobby
The cost of a balloon can vary considerably depending on the size, shape, and manufacturer. Rodrigue purchased his first balloon used for $4,500. He later upgraded to a larger, used balloon in 2007, investing $11,000.
Used balloons can range between $10,000 and $100,000 for a complete set-up, including balloon envelope, basket, propane tanks, burners, and other accessories. New balloons can start at $30,000 and cost over $100,000.
Then, add the cost of annual FAA inspections, license reviews, insurance, truck, van, and trailer for transport, and you have a hobby, or a labor of love, with considerable commitment.
Rodrigue admits, "It's an expensive hobby, but having a commercial license and charging for balloon rides, it pays for itself."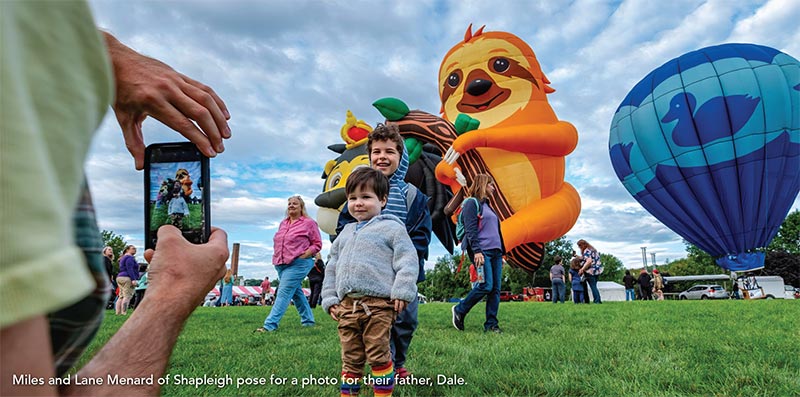 Riding the wind
Rodrigue enjoys flying and sharing "the most magical experience known to man" with others. He says the Great Falls area, settled between the Presidential Mountains and the ocean, with a meandering Androscoggin River, provides an ideal backdrop for riders and pilots alike. He describes morning flights as drifting down river while shore breezes usually take afternoon flights upriver. "Morning flights are also more predictable and provide greater options for landing," explains Rodrigue. "Afternoon flights are sometimes subject to shore breezes and can prove a challenge."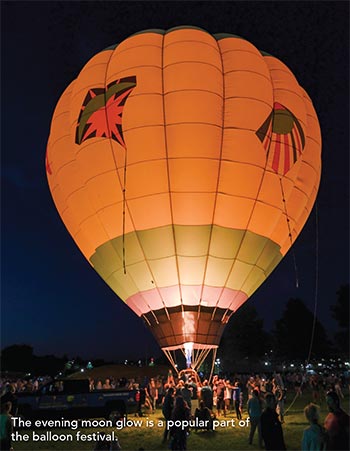 According to Rodrigue, the weather is one of the most significant challenges pilots face. He says a pilot must become an amateur meteorologist to fly safely; weather-reading and weather conditions are part of training – no flying in fog, rain, or thunderstorms. Flying from designated locations, like festival grounds, can be tricky if the weather doesn't cooperate. A pilot never wants to disappoint a rider, but the responsibility for safety comes first.
In his normal operations, Rodrigue has several locations to fly from depending on wind direction. FAA rules and regulations, air space regulations, and especially weather are all part of a pilot's ground training to ensure flying safety. Pilots fly from the designated location at the Great Falls Balloon Festival. Weisner says the Board is looking into satellite locations for future events.
With 28 festivals under its belt, the Great Falls Balloon Festival and Lewiston-Auburn have made their mark state and country-wide. What began in 1993 has become magic in the sky, benefiting numerous non-profits while bringing awe-inspiring fun for the multitudes, traveling from far and wide.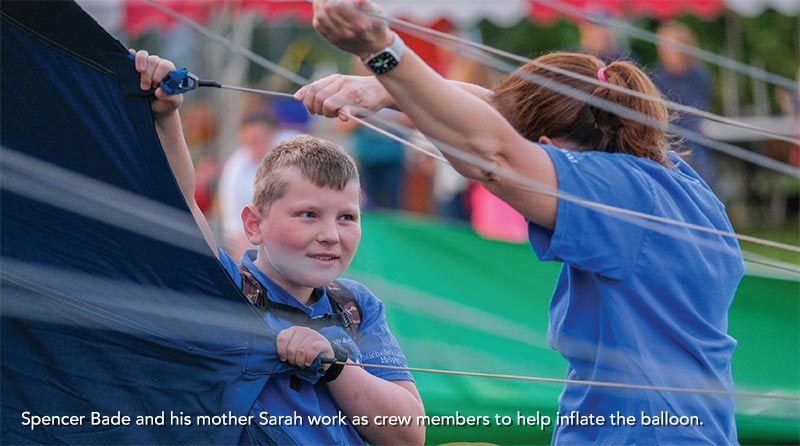 Happy landings
Following every festival's end, volunteer board members take some well-deserved time to decompress and celebrate another job well done. Planning begins for next year in early fall. By January, the team will be in full swing, hammering out the details for the following festival.
There is something to be said about those who remain dedicated to bringing the Great Falls Balloon Festival back to Lewiston-Auburn year after year, like Steve Ness and Don Grant, who have been with the festival since its inception. It's a lifting up of a community and its people; it's pride in living and working, raising families, and celebrating life, right here, in Lewiston-Auburn on the banks of the mighty Androscoggin. And it's an invitation to anyone from anywhere, welcoming them to join this family community for some high-flying fun and happy landings.
Great Falls Balloon Festival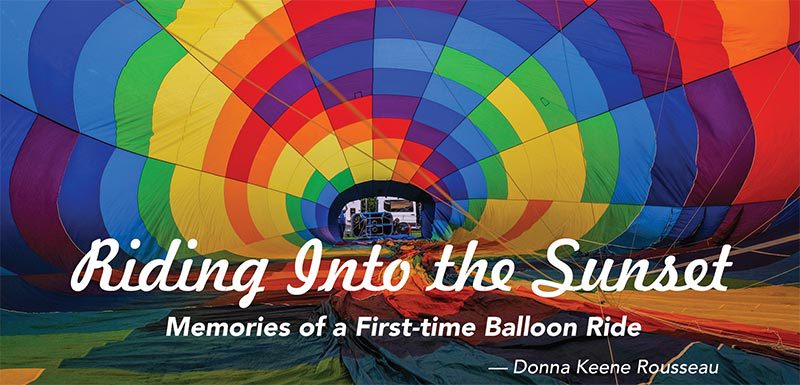 As a festival board member back in its earliest years, I had my first balloon ride with then Balloon Meister, Dr. John Reeder. At the time, I was convinced I did not want a ride, but the team insisted as I was the only member who had not gone up.
My experience began by being lifted over the substantial basket's side amid many crew members and onlookers. I was so nervous that I immediately sat at the bottom of the basket. It took some convincing, but I finally stood up, and Dr. Reeder gave a tug on the propane, the hot air roaring into the balloon.
You don't realize how enormous a hot-air balloon is until you are up close and personal! In the blink of an eye, we quickly rose above the crowd. Because my eyes were set on the Great Falls apartment building as we rose, I had a moment of feeling off-centered as my eyes and brain communicated what was happening to my feet. Once above the rooftops, we were steady as she goes. There was no sense of movement or rocking; it seemed we were simply suspended in air.
It was so still; the noise of the city was left far below, nothing but the happy chatter of the few people in the basket and the occasional roar of hot air keeping us lofty.
I did not feel dizzy as expected, and Dr. Reeder explained that looking out over the horizon with feet firmly planted, there would not be that sensation, if I were to look over the side at the basket, I would experience that dizzy feeling. I didn't test it.
I watched as we drifted lazily above the trees and fields, the slight breeze taking us out Route 4, heading over West Auburn towards Turner. Being the third weekend in August, the sun was beginning to set earlier, and suddenly, Dr. Reeder said we would have to land the balloon rather quickly to be out of the sky by dusk – piloting rules and regulations.
He handed me a heavy pair of gloves, and I asked what I was to do with them. We were just beyond Roy's All Steak Hamburger and Golf Center, heading toward a field dotted with hay bales, when he answered, "You're going to put the gloves on. We will bump into those hay bales to slow us down." Then he looked at me and said, "The minute the basket touches the ground, I am going to tip the basket; you will stay in the basket and hold onto this rope, and don't let go." He handed me a length of thick, heavy rope (like the one we used to climb in gym class) that was attached to the balloon. "The rest of us will jump out to help the crew with the balloon."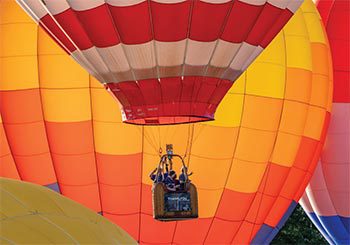 I took the instructions. We bumped the bale, and the basket touched down and tipped over. With unsettling visions of flying off into the wild by my lonesome, I held onto that rope for all I was worth. Meanwhile, the rest of the crew ran to the balloon, shaking the air from the billowing fabric until it slowly deflated like an exhausted child falling asleep.
It was more than a ride; it was an experience that ended with a champagne toast, a ballooning tradition celebrating a newbie flyer following their first ride.
When asked if I enjoyed it, I laughed. "By the time I realized how much I was enjoying it, it was over!" My best advice: Don't miss the chance to see the world from "the air up there." Trust your pilot, and enjoy!