More than just a farm
By David Muise | Photographs provided by Pineland Farms
Within this single campus, one will find: a working farm, a diverse business community, educational programs for children and adults alike, a wide variety of year-round recreational activities, six overnight guest houses appointed with country charm, a world renowned equestrian center, event spaces for corporate and wedding parties, a café, and a farm market.
In the little hamlet of New Gloucester, Maine, lies a 5,000 acre microcosm buzzing with the daily doings of rural life. You have more than likely seen their wares in your local grocery market, may even have bought some of their meats, cheeses, berries, or produce. Pineland Farms is brimming with life, offering year-round activities for the whole family.
Its vastness begs exploration. To lay eyes on every corner of the place could take days. And that's pretty much what the folks at Pineland Farms hope you'll choose to do.
Much of their property is open to the public for outdoor activities like hiking, mountain biking, snowshoeing, or cross country skiing. The multiple trail systems of Pineland Farms can have your family exploring scenic country terrain nearly every day of the year.
The fun happens indoors at Pineland Farms as well. Their calendar of events is stacked with historically-inspired activities centered on ecology, craft, and agriculture. On any given day, you might attend a class teaching how to drive a draft horse or one offering a guided full moon outing. These are unique opportunities for personal enrichment and intentional family time available to the LA community for a low cost, the likes of which aren't widely found within a simple 15-minute drive.
The bottom line here: whether you like your activities indoors or out, Pineland Farms has a unique offering which you should be taking a look at. They offer more than just their farm products. So much more, in fact, you might benefit from a little guide to help introduce you to the many opportunities available at Pineland Farms. LA Metro breaks it down for you.
Farms and Agriculture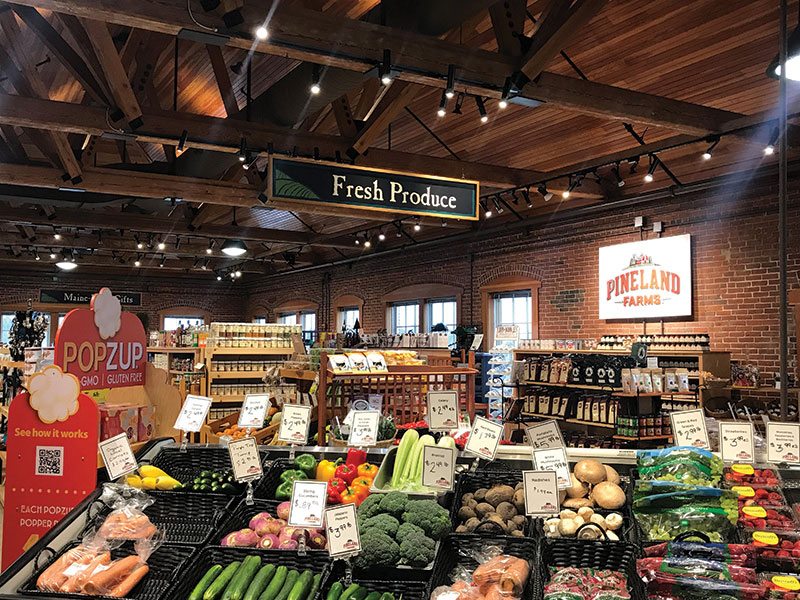 The Market at Pineland Farms and Welcome Center
The Market is where you'll find all the various goodies produced on the farm. From fresh fruits and veggies to meats and cheeses, they are all represented here in the Market. The Market also stocks a thoughtfully curated selection of locally sourced foods including beer, wine, and gifts.
The Market is also where you'll find the Welcome Center, a great place to begin most of your adventures at Pineland Farms. Here you will find maps, information on events, and the gift shop.
Valley Farm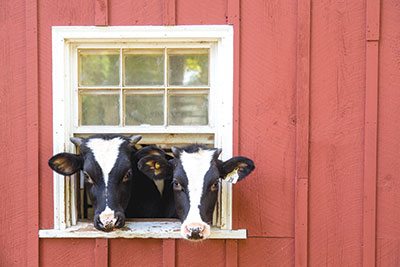 Valley Farm is a world-class dairy farm on Pineland Farms' campus. The herd here was started in 1881 and features its own distinct cow family specially recognized within the Holstein breed- the "Trinas". Cows here can trace their lineage in direct female line to one of the very first cows imported to the US from Holland.
These cows produce superior milk that is bottled for consumption and provides the raw material for the many cheeses produced at Pineland Farms. They also figure prominently in the educational programs for both children and adults.
Produce Division
Pineland Farms cultivates 300 acres of produce on Mayall Road in New Gloucester. They produce a wide variety of fruits and vegetables that can be found at their market, as well as other grocery stores in the area.
A great way to experience this part of Pineland Farms is during the many pick-your-own seasons (PYOs). Pineland cultivates strawberries, blueberries, and raspberries for PYO, which is always a family favorite. They even operate a "Berry Hotline" that offers updates and conditions on the PYO season.
Equestrian Center
The Equestrian Center at Pineland Farms offers a training facility for both professional and dedicated amateur riders in the sport of dressage. The highest expression of horseback training, dressage involves horse and rider performing, from memory, a series of predetermined movements.
Pineland Farms may be one of the most unique places in Maine to witness the beauty and precision of dressage. The hilltop setting of its outdoor arena provides expansive views of the countryside all the way to Mt. Washington. Their indoor dressage arena is one of the largest of its kind in the United States. This heated space is 260' x 100' with seating for up to 1,100.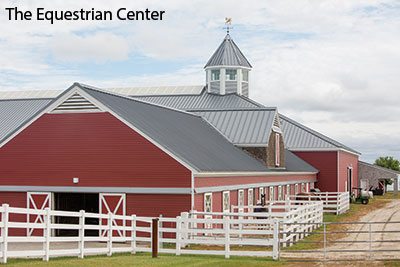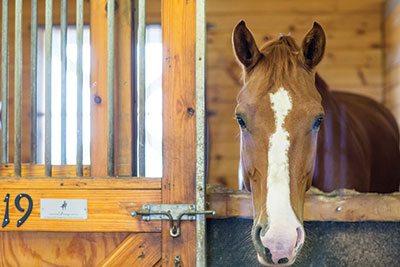 The Garden
A sunrise stroll, a picnic under apple trees, a relaxing chat in an Adirondack…these are the simple pleasures awaiting visitors to the Garden. On just one acre, visitors will find more than 130 varieties of perennials, 6,000 flowering annuals, 5 types of blueberry bushes, 20 apple trees, espaliered pear trees, and an ornamental conifer bed, among others.
Monthly gardening seminars are offered from June through September. The garden also serves as an extended classroom for Pineland Farms' education programs.
Education
Family Programming
Pineland Farms' year-round programming gives families the chance to experience farm life in self-directed play. You might choose to milk a cow or collect eggs from chickens. Children can interact with rehabilitated animals at Sparks' Ark.
There is also an indoor classroom where the Story Hours and Play Days programs take place. Most of these classes are just $5/person and include discounts at the Market and Welcome Center. If you're looking for ongoing interaction with Pineland Farms for you and your family, you might consider their season pass program.
For further family and child-based educational and play opportunities, Pineland offers a series of year-round field trips by age group, as well as farm-based birthday parties.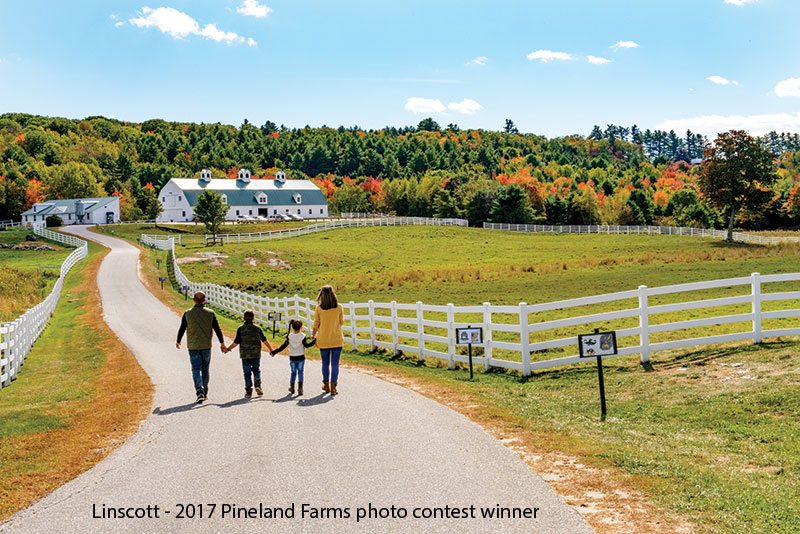 Adult Programming
Adult classes at Pineland Farms are taught by local community members, artists, and professors. These enrichment classes offer a wide variety of subjects and skills to introduce you to new techniques and ideas, and connect you to others in the local area to help build your network and further enhance your enjoyment. Classes have included such topics as the Fiber Arts and Draft Horse Driving.
Recreation
Disc Golf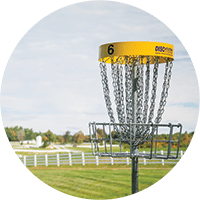 Pineland Farms has two 18-hole disc golf courses on its property. Disc golf is a fun way to enjoy the scenic fields and woods. It is scored much like traditional golf with each toss counting as a stroke. Players throw discs toward a basket instead of hitting balls to a hole. The barrier of entry for this sport is infinitely lower than for traditional golf, making it a family-friendly endeavor.
The two courses offer different challenges, with one geared toward the more seasoned player and the other designed with the beginner in mind.
Hiking/Snowshoeing/Skiing/Biking
There are over 30 kilometers (or 18 miles) of trails at Pineland Farms. They are professionally designed and maintained, and offer excellent conditions and plenty of space for walkers, joggers, and runners alike.
Many of these same trails are used in the winter by snowshoers. Several cross-country ski trails are groomed and include tracks. You can find trail conditions on our website.
A separate set of trails services mountain bikers and fat-tire bikers. These trails are professionally designed and rigorously maintained by the crew at Pineland. Trails include terrain for family rides, as well as more challenging terrain for the advanced rider.
Tennis
Looking to take your tennis game outside in the summer months? The three tennis courts on Morse Road are available, free of charge, for public use on a first-come, first-served basis.
The courts are open during the spring, summer, and fall. Daily hours are from 8am until dusk.
Sledding and Skating
Pineland Farms has a giant sledding hill. Bring your own sled or rent one at the Welcome Center. What's more, they even groom the sledding hill, when weather permits. The hill is open daily in the winter months from dawn until dusk.
Pineland Farms has a lovely pond that is open to the public for skating, when weather permits. Their Welcome Center is nearby, for the inevitable cup of hot chocolate you'll be craving.
Team Building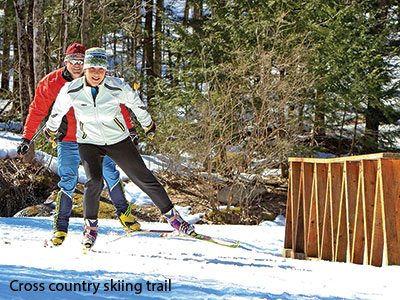 Orienteering is a team building exercise perfect for group retreats, combining racing with navigation. Participants use a specially created, highly detailed map to select routes and navigate through diverse and often unfamiliar terrain and visit control points in sequence. Orienteering opportunities range from beginner to expert, on their vast, forested property.
VAST
Veteran's Adaptive Sports and Training (VAST) is a program that promotes lifelong health and well-being for veterans with disabilities, through regular participation in a wide array of physical activities and sports. Any and all veterans are encouraged to volunteer and enjoy some outdoor activities and a sense of camaraderie with fellow veterans.
Pineland Farms' VAST program is guided by Army veteran, occupational therapist, and two-time Olympic biathlete, Kristina Sabasteanski. Participants can expect a wide range of activities, from target archery to laser rifle shooting and fly-fishing.
Events
Weddings
The scenic allure of Pineland Farms proves an irresistible venue for weddings. From catering to six charming guesthouses, Pineland Farms has your wedding party covered- literally. Receptions are often held under a patio-floored tent with ceremonies taking place in either the English Garden, Victorian gazebo, or in the rustic barn at Merrill Farmhouse.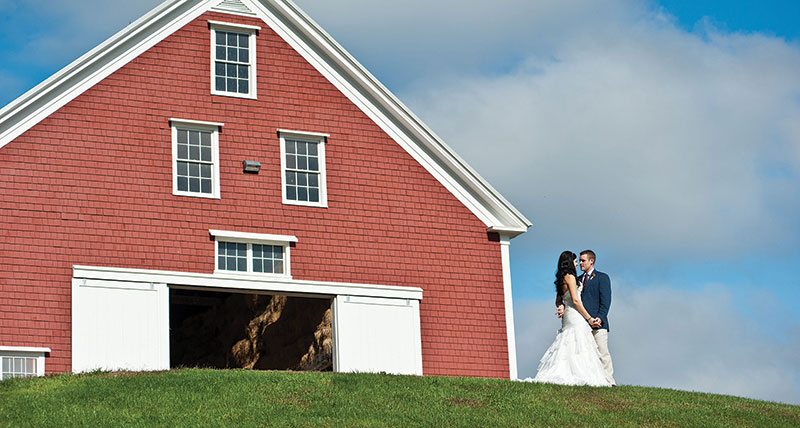 Corporate Gatherings
With its close proximity to Portland and LA, Pineland is a popular place for corporate gatherings, from conferences to retreats and celebrations. The catering crew has options for all types of events and can accommodate groups of any size. The guest houses onsite offer convenient lodging as well.
Guesthouses
Pineland Farms offers its guests six different guesthouses for lodging. These guesthouses are full of charm and offer an elegant yet comfortable mix of new and old decor that accentuates the country life of Pineland Farms.
Dish Café
Dish Café is located in the Commons Building. Find a tasty breakfast or lunch featuring Pineland Farms' meats, cheeses, and produce in the large white cylindrical structure, flanked by two brick wings. The menu is thoughtful and thorough, offering a selection of ready-made sandwiches and local specialties.
PINELAND FARMS
15 Farm View Drive
New Gloucester, ME
pinelandfarms.org