The possibilities are endless
by Peggy DeBlois
It's a warm summer day and the corner of Main and Lisbon Streets in Lewiston is busy with traffic. Hot wind from vehicles speeding up Main Street blows dust in the air while unidentifiable music seeps from cars waiting at the light on Lisbon Street. Stepping into J. Dostie Jewelers provides an oasis into luxury.
The store encapsulates the visitor in cool natural tones, all to a jazzy soundtrack. The simple elegant cases are at eye-level, allowing a visitor to walk around and take in the artful display of jewels; each case has a simple explanation of the featured stone. Proprietor Michael Dostie is alone behind the counter, speaking with a customer about a jewelry piece that has been in her family for some time. This is not your typical mall jewelry store, with a hustle and bustle of employees looking to make a sale – this is a place for jewelry connoisseurs.
Family business
Michael Dostie is the third generation Dostie to stand behind these counters. He started as an apprentice to his father, Dan, in the company's Portland location. In 2006, Michael moved to the Lewiston location where he recognized the potential for endless possibilities.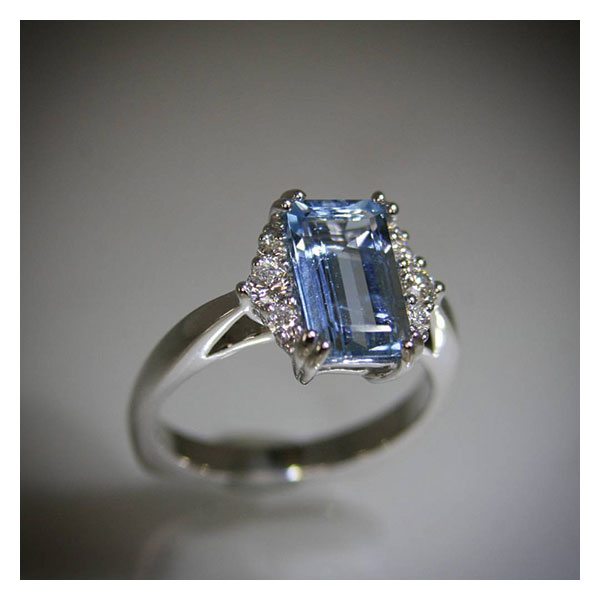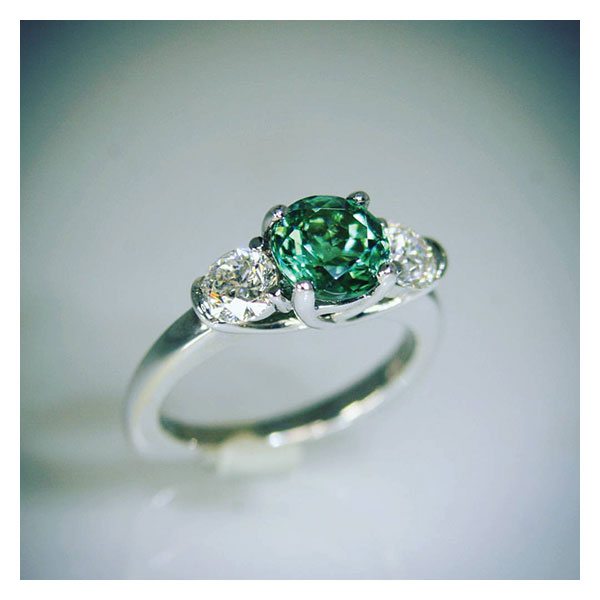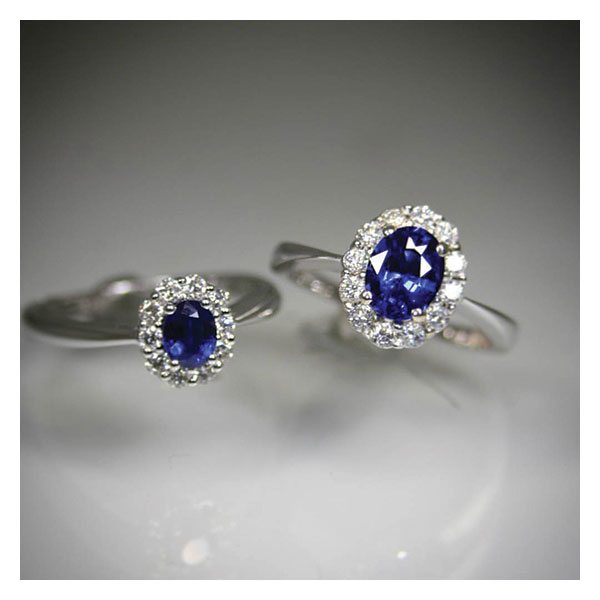 Michael recounts his decision to enter the family business as a major surprise to everyone, including himself. "When considering working for Dad, that was the last thing I wanted to do," he says with an earnest look. "Jewelry was a punishment for me: files, endless files – I can't even begin to imagine how many pieces of paper I had to file in that basement. Sweeping the parking lot – whatever menial task they could find for me. My Dad literally turned it into a punishment for me: I remember in middle school, I failed a spelling exam in Mrs. Woods' class and my Dad made me study garnets for the next week. No, I definitely did not expect to be running this business."
According to "The Facts of Family Business" published on Forbes.com, less than one third of family businesses survive the transition from first to second generation ownership. Another 50% don't survive the transition from second to third generation.
After working in design and fabrication for ten years, Michael believed he was ready to start designing his own jewelry pieces. He credits his current expertise to the fact that his father, Dan, is not a strong teacher, but a strong critic. "I worked on this piece for several hours, and I thought I had the greatest gift created for women," remembers Michael. "Dad said it was too heavy and lopsided, nobody would wear it, and tossed it aside. I was devastated at first, but then I looked at it as constructive criticism, and you know what? He was right. I went back to the drawing board and started to design thinking about how a woman wears jewelry."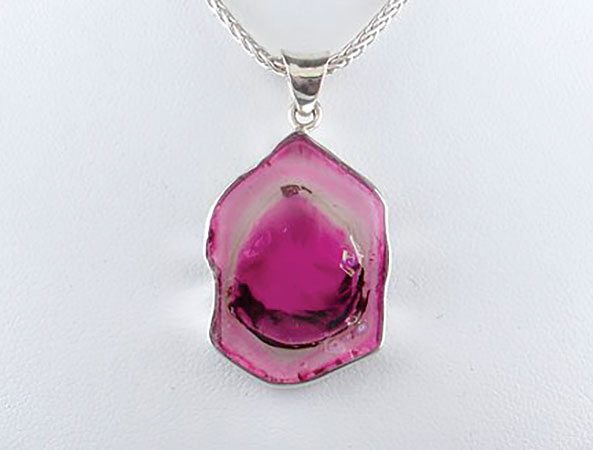 Michael certainly learned from one of the best in his father, Dan, who is one of a very select group in Maine to be a Certified Gemologist Appraiser for 30 years. "Reaching that level is like graduating from jewelry college with the highest degree," he explains.
"That's how our business has evolved from one generation to the next," he continues, "by education. Both my grandmother and my grandfather were highly educated in gemology – that's what set them apart and established our longevity. Even back when my grandparents were selling engagement rings to the guys who worked in the mills and could only pay $1 per week, the business was known for its focus on quality products, good materials that were made to last."
Surviving the recession
Since the recession of the first decade of 2000, there are one-third less jewelry stores in Maine, according to Dostie. J. Dostie Jewelers had to completely re-set its way of doing business to emerge successfully on the other side.
Dostie remembers that from 2006-2008, sales in the store could be tracked within 12% each month. After 2008, the consistency was just gone. "We just had our best first quarter in years, worst April in history, best May in seven years, but now it's gone quiet – we have absolutely no predictability in our business anymore," admits Dostie. He has adjusted by managing the company's debt and running the business without employees. Michael works five to six days a week on his own, with Dan joining him as needed. He says it's just the kind of sacrifice you make as a business owner, and for him, it allows him to have a hyper focus on inventory management. Dostie buys most of their diamonds and gemstones separately from the mountings he sets them into, giving him better control of the quality of the finished pieces.
"We really scrutinize what we are making in house, and we are clear on what our customers want. Rather than following a current trend in jewelry fashion, we concentrate on offering pieces that someone will want to wear forever. Our customer is primarily a well-educated person who wants to have a conversation about our specialty."
Custom design meets technology
People looking for a custom-designed piece of jewelry typically come in with a sketch or photos of different pieces, each with a feature to incorporate. Michael will take the concept and come up with several variations, then have a formal sit-down conversation with the customer.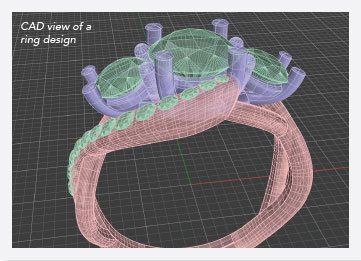 "Jewelry is more than just looks," he explains. "We need to have a conversation about what the person wearing the piece does every day." He opens a long rectangular black box and removes a ring model from a row of a dozen models. "For example, this one was made for a woman who works in the medical field, so she needs the gem to have a low profile."
He clicks on a wall-mounted large screen monitor, and the same ring modeled in his hand shows up on the screen of the jewelry CAD program. He manipulates it to change the gemstone, add a channel of diamonds, adjust the height of the setting. Once the design looks the way the customer has envisioned, the attached 3-D printer will produce a model for final approval. "I've done several projects with this new system," he explains, "and it has benefits over the traditional wax carving.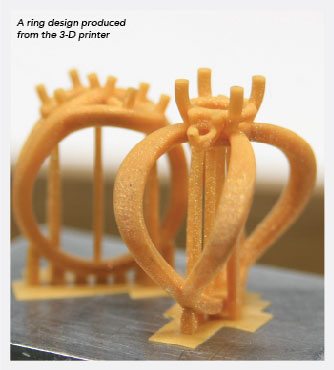 It allows me to make several models in a plastic polymer which we can set with actual gems so the customer can try it on and get a very realistic view of the finished piece. Our goal is to become proficient enough with the software so we can go from sketch to building the ring model within thirty minutes. Best of all, it gives the customer the experience of interactive involvement with the actual design process."
The door jingles and another couple comes in, asking for help in identifying an unusual gem in a family necklace. Michael is back behind the counter, animatedly discussing the possibilities.
J. Dostie Jewelers, 4 Lisbon Street, Lewiston
207-782-7758, www.jdostie.com.