Written by Michael Krapovicky | Photography by Jose Leiva
Providing 'handcrafted custom products for your home, office or commercial space' is the slogan of Jeremy and Amparo Randall, a Lewiston couple with an artisanal hand and entrepreneurial spirit.
From shelving to board games – all customizable to their customer's specifications – the Randalls have cultivated a lifelong hobby into a successful Maine business.
Starting point
Jeremy Randall learned the woodworking trade from his father, who built their childhood home in Waterboro, Maine. Finish carpentry really piqued Jeremy's interest.
"My dad showed me how to use tools and build things properly," says Jeremy. "As an adult, I made things for around the house – toy boxes, armoires, and such."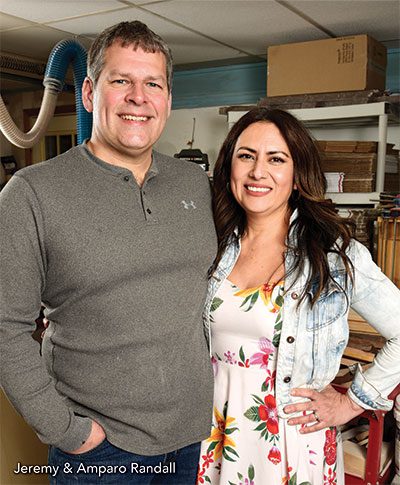 He attended the University of Maine at Farmington, studying mathematics and computer science, becoming a software and web developer by trade. Yet woodworking always brought him significant gratification. Serendipitously, Jeremy sold a wooden craft he'd created on eBay, sparking the idea that would become JT Woodworks.
Partners
Jeremy met California native Amparo Maldonado-Pacheco online. Amparo holds a Bachelors Degree in Communicative Disorders from California State University – and was in the process of obtaining a Master's in Speech Pathology – until the couple decided to marry, eventually settling in Lewiston.
"It was a very difficult move – I had never seen snow, being from California!" recalls Amparo. "It took a while to acclimate."
Similar to her future husband, Amparo was intrigued by woodworking at a young age, and was imparted knowledge and skills from family members. Jeremy shared his passion for woodcraft with Amparo, and gradually, the two began moving more seriously into monetizing their products.
"I passed on my knowledge to Amparo over the years, and now she's really surpassed me, with her own way of doing things," says Jeremy. "We've been to seminars on woodworking techniques, but most of our learning has been hands-on."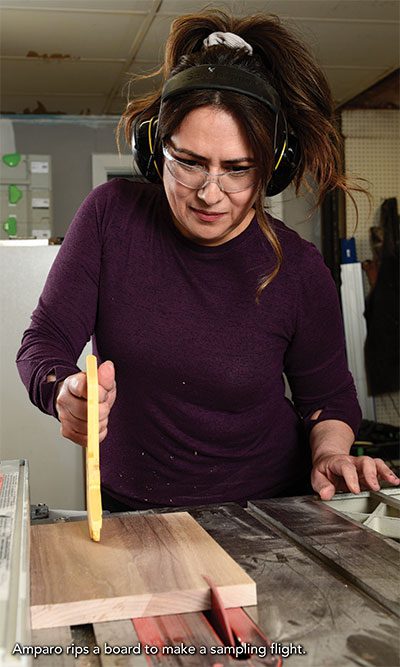 Amparo began to take more responsibility for the operation of the corporation. She was able to research how to grow their business, and how to develop an online presence.
Wares
JT Woodworks has a shelving line – where one can choose the dimensions, paint or stain color, and the type of wood – for their shelves. They also have diversified into branded bar-ware for food presentation or preparation, flights, cutting boards, coasters, and the like. Their newest line of products are games: cribbage boards, puzzles, and things that can be made simply and provide entertainment.
"At the Lewiston Craft Fair last spring, we offered cribbage boards shaped as Pac-Man or the Millennium Falcon," says Jeremy. "The interest in the games was off the charts, and we knew we were on to something when we completely sold out."
That led the Randalls to search for popular games in the 1800s and the turn of the century.
"People were going crazy over them," says Jeremy. "We enjoy seeing people have fun with things we've created."
Personally engraved
Most of the Randall's customers, such as Allagash Brewing Company and Odd Alewives Farm Brewery, are requesting customizable products.
"If they are reaching out to us, they want something specific – a certain shape, logos displayed – they want that collaboration with us," asserts Jeremy. "A lot of times they don't know exactly what they want – we send them examples, and they may say 'something between these two would fit our needs.'"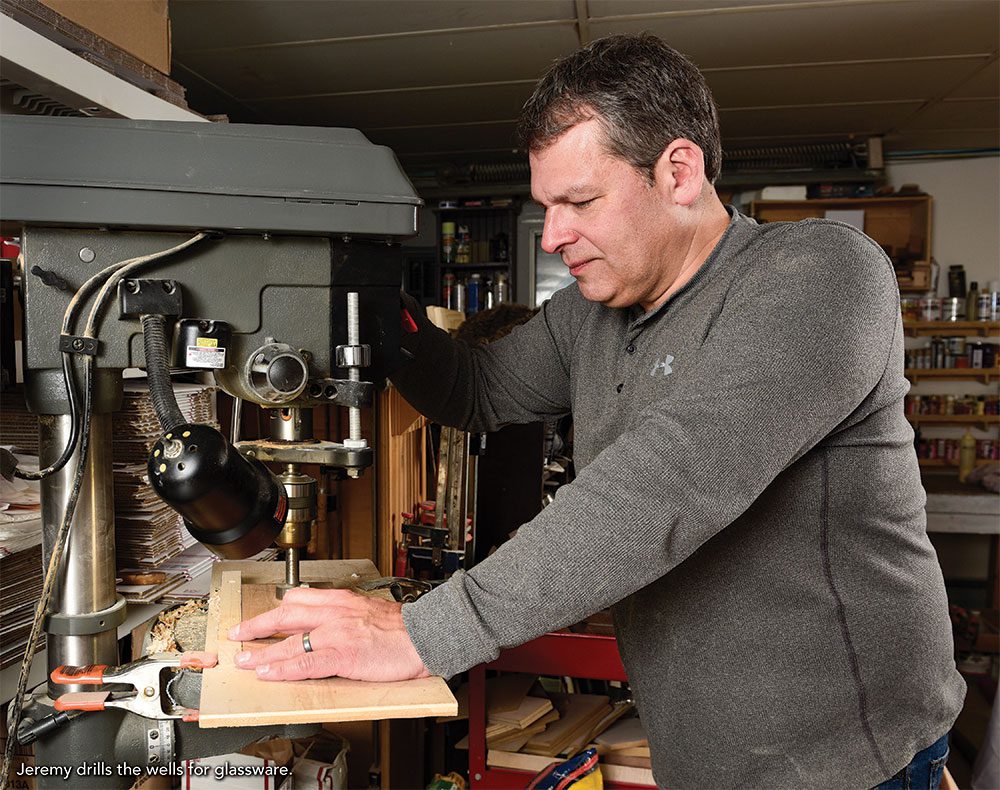 JT Woodworks customization options give their customers an opportunity to display their products in a unique way, to be competitive in their respective markets. They had partnered with a laser engraver who left the business, so the Randalls acquired one.
"The fact that they have an idea, and it comes to life, makes it
an even more special gift," Jeremy explains. "They can buy flights and things for much cheaper online, but we allow them to have something really tailored for their restaurant."
A strange indicator of popularity came from a particular surfeit of orders.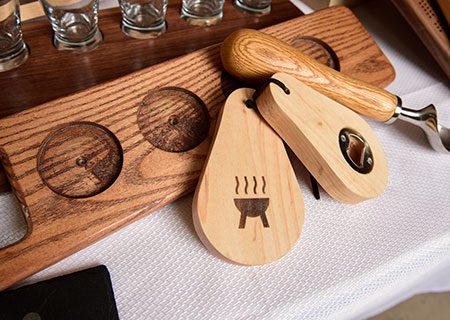 "This boutique ice cream stand in Seattle was ordering 10 flights every two months." Amparo relates. "We wondered why so many, and she replied, 'they get stolen'! When someone likes something enough to take it home with them, we know we are on to something!"
Invention
JT Woodworks are continually modifying their existing product line with fresh innovations.
"When we are trying to do something new, we do some online research, try to find what people are interested in, and develop our own take on that," explains Jeremy. "We work with customer specifications, tweak the final product and finally adopt it."
Trade shows can be a place for inspiration.
"We have found craft fairs have been very valuable," says Jeremy. "Someone will ask for a certain product – a game we may not have heard of; whatever idea they have, we'll come back to the workshop and experiment."
According to the Randalls, sometimes the product is a one-off, and other times it becomes a very popular item.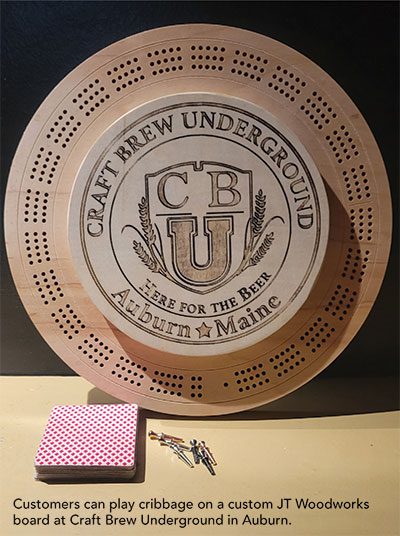 "We have a good niche," says Amparo. "When we attended Bonny Eagle's craft fair, there was nothing like what we were making."
The Future
Now that they've developed a more directed product line, JT Woodworks' focus for the coming year will be more outreach.
"We are a small artisanal business from Lewiston, that's all we're trying to be, yet there's a worldwide client base for us," Amparo says. "The Maine brand helps, having the 'Lewiston' stamp."
Expansion plans are also on the horizon.
"We'd love to move our base of operation into a mill building, and in the coming year, we plan to contact local Realtors and see what options we have in the area to move into," says Jeremy. "We've proven stuff is working, so we feel the risk is low enough that it makes sense."
Being a more invested part of LA business initiatives is imperative for JT Woodworks, especially to Amparo as a Mexican-American female woodworker.
"I want to put on workshops in our local schools, a woodworking class for young women in the community," Amparo affirms. "I would love to find people of my gender and cultural background who have this interest, and show that there are options in this field."
JT Woodworks
jtwoodworksme.com • www.facebook.com/jtwoodworksme