by David Muise
Manufacturers are still going strong
If you follow the news, you might be inclined to believe that manufacturing is a dying industry in the United States. The headlines are everywhere, reminding us just how many of these jobs are moving overseas. If you are old enough to remember when mills were the largest employers in the Lewiston Auburn area, you may lament their loss, seeing their demise as yet a further sign of the decline of manufacturing.
The truth is that the manufacturing industry is changing, as it has changed and will continue to change.  Lewiston Auburn is a prime example of how this shift in manufacturing is occurring. We once had large factories churning out huge volumes of product and employing the vast number of our residents. It was a solid model upon which many of the foundations of this area were built. But, as we see here in our hometown, that model has changed drastically. Our mills are being repurposed for other commercial enterprise, our residents are developing new skill sets, and the general look and feel of LA is changing as a result of all this activity.
The new look of manufacturing in LA isn't as apparent as the iconic mills of the past. You've got to dig a little deeper. Today's LA-based manufacturers don't need huge buildings along the mighty Androscoggin River. They tend to be smaller and leaner, thus more nimble and able to react to market conditions much more quickly than the behemoth factories of yesteryear. Most often, they are in small industrial parks, down little known alleyways, or on the outskirts of town. We feature three such manufacturers that are still "Making It in LA."
McIntosh & Company Cabinetmakers
Todd McIntosh is from Rockland. Like many a Mainer, he moved away… and came back. During that time, he was a PGA golf pro working throughout New England and Florida.
"I spent a lot of time fixing golf clubs," says McIntosh. "I've always worked with my hands."
It was this penchant for working with his hands that McIntosh says led him to the construction trade.
"I got married, had kids, settled down- typical story," says McIntosh. "I started building kitchens, built-in cabinetry and staircases out my place in New Gloucester."
McIntosh's growth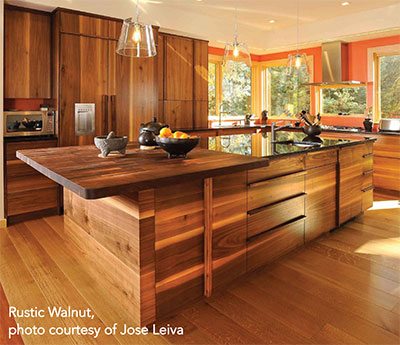 McIntosh's business changed over the years. He got into what he calls "high-end, custom cabinetry". He founded a company in 2002 with a partner and began marketing these services to areas he suspected would have the big budgets for these sorts of projects: Boston and New York. He landed some big projects and the word got around about this Mainer with a great work ethic and attention to detail. As the business grew so, too, did McIntosh's need for more space to construct his custom work.
"I looked all around Southern Maine and landed in Lewiston," says McIntosh. "Space here was far cheaper than anything in the Portland area."
McIntosh & Company is located in the historic Hill Mill in downtown Lewiston- coincidentally, in the space that housed the original carpenter's shop that serviced the Hill Mill. The space occupies about 9,000 square feet and looks very much like what you'd expect- large machinery, lumber, cabinetmakers at work. What you might not expect are the number of dogs roaming around.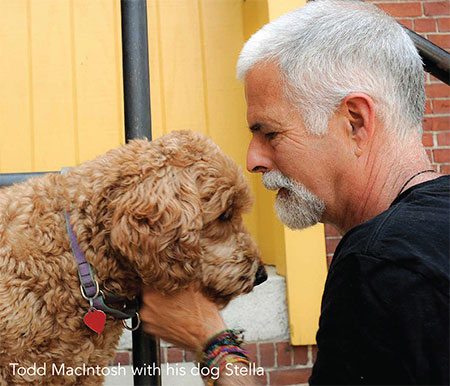 "It's a pretty laid back environment," says McIntosh. "I bring my dog to work and so do a few of the other guys."
McIntosh partly credits this environment to the success he's had with one of manufacturing's biggest hurdles- finding and keeping a good crew.
"You get a key employee you train up for 5 years, then they leave," says McIntosh. "We're not big enough to have someone waiting in the wings- you're screwed."
McIntosh says that "retention versus recruitment" is his strategy. He says that when he does hire, he tries to hire the person instead of the job. What he means is that hiring someone who is a good fit in the shop is often more important than hiring someone who has all the skills needed to do a specific job; McIntosh can teach many of those skills.
"Crazy" projects
With a strong team in place, McIntosh & Company has been able to develop a solid repertoire of work and comfortable niche in the market.
"We have a reputation for taking on crazy projects," says McIntosh. "Let's see… we did a lot of work on the Jack Daniels RV, a promotional bus that goes to NASCAR events. We also had a client that wanted a stand for a meditation gong- no designs or anything. He just told me that he liked cobras and water. We got it done."
How is it exactly that McIntosh & Company has developed such a reputation for getting these, sometimes crazy, custom projects done? McIntosh points to a card that hangs in his office; it says: "There Is a Way."
"That's the motto right there," he says. "There is always a way."
---
Futureguard Building Products
In the building formerly occupied by the footwear manufacturer Etonic, sits a small company doing big business. Futureguard was founded in 1979 by Don Buteau, when he purchased a small aluminum awning shop. Since that time, the company has morphed into a major player in the outdoor living space market and has spawned numerous subsidiaries.
"A pivotal moment for us was when we introduced the first fabric awnings into the market in 1999," says Brian Buteau, son of Don. "Until that time, everything was aluminum. The fabric awnings allowed us to better meet the growing aesthetic demands of the market."
Integration is the key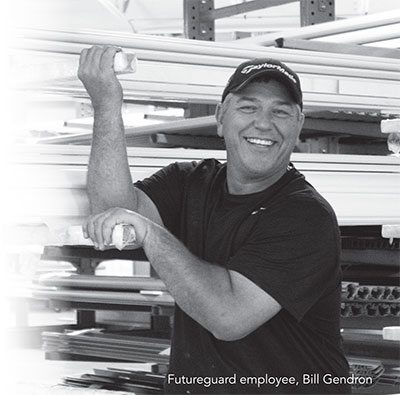 Brian says the key to company's success has been integration. The work flow and materials are 85% integrated at Futureguard, meaning that raw materials are brought in but most everything is made in-house. An example of this would be the fabric awnings. The fabric itself is purchased in huge rolls, but the actual awnings are cut, sewn and fitted at the facility in Auburn.
Brian told us about another example of integration that led to a profitable lateral expansion.
"We powder coat most of the metal framing that is used in the installation of the awnings," says Brian. "We do this powder coating in-house and have a very skilled crew that facilitates the process. We realized there was a niche in the market for this application and decided to purchase another business, Performance Powder and Paint. It's located just down the street from our Futureguard headquarters."
These types of moves typify the success of the Buteau Family and their team. They take on well-calculated risk based on successes they've had within their core business. Further, they pay close attention to the ever-changing demands of the marketplace.
Expansion
"Two years ago, we introduced retractable solar screens," says Brian. "Currently, we are expanding into screen rooms, which will help us reach a customer base that we don't currently have."
Futureguard sells its products in 48 states, plus Canada. Brian says that it would be far more cost-effective to be more centrally located, given the cost of shipping.
"But we're from Maine and we're not going anywhere," says Brian.
Futureguard employs about 80 people here in the LA area. They are currently operating at capacity and have a $4.5 million expansion planned at the facility on Merrow Road in Auburn.
"Customer service and skilled labor are the hallmarks of our success," says Brian. "Without these two things, none of these expansions would be possible."

---
Thos. Moser
The story is well known by now. In 1972, a Bates College professor leaves teaching to restore the lost art of fine woodworking. He works out of an old Grange Hall in New Gloucester. He builds the brand we know today as Thos. Moser.
What you may not know is that in 1987, as the business grew, the company built a new workshop in Auburn where they continued to produce fine, handcrafted American furniture. And, that as the manufacturing sector began changing, so too did Thos. Moser. Instead of moving production to cheaper and more efficient locations around the world, they invested in figuring out how to meet the changing landscape head on right here in LA.
"This is woodworking as fine art, every piece of furniture that leaves here has the signature of the cabinetmaker who worked on it."
Rick Foss and George Estabrook are two of the craftsmen who helped spearhead the initiatives that would lead to one of the most important changes at Thos. Moser. These changes are part and parcel of how Thos. Moser continues to grow and be successful in the manufacturing industry.
 The birth of "lean"
"Lean Manufacturing really changed the business," says Foss. "At its most basic, it's a systematic process of reducing waste."
Lean Manufacturing can be a bit nebulous for those uninitiated. It is largely based on a set of Japanese principles first used in business by the car manufacturer, Toyota. Those principles set out to achieve improvements in productivity, quality and lead time by eliminating waste through the Japanese word, kaizen, which basically means "change for the better" or "good change."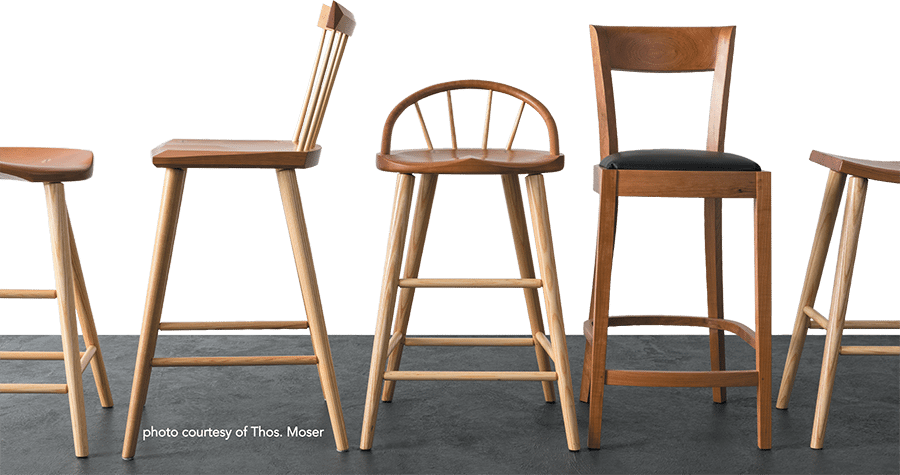 "So we used to practice a model called Economic Order Quantity," says Foss. "We basically had lots of lumber and we would manufacture all the various parts of each piece of furniture and have them laying around ready to use. Now we look at what our customers are buying and manufacture to that end, instead of stockpiling everything."
Basically, they held lots of overhead waiting for the time when that overhead could be used to make a finished piece. Now they can produce a single chair in a day and half, versus making 10 pieces of a chair in a day. They manufacture directly to the orders that need to be fulfilled.
Sounds pretty standard, but it turns out that these practices require a significant overhaul to be put into place.
"We broke the business into seven units," says Foss. "Each has it own work group and they manage their own business. We invested in a lot of training for these self-directed work groups and now every business unit is cross-trained in every other business unit."
Estabrook and Foss explain that Thos. Moser now has far fewer supervisors than in the past, as their cabinetmakers actually direct most of their own workflow. They say it increases productivity and a cabinetmaker's ownership over their unit's projects.
Apprenticeship
Another facet of the changing manufacturing landscape is finding well-trained employees that can work in this type of self-directed fashion. Thos. Moser worked with the Maine Apprenticeship Program and Central Maine Community College to develop the first ever Woodworking Apprenticeship Program in the state of Maine.
"I came through the Apprenticeship Program," says Estabrook. "I learned the leadership skills necessary to help me be successful in the role I now have at Thos. Moser."
Foss and Estabrook both stress that Thos. Moser is still producing fine handcrafted furniture. But, they know firsthand how important it is to the company that the old manufacturing models needed to be updated and, quite frankly, changed in order to continue being successful in LA.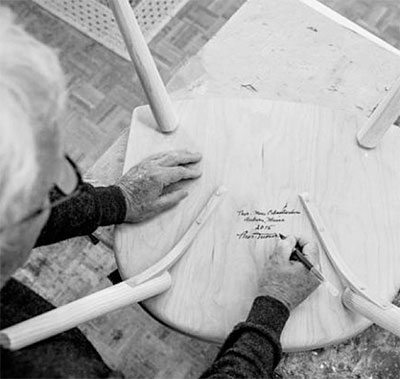 "This is woodworking as fine art," says Foss. "Every piece of furniture that leaves here has the signature of the cabinetmaker who worked on it."
While the manufacturing landscape may be changing, there are still companies like Thos. Moser, who are adapting while keeping the commitment that a signature implies- handcrafted, American-made furniture.
Still making it in LA
In short, businesses are still "Making It In LA."  LA's manufacturing sector is actually growing again- it just looks and operates a little differently than what we are used to. In fact, most of those manufacturing in LA fall into the category of "small business," the same category into which falls almost 97% of all businesses in Maine, and that employ close to 58% of all Mainers.
So, don't let the headlines get you down- manufacturing is happening here in LA, it has simply turned toward the more traditional Maine way: smaller and often family owned and operated. That sounds like something we can get behind. So, seek out those products being made right here in your own backyard.
McIntosh & Company Cabinetmakers
41 Chestnut Street, Lewiston
http://mcintosh.company/
Futureguard
101 Merrow Road, Auburn
http://www.futureguard.net/
Thos. Moser
72 Wright's Landing, Auburn
https://www.thosmoser.com/