Written by Toby Haber-Giasson
Helping neighbors with dignity
A decent set of school clothes is such a basic requirement for children that we often don't think about how it affects those who don't have it.
Joni Gordon thinks about it.
At Oxford Elementary School, Gordon works with many children of slender means. Last year, she noticed someone who had very little of her own, and a reluctance to connect with adults who could help. So for Christmas, Gordon "adopted" this student, anonymously.
To Gordon's amazement, this young girl seemed transformed by a set of new clothes: proud, smiling, raising her hand in class, interacting with peers she would not have approached before.
"This is what we need to do," Gordon realized, "to provide a way to get kids the clothing they need, with dignity."
How it all began
Gordon is no stranger to good works. She and a few friends had created the Pink Feather Foundation (PFF) in 2011, to raise money for worthy local causes. Each year, they provide holiday meals for over 30 needy families in the area, among other efforts.
So when Gordon launched this new mission on social media last New Year's Eve, friends followed her lead. By March, they had donated 3,000+ articles of clothing.
At first, PFF co-founder Jen Kyllonen stored the clothing in her garage. By April, PFF had to move into a donated mall space, which is shared by four charitable groups. They installed heavy-duty poles along the perimeter and started sorting. Before June, PFF was able to provide a set of school clothes to each of a dozen children at Elm Street School in Mechanic Falls.
Choices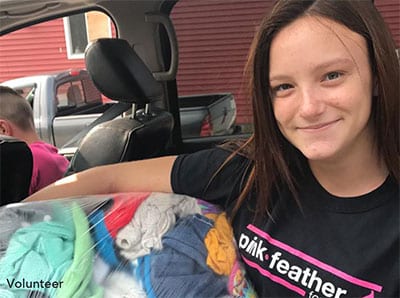 Children who live in dire conditions don't have much control over what happens in their own lives. That's why Pink Feather treats them like clients, inviting them to shop for what they'd like to wear.
"This way gives them some power," explains Gordon "They get to choose the clothes they want to wear, instead of getting a bag of hand-me-downs."
Secondhand stores have become popular with middle-income families, but these retail shops still charge too much for families in serious need.
Who knows these children's needs better than their teachers? Pink Feather empowers teachers from 15 schools- in Oxford Hills, Minot, Poland, and Mechanic Falls- to take a deserving student shopping privately, from PFF's online catalog. Letting teachers initiate the process gives them ownership of the program too, notes Kyllonen. This partnership gives deserving youth both what they need and what they want, all wrapped in boutique packaging.
Since the program's inception, PFF has provided clothing to over 50 boys and girls, from elementary to high school.
One teacher related how a little girl cried and shook, after opening her package, saying, "I can't believe somebody would do this for me. It's so nice."
How it works
Donations of gently-used clothes are graciously welcomed during open hours at Pink Feather's main location at 1570 Main Street in Oxford, and at any of eight area locations.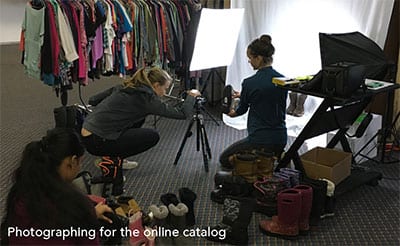 Pink Feather removes any items that have stains or rips, and routes them elsewhere. "We won't accept it if it doesn't look like new," says Gordon. "These are all brand names, lightly worn."
Clothes are then sorted into categories, and placed on hangers. Items needing ironing are handled by special volunteers.
Garments are then photographed for the web catalog. Gordon says, "When kids look online, they know what they're getting."
Each item's photos and vital stats are entered in their computer system. "We have over 2,000 items online right now," says Kyllonen.
"We put a priority on items like sneakers kids would need for gym class," Gordon says. "And any shoes or boots we get definitely go right in."
On the user side, a teacher helps a student custom-order clothing on the Pink Feather web catalog. The site sends the order via email. A volunteer then retrieves the items from the racks. The order is then checked carefully.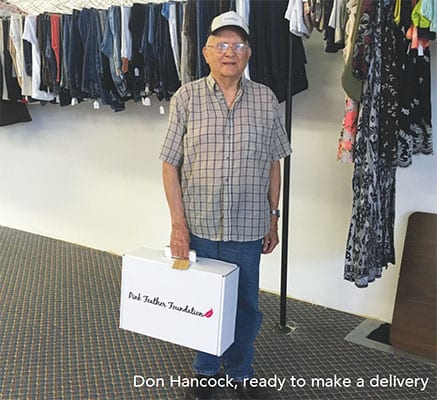 Clothing is then placed in a fancy box, wrapped in tissue paper (black for boys, pink for girls), with a feather tucked inside.
"Packaging was important to us," says Kyllonen. When she asked International Paper to donate sturdy but attractive boxes sporting the Pink Feather logo, they sent a whole pallet.
Finally, Gordon's grandfather delivers the box, first thing in the morning. "Once a school sees a pretty package come in," Gordon winks, "more teachers jump onboard."
Looking ahead
Pink Feather is actively looking for a permanent space for their growing inventory. Gordon and Kyllonen are also seeking a third partner, to run the operation during the day, and supervise volunteers. This would allow the "pink ladies" to collaborate with outside agencies and businesses. Building relationships might help mitigate overhead costs they incur for anything from hangers to internet service.
"We want to mingle in the community and make connections," says Gordon, "but we're so focused on keeping it running, we can't do that now.
PFF is also looking to create a board of directors, with particular experience in fundraising and grant writing, to help them grow.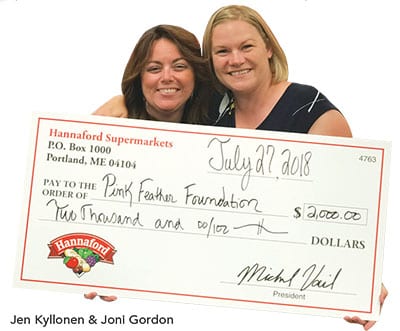 Meeting the need
Pink Feather's first order of this school year came on the very first day of school, after a teacher found a boy wandering the street. She asked, "Why aren't you at school?" The boy said he didn't have any clothes that fit him.
Thanks to Pink Feather, he got to go shopping. "It felt miraculous to be able to do that for him," relates Gordon. "He's been showing up to school every day since."
Children want to blend in with their peers. It's a stress that weighs on kids, who are self-conscious as it is, let alone having to worry about having acceptable clothes.
"People are proud. They don't want to admit they need help," says Kyllonen. "But they need help."
And Pink Feather is here to help.
Volunteer and Dropoff Hours

1570 Main Street Oxford
Tues 4-7pm
Thurs 4-8pm
Sun 9am-1pm
Clothing Drop Locations

Mechanic Falls
Dad's Place
23 Pleasant Street
Textures Hair Studio
266 Elm Street
Town Office
108 Lewiston Street
Norway
Hair & Co.
248 Main Street
Oxford
Big Rig Shop
502 Main Street
Oxford Elementary School
79 Pleasant Street
Polly's Variety Store
115 King Street
Poland
For the Love of Hair
295 Mechanic Falls Road