by Sara Caron | photography by Nicole Rand & Jose Leiva
Everyday Skin Care, Get That Healthy Glow
While still a frigid spring in Maine, the summer months are around the corner. Debunking the questionable information found through online sources, experts in the field of skin care and dermatology provide solid facts and advice on skin protection.
Dog days are on their way
Dr. Carrine Burns of Bates Mill Dermatology, reports that Maine has one of the highest rates of skin cancer in the country, mainly due to sun exposure. Dr. Burns and her husband, Dr. Peter Bouman, co-own Bates Mill Dermatology, treating melanomas as well as practicing general dermatology. Most people tend to worry about their skin as they age. Along with limiting time in direct sunlight, Dr. Burns recommends a few things to do to help prevent skin damage.
"Wear sunscreen, and avoid the peak sun hours (10am-2pm), seek shade when outdoors, and wear sun-protective clothing," warns Dr. Burns. "If you are going to be outside for an extended period, you need to reapply sunscreen every two hours."
Dr. Burns advises investing in wide brimmed hats, long sleeve tops, and long pants to help limit sunlight exposure. Additionally, she advocates daily use of a facial moisturizer with SPF 15 or 30, and a lip balm with SPF or a sunscreen stick designed for lips. She also recommends not smoking, as smoking prematurely ages the skin.
Glow on now
While Dr. Burns specializes in cancer treatment and prevention, she had a few other recommendations for general skin care as well.
"Use only gentle cleansers, and avoid harsh soaps and aggressively scrubbing your skin when you wash – this will only aggravate or irritate your skin," Dr. Burns admonishes. "If you like looking tanned, use a self-tanner." 
Dr. Burns likes to remind patients – bombarded with ads for "miracle" skin care concoctions – to maintain a healthy skepticism.
"The best sunscreen is the one you are willing to wear and reapply frequently," says Dr. Burns, who doesn't endorse any specific brand. "That varies from person to person."
Vitamin D-ficiency
Multiple studies have shown that Vitamin D is important for proper immune function, chronic disease prevention, and the absorption of calcium, phosphorus, and other critical vitamins and nutrients. Dr. Burns recommends that people take Vitamin D – or a multivitamin containing Vitamin D – during Maine winters, when there aren't enough sunlight hours to allow our skin to manufacture sufficient amounts. If one is vigilant about sun protection, covering up limits Vitamin D absorption – consequently, a Vitamin D supplement may be necessary to maintain a healthy level.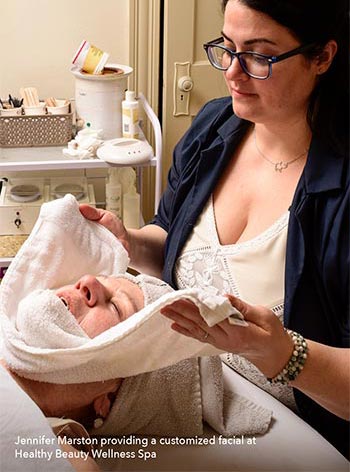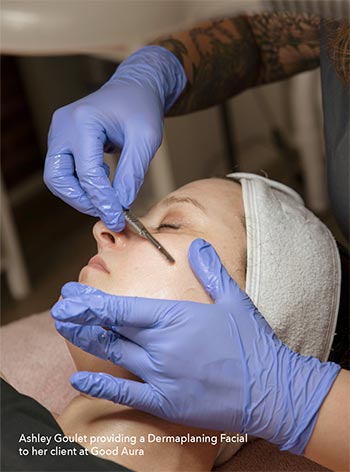 Retinol is a Vitamin A derivative that helps the skin to regenerate. Retinol is considered to be the gold standard in anti-aging, according to Diane Letourneau, licensed aesthetician and owner of Healthy Beauty Wellness Spa. Letourneau also agrees with Dr. Burns' assertion that sunscreen application is the best anti-aging solution.
Healthy skin is clean skin
Healthy Beauty offers customized facials, based on clients' skin care needs. Moreover, Letourneau is certified to utilize an OxyLight. OxyLight employs several different modalities, such as microdermabrasion, as well as LED lights in micro-current and ultrasound treatments, and oxygen blasts.
The OxyLight is reported to be redefining dermal rejuvenation, reducing visible pores, inflammation and acne, and improving skin tone.
Ashley Goulet, another licensed aesthetician and owner of Good Aura Aesthetics, maintains that clean skin is healthy skin. She recommends double cleansing your skin, toning, and the use of serums, target treatments, and night-time moisturizers.
"Your skin repairs itself during the night, as you sleep, so why not take advantage of that?" Goulet says, also encouraging the removal of cosmetics before bed.
"Allowing makeup to sit on your skin overnight can age your skin 7 years faster."
Goulet echoes Dr. Burns regarding the use of a broad spectrum sunscreen, reminding readers to reapply frequently throughout the day, no matter the time of year.
"Trends look fun, cool and are easy to get wrapped up in, but seeing a trained professional is safer, and will yield you better long-term results," asserts Goulet, who recommends consulting knowledgeable, licensed aestheticians for information.  "Not everything you can buy is really safe to use without professional training."
Drink up
In addition to consuming plenty of water and making healthy food choices, Goulet recommends drinking liquid collagen. Good Aura Aesthetics endorses a product from Image Skincare, called YANA. Goulet reports that a collagen supplement benefits vital skin functions like collagen synthesis, moisture retention, and free radical defense – feeding skin from within.
Next level care
Good Aura provides many services for skin care. Their most popular treatment is a Dermaplaning Facial – exfoliating dead layers of skin and removal of vellus hair, or 'peach fuzz' – allowing for better absorption of the skin care products used. They also offer Facial Vacuum Cupping, Ultrasonic Scrubbers, and LED Light Therapy.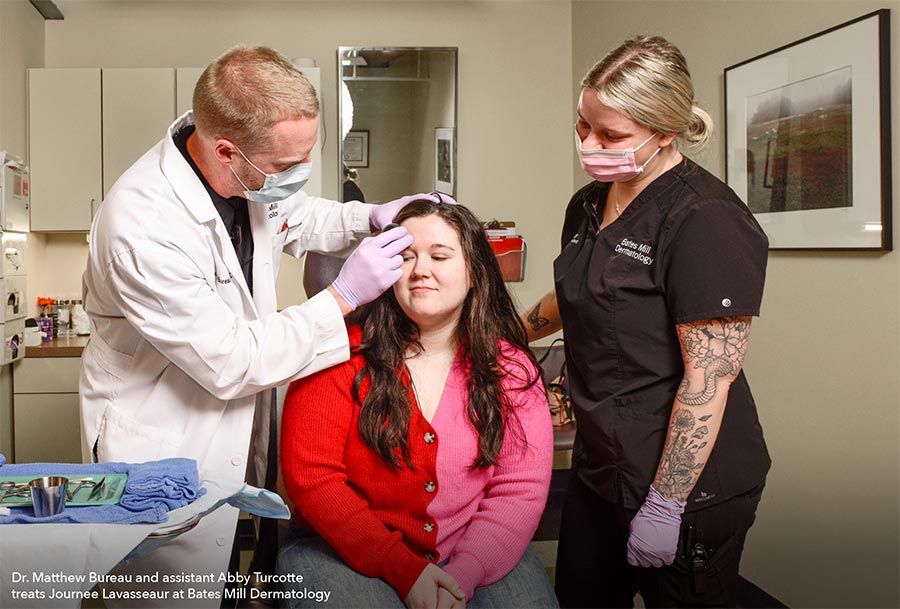 "I'm in the aesthetics business because of my love for skin care," affirms Goulet. "I'm also in this for the rewarding nature of being able to lift people up – helping them gain confidence."
Everyone is out and about
The sun isn't the only thing to avoid exposure to in the summer months. Side effects from contact with Browntail Moth (BTM) have become a significant issue, according to many skin care professionals.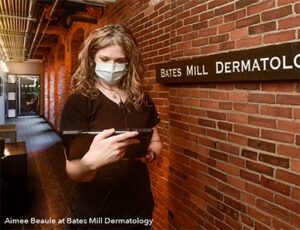 "The most important treatment is prevention," Dr. Bouman states. "If you have BTM in your area, wear long sleeves and pants, keep yard clippings away from your body, and do not hang your clothes on an outside line to dry."
After developing the rash, symptoms typically resolve in several days. Over-the-counter hydrocortisone 1% cream and Sarna lotion may help the discomfort – if not, your doctor can prescribe anti-itching medication.
For a fun-filled and aggravation-free summer, consider the tips from our dermal care professionals and take the proper precautions for skin protection.