Making use of new and antique technologies, Lewiston's own Rancourt & Co. Shoecrafters creates quality footwear, worthy of an Olympic engagement.
Written by Deborah Carroll     Photography by Nathan Tsukroff
New, by Rancourt & Co.'s standards, is a 4-year-old computer driven cutting tool that efficiently and accurately cuts large pieces of leather. The old methods, tried, true, and in use by the Rancourt family of shoecrafters for more than 70 years, include the manual application of metal dies used for leather cutting.
The use of dies to manually cut leather into the shapes that will become elegant shoes is only a small part of Rancourt & Co.'s tried and true methods. From it's 24,000 square foot facility on Bridge Street in Lewiston, and the Rancourt "family" of shoemakers with their skillful hands and generational knowledge, to the timeless design of many of Rancourt & Co.'s products, these methods serve to produce shoes that are distributed world-wide.
The Lewiston-Auburn area is fortunate to have been on the cutting edge of shoe production, beginning in the 1800's, and is imbued with tradition in it's rich history, techniques, and dedication to the production of footwear, and the Rancourt family has been part of that process for a very long time.
"The Rancourt family as been making shoes since 1967," said Mike Rancourt, president and owner of Rancourt & Co. Shoecrafters. "My father, Dave Rancourt, patriarch of Rancourt & Co. Shoecrafters, was a hand sewer," said Mike. "He was trained in the 1950's and today we continue with that heritage."
Mike, who joined his father in the shoemaking business in 1982, never learned to hand sew, though his father tried to teach him. His interest and expertise, they discovered, was "more in the business end of things."
"My dad retired at the age of 62," said Mike, and in 2009 "my son, Kyle, joined me as my business partner and vice president."
Presently Rancourt & Co. employs approximately 50. "What we do," said Mike, "is so labor intensive," with accuracy being key to the creation of a quality product, and so with a significant proportion of the work being done by hand, employing quality craftsmen is the key to success.
Rancourt & Co. employs many "2nd and 3rd generation shoemakers: fathers and sons, mothers and daughters, and cousins who have a family legacy of shoecrafting. "Many were born and raised here," said Mike, adding, "The dads worked for my dad, and my dad trained the sons and daughters who continue to work for the company."
The legacy continues
With a significant portion of each shoe being sewn by hand, "We've got 8 hand sewers inside and 5 more who work at home as needed, as well as 7 machine stitchers," reports Mike, "and we still have a hand sewer that was working for my father. He works part time, for about 2 months a year, when we need him, because he loves to hand sew!"
Though their workforce is home grown, "Our customers know us because of our reputation, and they come to us from around the country." Rancourt & Co. is building upon this reputation for quality American craftsmanship and see-ing its dreams of a more global presence coming true.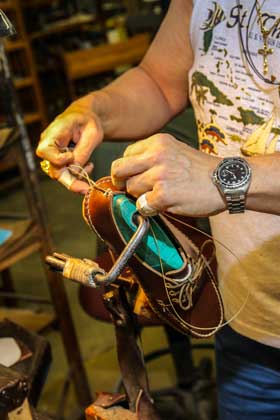 "Around the world people recognize this [brand] as distinctly American," states Mike, and of late, this distinctly American, small business from Lewiston, Maine, has deservedly – and almost literally – been reaping the fruits of what they have sewn.
"For the 2016 summer Olympic games, Ralph Lauren chose Rancourt & Co. to craft the 1,100 pairs of red, white and blue deck shoes that will grace their feet as they march across that global stage."
"When my dad and I joined up in the 80s, we were making shoes for Cole Haan, and over the course of our history with them we've done both the design and the engineer-ing work. Presently, Cole Haan is our largest private label," explained Mike, but the real global recognition is coming courtesy or Rancourt & Co. Shoecrafter's affiliation with the Ralph Lauren label.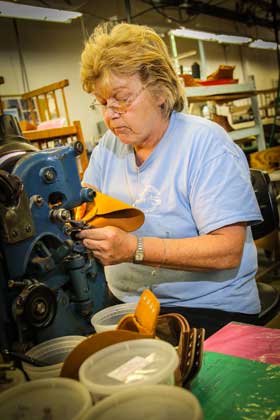 Ralph Lauren has been a customer of Rancourt & Co.'s for seven years and owns the exclusive rights to provide the uniforms for the American athletes, paraathletes, and officials to wear during the opening and closing ceremonies of the upcoming Olympic games. For the 2016 summer Olympic games, Ralph Lauren chose Rancourt & Co. to craft the 1,100 pairs of red, white and blue deck shoes that will grace their feet as they march across that global stage. "Whenever practical and possible, the components of the Olympians' opening and closing ceremony uniforms, from grommets to soles, and leathers to laces, are made in the United States, and so all of the materials were sourced nationally," said Mike, adding, "It's Ralph Lauren's goal and commitment," and since Rancourt & Co. already had a wonderful working relationship with the label, "it made a lot of sense for us to produce the boat shoes for both ceremonies."
"Ralph Lauren has their own design team," said Mike, and although Rancourt & Co. generally does all of the engineering work in house and, in most cases, their own product development, in this case they deferred to Ralph Lauren. Rancourt & Co. just had to make them … lots of them.
Ralph Lauren created a video documenting the crafting of these uniquely American shoes. Since that video's release, Rancourt & Co. Shoecrafters has been getting considerable attention including multiple radio interviews, local television news, and an interview with a Boston station.
"It's such an honor for our workers, most of whom have never been involved in something that has such a presence on the world stage. It's a real source of pride for the workers and the community," and a comfort to know that "all the proceeds go back to the Olympic committee and the athletes," Mike shared proudly.
In addition to these 1,100 pairs of shoes, Rancourt & Co. was asked to create 300 pairs of tiny, size 1, boat shoes, that are identical in nearly every way, to be worn by teddy bears that will be carried by some athletes.
"We don't make children's shoes," said Mike, so making 300 pairs of size 1 shoes in matching red, white and blue leathers required some fancy footwork in terms of engineering and production.
When Mike's father read about the little shoes he wondered how the stitchers were able to sew them on the adult size jacks, the form on which skilled hand stitchers work their magic with waxed needles and thread to stitch leather to leather. Breaking tradition, just this once, due to limitations in terms of equipment and time, the little shoes were machine stitched.
And it was all made in Lewiston
Of the aforementioned 24,000 square feet that is Rancourt & Co.'s home, 3,500 is office space, and 7,000 is ware-house. Other than the small but elegant showroom, the remaining square footage is devoted to manufacturing. "This building was an old cold storage warehouse where they fabricated sprinkler pipes," said Mike, but it has seen significant expansion over the years. "The original building looked like a ski lodge in Maine, with rough hewn pine boards, and we liked the concept of it. So when we did the whole thing over, we kept it original." Just inside of their doors, past the showroom, there was a catwalk high above that led to office space. "We took down the original wood-en catwalk, rebuilt it, and put it back up." Now, it leads to storage space.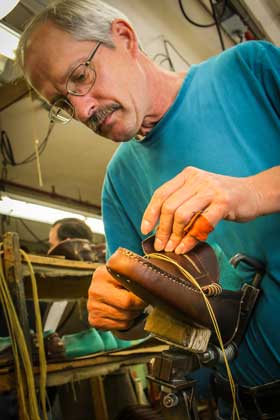 Keeping it real
From the metal dies to the carts they use to move and store materials and product, Rancourt & Co.'s workers make use of original and historic machinery and equipment that dates back to the early days of the shoemaking industry.
Even the raw material suppliers have a rich history all their own.
Most of Rancourt & Co.'s raw materials come from a 5th generation tannery in Chicago. "They are our #1 supplier of leather," explains Mike.
Rancourt & Co. also purchases some raw materials from Europe. Dress shoes are crafted from calf leather and "when you look at our collection, the premium shoes are made with calf leather. And the best calf leather," according to Mike, "comes from France."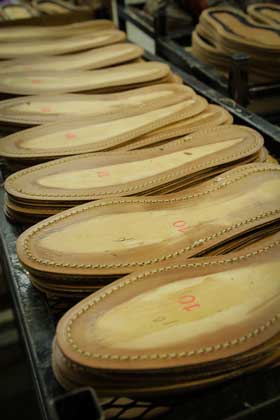 Different pieces of each shoe come from different parts of the leather hide, and so Rancourt & Co.'s yields are generally low, to utilize only the very best pieces of the leather.
When it comes to design, the process includes considerations as to whether the sale is: "ready made," with its necessary large scale production and shipping, most often for wholesale; "made to order," a process in which shoes selected from Rancourt & Co.'s website are made and shipped one pair at a time; or, "custom made" which allows the consumer to design their shoes using the "customization tool" on the website. Barring interruptions, the two latter methods take approximately four weeks from order to delivery.
A "ready-made," non-customized pair of shoes can be made in about two days. According to Mike, however, the "drying time on the last, a form that will shape the upper, is two days," so the actual "touch time is only about two hours." With this method, said Mike, "We're shipping from inventory [that] we replenish regularly," allowing Rancourt & Co. to ship, usually, within 24 hours.
While the bulk of Rancourt & Co.'s production is in these "ready-made shoes," and many customers select "made to order" shoes using Rancourt & Co.'s design, according to Mike, "custom made is a very popular way that our customers buy shoes."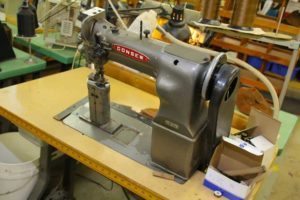 With "custom made," a customer can change the multiple shoe components, and with an impressive variety of eyelets, leathers, colors, stitching threads and soles to consider a customer can mix and match materials to their satisfaction, creating a shoe that is unique to them.
A custom fitting, however, is a different story. To do a custom fitting, a Brannock Device is used to establish the size and width of the customer's feet, a series of fitting tests is conducted using various sizes models, and the fitter takes multiple notes regarding style and materials. The process is significantly more laborious, and the cost to create and purchase such a pair is significantly greater.
Shoes can also be purchased by visiting their showroom at 9 Bridge Street in Lewiston, just a few steps from where they were made.
When it comes to personal favorites,"I've made so many shoes," said Mike, but "my favorite weekend shoe to wear is what is called a driving shoe."
"Driving shoes were designed for race car drivers in the 1950's," and feature rubber dots on the heel and bottom that grip the pedals. "It's a moccasin, with rubber dots, made of American bison leather that has a mottled quality to it that is difficult to replicate."
Community and family
Although their shoes travel the world, for Rancourt & Co. "it's about our community, our love for Lewiston Auburn, and how important this [industry] is for us," says Mike. "I always think in terms of community when I think in terms of our family," he adds, and "how important it is for small manufacturers to grow and succeed in a community. Small businesses sustain jobs, and that leads to housing opportunities, groceries and more jobs."
In this world where consumers often make choices based simply on cost as opposed to quality, it begs the question: "How do I sustain a community through how and where I spend my money?" And Rancourt & Co. shares this message with its customers: "We're successful be-cause you buy our shoes and [in doing so] contribute to both Rancourt & Co.'s legacy as well as to our community."
And speaking in regard to Rancourt & Co.'s affiliation with Ralph Lauren, and its upcoming presence on the Olympic stage, says Mike, "to have this acknowledgement bestowed upon us, on our community, that we are making some of the best shoes in the world" is, truly, both an honor and an opportunity.