Secret fishing gems less than 15-minutes from downtown LA
by David Muise | Photography by Lauryn Hottinger
There's not a pond, river or lake around here that I'm a stranger to," says George Krapovicky. Much like the elusive fish he is after, he can be a bit cagey about giving up the goods.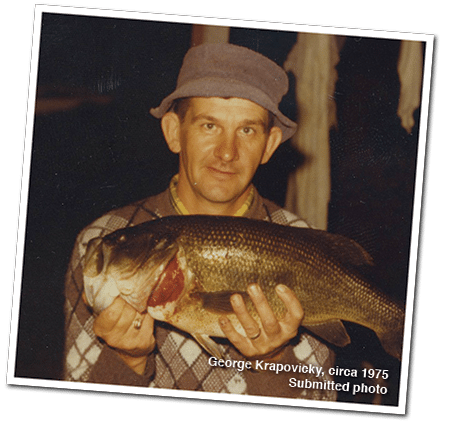 "In that picture there, that's the biggest salmon I've ever caught around here," says George. "I caught it on a fly rod in Lake Auburn… but I won't tell you where."
George has been fishing in the LA area since 1940 or so. He grew up on Newbury Street in Auburn, where he could walk out his door and throw a line in the Androscoggin River.
"I had a line, a hook, a worm, a rock, and my hands," says Krapovicky. "The best hole was right behind the old stove my neighbors threw in the river when they got a new one."
Back in those days, George explains, there was no garbage collection and most people just threw all sorts of refuse into the Androscoggin.
"It was really polluted back in those days," says George. "In fact, the fumes from the river reacted with the lead paint on our house and turned it yellow. People used to say the Androscoggin was, 'too thick to flow and too thin to plow'."
Fortunately that was then. Since that time a combination of legislation like the Clean Water Act, water treatment facilities, education about environmental issues, and a changing economy have helped the Androscoggin make a dramatic turnaround. Nowadays, the Androscoggin River is home to a thriving fish population and has once again become a great destination for anglers.
George's recommendation is to stand on the banks just about anywhere on "the Andro," or throw your canoe, kayak or boat in and see what you find. In the greater LA area, the Andro holds all sorts of fish from brook trout to bass and- for better or worse- big pike. It is rumored that in the fall you may even happen into a salmon making a spawning run down towards Lisbon. So go explore your town's largest river, but for now we will take you to some of the lesser-known places to enjoy some time down by the river in the LA area.
The law of the land
We spoke with Jim Pellerin, a fish biologist from the Inland Fisheries and Wildlife Department, and he offered some helpful tips on compliance and safety as well as giving up a few special fishing holes.
The Maine Department of Inland Fisheries and Wildlife (IFW) operates an easy-to-use and very informative website: www.maine.gov/ifw. Jim tells us that this website is currently in the process of being redesigned, to make it even easier to access information. You are encouraged to use this resource to find the many regulations of Maine's waters, stocking reports, lake surveys and more. Also, most people will need a license to fish in Maine, and, as of recently, you will need to request of the merchant from whom you are buying your license a saltwater demarcation as well. You will need this if you plan to fish in Maine's saltwater areas including the ocean. It costs $1 extra- well worth it.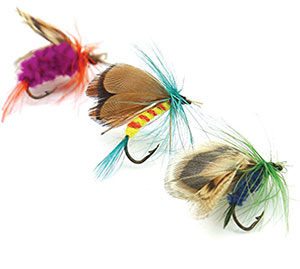 The IFW site has an excellent mobile version as well. So, if you have cell reception you can check in on special regulations, lake maps and more, while you are out on the water.
Finally, you will be given a blue booklet produced by the IFW when you get your license. This book contains most of what you will need to know to assure that you are in compliance with Maine State fishing laws. Get one and use it!
Jim also says that if you have any questions about fishing regulations or the other services performed by the IFW, you are free to call the Region A office, which covers the LA area, at 207-657-2345.
Where to get outfitted
Ask any angler in the area where to get outfitted locally and there is pretty much one answer- Dag's Bait and Tackle. Everyone with whom we spoke mentioned Dag's at some point in our conversation.
Dag's was opened in 1960 by Leo Daignault. It has been a staple in the LA area almost ever since. The store was boarded up and out of business for a short time before it was purchased in 2008 by Dylan Larose.
"It was an icon of the town," says Dylan. "To see it boarded up just didn't seem right."
Dylan had returned to LA after serving in the Air Force when he bought Dag's Bait and Tackle. He set out to restore the shop to the iconic nature for which it had been known.
First he decided the best thing he could do was hire anglers and to put those employees first in the hopes that happy employees would mean happy customers. Next Dylan began doing some outreach in the hopes of fostering a community of young anglers. He's worked with the Boys and Girls Club, the Boy Scouts and local elementary schools to assure that kids wanting to learn how to fish can access the equipment they need to do so.
Visitors to Dag's know that Owen and Scottie, Dylan's employees, are valuable resources, loaded to the gills with fishing knowledge. And what's more, they are happy and enthusiastic to share it- not something you find in every bait shop as anglers are often cagey about giving away information.
In fact, Scottie is a Registered Maine Guide. He is a deft angler and is known to always put his clients on the fish. He offers us some tips on where and what to fish below.
Whereas some of the terminology used by anglers might prove daunting for some folks, he encourages readers to stop into the store. If you don't know what a riffle or a caddis fly is, you should feel comfortable knowing that the good folks at Dag's are willing to help. "There are no stupid questions," says Scottie.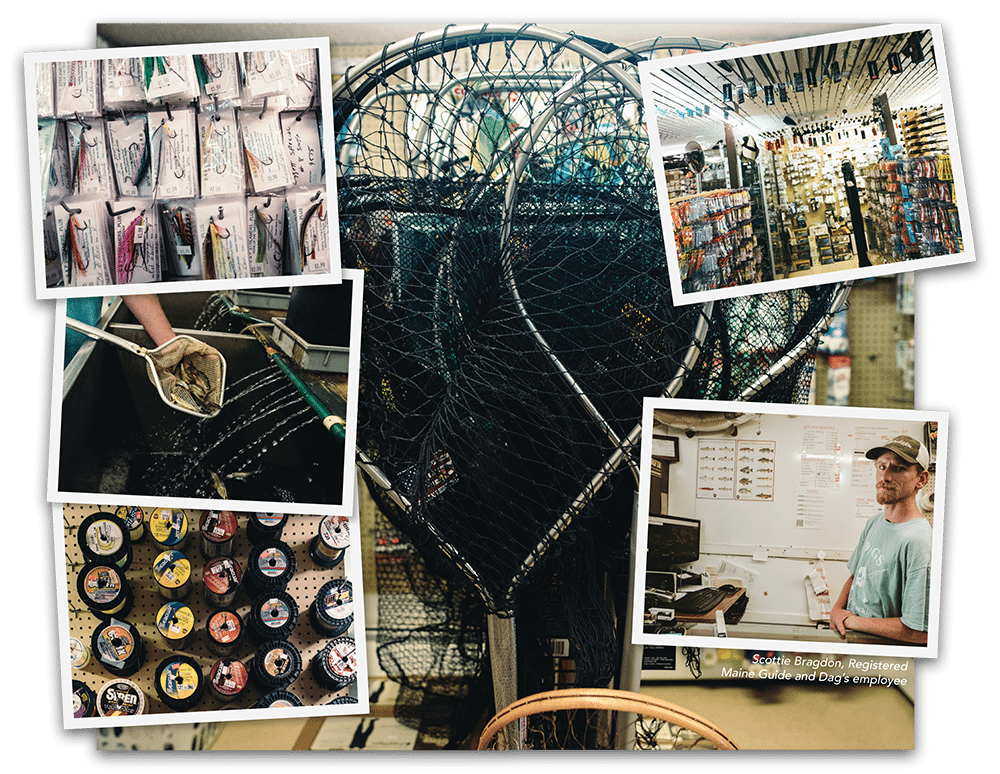 Visit Dag's Bait & Tackle at 559 Minot Ave., Auburn, 207-783-0388; online at dagsbaitandtackle.com or on Facebook. Hours: Sunday-Thursday 6am-6pm, Friday and Saturday 6am-7pm
The secret is out
Martin Stream, Turner
You may have never heard of Martin Stream, though it runs pretty much right along Route 4 from Turner Village all the way up to Brettuns Pond in Livermore. In fact, it passes right under Route 4 no fewer than three times.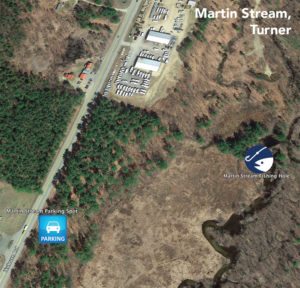 Six or seven miles north of Turner Village, on the east side of the road, you will see a small parking lot next to what appears to be a small pond. This is actually part of Martin Stream. You can fish right from the shore, but also consider putting your watercraft in and heading north toward the inlet, says our insider George. The "fisherati" of the area know there is a nice wild brook trout population here.
A worm is always a nice treat for a brook trout, but remember that in the warm summer months, the trout will be down lower in the cooler water. In the spring and fall, they are more apt to be nearer the surface. Spinning tackle can work here as well. Try small trout lures such as a Classic Teardrop Spinner by Panther Martin.
Another way to fish Martin Stream is to park near any of the small bridges over the stream along Route 4. Any small stream anywhere between Turner Village and Brettuns Pond is either Martin Stream or one of its tributaries. Your hike toward the stream will be short; you are encouraged to fish your way upstream, exploring the water as you go. You may even end up stumbling onto the next top secret fishing hole. Be sure to be aware of private property. If in doubt, always ask permission first.
Collyer Brook, New Gloucester/Gray Line
Collyer Brook is a little gem right on the Gray/New Gloucester town line, Scottie tells us. If you are heading south on Route 100, take a left onto Mayall Road just over the town line. About 1/2 mile up Mayall Road, look for Megquire Road on your left. There is a dirt pull-off just before the bridge going over Collyer Brook on Megquire Road- park here.
From this parking spot, you can walk down to the brook about 50 feet. You will be just upstream from the bridge. Once on the bank (or in the ankle-deep water in the brook) look upstream at the remnants of an old mill. It is a beautiful setting, with water flowing out from beneath large granite slabs forming a small set of riffles in the water. Immediately below those riffles and to your right there is a nice pool that usually holds brook trout.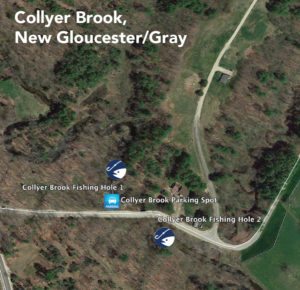 There is enough room here to fly fish. If doing so, try stripping a streamer down through the riffles to see if there are any aggressively feeding fish around. You will know if this technique is working within 5-10 casts. If not, move on to a dry fly like a caddis. Land it at the top of the pool and let it slowly drift towards you on the calm water.
You will know pretty quickly if this spot is going to produce on the day and time you are there. If there is no action within 15-30 minutes consider trying downstream. Head back up to the road and just over the bridge where you will find another access point to the brook. Here you will be facing the bridge and, ideally, casting up under it. There was recently a report of a 3 pound brook trout being taken here.
Both of these spots are fishable with a spin rod using light tackle. Try small rooster tails or other spinners. Also, Collyer Brook allows for the use of worms. If that's your thing, get some smaller trout worms and bounce them along the bottom on both sections.
Collyer Brook is heavily stocked with both brown and brook trout yearly in the spring. The deep pools and heavy underwater structure (boulders, tree limbs, etc.) make for ideal hiding places for trout to survive year over year, which is why it is not unusual for big fish to be found.
Little Androscoggin, Auburn, Minot and Mechanic Falls
Our mighty river's little brother is not the polluted, barren stretch of water that many know from years past. Surely you know the "Little Andro." but you might not know these great spots to catch lots of fish.
Hotel Road Bridge, Auburn
There is a little dirt parking lot on the southwestern side of the bridge on Hotel Road that crosses the Little Andro. From here, carefully cross the street and the railroad tracks to find a walking trail that leads to two great fishing spots. Be careful after crossing the tracks, as the trail down to the river here is quite steep.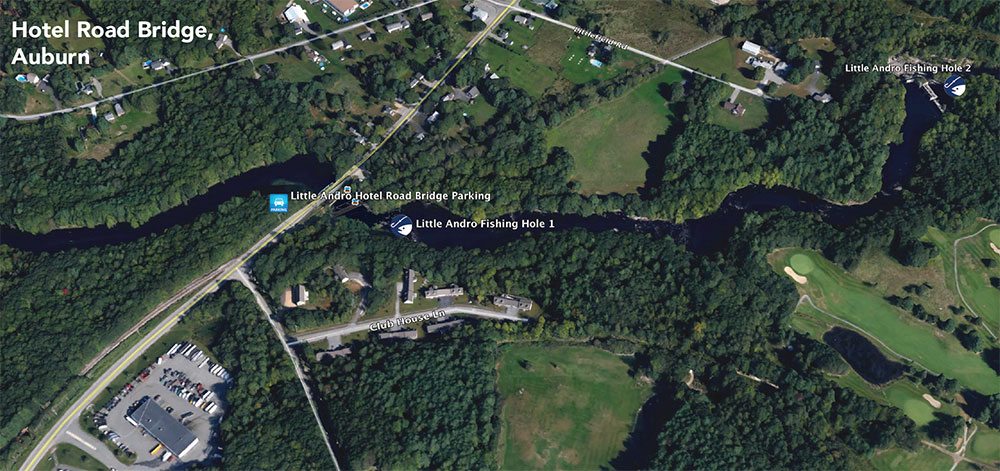 Just a couple of hundred feet down you will see some small rapids and exposed rocks. This is your first destination. If you can walk out into the river with waders or boots, you will have a perfect vantage point to numerous pools. If you'd prefer to fish from the shore, there are some rock outcroppings on which to position yourself.
Fly fisherman will want to try pulling streamers through the riffles and letting them come down into pools and the awaiting trout. Those with spinning gear can try trout worms and light spinning tackle such as a small spoon lure. Remember to use the smallest lure possible in shallow water conditions. Scottie recommends an erratic retrieve with such spoons. "Reel just fast enough to keep the line tight and occasionally give a small tug so the spoon will appear as though it is darting or tumbling through the water."
Once you have fished this section of the Little Andro you can get back on the walking trail and head downriver to another, more remote and less fished area. You will walk about 1/4 of a mile along the trail before coming to an old dam that is out of use- the Littlefield Dam. Most of the dam still stands but the far side of it has been removed to allow for the free flow of water. Because this water is pinched through a relatively small opening, the resultant flow of water is staggering to see- huge rapids and lots of whitewater. Make no bones about it, this is a dangerous area and you should not attempt to get in the water here. However, just below the dam where the whitewater ends, you will find a lovely pool where fish love to hide out and wait for the whitewater to wash down food. Both fly fishing, worms, and spinners the likes of which were described above should provide plenty of action.
Minot Country Store, Minot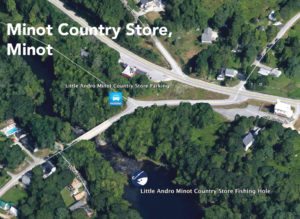 Head west on Minot Avenue toward the Minot Country Store. Just behind the store on a small road, you will find a small parking area. This area is heavily stocked with Brown and Rainbow trout. Scottie tells us that you may even find the stray brook trout in here, as well. Get to Dag's and ask for a streamer with a "white marabou feather" says Scottie. This fly seems to have a special attraction in this area. Worms and small spinners or spoons will produce fish as well. Added bonus: it is rumored that at certain times of the year, you may happen into a spawning salmon making a run through this area as well.
Sawyer Bridge, Mechanic Falls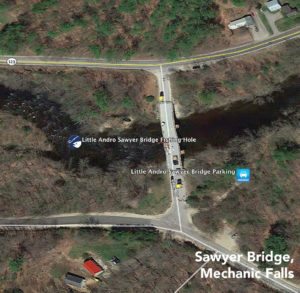 Sawyer Bridge is not hard to get to but it is a special spot for anglers and one that not many speak about, as it produces lively rainbow trout fishing. Jim gave us the lowdown on this spot.
Continue west through Mechanic Falls on Route 121. Not far down the road you will see Lane Road on your left.
There is room to park just past the bridge. From here, you will want to head upstream toward some visible riffles. This spot is great because it is easily reached and provides you with near immediate upstream fishing.
Fish from the shore or get in the water here. The rainbows here are fun fighters, often dancing out of the water on their tails. The fishing gets really hot here on some days, providing lots of trout action for the angler.
Bog Brook, West Minot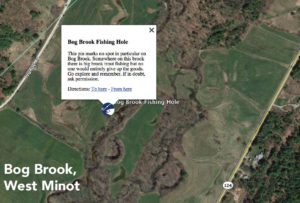 Bog Brook, and the trout holes on it, are some of the most closely guarded secrets in this area. Jim tells us that this is "trophy wild brook trout fishing territory." This area produces such good fish that we couldn't get anyone to give us an exact location. What we do know is that if you head north on Route 124 out of Mechanic Falls, the brook will be on your left, or westerly side, all the way to the junction of Routes 124 and 119. Explore this area, get out of the car and walk around, hike into the woods and see what's out there. This is really the magic of fishing- exploring a body of water until you find the perfect combination of access, safety and, most importantly, big fish!