Written by Victoria Stanton  |  Photography by Jose Leiva
The seniors of Lewiston Auburn built- in every sense of the word- the Twin Cities as we know them today. As this population ages, the needs of our seniors will continue to shape the opportunities and challenges of our communities.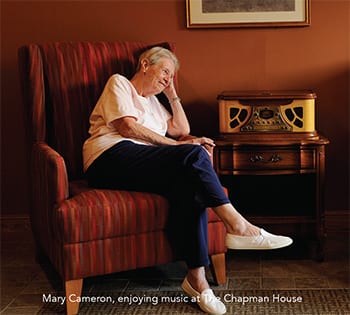 "I never thought I'd see the day I'd be bragging about being in a place like this."
Mary Cameron sits on the bed in her efficiency apartment at Chapman House, the senior living center for women in Auburn. Up until a year ago, Cameron had been living on her own at the Auburn Esplanade. She says that getting around town without a car had become a burden, and taking public transportation to buy groceries or get to doctor's appointments was too much of a hassle.
Cameron, a widow, had friends and family who had moved into various assisted living facilities, but she never truly considered that option until a friend insisted she tour Chapman House. "It's like living in your own apartment," she now says. "You have all the privacy you could ever want. I'm still in awe."
At Chapman House, Cameron lives in a community amongst 29 other senior women, where she enjoys communal dining ("I'm not a foodie, but oh wow!") and a variety of coordinated activities.
Her story is not unlike those of other seniors living in LA who, with perhaps some trepidation, have made the transition to assisted living, looking for convenience and the peace of mind that comes with on-site staff and round-the-clock care.
Cameron is confident she made the right move for herself, but what are other options for seniors looking to make the most of their golden years in LA?
The changing face of assisted living
The world of senior living exists on a spectrum, from those who choose and are able to stay in their homes, referred to in social services as "aging in place," to those who need varying degrees of care.
It is not unusual for an individual to transition between several iterations of care during his or her lifetime. And in LA there are several organizations and businesses dedicated to the residential care of seniors (see list below).
Some, like Chapman House, provide assisted living. A step beyond independent living, this assistance can offer a certain level of support and medical care, but requires that residents are largely able to attend to personal care needs themselves.
Others, like Clover Health Care in Auburn, operate on a "continuum of care," in which residents can journey through the entirety of their senior years on-site, from independent living apartments, to nursing care, to the dedicated memory care residence.
For seniors who have outlived spouses and friends, residential facilities can provide community and companionship while minimizing the burden on adult children and their families.
Living longer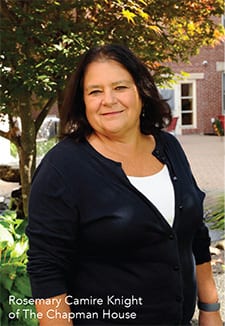 Rosemary Camire Knight, the administrator at Chapman House, notes the average age of entry for assisted living facilities is going up. Where once it was common to see women in their 60s and 70s entering Chapman House, she now finds women in their upper 80s and 90s moving in.
Sarah Adams, director of marketing at Clover Health Care, sees these shifts as well. "Twenty years ago," she says, "the type of person that was moving in was very different from the type of person moving in today, because the medical model has changed."
What's different? "People now stay home longer and our medicine is better. So they live longer with assisted therapies," Adams elaborates. "People moving in today to assisted living would have been in the nursing home 15 years ago."
The needs and expectations of the residents themselves continue to shift, reflecting the values of each generation entering assisted living. Common concerns are privacy, access to transportation, level of on-site care, and access to the internet.
And even though residents are presenting older and with more needs than in years past, they show no desire to slow down, says Knight. For all the amenities and supports of senior living facilities, residents are keen to stay independent, engaged, and vital for as long as possible.
Activities are a way for facilities to foster community and a sense of variety. Musical performances, shopping trips, and restaurant outings are all popular, as are the perennial favorites of bingo, cards, and group exercise. At Clover Health Care, a group of 75 residents, including those from the nursing home, recently enjoyed a beach day at Range Pond.
Of course, cost and affordability remain central questions for families navigating the landscape of assisted living. Not all facilities accept MaineCare, and the resources a family has may need to stretch for many years. And even if a family has the necessary resources, they may need to contend with a growing demand for a limited number of units, as "baby boomers" enter their senior years.
Aging Maine
Maine is getting "grayer." For years we have been told to anticipate the impact of a retiring "baby boomer" generation. This group, born during the years immediately following World War II, when the birth rate increased sharply for a short period of time, represents the single largest age demographic in the U.S. At the same time, overall population growth has slowed or stalled out, raising concerns about the future of our workforce and social services.
The Maine Population Outlook, published by the State of Maine, projects the number of Maine's retirement-aged people to increase 37 percent by 2026, while younger working populations will see virtually no change. In fact, only Auburn and Portland are likely to see modest increases in their populations in the next seven years.
The rhetoric around these issues trends toward the catastrophic. Pundits describe a "silver tsunami" descending across the country. A recent article in The Washington Post presented Maine, the "oldest" state in the union, as a cautionary tale of what happens when this wave hits, describing the "crippling" impact of the labor shortage and families pushed to the breaking point as they care for their elders.
Resources fill the need
What resources exist for the increasing number of people who require in-home supports, or who will soon make their way to assisted living and nursing communities?
Underway at Schooner Estates is an expansion project that will add 60 units to its retirement community on Stetson Road in Auburn. These units will be dedicated to memory care and a higher level of assisted living. Some of the existing residences will be transitioned to independent and traditional assisted living.
At Clover Health Care, the leadership team is betting on their workplace culture, to meet the need. Adams says, "You can only admit as many people as you can successfully serve."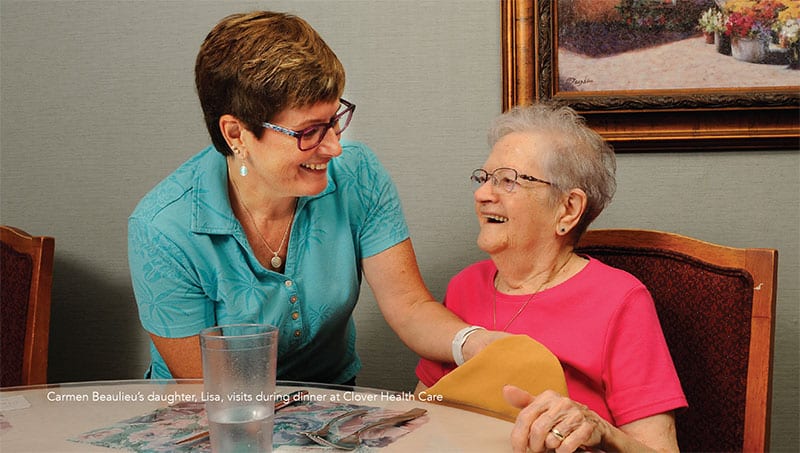 The company provides ongoing, in-house education and promotions from within, in an effort to retain talented, trained staff. They also offer "learn as you earn" PSS and CNA courses that provide students no-cost training in exchange for a six-month commitment to Clover.
"For us," Adams says, "it's never about the bricks and mortar; it's always about the people."
Thriving in community
Mainers are known for their fierce independence. But says Nate Miller, community services program manager at SeniorsPlus, "Sometimes you need a little help to live independently."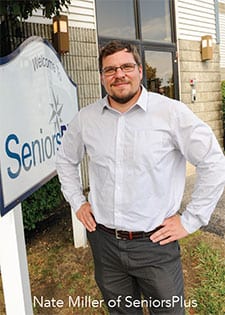 Miller wants seniors to know that they have rights, and that there are services in the community geared toward helping them live as independently as possible.
Based in Lewiston, SeniorsPlus is one of three area agencies on aging in Maine, and is a clearinghouse for LA seniors and their families. Their mission is to enrich the lives of seniors and people with disabilities, and that often includes providing advocacy and information, as well as events to connect seniors with their community. It can also mean aligning them with services that allow them to stay in their homes as long as possible.
In-home caregiving can help residents with a range of activities of daily living, from preparing meals and completing household tasks to attending to personal care needs and administering medication. Other programs can assist seniors with modifications to make their homes more accessible, such as installing ramps.
The costs of home-based services are not insignificant, however, and few insurance providers offer private long-term care insurance. There are state funds and some MaineCare support is available for these programs. To help families weigh their choices and access resource, SeniorsPlus offers options counseling, either over the phone or in person.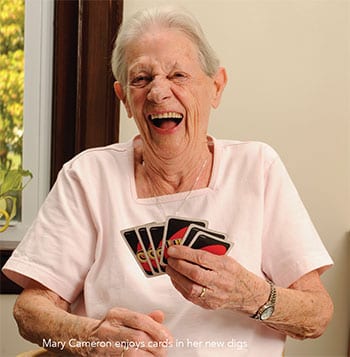 Of all the community-based services available to seniors, the Meals on Wheels program may be the most well-known. For the cost of a small suggested donation, the program delivers well-balanced meals to seniors. In addition, drivers take the opportunity to check on the well-being of the recipients and provide a few minutes of socialization.
Making connections
Isolation is a significant health risk factor for older Americans who live alone or may not have access to transportation. In response, SeniorsPlus coordinates a Senior Companion Program through the University of Maine Cooperative Extension.
The Companion Program runs on a peer support model, matching volunteers age 55 and older with isolated or home-bound individuals. Volunteers visit, share conversation, and occasionally may drive participants, to help them get out and about.
Miller believes the aging of Maine's senior population presents a tremendous opportunity; rather than operating from a place of fear for the future, we should be celebrating what seniors have to offer through volunteerism. Retirees, he says, have the time and an array of talents that can enrich communities and lead to better health outcomes and a higher quality of life for themselves and their peers.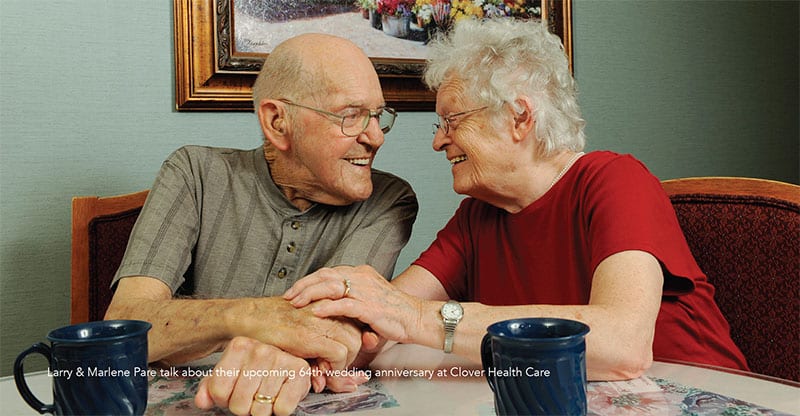 "There are opportunities out there for anyone, regardless of what their interests or goals are," says Miller. "It is just a matter of seeking them out and getting involved."
Living with purpose
Marie Dustin of Auburn agrees. A senior companion, Dustin turns 80 this fall and is evangelical about the value of volunteering and of bridging connections with people living in isolation.
"I need a purpose to get out of bed in the morning, and they need a purpose to get out of bed," she says.
That purpose includes everything from chatting over coffee to playing games and cooking meals, to driving to doctor's appointments and the occasional bingo outing. She visits with three to five seniors in any given week. The relationships are deep and sincere.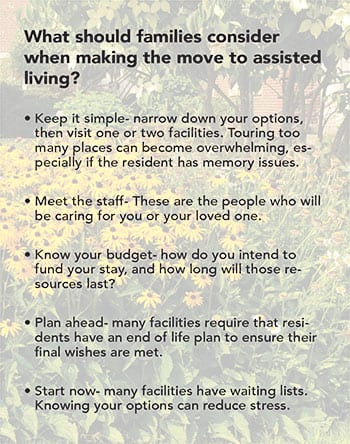 Dustin describes a two-month period in which she was housebound with a broken ankle and could not make her usual visits. During that time, the people she visited made a point to call her, to see how she was doing.
"They do as much for me as I do for them," she says, "The only difference is I go to them, instead of them coming to me."
Chapman House
41 Pleasant Street, Auburn • chapmanhouse.org
Clover Health Care
440 Minot Avenue, Auburn • cloverhealthcaremaine.com
SeniorsPlus
8 Falcon Road, Lewiston • seniorsplus.org
LA's Senior Services & Facilities
Androscoggin Home Healthcare & Hospice
15 Strawberry Avenue, Lewiston
777-7740
Beacon Hospice
245 Center Street, Auburn
784-4242
Bolster Heights
26 Bolster Street, Auburn
784-1364
Chapman House
41 Pleasnt Street, Auburn
783-0961
Clover Health Care
440 Minot Ave, Auburn
784-3573
Helping Hands
571 Sabattus Street, Lewiston
777-5294
Interim Healthcare
336 Center Street, Auburn
783-6700
Marshwood Center
33 Roger Street, Lewiston
784-0108
Montello Heights
550 College Street, Lewiston
786-7149
Montello Manor/Montello Commons
540 College Street, Lewiston
783-2039
Odd Fellows and Rebekahs' Home of Maine
85 Caron Lane, Auburn
877-665-7585
Russell Park Rehabilitation & Living Center
158 Russell Street, Lewiston
786- 0691
Sarah Frye Home
751 Washington Street North, Auburn
784-7242
Schooner Estates
200 Stetson Road, Auburn
784-2900
SeniorsPlus
8 Falcon Road, Lewiston
795-4010
St. Mary's D'Youville Pavilion
102 Campus Avenue, Lewiston
777-4200
Woodlands Memory Care
45 Mollison Way, Lewiston
440-6040