Written by Sara Poulin | Photography by Mark Turcotte
Dinner is served with a side of mystery! Mystery for Hire (MFH), one of Maine's premier murder-mystery dinner theater companies, is serving up serious entertainment and delicious adventure. They've been delighting their audiences for over two decades with thrilling evenings of good food, mystery, and intrigue. A fun time for all, guests of MFH bear witness to and participate in solving a crime, but must be cautious; they could be dining with a killer.
LA Metro Magazine sat down with Dan and his performers to talk about their success and the game of "murder."
The usual suspects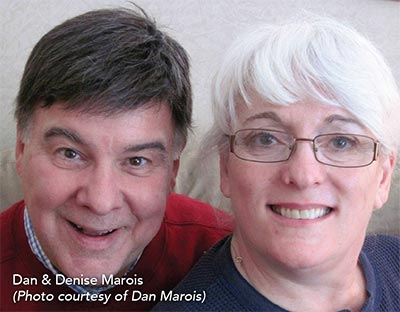 Dan and Denise Marois began their "sleuthing" careers as actors with Mystery Café, a Boston-based mystery theater company that later moved to Maine in 1991. They started their own entertainment company in 1995, and Mystery for Hire was born. In their 27 years in business, with the exception of a two-year hiatus during COVID, they have produced over 1,000 shows, performing for over 250 different clients, large and small businesses, colleges, and more.
Having performed in about 900 murder mystery shows, Marois, along with his wife, who has appeared in approximately 500 shows herself, brings much experience and expertise to MFH. Actors are cast depending on the show script and whether they are suitable for the available roles. Some MFH actors have been with the troupe since day one, including Kathleen Nason and Julie Poulin. Marois believes there have been as many as 40 actors involved with MFH.
According to Marois, the best performers for his mystery shows are people familiar with improvisation. He says, "They need to be able to think quickly on their feet." Most MFH performances occur during a meal, and the actors are expected to remain in character from start to finish. That can be a difficult task," Marois admits.
"Some formally trained actors haven't been comfortable with our free-flowing performances," he adds. "We have gotten some of our best performances from people who just have a knack for being creative and working an audience."
A veteran actor, Greg Simpson, who has been working with MFH for ten years, has recently taken on writing new scripts. He's written a popular pirate-themed show, as well as a golf-themed show. Simpson estimates he's played dozens of characters over his decade-long career with MFH, but his favorite is the Irish priest from the BINGO-themed mystery, Father John Patrick Xavier.
What makes the character so fun? "Getting to do my dialogue in an Irish accent all night," admits Simpson.
Another memorable event for Simpson was performing at a fundraiser for the nonprofit organization, Make-A-Wish. The theme was "The Roaring 20s," and the guests were dressed in amazing costumes.
Julie Poulin, another long-time actor with MFH whose career spans two decades, loves the audience participation as well as the crowd being in character and costume.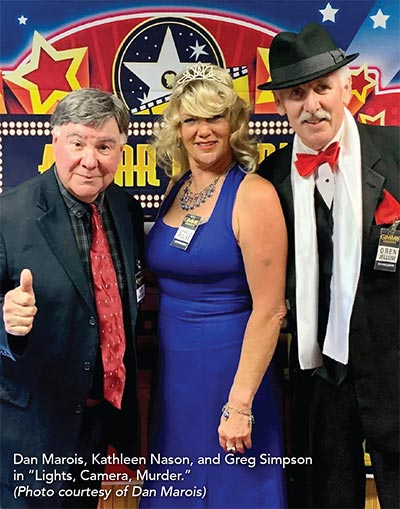 "They come ready to play with us," Poulin exclaims.
Her favorite character over the years was her first role, a bride named Rachel with "secrets."
Poulin enjoys acting and improv, but she appreciates something else. "The lifelong friendships I have made with my fellow castmates, they're crazy, and I consider them family," Poulin boasts.
Murder by numbers
Over the years, Marois estimates that MFH has done about 20 different mystery themes. Although they perform shows written by other playwrights, Marois has written most of the shows performed by MFH. With enough advanced notice, shows can even be customized for different audiences. "We once wrote a show called 'Construction Can Be Murder' for a group of women who work in the construction industry," Marois shares.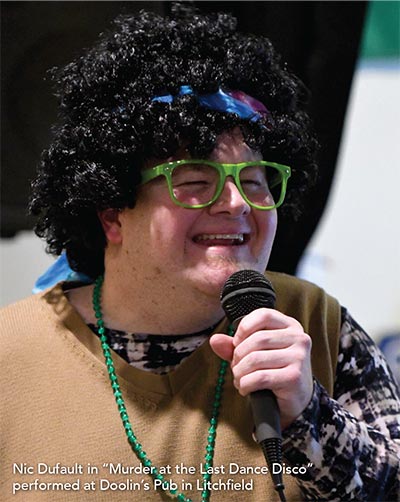 With more than 1,000 shows, there have been many memorable moments. Like Simpson, performing for fundraisers and nonprofits is among Marois' favorite shows. Others were shows done under more unusual circumstances. Marois recounts a time when a crucial prop, a voodoo doll, went missing during a mystery dinner.
"We couldn't find it where it was usually hidden," recalls Marois. However, he reveals that an older woman eventually admitted to having the doll and wanted to take it home for her dog. While in character as a British detective, Marois continued the show, dramatically 'frisking' her until the doll was found.
For Marois, the highlight of each show is when the Super Sleuth is awarded. The "Super Sleuth" is a member of the audience who comes the closest to guessing the murderer or crime. According to Marois, the same script can have a different murderer at each performance – it depends on the mood of the show or what the audience contributes to the solving of the crime.
Crimes of passion
Because MFH is primarily an improv-based performance, there is a plot and a loose script the actors follow, and they occasionally encounter the unexpected. For a show at Springfield College in Massachusetts, the client expected around 100 guests, 500 attended.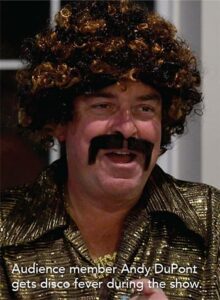 Marois admits, "It was a challenge to play to such a large group that we weren't expecting." Like any good improv troupe, they have had to roll with the punches.
The purpose of MFH is light entertainment and to walk into an immersive and engaging story that connects with the audience. The content and venue play a big part in keeping the audience's attention. Over the years, MFH has performed in almost 200 different venues from every part of the state, locally at Marco's in Lewiston and in Litchfield, Maine, at Doolin's Pub.
Accomplices
Even with more than 1,000 shows under their belt, MFH shares unique performances every time. MFH uses different actors for roles from show to show, and each actor brings their voice to their character. Every audience is diverse, contributing other insights and adding new twists to the plot; you'll never see the same show twice.
When asked about the success of MFH, "We could not have done so many shows if not for the talent that many actors shared with us," says Marois.
Marois and his wife have recently moved to New Hampshire to be closer to their family. However, it is their hope that Mystery for Hire will continue as they have turned the casting and production over to a few long-term actors with the troupe. Marois will still appear in shows as needed as an actor, but hopes to make room for new actors to get involved with mystery dinner theater.
Mystery for Hire
www.mysteryforhire.net