Written by Michael Krapovicky  |  Photography by Brewster Burns
Road warriors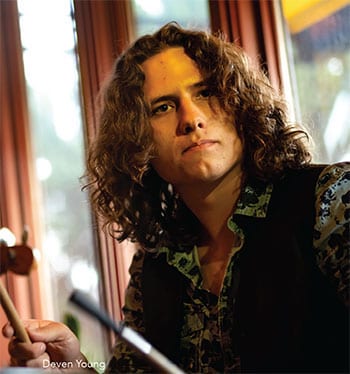 A road-weary band steps out onto a dimly lit stage, launches into a powerful guitar-driven anthem, and immediately brings the
alcohol-fueled crowd to their feet. David Young and the Interstate Kings experience this phenomenon most weekends, even though the group's median age is still under the legal drinking limit.
David Stanley Lawrence Young and his brother, Deven, started performing music on guitar and drums respectively, as pre-teens. With longtime collaborator Seth Martin, the band was formed with a desire to conquer 'the road,' to make the working musician's journey. Their live set is composed of covers and their own original music, raw and reflective of bygone eras of rock and roll.
Influences
Whether strumming harmonica-tinged folk tunes a la Bob Dylan or Neil Young, or blazing through a fiery electric solo on his Les Paul, David Young brings a youthful ardor to his guitar performances. Playing fingerstyle, without a pick, has garnered Young notice and appreciation from many musicians and fans.
"I started taking guitar lessons when I was 10 years old from Betty McIntyre, a teacher in Windham," recalls Young. "The first three times I had lessons, I forgot my guitar pick. The next time I just said, 'That's it, I'm a guitar player that plays with his fingers.'"
"My biggest musical influence is my grandfather, David Arthur Young," he relates. "He lives in Ontario, in a small community called Ompah, and plays bass for us when we do shows there. My dad, also named David Young, plays guitar and is a big supporter of my writing, offering a lot of guidance. David Muise was also a big proponent of my music, starting out. He is one of our biggest fans and has always been supportive of us."
"I first saw David Young perform at the Faith Lutheran Church," says Muise. "When he was about 12, he performed at a special event there. He blew everyone away! From then on, he became a very regular performer there. It's amazing because he can fingerpick the sweetest hymn at church, and by night, absolutely shred both classic rock numbers and his own tunes. He's a prolific songwriter, too."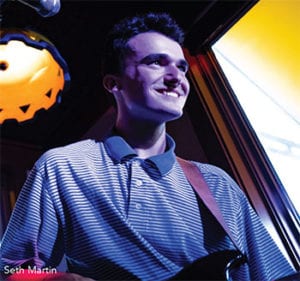 Deven Young also has a strong family connection to music. "I started playing drums at David's recommendation," he recalls. "We bought a drum set together, and I started playing with him when I was in eighth grade. My biggest influences, as far as drummers, are Steve Ferrone of Tom Petty and The Heartbreakers, Johnny Fay of the Tragically Hip, and Brent Fitz, who plays with Slash (former guitarist of Guns N' Roses)."
Bassist Seth Martin rounds out the three piece band and has filled many roles over the years in the band's evolution. "I started on drums and switched to rhythm guitar when Deven wanted to join David's high school band, at that time called The Rubber Band. I switched to bass when the band went to a three-piece." Martin shares, "Initially I liked Flea (bassist of the Red Hot Chili Peppers), as a bass player, but now I'm just as impressed by someone whose bass-line forms the backbone of the song, no matter the genre."
Process and evolution
"What motivates us is the vibe of the music," affirms David Young. "When we started, we were just jamming in high school, having a good time. Then my songs started getting fleshed out as band material, and we got an enjoyable, cohesive finished product."
"David will start out with the guitar part and lyrics," Deven elaborates. "Then we jam on it, and put in our 'two cents' as far as structure."
Longtime concert promoter Dave Biron has mentored the many iterations of the band since 2014.
"As the Rubber Band, their music was different and fresh, so I started them with a few bookings, over a four-year period," Biron relates. "In 2018, I had booked the band at a small venue in Readfield, Maine, and decided to go see them perform. I was pleasantly surprised to see how much they had matured musically."
That night, Biron offered to be the band's manager. The band officially changed their name to David Young and the Interstate Kings, and began a serious push for wider acclaim.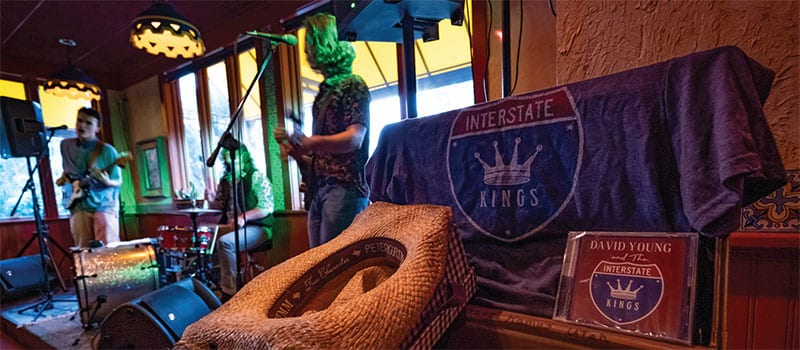 Recording and performing
"David and I started working together to brand the new name," asserts Biron. "In late November and early December, the band laid down tracks at the recording studio at Husson College, in Bangor. David worked up the jacket design and write-up, and the master was sent out to be pressed in late January."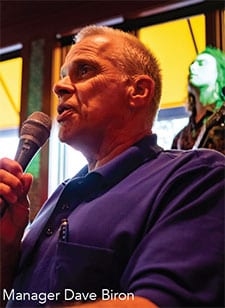 Their 2019 eponymous release has received numerous accolades from DJs, critics, and listeners around North America. Radio personality Dave Dean, longtime host of "Local 4 at 4" on Maine's Big Z, has said, "This EP is well-paced and interjected with musical surprises that keep you coming back for more."
"We are getting a good response from our original music," says Young. "People really seem to like 'Simpler Times' and a newer song, 'Interstate King.'"
One milestone the band has achieved is appearing on the Portland-based TV show "207," which spotlights local entertainers. "Our song, 'Ramblin' Man', was performed there," says Young. "We kept it to the 3 ½ minute format for that show, but playing it out live elsewhere, we like to extend the solos a bit more, and improvise."
LA and beyond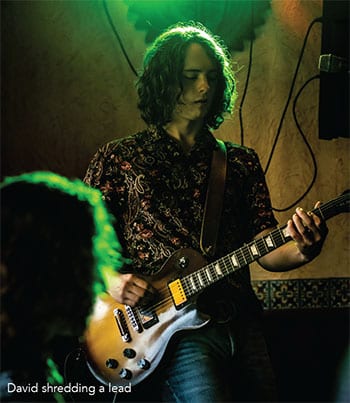 With Biron's help, the band is getting airplay on local radio stations, and playing live shows at LA venues such as Fusion Lounge, Pedro O'Haras, and Gritty McDuff's.
"I've been in the LA music scene a lot more; there are so many great players and bands here," Young comments. "We like talking to the fans. It's great to find someone new who can take a little piece of you home with them, 'like' your social media page, buy your music. We think of it as a big honor when folks put our sticker on their car or motorcycle."
The brothers Young are preparing for a move to Nashville, to seek their fortunes. "We'd like to gear up to playing full-time, traveling, playing good gigs, getting some ground under our feet," says Deven. "Live music is still popping in the bar scene. I don't think it's ever going to die. There is always going to be someone playing. I think anyone can make it, if they are in the right place at the right time."