Written by Michael Krapovicky | Photography by Brewster Burns
Maine-based band, The Goods defies a clear delineation between genres – the line between rock, Americana, and amplified bluegrass is purposefully blurred within their music. Their style draws inspiration from disparate sources like The Rolling Stones, James Brown, and Del McCoury, yet the melding of their influences make The Goods a musical entity that is one-of-a-kind.
Eight stringer
In the seventh grade, Rob Neilson bought a guitar at Friendly River Music, which he still owns. Seeking an inroads to playing in a fledgling bluegrass group, Neilson switched to mandolin. He was a longtime member of the Portland troupe, the Grassholes, then later co-founded The Intergalactic Yurt Band, known for creating bluegrass versions of popular rock songs, which he still performs with over 20 years later.
Peter Wiggly, photographer for The Intergalactic Yurt Band, encouraged a collaboration between Neilson and Chris Henry, a guitarist and songwriter with a unique worldview and voice.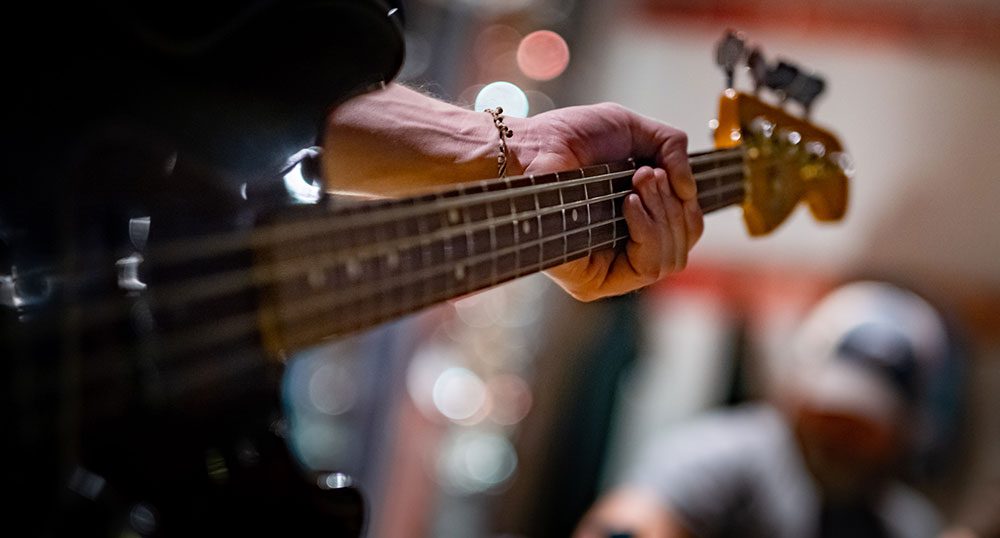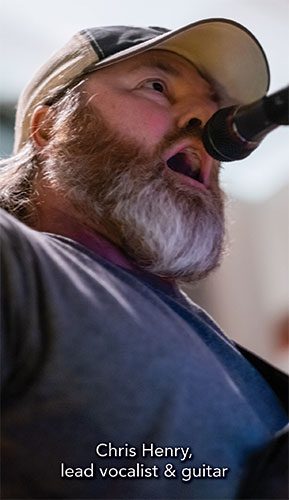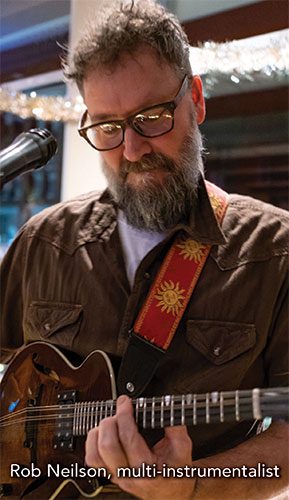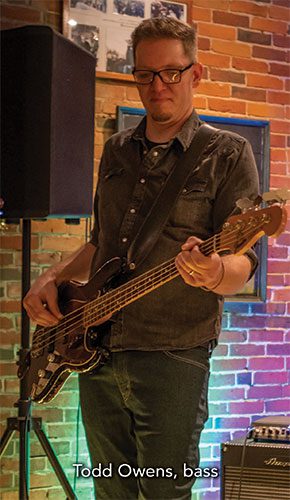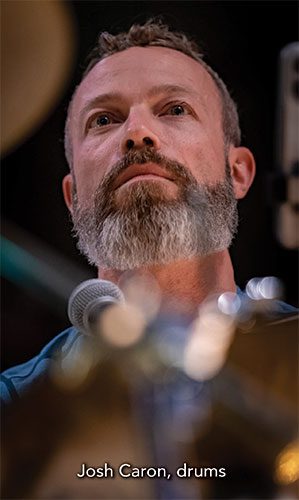 "My father played guitar and keyboards in a top 40 band, so there was always music in the house," says Henry. "My early influences were heavy blues players like Jimi Hendrix, Van Halen, and Jimmy Page, but my tastes moved towards Frank Zappa and Grateful Dead over time – bands that felt more free."
With bassist Chris Michaud and drummer Scott Hopkins, Henry formed a progressive rock band Bad Apple, that covered Queen, Frank Zappa, Rush, and other progressive acts. He later started Dirty Deeds, an AC/DC tribute band in the 90s.
"We were really trying to replicate AC/DC as closely as possible, to capture the power of their live show," says Henry.
"It was fun to dress up like Angus Young and really try to act out the part onstage."
Also, in the 90s, Henry started writing his own songs, and began the process of forming an original band. He found a willing partner in Neilson.
Evolution
In 2010, the two began crafting Henry's songs with Neilson's mandolin accompaniment.
"As someone who played mostly hillbilly bluegrass, Chris's songs were so out of my comfort zone," Neilson concedes. "Having
this kind of folk-metal edge to them, with unfamiliar chords I'd have to transpose to my instrument; it was a great learning
experience."
The evolution of the band was gradual as Neilson and Henry became more familiar with each other's strengths and musical goals. Over time, Neilson's instrumental pieces found their way into the setlist to add to Henry's songs.
The new Goods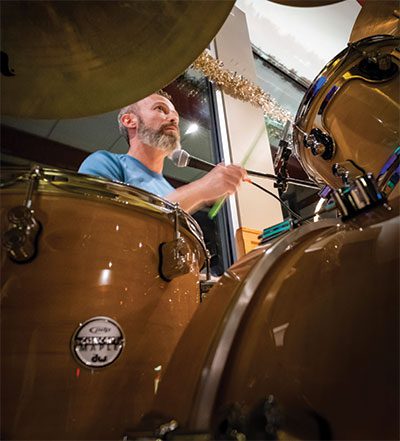 Neilson and Henry called their band "The Goods" – as in "bringing the goods." The two discovered the name described their growing audience as well as their unique musical presence.
"Our audience is really 'the goods' for us," says Henry. "They bring the intangibles that drive us to perform better."
Their itinerant lineup began to solidify as they added bassist Todd Owens in 2012. Owens brought a foundational sensibility birthed out of years in the Maine blues jam scene.
"I started playing strictly blues, music with a solid structure," Owens asserts. "Once I joined The Goods, I was free to explore more genres – bluegrass, off-beat funk – stuff I never thought I would be into playing."
"Once Todd joined, it made my job simpler, as I didn't have to fill the role of bass player, and I moved to playing electric guitar," affirms Henry. "We got a drummer, Tate Gale from the Yurt Band, and recorded an album of original music."
Gale had a long stint with The Goods, and upon his departure, the band recruited Josh Caron to play drums in July 2020. Caron began drumming in the 90s, enamored early on by music of the grunge era, such as Rage Against The Machine. Later, Caron was drawn towards theater productions, playing in pit orchestras.
"Because it's all story-driven, there is a vast diversity of styles – key and time-signature changes – in theater music, which makes it really fascinating." Caron says.
Good chemistry
The new rhythm section brought a new fervor and funkiness to The Goods.
"Josh was a breath of fresh air," claims Neilson. "Josh and Todd play so well together, bring a funk element, and vocally, we're really developing a strong three-part harmony."
In addition to highly compatible musicianship, the personality of each member accounts for their positive chemistry.
"We are all really comfortable with each other and foster each others' silly nature," says Caron.
"When we all get together, we have the freedom to be ridiculous, and it just makes things fun."
Goods groove
A performance by The Goods aims to create a positive shared environment with their audience, blending their originals with songs folks may be more accustomed to hearing.
"We like to get an audience who might not be familiar with us warmed up with recognizable covers," Henry acknowledges. "They become more receptive to your own music over time."
The synergy between the band members creates a signature stamp on the music that populates their set.
"There's a pretty distinctive, organic sound that the four of us create, a 'Goods groove,'" avows Owens. "It is fun to transfer that vibe to other material," says Owens.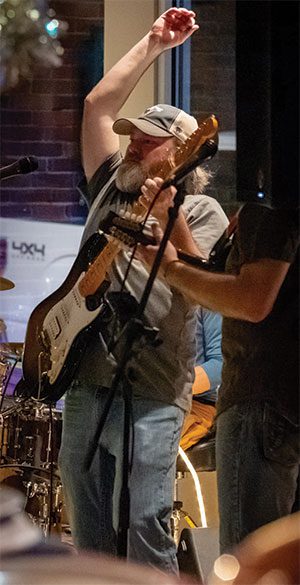 The band's wide variety of originals, paired with funky, danceable covers, allows for an unpredictable mix.
"Having a solid rhythm section like Josh and Todd really frees up Chris to roar," claims Neilson. "We can get a heavier sound with an almost metal edge, or change to clean and pretty, and do some pretty funky, in-the-pocket grooving."
The Goods are adept at improvisation and spontaneity due to having an acute awareness and trust for one another.
"We have a good foundation," maintains Henry. "That foundation allows a musical conversation to happen between the four of us."
Selective booking
Neilson and Owens are local luthiers employed by Bourgeois Guitars. Henry is an educator in the Lewiston school system, and Caron is a personal banker at KeyBank. Barring special events, The Goods cap their performances to every other month, playing approximately 10 shows a year.
"We all have lives and day jobs, so we try to spread out gigs, reserving the time to make each show special," states Neilson. "This gives us the time to continually be working on new songs, and new presentation, like going back to our acoustic roots for a set."
"It's a great feeling to get the opportunity to play our style of music in our local community," agrees Henry. "It's very fulfilling."
The Goods
www.reverbnation.com/thegoodsofmaine