Why Lewiston Auburn is attracting business
By Dan Marois
A quarter of Maine's population lives within 25 miles of the LA Metro area. That's over 300,000 people according to the Lewiston Auburn Economic Growth Council's website. And with 12% of the area's workforce in the manufacturing business-people who make things-LA has a higher percent of employment in manufacturing than most every other place in Maine.
Businesses want an area that is well located and an attractive place to live," said Benson, noting that LA ranks high on both accounts."
"When a business is considering to locate in LA, they first ask about the workforce, particularly who is available and what skills do they have," said Benson, who has been in the economic development business for over 25 years. "If the workforce is here, they are interested in learning more about the area."
The second item of importance to folks considering the area is location.
"Businesses want an area that is well located and an attractive place to live," said Benson, noting that LA ranks high on both accounts."
The central location in Maine is a plus with the ability to reach other parts of Maine within a short drive. Businesses that might shy away from higher property prices and rental rates in the greater Portland area are find a haven in LA Metro where prices can be substantially lower.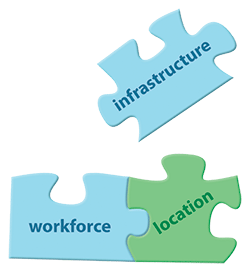 The third item on the shopping list concerns the infrastructure in an area. "They need to know if the physical and logistical landscape is in place. Is there transportation to move goods and products? Can people easily find your location? Is there technology to support a vibrant connectivity system that's essential in computer operations, communication services, and online resources?"
Lewiston-Auburn was among the first cities to support industrial parks established well before the rest of Maine caught on to the idea. The community has become a transportation hub for the movement of international cargo, and a center of education, research and culture.
"There are 237 gigabit fiber to the premises (FTTP)," notes Benson, reflecting a high amount of connectivity for computer networks. "There's existing sewer and water for production operations and a wide natural gas network. And, of course, we have direct access to I95 Auburn Intermodal Center, for rail freight, and the Auburn-Lewison Municipal Airport."
Collaboration matters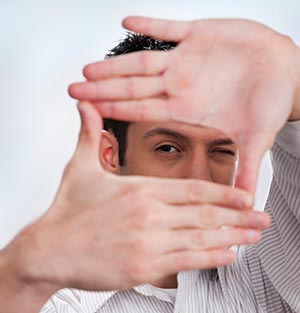 While the Growth Council has been instrumental in bringing many ventures to the area, Benson is the first to say that when it comes to economic development, everything is collaborative; almost a well-executed team effort to make things happen.
He says that the cities of Lewiston and Auburn work well together leaving aside little competition for business opportunities. "Each city can distinguish themselves in what makes them uniquely different," said Benson. "The reality of this work is that what is good for either city would benefit both. The truth is that we are one city when it comes to economic development."
For Michael Chammings, Director of Economic Development for the city of Auburn, there's a quote made by Secretary of the Treasury, Alexander Hamilton, in 1791 that sets the stage for economic development.
"Hamilton said, 'that government holds the responsibility to build a foundation so that the private sector can flourish,'" said Chammings. "I believe that this is still true today. It is also important that we strive to balance the various interests of different groups of people; economic, social, and environmental."
While Chammings and Benson are busy attracting new business, they also focus on helping to expand and retain current businesses.
"It is a positive sign for the area when an existing business plans an expansion," said Benson. "It is a clear sign that the business is thriving and is committed to remaining in the area. Expansions are vital to economic development where a business needs more space and usually creates additional jobs."
"We have several Auburn businesses aggressively looking to expand, outside businesses looking to locate or relocate in Auburn, and we have several foreign investors actively looking to invest into the city," said Chammings, optimistic about the future.
Success story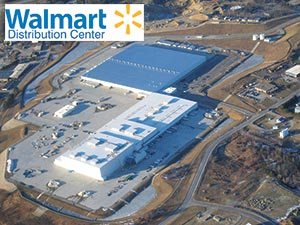 Probably the biggest single score in recent decades was the creation of hundreds of jobs at one time, the result of a $93-million investment in the WalMart Distribution Center, in Lewiston, the largest in the entire northeast.
According to information on the LAEGC website, the council fielded a call from a national site search consultant looking for 150 acres near a turnpike exit for an unnamed Fortune 500 Company. LAEGC took the lead role and assembled a package of site options in Lewiston and Auburn, delivered to the consultant within three days.
The company flew in three days later to evaluate the options. A site was identified in Lewiston and LAEGC played a consulting and coordinating role as myriad partners were brought to the table, each doing their part, ultimately resulting in the construction of the 850,000-square foot Walmart Distribution Center, which employs 550 people and is the second largest taxpayer in Lewiston.
Benson downplays LAEGC involvement by saying they were mostly the catalyst in a long line of partners that were brought to the table to make the project happen.
"In this project, getting the win was great, but there was more achievement in the exercise itself," claims Benson, citing regional cooperation and collaboration that really won the project for LA.
Relocating to LA – Grand Rounds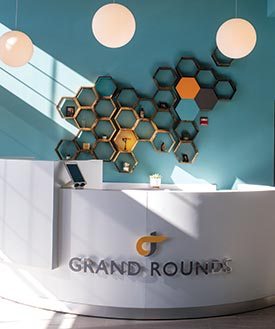 Based in San Francisco, California, Grand Rounds was founded in 2011 with a simple premise in mind: When people get better quality health care, they get remarkably better outcomes, and the system saves a lot of money. Enabled by technology, Grand Rounds bridges the gap to high-quality care by matching patients with world-class experts for in-person office visits, as well as access to virtual consultations with leading physician experts across the nation.
And the official name of its Maine office is the Maine Patient Center.
"We decided to expand to the East Coast to scale our customer service capabilities for our patients and expert physicians who are largely based in the Central and Eastern Time Zones," said Danielle Snow, Senior Vice President of Patient Care. "More specifically, two-thirds of patients using our Expert Opinion service, and 60% of expert physicians affiliated with Grand Rounds are based in this region."
After a diligent and competitive selection process of more than 30 locations across the East Coast, Grand Rounds selected Lewiston for its sense of community, proven record of supporting new businesses, and our strong management team roots in Maine.
Our medical director, Dr. Jacob "Gus" Crothers, grew up in Portland and our director of care coordination and Maine site director, Meryl Fogg, grew up in Falmouth," said Snow. "And I grew up here in Lewiston."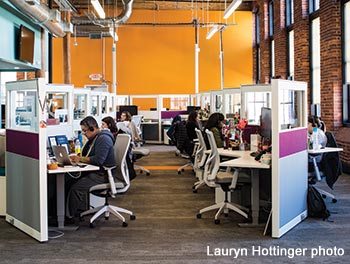 The Maine Patient Center is located in the Bates Mill complex and currently employs 30 full-time employees and it expects to grow to more than 150 employees in the next 5 years.
"LA has transformed its reputation greatly in recent years due to the hard work of community members to make it a vibrant place to live, work, and play," said Snow. "If you are looking
for a place where you and your employees can take part in shaping and growing a strong, rich community – LA is a great place to be."
Economic Engines
Signs of growth, development, and activity throughout the LA Metro area:
Center Street Dental becomes Maple Way Dental moving into the Former Camden National Building at 110 Canal Street.
The Hartley Block has 63 apartment units and 4,100 SF on commercial space on Lisbon Street.
Rinck Advertising moves to the 14,500 SF Former Grant Building on Lisbon Street.
Hampton Inn is located at 15 Lincoln Street greeting visitors to LA.
Hartt Transportation Systems, INC. provides freight hauling for local as well as national and international customers from a terminal location in Auburn.
Tambrands operates as a subsidiary of The Procter & Gamble Company manufacturing feminine care products primarily in North America in Auburn.