Written by Lisa Mayer  |  Photography by Jose Leiva
It's 10:30 on a recent Wednesday morning, and Rolly's Diner is full of late breakfasters.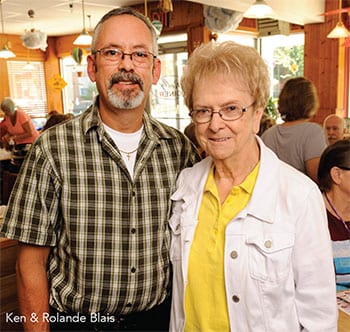 Most popular plate? "Eggs over easy, with white toast," says Ken Blais, Rolly's son and business partner. "Still."
Back in 1993, Ken, his wife Jean, along with his mom, Rolande, and his dad, Roland– yes, a match made in French-accented heaven– were going out to dinner, when they passed a For Rent sign at the busy corner of Mill and South Main Streets in Auburn.
"We were looking for our own place. Mom had a great reputation." Rolly Blais had worked at Bagels & Things on Center Street, and she and Ken had also worked at another diner together.
"We opened a week before Christmas," Rolly says, with a laugh. "No one should do that!"
A good name
Rolly (pronounced ROLL-ee) Blais is ageless and elegant, her blonde coif just so.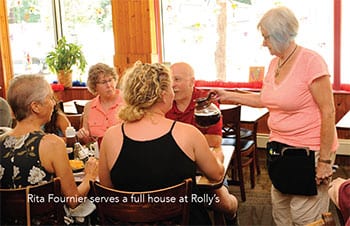 Quick with a smile, she has served customers in her own restaurant for years. "I've always worked hard," she says, with another laugh.
Even as the youngest of 12 children "up county" in Caswell, Maine, she worked hard; her school didn't open until October, so everyone in town could help harvest the all-important Aroostook County potatoes.
Rolly's Diner is what folks call "an institution" in the best possible sense, voted Best Breakfast in Auburn by the readers of Down East Magazine. The consistently good food is served by smiling, experienced waitresses who are so quick with your coffee refills, they deserve a shoutout: Kee Kee, Sheryl, Rita, Christine, and Tami.
The prices are low, which is another reason it's constantly bustling with older couples, young families, and Bates College students. Some patrons come in every single day.
Feast for the eyes
Also on the menu is the famous Rolly's Diner decor. Every holiday is celebrated with over-the-top decorations– bunnies galore at Easter, pumpkins for Thanksgiving, ghosts for Halloween, tinselmania for Christmas.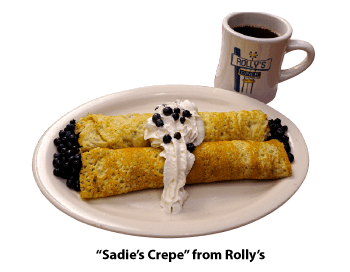 The favorite? "Definitely LA's own Balloon Festival in August," declares Rolly. Fluffy cotton clouds, and gorgeous balloons with tiny baskets, hang everywhere in the air.
"We keep it all in the warehouse behind the store," Ken says. "The staff does a great job decorating."
Mother's Day is celebrated with a plate of "Momlettes." This year, Ken says, "I just put in every single thing your mom made you eat when you were a kid– like Brussels sprouts, bratwurst and LIVER!"
Some intrepid customers brave the Momlette because of the incentive– eat the entire thing, get a free dessert. "Some of my Momlettes have become regular menu items," says Ken. "Not the liver one, though."
In all their 26 years working together as equal business partners, did Rolly- being, the mom- ever pull rank on Ken?
Ken looks over at his mother, and they smile at each other. "I'm the boss, because Mom said I could be."
The daughter also rises
Ken Blais isn't just Rolly's son. He's also father to Rolly's granddaughter, Sadie, who is taking the family diner dynasty to another generation.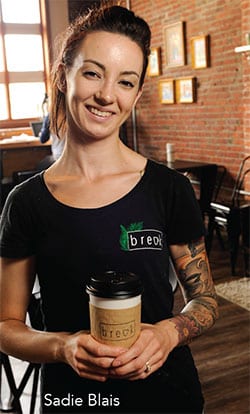 Break, Sadie Blais' new chill and plant-filled coffee shop, sits in the Engine House Building on Court Street. The vibe is both retro and super modern– as befits her place on the family tree. There are yellow couches, exposed brick, blackboard pillars with chalk for doodling, and fern murals on the wall painted by Sheryl, one of Rolly's waitresses.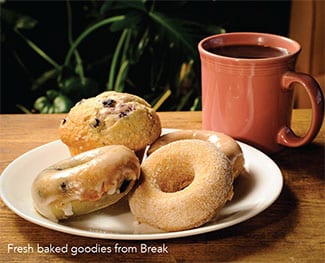 Business people from the nearby banks and law firms come in for cold brew, peppermint mocha, or lavender and sea salt caramel coffee, and infused teas. Break's No. 1 sandwich is turkey on sourdough with roasted red peppers and pesto mayonnaise, which is presented with pickles, on pink Fiesta ware.
There are fresh-made doughnuts every day, glazed with homemade "whatever I'm in the mood for," and a specialty pastry, like chocolate chip cookies baked with tiny chips, "for better chocolate chip distribution," Blais explains.
She is similar in stature to Rolly, dark with earnest eyes, and a beautiful smile. She is also fabulously tattooed, as is Trevor, her right-hand guy behind the counter.
Memories of Memere
Sadie Blais started working at the family diner when she was 10.
"Memere Rolly was tough on me," she says. "I was so shy I couldn't go over to the tables to take their orders. Rolly would grab me and bring me over and say, 'This is Sadie, she will be your waitress.'"
By the time she was 13, Blais was waitressing every weekend, competing with her grandmother for who could carry more plates at one time. "Memere was unbelievable– I could do maybe four or five, but she could hold seven on one outstretched arm and a few more on the other. I wanted to be just like her. I still do."
Dreaming in chocolate
When she was 17, and a still-shy Leavitt High School student, Sadie saw a flyer announcing a chocolate competition. There was only one rule: the recipe had to have chocolate in it.
"I said, 'I can't bake.' Then I said, 'Can I?'"
Armed with The Joy of Cooking, she began to mix, bake, taste, and tweak. "Every Saturday after the diner closed, Dad gave the kitchen over to me."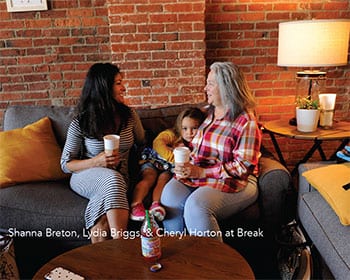 Months later she had her recipe- a chocolate crepe, filled with Bavarian Cream, raspberry sauce, and a chocolate glaze.
The competition, a fundraiser for the Lewiston Middle School, included some serious chocolatiers: Maine Gourmet Chocolates, Pastiche, Ella's Candies, and chefs from Bates College.
"Sadie won in every category," gushes her dad, Ken. "Judges Choice, Best Display, and People's Choice." The Lewiston Sun Journal said her crepes were "skyrocketingly popular."
Sadie's Crepe is still a best-seller at Rolly's Diner.
All in the family
When Sadie proposed opening her own place, her dad helped her through every step of the permitting and renovation process, attending every meeting with every city department. "He is the best teacher, the best person," she tears up, "to… exist."
As Blais grows her business, her two sons Avery, 3, and Emery, 2, are growing too. Could there be a four-generation dynasty in the future?
Blais smiles. "I started in the kitchen, cracking eggs. Maybe I'll start them off washing dishes." Then her tone turns wistful. "I can't wait to bring them into it."
Rolly's Diner
87 Mill Street, Auburn • http://rollysnewauburn.com
Break
158 Court Street, Auburn • www.facebook.com/breakmaine/