Written by Michael Krapovicky | Photography by Brewster Burns
A service-friendly counter in front of the kitchen, a cozy indoor atmosphere upstairs, and patio seating – a rarity in the Twin Cities – are all features of 84 Court Pizza and Restaurante. The amalgamation of Greek, Italian, and American cuisine is even more rare, satisfying those seeking conventional, yet flavorfully exotic dishes. 84 Court caters equally to on-the-go customers, or ready-to-relax and enjoy their surroundings customers. Their website promises a "memorable and delectable dining experience," and positive feedback about 84 Court shows the fulfillment of that promise to the citizenry of LA.
Beginnings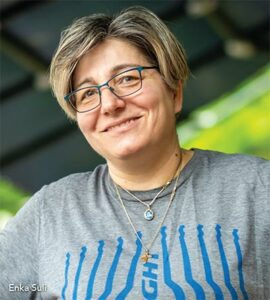 Genti and Enka Suli opened 84 Court Pizza and Restaurante in 2012. The Sulis are native Albanian – Genti immigrating to the U.S. in 1994, followed in 2000 by his wife, Enka. Prior to opening 84 Court, Enka was a supervisor at HMS Host, managing their rest areas. Genti was the facility maintenance manager for Shipyard Brewing Company. He also was a chef at a family-owned Freeport eatery, always dreaming of owning his own restaurant. The couple lived in Lewiston and looked for the optimal location for their new enterprise.
"We looked around, wanting a place close to home," recalls Enka. "The rent was affordable at 84 Court."
The Sulis spent two months renovating the space to their specifications. Their Mediterranean heritage lent itself to their choice of offerings at 84 Court.
"The food we serve has to be something I'd want to eat," claims Enka. "If I wouldn't eat it, I wouldn't serve it."
Fresh take
Previous businesses at the 84 Court Street location had centered around establishing fine-dining environs. However, the Suli's business model focused on quicker turnover of meals while still providing high-end victuals.
"Other businesses here focused more on the dine-in experience," says Enka. "Our success has been catering to everyone's needs."
With Americanized Mediterranean dishes as their milieu, the Sulis attracted new devotees, with neighboring business folk such as police and city officials discovering a new and exciting option for food right in their back yard. In addition, Enka's convivial nature imparts a familial relationship with their clientele.
"Sometimes, customers will say, 'let's go to Enka's,' not 84 Court," Enka recounts, the restaurant becoming characterized by her friendliness and charisma. "We really make them feel like part of the family here."
Inspired dishes
From its inception, 84 Court has provided signature dishes for their eager consumers. The Specialty 84 Salad – made with grilled chicken, sautéed onion, green pepper, and broccoli, over salad with fresh vegetables – is a staple menu item. The hamburgers at 84 Court are also a popular favorite.
"We add special seasoning to the meat, and we toast the bun to make it more tasty," says Enka, describing the unique touches the cooking staff applies to their burgers.
There are several different sources of inspiration for new taste treats at 84 Court Pizza and Restaurante.

"There is so much variety in Mediterranean cultures when it comes to food," asserts Enka. "Sometimes, when you travel, you talk to people and get ideas for new dishes."
Family recipes occasionally come into play. A game meat casserole is next to be added for customers to try.
"My grandmother used to do a rabbit stew, cooked at a low temperature in the oven," Enka relates. "It adds a different, special taste."
Ultimately, 84 Court offers what satisfies the demand.
"We serve a new item for three or four months," Enka confirms. "If the regulars like it, we keep it on the menu – if not, it doesn't stay."
Mediterranean flavor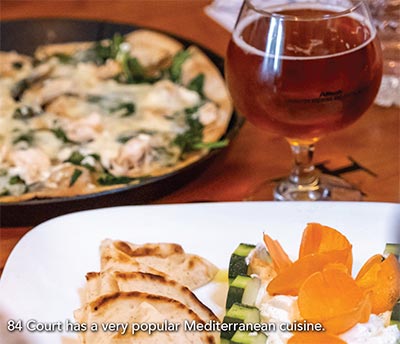 The rich culture of the Mediterranean seasons the dishes of 84 Court. They serve Greek delicacies such as falafel, spinach balls, and make hummus in-house from a family recipe. Souvlaki is meat and vegetables served on a skewer and is a favorite of 84 court regulars. 84 Court also provides classic Italian fare – lasagna, spaghetti, and of course, pizza.
In the Mediterranean, Italian and Greek food is viewed differently; the region has much cross-pollination of culture, and dishes carry over from nation to nation.
The tastes of Mediterranean people are very similar," explains Enka. "They like gyros and souvlaki, Italian grinders, and pizza."
Fun refreshments
Since its opening, 84 Court has served beer, wine, and its signature drink, sangria – flavored with various fruit.
"Folks would come in just for the Blood Orange sangria," says Enka.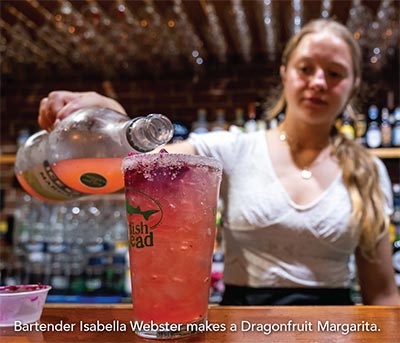 In April of 2022, 84 Court was awarded their liquor license, affording them the ability to creatively craft new, elaborate cocktails. The Light On the Ice, made with Blood Orange Gin, orange and lime juice, and ginger beer, is one of the numerous choices for refreshment. The Knee High Habanero Martini was a featured drink in May of 2022, as was the Dragonfruit Margarita.
Outside seating
Outside seating is a coveted commodity in LA, and 84 Court's expansive patio can accommodate an additional 54 people in the warmer seasons.
"We never had to petition the city for outside seating like other businesses," affirms Enka. "In the summer, it really bumps up our sales."
The couple added an awning to the upper level of their patio in 2019. Plans to add another were waylaid by material costs and availability, but are in the works for 2023.
Entertainment
84 Court has featured live entertainment on the patio throughout its tenure. As pandemic restrictions lift, the Sulis plan to reinstate regular performances on Saturday evenings.
"We canceled our license during COVID, but we are starting to have entertainers back," maintains Enka. "Next year, we will begin booking the engagements earlier, with more variety."
Ernie Gagne is a frequent performer at 84 Court. Gagne is a local songwriter and educator, playing a mix of cover material, and original music with a clever, comedic edge. His son, Scott, a talented guitarist and singer, frequently guests with him.
"84 Court is where I had my first gig," avows Gagne. "Enka and her staff are always accommodating, and whether we are inside or on the deck, it's always a great place to play music."
Future
Moving forward, 84 Court plans to continue renovations, and retain their focus on patron satisfaction.
"Our goal for this summer is to add a new dish every month," says Enka. "We really want to keep our customers happy."
LA restaurant enthusiasts, try something different and unique that you've never had before – you may just find your new favorite dish at 84 Court.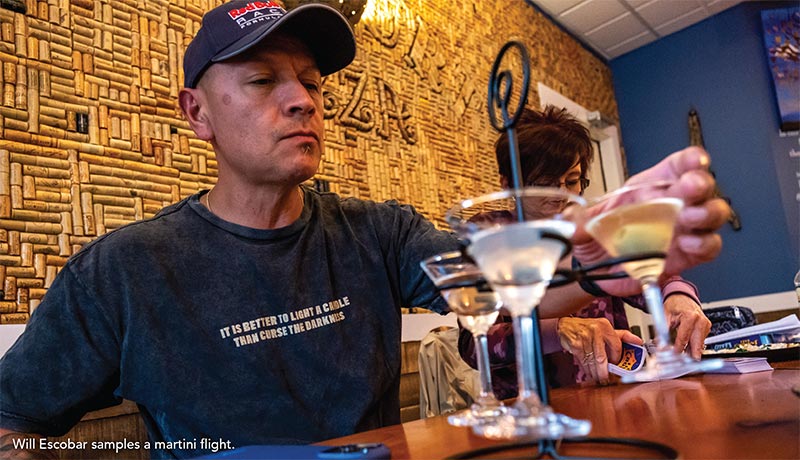 84 Court Pizza & Restaurante
84 Court Street, Auburn • 84court.com