Written by T.S. Chamberland | Photography by David Fuller
When you've been around for 125 years, numerous defining moments are bound to mark that timeline. In Lewiston Auburn, Bedard Pharmacy & Medical Supplies have repeatedly set themselves apart from their competition. From expanding the business to adding technological aspects, the Nadeau family and their staff are always finding ways to solidify their place as the last remaining independent pharmacy in the area. The latest notable event – consolidating the retail pharmacy on College Street in Lewiston to the Minot Avenue location in Auburn – occurred on November 23rd, bringing all three divisions of the company under one roof.
The life of a local pharmacy
Bedard's history goes back to 1898 and has evolved over the past 12-and-a-half decades. That's a business life that spans three centuries. The Nadeau family started their journey when Alcide Nadeau, Michael Nadeau's father, bought the pharmacy in 1967. In 1997, Michael and his wife Annette purchased the business from his father. And in 2001, there was a division of the business into pharmacy and medical supplies. A year later, the Senior Care Pharmacy (formerly Long-term Care Pharmacy) was added, giving Bedard a three-tiered approach to meeting the community's health and wellness needs.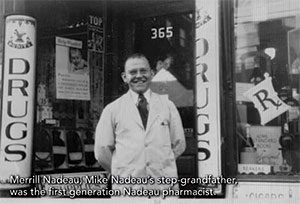 "As Annette and I were growing the business, we wanted to  expand our corner store pharmacy," says Michael.
The company has seen its share of milestones from a pharmacy and classic soda shop to a thriving business with three divisions designed to assist customers and patients along life's medical needs journey. And if the Nadeau family has anything to say about it, they're just getting started.
"I remember when we first bought the business, I had put up some signs across the street, Channel 6 had come to do a story, and I was talking with the reporter," Michael shares. "I said we're going to make it to 100 years and then some."
"There have been so many changes and advancements in the past 125 years," says Chris Nadeau, Director of Pharmacy. "It will be interesting to see what the next 125 years bring."
Having lived in the Lewiston area his whole life – from childhood and school years to raising his own kids in the community –
Michael has long been in touch with the community's needs. The company provides the unique understanding and compassion that only a local business can extend, and that connection with the community is essential to continuing to do business as part of it. It also impacted the decision to consolidate the pharmacy from College Street to the Bedard building on Minot Avenue in Auburn on November 23, 2022.
By having all three divisions of the business under one roof, the company is also better poised to provide the service they are known for, all while continuing to strategically grow each area of focus and bring that neighborhood pharmacy and medical supplies culture to even more people across New England.
"One of the things we heard the most was there was no parking," says Chris of the Lewiston location. "Moving the pharmacy records to Auburn just made sense for a lot of reasons."
When considering the Minot Avenue location, there were several out-of-town and out-of-state options that were explored, but ultimately, Michael says it was important to him to remain in Lewiston Auburn to continue providing top-notch care and service to the community he loves. With a majority of the medication being delivered these days, particularly since the pandemic, it made even more sense to consolidate the pharmacy to the Auburn location since all deliveries are filled at that building.
"Sometimes, the only person that some of our patients see is one of our delivery drivers or a representative from one of my companies," explains Michael. "How could I pull that away from the community?"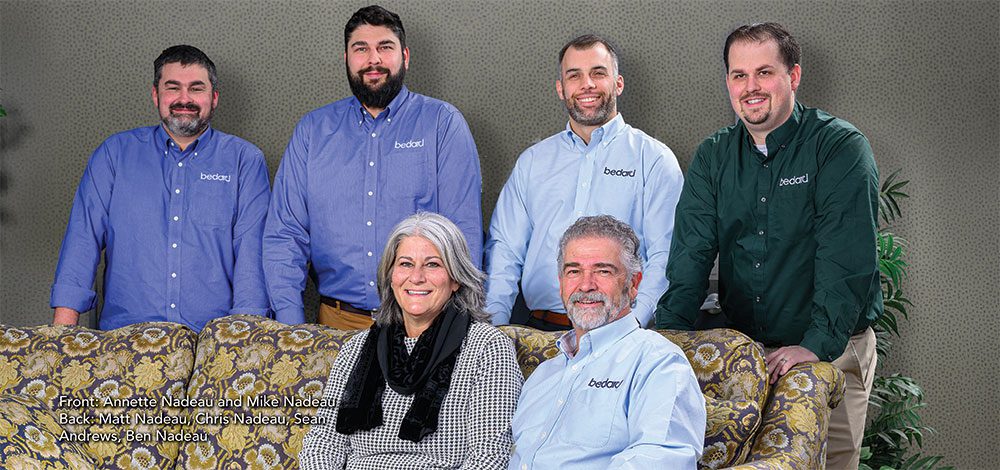 Bedard has also chosen to keep their delivery service free to ensure they don't eliminate this vital aspect from any customer demographic. While Michael says it has been a challenge to maintain no charge for that service, they've been doing it for a long time and will continue to offer it for as long as they can.
At the heart of why people continue to choose Bedard for their medicinal and medical equipment needs are the employees. There are numerous industry designations and certifications held by Bedard staff members, and through the Bedard Give Back program employees are encouraged to donate to a local charity that means something to them.  Bedard matches these donations, and according to Bedard's marketing manager, Mariah Belanger, in 2022 $1,636 was donated, demonstrating their commitment to the community.
"The atmosphere is just a good culture," describes Michael. "And that spreads over to our customers, our patients, and everybody – they feel it as well."
Specializing in meeting customers' medical needs
The three divisions that make up the company, Bedard Pharmacy, Bedard Medical Supplies, and Bedard Senior Care, make it possible for the business to service and assist their customers from beginning to end of life. And their extensive experience means they know what works and when to make improvements.
The neighborhood pharmacy, while traditional for a local business, expanded its delivery service to a 25-mile radius and increased the staff – two important aspects that help them meet the needs of the customers they serve.
"We continue to provide that local feel," Ben Nadeau, CEO, adds. "Also, we are exploring ways to help people care at home through multi-dose medication packaging."
"We offer more than pharmaceuticals," Michael states.
Bedard Medical Supplies handles home health needs with equipment rentals, equipment repair, free delivery, education on how to use medical equipment, and certified fitters. They supply breast pumps, specialized beds and accessories, diabetic supplies, compression wear, and much more. Bedard Medical is one of the few remaining medical equipment providers that still sets equipment up and explains how to use it, something Michael and Ben agree is a big focus for the company.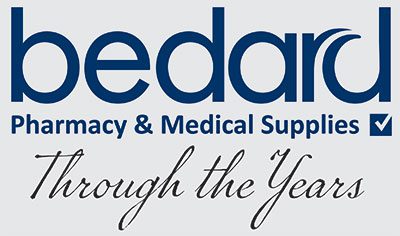 1898 – The beginning.
1967 – Nadeau family buys the business (originally 4 partners).
1980s – The pharmacy goes digital.
1990s – The first website for Bedard launches.
1997 – Mike and his wife Annette buy the business from his father.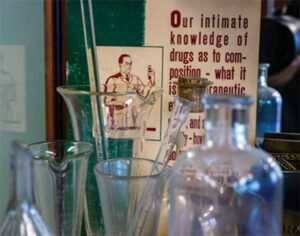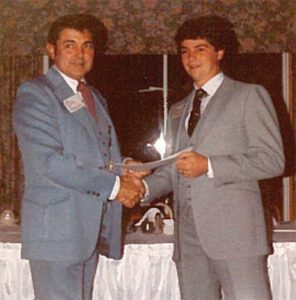 2001 – The business splits into two divisions: Bedard Pharmacy & Bedard Medical Supplies.
2002 – A third division is added: Bedard Senior Care (formerly Long-term Care Pharmacy).
2004 – A robot for prescription filling is added.
2022 – Bedard Medical makes Inc. 5000 Fastest Growing Independent Business list and Bedard Pharmacy relocates solely to Minot Avenue, Auburn.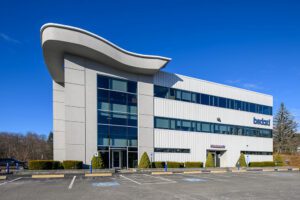 "The medical supplies area focuses more on the refillable items like incontinence, urological, and ostomy supplies; things customers and patients need regularly," explains Ben.
Sean Andrews, Finance Director, says that the company's referral sources like having access to a local company that is able to handle supplies and equipment for their patients and customers. And this area is one they are continuing to grow across multiple states, not just in Maine, according to Ben.
Bedard Senior Care is a closed shop pharmacy, meaning they work specifically with nursing homes and residential care facilities to meet the needs of their patients. Once the Minot Avenue location was built, Senior Care moved to the new building to accommodate deliveries and has since grown substantially from the few nursing homes they served initially.
"Now our senior care pharmacy services well over 300 facilities in the state and is rapidly still growing," says Belanger.
Bedard pharmacy offers multi-medication packaging options for those living independently and those in care facilities, making consistent, correct dosage easier to maintain for patients with cognitive impairments, Mariah explains. Bedard Senior Care offers a variety of medication packaging options with flexible fill cycles, medication take back and disposal, a secure portal, transitional care services to support independent living, and multiple channels to submit refills.
"Despite the branding, our Senior Care pharmacy serves more than just the senior population," explains Chris.
A number of facilities utilize this division, according to Chris. And the size of those facilities varies greatly, which makes meeting their needs and providing the right level of care something that can't be done with a one-size fits all solution.
"We service assisted living, nursing homes, behavioral health, and supported housing programs," explains Ben. "We are continuing to grow and adapt to the needs of that industry through the different types of medication packaging – a type of concierge service to help these facilities be able to care for their patients."
Strategic growth is key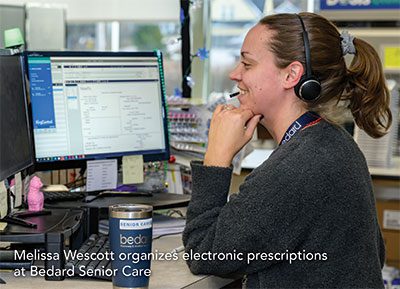 As chain pharmacies were moving into the area, other independent pharmacies were struggling or closing. Michael and Annette knew they needed to diversify if their business was going to survive. Their standing as the last independent pharmacy operating in Lewiston Auburn is evidence that the decision to diversify paid off.
"We had to set ourselves apart from everybody else," explains Michael. "That's when we decided to form those other entities."
While making sure Bedard would stay in business and grow were key reasons for adding Bedard Medical and Bedard Senior Care, the Nadeau's other focus was on their community and how it would benefit from all the business has to offer. Providing services that meet a full spectrum of needs, Bedard is able to help patients, as well as caregivers, parents, children, and care facilities, meet the needs of the patient consistently and effectively.
"I want to be able to service my customer, my patient, whomever, from birth to end of life," Michael says. "Our motto is 'we care for the communities we serve,' whether that's internal or external."
Bedard Medical Supplies has experienced the most growth of all divisions. One of the reasons can be attributed to Michael and Annette's vision and where they saw the need to grow and diversify. That growth is one of the company's strategies to broaden the number of customers served throughout the area. This year, Bedard Medical Supplies ranked number 3,521 in the annual Inc. 5000 list, the prestigious ranking of the fastest-growing private companies in the country.
"We're growing because of our customer service," says Michael. "We get orders out the door faster than other companies, and though we're not perfect, we're always trying to improve and do things better."
According to Sean, having the next generation involved has given this family-owned business the ability to focus on multi-area growth while maintaining the kind of customer interaction and service they've long been known for.
Incorporating technology
In the late 80s, Michael urged his father to digitize their business. While his father was apprehensive, he took classes, and the pharmacy entered the computer age. Two decades later, they added a robot to help free up manpower and increase efficiency.
"In 2004, we were one of the first in the state to get a robot called the Parata," Michael details. "The robot dispensed medications, put it in vials, and labeled it."
Though focused on growth in all three divisions, Bedard remains committed to providing reliable service with the same welcoming atmosphere they're known for. To handle the increase in calls, they've set up a service with McKesson VerbalCare, an app that connects customers with the Bedard team right from a mobile device for quick and reliable answers. The app can also be used to place orders and ask questions related to medical equipment. Part of the growth includes adapting to the technology of the day and adding digitized avenues that allow customers to still communicate with a live and local person.
"We are figuring out how to digitize that process so that people still feel cared for, and if they have a question, they'll get an answer instead of being stuck in a robotic loop or wait days or weeks for a generic response," Michael explains.
They've added another app – MobileRx – that makes it even easier to refill prescriptions for those on-the-go. Customers can elect to receive an SMS/text option for refill reminders, are able to choose from a variety of packaging options, and even add medication therapy management to their list of services. All ways Bedard has evolved to better meet the needs of each customer.
"Technology makes it easier for customers to refill and track medications and get what they need," Ben says.
Business with a heart
With a mission statement focused on community, it's no surprise Bedard puts time and consideration into the organizations they sponsor and partner with. A few such organizations are Safe Voices, Tri-County Mental Health, Alzheimer's Association of Maine, Honor Flight Maine, Seniors Plus, and Volunteers of America Northern New England.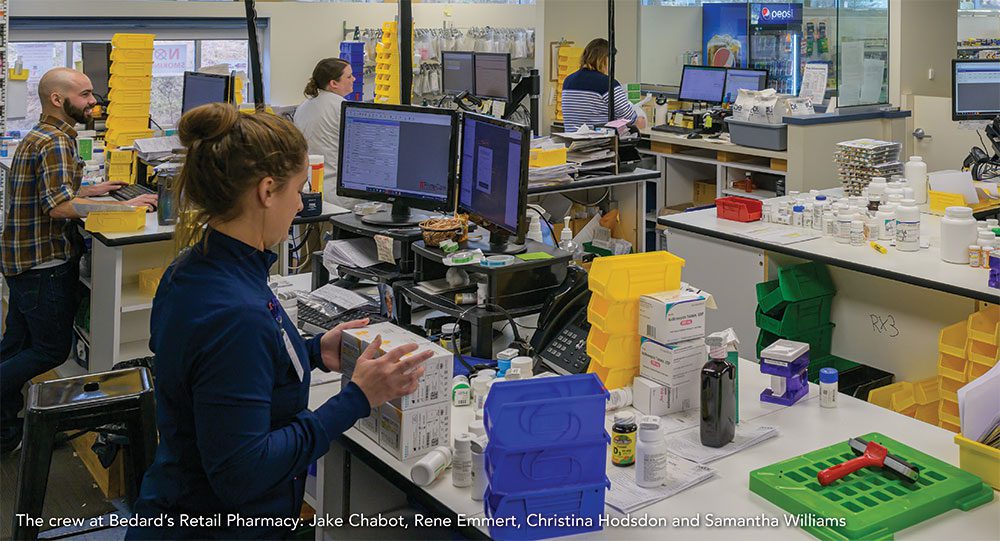 "We try to select organizations that align with our business," explains Mariah. "For example, the Walk to End Alzheimer's is near and dear to us because we service patients with Alzheimer's and other dementias, as well as their caregivers and loved ones."
Michael says that the caring culture of the business, the knowledge and expertise of the staff, the genuine care and interest their employees have, and their ability to handle any issues that may arise immediately, without the slough of corporate red tape are what truly sets Bedard apart from big box, chain competitors.
"We do care about our patients and customers, whether they are a minute down the road or in a completely different state," expounds Ben. "We want to make sure they are getting that top-tier service that people have expected from Bedard for the last hundred and twenty-five years."
While there are no specific plans for a big celebration of their 125th year yet, both Ben and Michael say there are a few things to look out for in 2023 to commemorate this impressive milestone of the business.
"I really love what I do, and I love my companies," Michael shares. "These milestones that we hit are just awesome."
Bedard Pharmacy
359 Minot Avenue, Auburn • www.mybedard.com