by Michael Krapovicky | photography by Jose Leiva
Fire in the Hole is a group of A-list musicians, exemplifying how talent, perseverance, and band chemistry can offer a standout show for nearly any audience. The camaraderie shared by the four members has allowed them to assist charitable causes and have a blast along the way.
Origin
The band's origin was simply four compatriots – Jody Demers, Steve Grenier, Tony Croteau, and Renald "Remo" LeFebvre – deciding around 2017 to informally jam, just for their own amusement, at Grenier's home in Minot, with some regularity. The four had played in several professional outfits together in myriad permutations. It seemed inevitable that a new group would be formed to play for the audiences of LA, which would eventually be named Fire in the Hole.
"A mutual friend was looking for a band to play a private party, and we put a setlist together, and that was the beginning," recalls Grenier.  "We enjoyed ourselves so much that the band decided to take a gig, then another, and offers to play at festivals came in, so we kept going."
"Music can be learned; relationships are built," Croteau quotes. "This band is ¾ relationships, ¼ musicianship."
Mutual admiration
Growing up in New Auburn, Steve Grenier and Tony Croteau shared a passion and aptitude for music. Grenier began on violin, but in 9th grade began taking guitar lessons with Denny Breau; a well-known local guitarist. As Grenier progressed, Breau told him instead of taking lessons, he should be teaching. Grenier began what was to be a lifelong career of guitar instruction. Yet throughout the years, playing for an audience remained a rewarding motivator.
Croteau began as a drummer but felt he served a better role as a bassist for Grenier and Demers. They formed Vision, with Demers, Croteau, and Grenier as three of the original five members.
"We had the fortunate experience of running a business of a band, as well as playing for adult audiences," says Grenier. "We would rent halls, the Songo River Queen – advertising, and promoting shows ourselves – really learned the trade."
"We were a novelty act due to our age," adds Croteau. "We were lucky – we were given opportunities not many bands ever get while still very young."
Seeing groups with a few years' tenure on them was inspirational for the young musicians, and seeing Remo in bands like Havoc informed them what they were looking for in a singer.
"Remo was so far ahead of where we were at the time," adds Grenier. "I grew up idolizing him – he was like the godfather of rock and roll around here."
The respect and admiration were mutual.
"I was familiar with Steve's guitar work," says Remo. "We have only a few real all-star guitar players in our area – Arlo West, Denny Breau – and I think Steve has really earned his way into that caliber of a musician."
Boston calling
Fire in the Hole's current drummer is Jeff Neal, who also plays drums for the national classic rock band Boston. Neal grew up in Buxton and became a teacher in the greater Portland area, while consistently performing in bands since his college years. As a fledgling player here in Maine, Neal sought out other acts for comparison, and was impressed by an early project of Grenier and Remo's.
"I had gone to check out a band of Steve's and Remo's in Lewiston and was impressed by their presentation, playing – the whole package," says Neal. "When we met later in life, it was interesting to us to see how things had come full circle."
In years to come, Neal played in the group Eye To Eye with Steve's business partner Arthur Melendy, and through that introduction joined Melendy, Remo, Grenier and late bass legend Frank Coffin for a time in a corporate-sponsored function band. When Demers departed Fire in the Hole, Neal agreed to play as his schedule allowed.
"Jeff had availability to play with us for our upcoming gigs," Grenier reports. "Jeff is like a brother to us and an amazing drummer – really the only person I'd want to continue playing with."
Sound
Fire in the Hole emulates many styles of music in their stage show.
"We play what we want to play for the most part," Grenier says. "We will play Nirvana, Garth Brooks, or Joe Satriani – covering about every genre you can imagine."
The band hires local sound companies such as Ocean Sound, LA Music Factory, and HPA Productions and also employs Jeff Strout, who has provided sound reinforcement for national acts like WASP and Phil Collins.
"When we play, we want it right – we would never put ourselves out there without a quality sound person," Grenier emphasizes. "We consider our sound people as much a part of the band as any of the instrumentalists."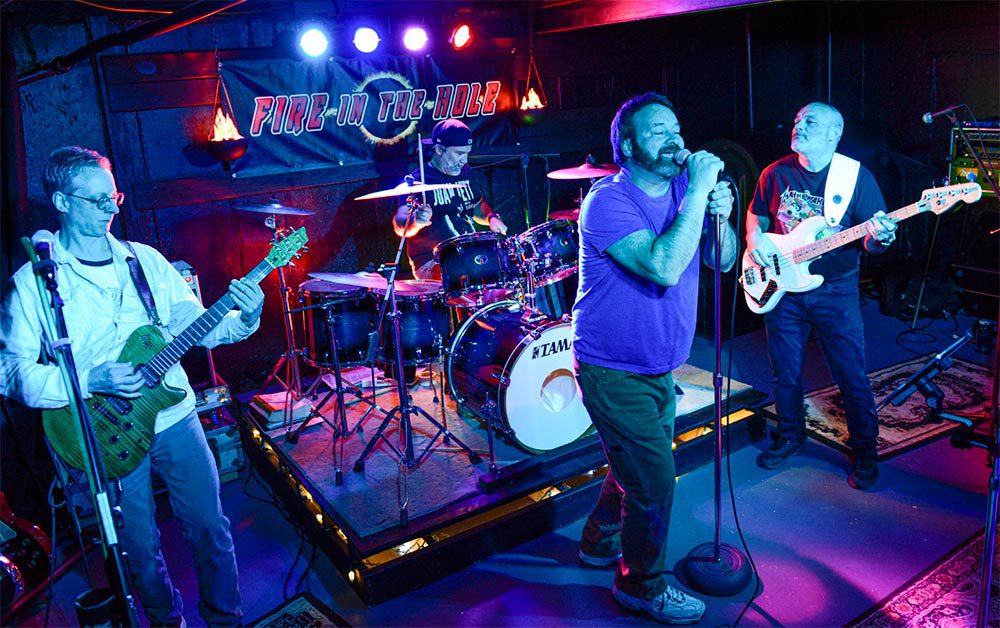 "The sound engineer singularly controls how good or bad a set will sound," confirms Croteau. "I personally have a healthy respect for the work that they put in."
Philanthropy
Fire in the Hole has aligned themselves with some worthy causes, and has always made time to perform shows, often gratis, if there are people in need.
"We started getting associated with fundraising, and we focused our efforts on that," Grenier says. "Since 2017, we've been involved in operations that raised over half a million dollars."
The other band members credit Grenier with distinguishing the band as a fundraising entity.
"I have to give props to Steve in that regard," proffers Neal. "When people are going through hardships, he steps up."
The band is co-headlining the final Summer Block Party for the Make-A-Wish Maine Foundation with local funk-rock act Skosh, on August 12th.
"The Block Party was Jimbo's baby, and we all miss him," Remo says. "This last one, we'll put together a really polished set and a jam with the other guys in Skosh – it will be really special."
Name
The name itself, while initially a call for the band's recreational activities during set breaks, took on a deeper meaning as the band became more focused on fundraising.
"We were doing so much for the troops and want to bring awareness to combat veterans' struggles; with everything we were doing, the name seemed to fit," Grenier relates, acknowledging his brother Brian, a former member of Fire in the Hole, served in the Armed Forces. "It was a global fit with all the members –Fire in the Hole seemed to resonate with us."
"It's hard to find the name of a band," Remo quips. "It's like naming a baby. You have to live with it."
The Future
Fire in the Hole seeks performances selectively – their shows number about a dozen per year.
"It's all about the fun for us – if our schedule becomes like work, it's not worth it," asserts Grenier. "Our number one goal is to ensure the flame doesn't flicker out, so we'll keep playing as long as we are having a good time."
"I'm not doing it for the money; I'm doing it because these guys are lifelong friends," Croteau states. "Music is a common thread with us, and to walk on amazing stages, doing what we love doing, is the real reason we're a band."