Written by Dan Marois
For 22 years, Mac's Grill has been serving up great food in a friendly atmosphere on a long stretch of road on Minot Avenue in Auburn.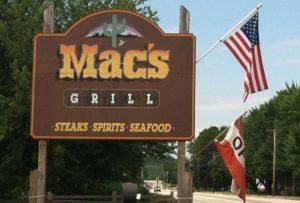 First owned and operated by Paul and Kate Landry (Now owning and operating Fish Bones American Grill) and Scott and Robin McFarren (Now owning and operating the Red Roof Groceries in Leeds), the restaurant changed hands in 2012.
The current owners are Gerry Gagne, his brother, David, and best friend, Mike Peters. His sister, Nancy (Gagne) Berube, has worked at Mac's for almost all of the 22 years it has been open, now serving as General Manager with her brothers and Peters.
"We call ourselves a steakhouse that fits a niche in the neighborhood," said Nancy Berube. "Our customers are all ages and enjoy our family casual setting and good food."
Berube said that the restaurant had a great reputation before the new owners took over a bit more than four years ago.
"We took on a healthy place that was good, and made it even better," adds Berube, noting that almost 90% of the staff remained at the restaurant when it changed ownership." Currently, the restaurant employees anywhere from 45 to 50 people.
"Many people didn't even know there were new owners," said David Gagne. "It was a seamless change from one to the other." Business has been booming since the team took over. In fact, business was so good that there would often be times when the bar was packed to capacity and guests had long waits or turned away from the dining room.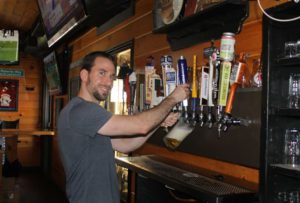 In 2014, the decision was made to eliminate the outdoor seating area in favor of expanding the capacity at the restaurant. The expansion gives lots more room for the popular neighborhood bar and allows greater capacity for diners.
Berube laughs at the fact that she can always tell when someone hasn't been in the restaurant for a while. "They come in and notice that things sure look different." On any given day, you can usually find one or more of the owners working at the popular eatery. "They all do a bit of everything and pitch in where needed," said Berube, noting a time when the dishwasher didn't come in and her brother, Gerry, took on that task. "We do whatever is needed to get the job done," adds Gagne. While the owners haven't changed the menu drastically, Gagne said that the team is always looking for ways to add new items to the standard favorites that customers enjoy. "We introduced a Steak Mac & Cheese for a while and, it was so popular, that it became a permanent item," said Gagne. Other popular favorites include Salmon with Salsa, and Chicken Teriyaki Stir Fry.
"Competition is good. It makes us step up our game."
"And, of course, there are our steaks with a popular one being our Mini Mac Black Angus," said Gagne, highlighting it as a generous 10 ounce cut of beef.
Gagne said that the rising interest in craft beer has certainly changed the nature of the bar options at Mac's Grill.
"We used to have 5 taps and now we have 18 of them," noting that they serve many Maine made favorites from Baxter Brewing Company, Foundation Brewing Company, and the Maine Brewing Company.
The Mac's Grill team now offers catering services in the area, whether a sit down meal or buffet. They have the equipment and team to cater weddings, anniversaries, private parties, or any other special gathering.
"If you have a place for the event, we can cater it," said Berube.
All the owners have experience in the restaurant and hospitality business and they know all too well the challenges of maintaining current customers and finding new customers. There's also competition in the industry.
"There are many options for restaurants in this area and it has grown in recent years," said Berube, mentioning the growth of franchise operations that have come to town. "Competition is good. It makes us step up the game." When asked about the secret to their success, the brother and sister team had different answers.
"We have great employees," said Gagne. "Everybody is willing to help. We have dedicated people who makes us a great place."
Berube adds that in a business that usually experiences high turnover, there is longevity in the staff on hand.
"People have been here for years. Some for 10 years, 12 years, 15 years or more. We also have good management."
Berube also cites consistency as an element of their success.
"I learned early on in the business that customers want consistency. They need to feel confident that what they order is consistently good every time and cooked correctly."
Much like the other businesses that value community involvement, Mac's Grill supports many causes.
"We pretty much do what we can for any schools that approach us," said Gagne. "We will donate food or sponsorships."
Berube cites long time support for charitable groups such as the Shriners and, particularly, with the Make-A-Wish Maine that grants wishes for youngsters and their families facing life threatening diseases.
"We host a Block Party for Make-A-Wish."
When they choose to dine at their restaurant, the team usually goes for their favorites.
"I've always loved the Seafood Pasta," said Berube. Her brother, 10 years her junior, quickly said, "My favorite is the Steak Mac & Cheese."
When asked if there are any future plans for Mac's Grill, Berube points to an area beside the building.
"It would be great if we had our own facility to host events," she said. "It would be nice."