Written by Peggy Faye Brown  |  Photography by Jose Leiva
If you struggle with stress or physical discomfort, why not try to find your balance this year? You may find the perfect solution at a yoga class. In the LA Metro area, there are diverse opportunities to simply stretch, reduce stress, or learn more advanced practices.
Cat, cow, and community
Common misconceptions keep people from trying yoga. Perhaps you've said, "I'm not flexible enough," or "I don't know the poses, like downward-dog and cat-cow." Keep in mind, people join a gym to start getting in shape; you go to yoga to get flexible.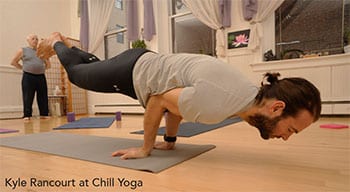 In his early 30's, Kyle Rancourt appears quite strong, as evidenced by his impressive "peacock" pose at a Chill Yoga Resistance Stretch class, led by Nerys Bayley. However, several years ago, Rancourt struggled with debilitating back pain. Seeking a way to strengthen and stretch, he discovered yoga was the perfect solution for him. "This is my playtime," Rancourt says, "I get to roll around on the floor and do handstands."
Paul Jones poses in a shoulder stand on a yoga mat next to Rancourt, in a recent Vinyasa Yoga for Health and Fitness class. Surely, this spry gent has been this flexible his whole life. But in fact, Jones was feeling the effects of aging at 67, when his doctor recommended yoga.
"I shuffled along like Tim Conway's famous TV characters, and my shoulders were starting to round over," he recalls. Yet he felt invigorated after yoga classes, and his body radiated energy. Jones gleefully declares, "If you're old, fat, and bald, you can still do yoga." Now, at the unbelievable age of 82, he teaches Restorative Yoga at Chill. He credits Heidi Audet, co-owner of the studio, with encouraging him on this path.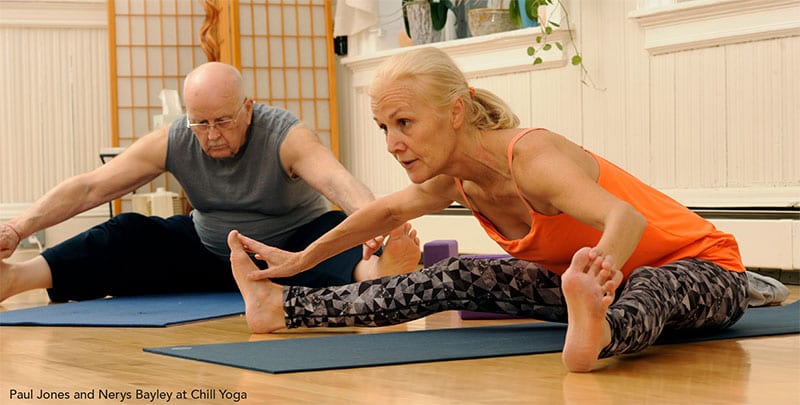 During class, Audet shows how to do stretches and poses in different levels, to make people feel comfortable within their flexibility. Well-versed in Ayurveda philosophy, Audet is attentive to the individual needs of her students and finds the best fit for them.
Audet and Bayley combined their teaching practices to create Chill Yoga back in 2007. Chill offers Ashtanga, Vinyasa, and Restorative Yoga, Yin Yoga & Meditation, Baby & Me classes, as well as Bayley's signature, Resistance Stretch.
Chill inspires a sense of community among the staff and students, whether in the studio, or sharing a snack together downstairs after class at Forage Market.
Classmate Chris claims that yoga helped her heal from a shattered kneecap injury years ago, and also helped ease job stress she dealt with for decades. She sees the women in their 80s who regularly take classes at Chill to stay active and flexible, and knows yoga offers her a life-long activity. Chris declares, "This is going to get me across my finish line, too."
Mary Morgan, another participant, agrees. Morgan started doing yoga about twenty years ago and loves how it is a great way to stretch hamstrings, and relieve tension and stress.
Saturating the senses
Just a short distance away, the smell of fresh-baked bread drifts across Lisbon Street to the door of Poise Yoga Studio and Foot Sanctuary. As you enter, you are drawn into the tranquility of the soothing sanctuary inside. You immediately sense a calmness surround you, with the scent of lemongrass, the soothing sound of a flowing rock fountain, soft lighting from eight lanterns above, and music gently floating in the air.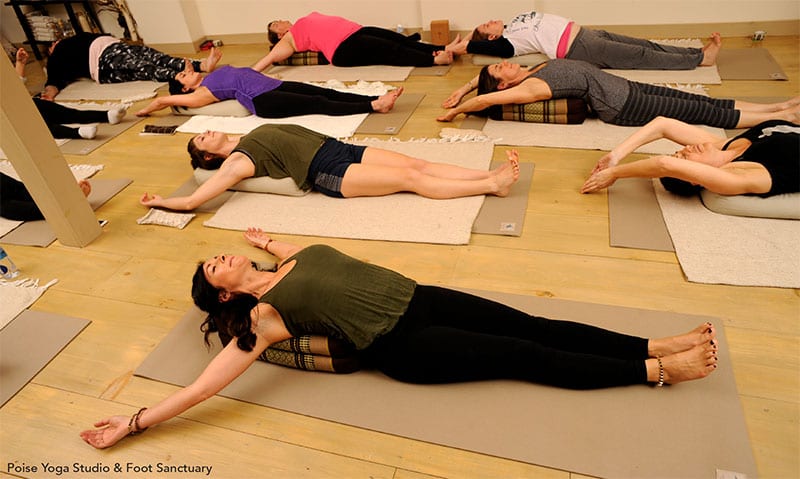 You are warmly greeted by Shanna Breton, Poise owner and teacher. Leading a Saturday morning Vinyasa yoga class, Breton gently guides the participants through stretching and strengthening poses. Although the world outside is noisy, this space is peaceful enough to focus on the soothing sound of the rock fountain and let the stress of everyday life float away. A quote by Rumi hangs on the wall: "The quieter you become, the more you are able to hear." At times, the silence is only broken by the jingling of Breton's tiny ankle bracelet, as she moves around the room, providing soothing lavender eye pillows, for the resting Shavasana pose which ends the class.
Breton, a dental hygienist by day, discovered yoga as a way to conquer her stress. She says, "Yoga is a mind-body practice which settles the mind and increases flexibility." Though she studied yoga for self-development, she discovered a passion for sharing it with others.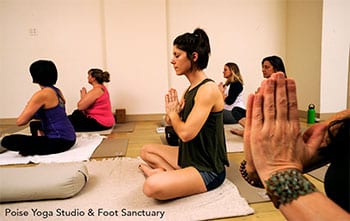 At Poise, Thai Bodywork, which she learned in Thailand, is a signature offering. Sometimes referred to as "lazyman's yoga," this technique involves therapeutic energy work with Thai herbal compresses, with assisted stretching. Another niche service at Poise is reflexology, applying pressure to points on the feet to de-stress the body.
Living with multiple sclerosis, client Natalie Kenley knows that yoga will help her maintain mobility. As a new mother, Kenley appreciates how wonderful an hour of self-care at Poise can be.
Wellness works wonders
Tisha Bremner is a Certified Yoga Therapist and Health and Wellness Coach, who develops corporate programs to recognize and reduce stress, prevent injuries, and inspire lifestyle management. As the owner of Inner Light Yoga, Bremner dynamically empowers people to make healthy choices, and capitalize on their strengths.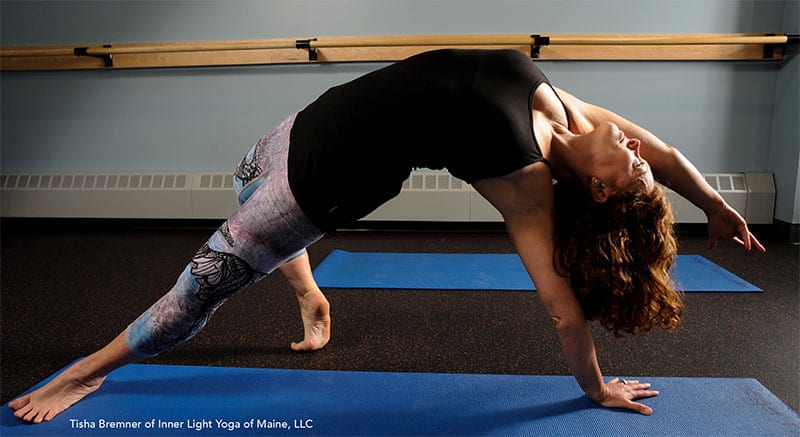 Bremner learned at an early age how yoga could bring her to a state of calmness. She drew upon the philosophy and ancient practices of yoga to create her dynamic business model. Bremner's services are so in-demand that one of her signature programs,"5-Habits of Healthy, Resilient People," will be featured at an upcoming LA Metro Chamber of Commerce breakfast talk in June. "When you align to your truth and your passion,"she says, "that takes you somewhere that's magnificent."
One of her corporate clients is Geiger, in Lewiston. According to CEO Gene Geiger, "Tisha has a unique combination of expertise and passion for people. She filled in gaps that were missing in our wellness program, particularly how she motivates individuals to take charge of their health outcomes. Our associates love working with her, and we are beginning to see measurable benefits from the programs she has developed for us. As we seek innovative approaches to controlling healthcare costs, she is a key member of our wellness team."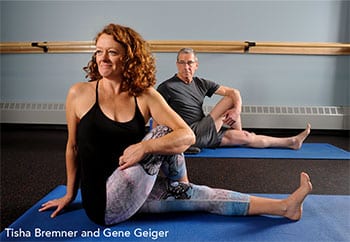 Clients especially enjoy her "Mind-Body Refresh" stretch break program at work. For those who want to practice at home, Bremner has also created an array of instructional DVDs. The general public can try her introductory Gentle Yoga at the Y at CMMC, inside Central Maine Medical Center. Taking it further, Bremner trains students to obtain certification in yoga through her Maine School of Yoga.
Learn to be limber
So, as 2019 unfolds, perhaps you will unfold a yoga mat and try a great new activity. Find the perfect class to refresh you, at any age and stage of your life. You can just take an occasional class for the health benefits, or you may discover a life-long practice.
Chill Yoga
178 Lisbon Street, 2nd Floor, Lewiston • chillyoga.net
Poise Yoga Studio & Foot Sanctuary
351 Lisbon Street, Lewiston • poiseyogastudio.com
Inner Light Yoga of Maine, LLC — Maine School of Yoga