Lewiston-made bagels could be the best in the country
Written by Dan Marois | Photography by Jose Leiva 
As a teenager, Allen Smith, baked bagels in a Jewish bagel shop in Northampton, Massachusetts.
"After baking all morning, I did the wholesale delivery rounds all around the Pioneer Valley," remembers Smith.
Little did he know that the experience would one day help guide him in a business venture in Lewiston, Maine. Smith is the owner of Forage Market, in the heart of a newly revitalized downtown district. The area has seen adaptive reuse of its historic buildings, a handful of new dining alternatives, as well as a resurgence in business start-ups and relocations.
Smith purchased the building that houses Forage with wife Jenn Weiner-Smith, an obstetrician/gynecologist.
"We have always had an infatuation with old buildings," adds Smith.
There's a funky and quirky feel to the café, with its very high ceilings, and tables and chairs that don't match. There's a good chance that some of the furnishings were recycled from your grandmother's kitchen.
"It is funkier than I wanted it to be," explains Smith.
Part of the neighborhood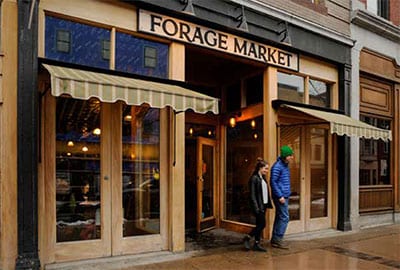 Forage Market has been a neighborhood gathering place since it opened, in May 2012. "You will see a lot of different communities at Forage. We interact with Bates College students, business people, and a local crowd. These are people who have not given up on Lisbon Street, and are part of the activity that takes place here," says Smith.
To the person not familiar with Forage, Smith has a simple description.
"It is a café with a wood fired bakery," says Smith, noting his original vision for the place was more of a market. In an earlier career, Smith sold organic apple cider in markets all along the Maine coast. He was familiar with vendors and suppliers, and was intrigued with bringing farmers and markets together. His early vision was to open a market that would do the same. Thus, the name forage, meaning "to search widely for food and provisions." However, he discovered very quickly that people wanted the café.
The bagel rules
The menu is an eclectic mix of delightful homemade treats. There are rows upon rows of plain and chocolate croissants, almond bear claws, blueberry and raspberry muffins, fruit Danish, turnovers, cinnamon rolls, cookies, and brownies, all baked fresh every morning.
Market sandwiches, made with baguettes, grace the shelves at 11:45 a.m. daily; they are available only as long as the supply lasts. But the item that really fuels the Forage menu is their bagels.
"There are a lot of exceptional bread bakers in Maine," Smith said, in a 2017 article in Maine magazine. "So I thought bagels would stand out. We had to be savvy about it, and decide to concentrate on what we're really good at."
"They are made from sour dough bread, which makes them unique," said Smith, explaining that the bagels are cooked in a wood fired stove, sourced from Spain, that takes about three hours to stoke up to the appropriate cooking temperature.
The process begins with a simple dough of flour, water, malt, and salt, which is hand rolled and aged for two days. The dough is naturally leavened with wild yeast starter, then boiled, and dusted with a topping of sesame or poppy seeds, sea salt, or "everything" blend, before placing them in the oven. In eight to 10 minutes, they are done.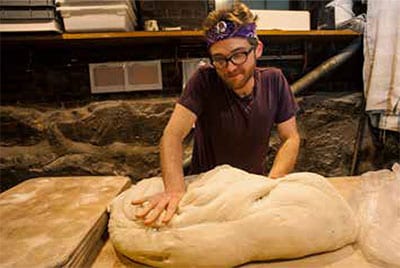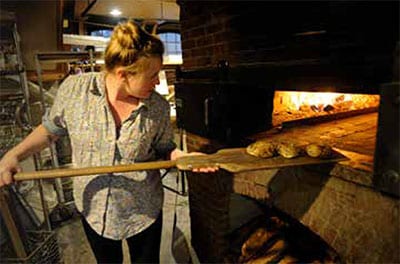 Is there a secret to creating the perfect bagel?
"There are lots of secrets, but the main one is an extremely hot oven, which gives the bagels a thin and crispy skin. Our bagel bakers have to be skilled and highly attuned to the fires every morning," says Smith. "Every day, we are riding the edge of burning the bagels. We like to see blisters on our bagels, because it is the mark of a good hot oven but, all the while, trying hard to never have burned bagels."
Depending on the day of the week, Forage will bake anywhere from 500 to 1,000 bagels, in flavors that appeal to a wide range of bagel lovers.
Getting attention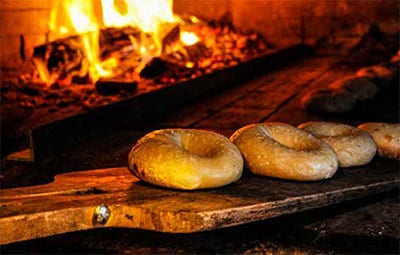 The bagels have developed a local following that makes Smith proud; they have received notice elsewhere in Maine. What is truly remarkable, however, is that these Lewiston-made bagels have gained attention on the national scene, among foodie groupies.
In a 2016 article in Saveur magazine, the publication's headline asked "Is One of America's Best Bagels in…Lewiston, Maine?"
"The wood-fired sourdough specimens at Forage Market are good enough to melt the heart of the most hardened New York bagel snob," said writer, Matthew Kronsberg. "These were not just great bagels for Maine. They were great bagels for anywhere."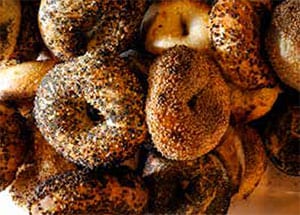 Kronsberg went on to say, "Did these (bagels) deserve to be near the top of any list of the best bagels in the country? I think so, even if the use of sour dough and a wood burning oven would require an asterisk to be put on any purist's list. If these were sold in New York, there would be lines around the block for them and Twitter wars over their legitimacy."
"But these bagels are sold in Lewiston, which makes them something better: They're proof that no 'Best Of' list can ever be truly complete or authoritative, because there is always the possibility of brilliance where you least expect it," said Kronsberg. "Proof that even jaded New York writers can still be surprised, and even moved by a simple bagel, whatever sins of snobbishness may lurk in their hearts."
While the recognition on the national scene was rewarding, Smith felt like it was long overdue.
"We knew that we were making quality bagels. We weren't surprised."
Sourcing local
Smith has never lost sight of his commitment to bringing farmers to the market, and that would be Maine farmers.
"I source local as much as possible. That was one of my original goals."
Indeed, the Forage website touts, "We are always looking to partner up with more farmers. Stop by the market any time."
Accordingly, bacon and sausage come from Sumner Valley Farm, in Sumner; cream cheese from Springdale Farm, in Waldo; and cheese and flavored milks from Smiling Hill Farm, in Westbrook. Eggs are purchased from several local farmers, including Three Chix Farm in Greene, Isaac the Eggspert in Wales, South Auburn Organic Farm in South Auburn, and Nadeau Farm in Auburn.
Beyond LA
For the past two years, Smith has been planning an expansion of Forage.
"We started looking in Portland and waiting for a great location," says Smith, who waited until the time was right to make the move. In August, Forage opened in Portland at 123 Washington Avenue. Forage's neighbors in Portland include Maine Craft Distilling, and The Shop, an oyster bar and retail shop run by Island Creek Oysters.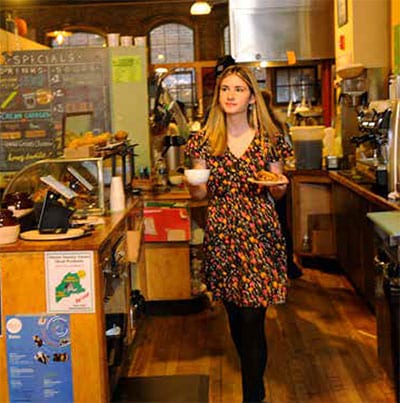 Though the Lewiston market has a hearty lunch service, Smith states the 4,000-square-foot Portland store will limit itself, for now, to an abbreviated menu of bagels, breakfast sandwiches and pastries.
"I think we may hold off and announce a lunch menu later. We're still consolidating the staff, and we want to make sure we're ready for that."
The Lisbon Street challenge
Smith is excited to see the wave of revitalization that has landed on Lisbon Street, and he is pleased with how Forage has been embraced in the area. That's not to say there aren't a few challenges.
"We have lost some businesses, as things come and go, and there are still lots of empty store fronts," says Smith, acknowledging a prevailing image of the downtown as unapproachable.
"There are older residents who hesitate to come down here. And the spaces that are available lend themselves to small boutique stores, which we don't have much of," reflects Smith. But he also notes, "In recent years, parking seems to be less of a problem. Fortunately, today, there's an enthusiasm and energy that continues to drive activity here."
It was well over a decade ago that four connected historic Lisbon Street buildings, across from Forage, suffered extensive fire damage. They were condemned and demolished, leaving a gaping hole in Lewiston's most iconic street. One of the buildings was the site of the 1906 art studio used by Marsden Hartley, a noted early modern American painter who was born and raised in Lewiston.
In the formerly vacant spot, The Hartley Block is currently being built by The Szanton Company. This mixed-use, mixed-income project will feature 63 apartments and 4,000 sq. ft. of retail space. Developments like this are expected to expand Forage's base.
"Chill Yoga has been a tenant in our own building since we opened," said Smith. "They are good neighbors."
Smith has also been fortunate in finding good staff for his locations. He employs roughly 12 full-time staff and 10 part-timers, in Lewiston and Portland.
"If there is a challenge, it is in finding really knowledgeable and accomplished leaders for the staff."
Making an impact
Forage's success has not gone unnoticed by cheerleaders for downtown Lisbon Street development.
"Our once booming downtown shopping and dining mecca has been in the process of reinventing itself for many years now, and Forage has played a huge role in driving the renaissance," says Michael Dostie, owner of J. Dostie Jewelers on Lisbon Street, and chair of the Downtown Lewiston Association. "The elevated rustic atmosphere, coupled with a dedication to locally sourced ingredients and foods, brings a new kind of experience to our downtown. Forage has certainly broken the mold, and has proven that hard work and attention to quality is a recipe for success."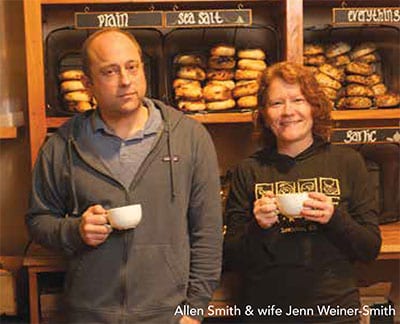 "I love having a place like Forage as part of our downtown neighborhood," says Katie Greenlaw, director of public relations at Rinck Advertising. Her company moved to Lisbon Street in 2017 to occupy the former W.T. Grant building. "It's a great option to be able to meet up with a client, co-worker, family, or friend for a cup of coffee or a bite to eat. The food is delicious, and you can feel good about where the ingredients are sourced from, and that you're supporting a fantastic small business."
While he is becoming well accustomed to sharing his time between Lewiston and Portland, Smith has no plans for another location right now. Instead, he is planning a renovation of the kitchen and café areas in Lewiston, getting rid of some outdated items.
"We'll make a few changes," says Smith, but there is no doubt he is keeping the award winning formula that has put Lewiston, Maine, on the map for serving some of the best bagels in America.
Forage Market
180 Lisbon St., Lewiston • foragemarket.com