by T.S. Chamberland | photography by Mark Turcotte
Maine is synonymous with great seafood. Whether you're right on the coast or inland, fresh seafood is abundant. In Auburn, Mac's Downeast Seafood is serving it up practically any way you'd like it.
In Business
Mac's Downeast Seafood, founded by James McNaughton over two decades ago, started out in a small shed and as business grew, a larger building was constructed. Fifteen years ago, Paul Camire and Thomas Coulombe went into partnership when they bought the business. Over the past couple of years however, there's been a misconception with customers that Mac's is under new ownership, but Timothy Coombs, general manager, assures patrons that rumor is unfounded. When Camire retired a few years ago, he sold his share of the business to Coulombe who maintains ownership today – same recipes, same service.
It's great to have options, and there's no shortage of them at Mac's. Whether you want to shop their fresh seafood market for lobster, scallops, shrimp, crabmeat, haddock, and salmon, or order from their extensive menu, they've got it covered. Everything is made in-house with locally sourced ingredients, including the fresh, never-frozen seafood. From chowders and lobster rolls to haddock sandwiches and fried clams–the staff at the 894 Minot Avenue location strives to make every dish as tasty as the next.
"We have a full menu of fried food," says Coombs. "Anything we carry in the coolers, we can fry as well."
It's all about the menu (and the lobster)
So just what's on the menu? Lobster salad and clear meat rolls, of course, as well as lobster mac and cheese, haddock sandwiches, crab cakes, hand-cut French fries and onion rings, shrimp, crab and scallop rolls. For a bigger appetite, there's always one of Mac's shore dinners – your choice of side, sandwich and chowder, complete with an assortment of accoutrements. The offerings have remained much the same through the years – though a popular appetizer, fried pickles, was recently added.
Everything is made in-house – all the produce used to prepare each dish is purchased locally from Blackie's Farm Stand, and the bread is delivered fresh multiple times a week. The haddock is also sourced in the area from both Free Range Fish & Lobster in Portland, and Cantrell Seafood in Topsham. Those local ingredients are used to make the stuffing for stuffed mushrooms and crab cakes, not to mention the numerous chowders for which the restaurant is known. Clam, haddock, and corn chowders, as well as lobster stew are served fresh and hot daily.
Let's talk lobster– the pièce de résistance of shellfish. This bottom-feeding crustacean was once regarded as the food of the impoverished during the Colonial period, but eventually became a delicacy, enjoyed by the upper class. In 1988, the largest lobster ever caught off Nova Scotia, weighed in at 44lbs and was estimated to be roughly 100 years old. Today, lobster is still considered the king of shellfish, and Maine lobster is highly sought after because of its tender, sweet taste.
If it's lobster you want, Mac's has it.  It can be purchased live by the pound, ordered steamed, or if you want all the deliciousness without any of the work, clear meat can be bought right from their seafood coolers.
"There are almost limitless options for lobster," explains Coombs. "We have lobster pie, lobster mac and cheese, we can steam it for you, you can buy it live – the only thing we don't do is ship it."
While they don't ship direct, they do have connections if patrons want to send lobster out of state.
More than just seafood
If fried food isn't what you're hankering for, Mac's also has baked dishes and non-seafood options like cheese-steak sandwiches, hamburgers, and house-made chicken tenders, hand-cut French fries, onion rings, and seasonal options like tuna and chicken salad. Then there are the chowders: corn, clam, and haddock, as well as lobster stew – all made fresh and in-house.
Like with most favored things in life, some of the items Mac's offers are considered the cream of the crop – those shining stars that stand out from the rest of the menu choices. The menu items that regularly make the top of this establishment's roster of home cooked goodness.
"The most popular item is lobster salad and the clear meat lobster rolls," Coombs says. "If you take lobster out of the mix, it's the haddock sandwiches."
That haddock sandwich comes in small and large, and both are ordered regularly by long-time and new customers. If you're not sure what you want or you've never been to Mac's, you can't go wrong with the chowders, lobster salad roll, and the haddock sandwich. If seafood isn't what you're after, the never-frozen, hand-breaded chicken tenders are a must, assures Coombs.
Mac's Downeast Seafood
Auburn | macsdowneastseafood.com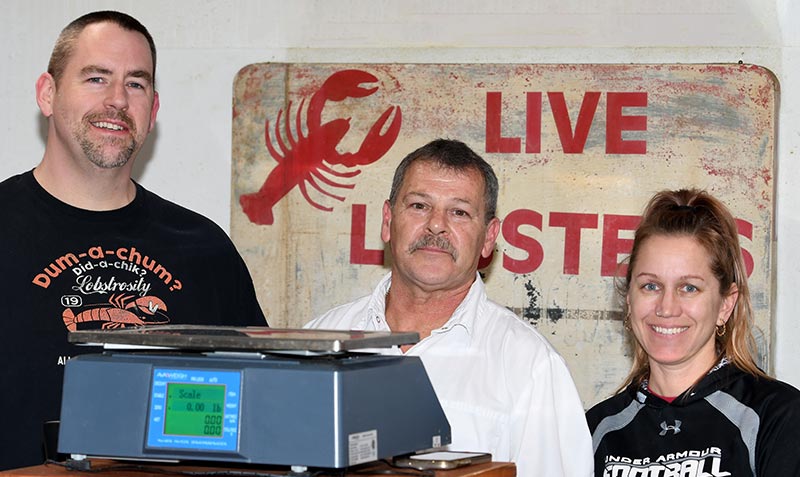 Any way you order it
Once a restaurant that handled only in-person or call-in orders, Mac's Downeast Seafood has added online ordering through Clover, delivery ordering through Door Dash, as well as call-in and in-person service daily from 11am to 7pm. They have a dining area to eat-in, as well as a picnic area outside, and a number of new picnic tables have been added to accommodate patrons enjoying those busy, warm weather days. Dogs are allowed in the outdoor picnic area, so feel free to bring Fido along, and enjoy some authentic down-home food.
Got a large group ordering? Don't give it a second thought. Coombs and Mac's staff are able to expedite large orders. Most of the menu items can be prepared quickly, so there isn't usually a long wait.
"We can easily handle anywhere from one person to a hundred people," says Coombs. "We're pretty quick as far as service is concerned."
Whether you plan to eat in, grab take-out, or buy fresh to take home and cook yourself, Mac's is ready to oblige. So, go ahead and enjoy a bite to eat solo, with a friend or loved one, or load up the kids and the pup and check out Mac's Downeast Seafood for a no-muss, no-fuss, picnic-style meal with almost no clean up involved.
"We are better than you think – we're underrated," Coombs says. "If you've never been in, try us, and if you've forgotten about us, try us again."