Written by T.S. Chamberland | Photography by Nicole Rand
Does the idea of supporting a local business while simultaneously earning reward points appeal to you? What if, as a consumer, you could do that and have access to a growing network of local businesses across Maine and New Hampshire without incurring  fees? If you haven't already heard, there's a rewards card that can help you do just that. It's easy for consumers and businesses to sign up and even easier to use.
Supporting and shopping local just got easier
Originally a Portland-based startup, Buoy Local was founded by Sean Sullivan and Kai Smith, and in 2016 was purchased by Bangor Savings Bank. What began solely as a gift card program that included 250 businesses in the Portland area has become a rewards card program usable at over 1500 local Maine and New Hampshire businesses – complete with an app, and funded by Bangor Savings Bank. The bank has been around for 170 years, which means that Buoy Local has the backing of one of the OGs (original) of local business.
"The program's mission is to help create a strong local economy with vibrant downtowns by supporting all of our diverse and independent businesses," Kate Frey, Buoy Local Brand Ambassador, with Bangor Savings Bank, says.
Frey adds that since the bank services Maine and New Hampshire consumers and business owners, Buoy Local was the perfect program to add to their list of offerings.
"The bank's mission is to support the communities we live and work in; this just dovetails perfectly into that overall mission," Frey explains. "It makes sense with our entire portfolio."
Does shopping locally really make a difference?
When it comes to shopping and our communities, the numbers don't lie. According to Frey, studies show that when we shop locally, 73 cents of every dollar stays in our community, and supports our local workforce and businesses. When people shop at big box stores, she says that it's only about 25 cents on the dollar that remains in the community. By shifting our behavior to shop at local businesses, we can actually help everyone in the community.
"Shopping local has a ripple effect," Frey says.
There's more incentive than ever to shop local and do it through Buoy Local. As a consumer you'll get $5 in rewards as a thank you for signing up and earn rewards on every dollar you spend at participating, local businesses. You can also redeem those rewards with no fees! Frey says that she often explains how the program can be free to consumers by equating it to their free ATMs around the world for the bank's consumers. Keeping their ATMs free of fees creates brand loyalty and recognition, and the no-fee rewards card program is a version of that same practice.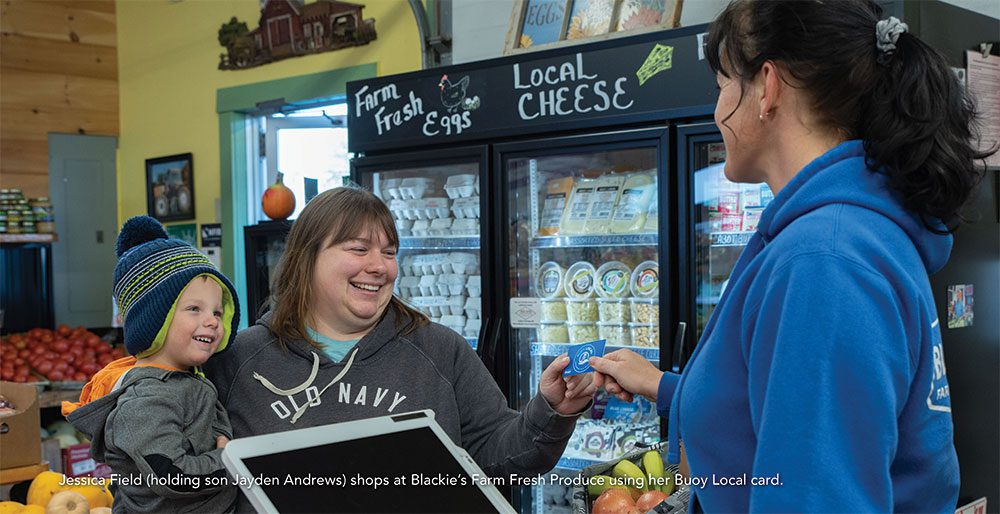 Why local businesses should join
Matt Manson, owner of Blackie's Farm Fresh Produce in Auburn, was approached about Buoy Local by a friend who works for Bangor Savings. After hearing about the program and what steps he needed to take, Manson says it seemed like a good fit.
"I think that the biggest benefit is just connecting local folks with local shops," says Manson. "Incentivizing shoppers to frequent businesses that are owned by local folks, carrying local products."
As a retailer, there's no need for additional equipment and it takes 5 minutes to register your business with the program online. Manson encourages other local businesses to check Buoy Local out, because programs like this help their businesses flourish, and helps them continue to be able to be part of and do business in their communities.
"It's super easy," Manson emphasizes. "I'd encourage anybody to be a partner."
Frey also points out that the program and its card have one of the lowest interchanges than any other card on the market today. Similar to the fees a business incurs for accepting credit and debit card payments, reward cards often come with higher fees. A cost the business would be responsible for paying. Other reward cards have interchange rates that range from 3.5 – 4%, but because Bangor Savings picks up the portion on the consumer side,  the Buoy Local card interchange is just around 2%. Meaning the bottom line is savings overall for partnering businesses.
Similar to other reward cards and programs, Buoy Local partners can use their points as money off at any of the participating businesses. This feature benefits the retailers by having the points redemption occur as part of the regular transaction – meaning no extra effort or work for the retailers.
"The business doesn't have to worry about discounts at the register, card punching, or loyalty points," says Frey. "All of it is housed within the app, so the business is just accepting a new form of payment with the Buoy Local card."
"The simplicity of it on our end, being business owners, is great for us," Manson adds.
Sign-up is easy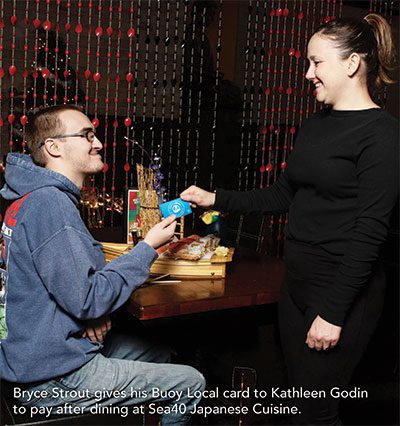 Consumers interested in signing up for Buoy Local can walk into any Bangor Savings Bank location to get a free card. After receiving their card, they can enroll on the Buoy Local website or app and complete an enrollment, linking their new card to an existing banking account. Plus, don't forget that $5 in rewards you will get as a thank you for signing up, which is good for use with any Buoy Local business, like Aroma Joes, Sea40 Japanese Cuisine, or Blackie's Farm Fresh Produce. And just like with becoming a retailer, banking with Bangor Savings isn't a requirement, so you can choose any account you want to fund your Buoy Local card.
"Once they have downloaded the app and added their funding source, consumers are able to start earning reward points," explains Frey.
Maine and New Hampshire local retailers can go to the Buoy Local website and set up their business profile in roughly five minutes. Quick and easy signup, and the dashboard is customizable, meaning a business can create a Buoy Local experience that meets their needs.
"There's no downside," says Manson. "I don't see why anyone wouldn't want to be a part of it."
What's new? The search options in the app have been improved, making it easier to find local businesses near you that accept Buoy Local. You can also shop online, over the phone, and in-person. And stay tuned because Bangor Savings Bank is innovating! They are not done finding and exploring exciting new ways to champion local and making it easier for consumers to support. While no release date has been set, one such innovation currently being tested is combining their debit card with the Buoy Local card, essentially tripling the users with access to the Buoy Local program.
Buoy Local
buoylocal.com