Written by Toby Haber-Giasson | Photography by Brewster Burns
Part 1 of this series began with reminiscences from longtime residents of Auburn (Winter 2019 issue). In Part 2 (Spring 2019), we examined Auburn's past, from its centuries as an Abenaki settlement, to a colony of hardy European Americans. In Part 3 (Summer 2019), we watched life in Auburn change alongside developments in transportation, allowing more convenience, commerce and choices.
Upon this Sesquicentennial, we examine the city's neighborhoods to learn where Auburn has been, and asked its current leader to posit the city's next 50 years.
Auburn has it all
Mayor Jason Levesque is proud of his city.
"We have more than any other city can offer: two lakes, rivers, golf courses, twin sheets of ice, indoor turf, family skiing, healthcare. We're close to the mountains, to the ocean, to Augusta, Bangor," he boasts, "and especially to Portland."
Housing demand is growing, he says. Both construction and renovation are increasing and tax valuations are rising. New stores and restaurants are opening and expanding.
This grounds Levesque's vision for economic growth. "We want families to move here, to raise their kids here. We just took a huge step by voting to approve that a new high school." Knowing state figures demonstrate that a new school attracts new families, he adds, "We can support thousands more residents with our current infrastructure."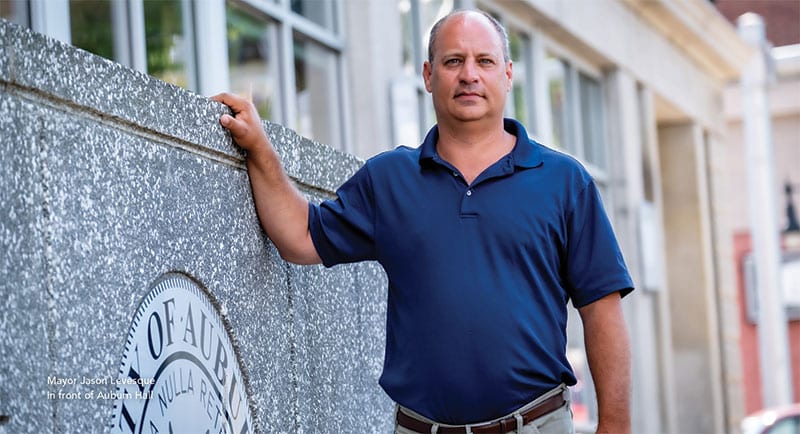 Transportation is key
The future of Auburn, reasons Levesque, is tied into the future of another city. "Portland is experiencing a boom," he says. "As part of Greater Portland, we can and should share it."
"We have the housing and affordable cost of living Portland's workforce needs. I've had discussions with Mayor Strimling. As we look at our spheres of influence, we see that transportation binds our two communities together."
Understanding the role mass transit has played in driving
innovations- interurban train lines linking cities for commuters, and freight rail for commerce (see Part 3)- Levesque sees re-
investment in rail transportation as a key to future success.
Meeting challenges with partnerships
With a modest population that has hovered around 24,000 for decades, Auburn needs to find more workers for its businesses, despite the statewide workforce deficit. It also needs to address food insecurity for its "working poor."
"We could actually be the bread basket for the region, with so much rich farmland here," Levesque asserts. Municipal regulations may be inhibiting agricultural development, in his view, especially the trend toward small niche farms.
Auburn is working to meet the high demand for affordable housing options. And nearly all existing warehouse space is being utilized, leaving a need for large co-op warehouse space.
Our best partners? Private industries, both here and abroad, who believe in Auburn's great potential, says the mayor. Building connections with federal and state entities is also yielding grants and valuable new programs.
Moving forward
Mayor Levesque, himself a successful entrepreneur, knows the value of building Auburn's brand. A recent multi-media campaign ran ads around New England, from Bangor to Massachusetts.
"We are a great community to live and play in," he maintains. "I'm excited for the next generation in Auburn. We're moving forward in a grand, bold way."

Auburn Village
The city's downtown was originally known as Goff's Corner, settled 40 years before Auburn officially became a city (see Part 2 of the Auburn at 150 series).
West Auburn
Formerly known as East Minot, West Auburn spans from the marshes at the south end of Lake Auburn to the ridge bordering the lake's west shore and Perkins Ridge. It bustled in the 1800s with shops and schools, launching Auburn's first shoe factory in 1835. When the railroad came to Auburn Village, the shoe business moved downtown. Today, West Auburn is largely residential, and home to Wallingford's Orchard and Lost Valley.
North Auburn
This area lies between West Auburn Hill and Dillingham Hill. Growing from just five homes in 1818 to a prosperous village a decade later, it was home to both a resort hotel and a town farm (for the landless poor), two schools, and its own library.
North Auburn's first shoe factory appeared in 1848. Later, residents operated a thriving shoe factory collective here, until operations moved downtown, to ship by rail. The Lake Auburn House hotel boasted the first telephone in town, back in 1881. Gradually, the Water District purchased lakefront property for conservation; after a road was paved to Auburn village, North Auburn became a suburb.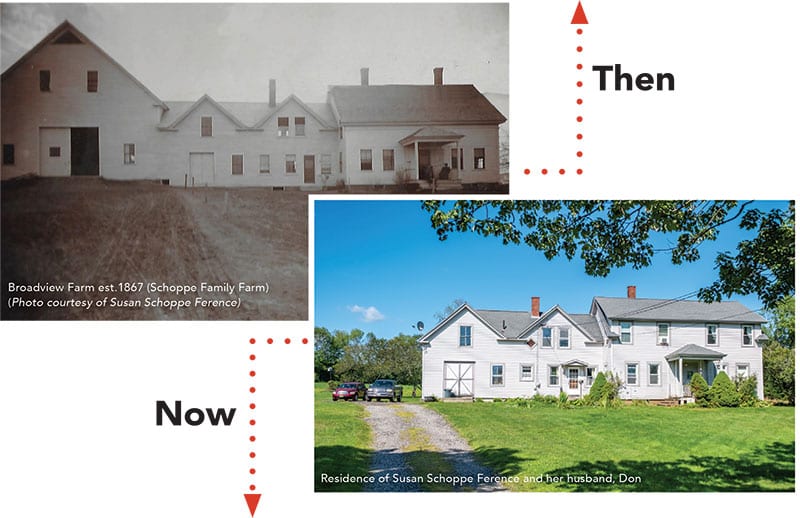 East Auburn
Lake Auburn's outlet stream powered many types of mills, for grist and cider, for bobbins and carding, for pegs and furniture. After these shops moved downtown, East Auburn became a recreational destination, the home of the famed Lake Grove resort (see Part 3). The outlet beach, beloved for swimming and fishing derbies, is now closed, but the lovely park is still great for picnics.

Danville
This region is a hub for transportation, such as the Auburn-Lewiston Airport and the Maine Turnpike exit. Even 150 years ago, Danville Corner was already a busy crossroads boasting a stagecoach stop, five taverns, two ferry crossings and a bridge over the Little Androscoggin.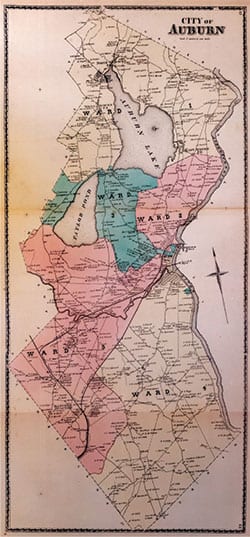 Later, Danville became the site of a junction between the Maine Central Railroad and the Grand Trunk, which connected Lewiston Auburn to Canada. Nearby, a commuter interurban line ran through here to the Twin Cities' downtowns, linking LA workers with Portland (see Part 3).
New Auburn
Situated between two rivers, this area was a natural location for farming and trade. In the 1870s, Little Androscoggin Water Power Company built a dam to power the Barker Mill. Many groups immigrated to New Auburn for employment there: Irish, English, French Canadians, Polish, German, and most of Auburn's Jewish community.
In 1933, a devastating fire destroyed 250 buildings here, and left 2,000 residents homeless (see more in Part 1). In the midst of the Great Depression, this community remarkably rallied to rebuild after disaster, at a cost of $2 million. Today, New Auburn Village is a federal Opportunity Zone. Grants are funding improvements to the riverfront like Anniversary Park, anchored by a monument displaying bells from historic St. Louis Church.
South Auburn
This historically rural area extends south below the turnpike to Durham, and west to New Gloucester. It is still home to many farms and some golf courses.

Be sure to revisit the first three parts of our series