Written by Donna Rousseau  |  Photography by Jose Leiva
Anniversaries have a unique quality for nostalgia, a recalling of life's sweet and sometimes bitter moments. In 2019, as Auburn celebrates its 150th anniversary, the history books can reveal its boundaries and beginnings. Yet, the true story of Auburn comes from the tales of her people, the citizens who have lived and worked lifetimes in her neighborhoods and along her city streets. Their stories weave the color and richness into the 150-year-old tapestry that is Auburn.
High-flying memories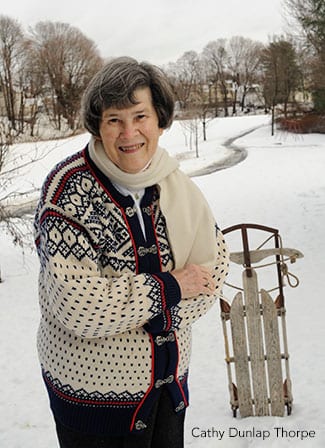 At 80 years old, Catherine "Cathy" Dunlap Thorpe knows her city well. She grew up in Auburn as Catherine Dunlap, on Goff Hill. Her family owned the five-generation Dunlap Agency (now the Dunlap Corporation), once located in the heart of downtown Auburn. Among her early memories are the fly-in breakfasts she used to take with her father, Malcolm Dunlap.
"My father traveled frequently for business," explains Thorpe, "but he did not like being away from us. So, he purchased a single-engine plane for the company, for the very utilitarian purpose of being home with his family at night." Some mornings, her father would meet other pilots at the airport, and they would choose a place to fly to for breakfast – Winthrop, Augusta, or various destinations. "My brother, Stephen, and I would take turns flying with him," she says.In the early 1960s, Thorpe joined the family business, working first in claims, and later writing homeowner policies in the Personal Lines department. "I loved working in claims," she says.
Near the end of that decade, Cathy bought a little home on Holly Street, where she raised her two children, Lane and Terrilyn DeCoster. She bought them "the best doughnuts" from Eith's Bakery, and took them sledding at Brann Hill, on Park Avenue. Her family went square dancing with neighbors every weekend at CMVTI (now Central Maine Community College). "We would set the younger children up at a table, and they colored while we danced," she recalls.
Celebrating 100 years of Auburn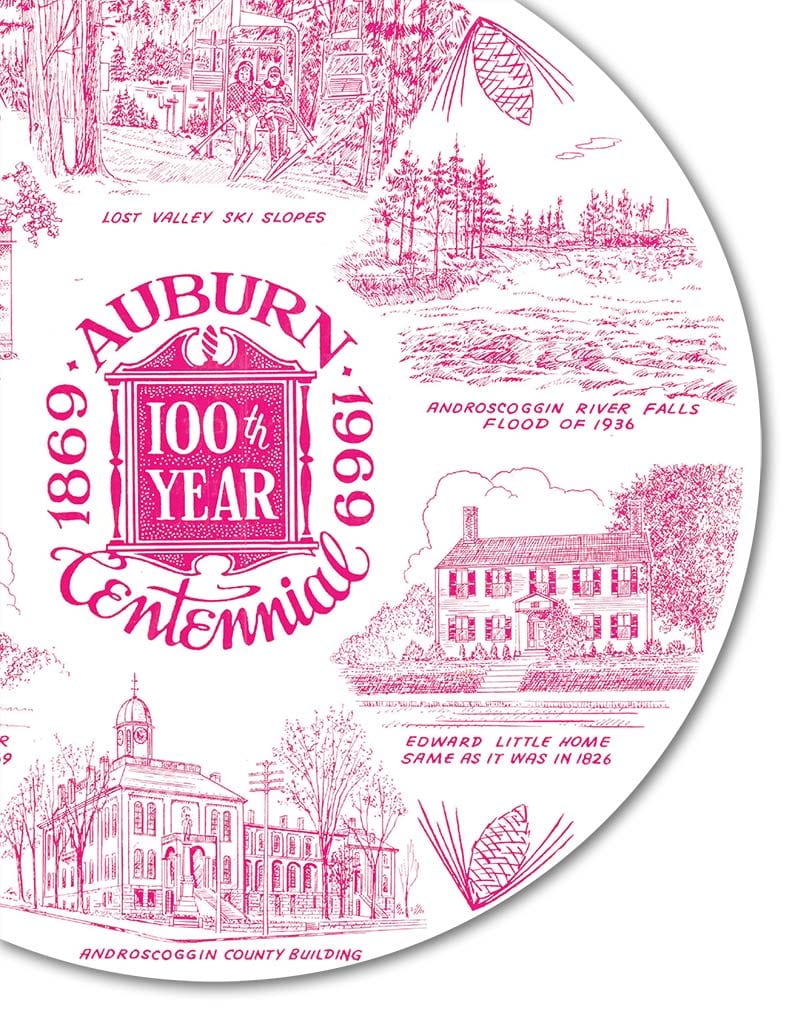 In July of 1969, Thorpe's family was honored to be part of Auburn's Centennial Celebration. She describes how they all donned period costumes for the rehearsal at Walton School. "The day of practice was the same day as the moon landing," explains Thorpe, recalling the stark contrast between old and new. Since no one wanted to miss the historic event, they rigged up a television set in the announcer's box, up in the stands. "We all took a break to watch, as the astronauts landed on the moon," she remembers.
Thorpe stewarded her city's ecology, as well as its history. Through her work on the board of the Auburn Water District, she learned the importance of planting trees around Lake Auburn, to maintain the city's healthy water source. Her grandfather, George W. Lane, Jr., who had served on the same board before her, was an integral part of making the lake properly tree-lined.
Later, when Cathy's children were grown, she married a family friend. Robert Thorpe, a career man at Harriman Associates, also served nine years in Auburn's city government. Consequently, Cathy became an expert in campaigning. As mayor, she recalls, Thorpe developed a camaraderie with John Jenkins, Lewiston's first African-American mayor. "If there was an event in Lewiston, John would invite Bob; likewise, Bob would invite John to Auburn events." In 1996, these two mayors initiated L-A Together, to foster cooperation between the twin cities.
And, she says, at her age, with all the people, places, and events that she can recall- all illustrating Auburn as a special place to live- it's clear she loves her hometown.
Forging a life in Auburn
Fernande DeRosay has spent most of her 104 years of life in Auburn. In 1920, she moved to Lewiston at the age of six. As a teenager, she met a young man from New Auburn, William "Bill" DeRosay, at a party hosted by his family. Later, they became engaged and, at age 18, Fern married Bill DeRosay in May of 1933.
In the same month and year, New Auburn faced devastation from a massive fire that began in a wooden apartment building. The blaze spread quickly to neighboring tenements full of low-income mill workers, displacing 442 families, or 2,167 people. Even today, DeRosay can still recall trying to cross the bridge to view the disaster, and the eeriness that seemed to hang in the air. Emergency responders blocked onlookers from getting too close to the scene. "It was weird, spooky," she describes. "It was quiet. All you could hear was the crackling of the fire. It was awful."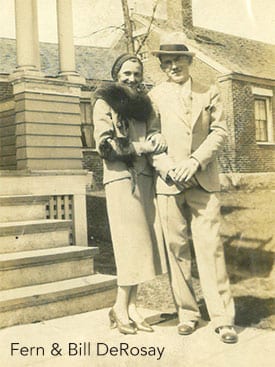 The newlywed DeRosays wintered in an apartment in the city, and spent summers in their cottage, which Bill had constructed on Taylor Pond. According to their daughters, Joan Dehetre and Ann Proctor, Bill continued to build and sell cottages through the years. The couple built their first family home in 1938 on Manley Road, just in time for the arrival of baby Joan.
Creating lodging and recreation
It was in 1953, however, when Bill DeRosay saw a business opportunity. "The shoe industry and mills were booming," recalls his youngest daughter, Ann Proctor. "There were no Quality Inns or big hotels, except The Elm and The DeWitt. My father recognized a need for motels, to accommodate the salesmen coming from New York and Massachusetts, and the tourists who came in the summer."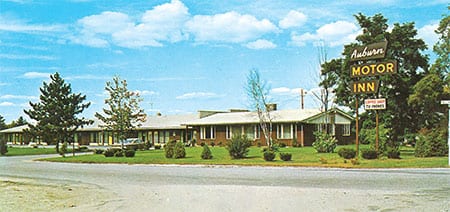 DeRosay began building his first motel by night, after working full days as a refrigeration technician for Hood Dairy Co. The Stardust, on Washington Avenue, featured 14 rooms, with exiting doors on the outside of the structure, and a house attached at the end, where he and Fern would reside with their daughters. In 1956, they moved into the Stardust residence; Joan was 15 and Ann was 5. This allowed Fern to be a stay-at-home mom who worked in the front office. "I loved every bit of it," she says, her eyes bright. "I loved meeting the people."
In the early 1960s, the DeRosays built a recreational center with 10×12 foot trampolines, on additional land they owned on Washington Street. "Trampolines were just coming of age," says Proctor.
"Dad built a small place to serve ice cream and hamburgers," says Dehetre of the recreational complex. Unfortunately, public transportation wasn't what it is today; DeRosay tried bringing people out to Washington Street from town but, two years later, he moved the business to Naples.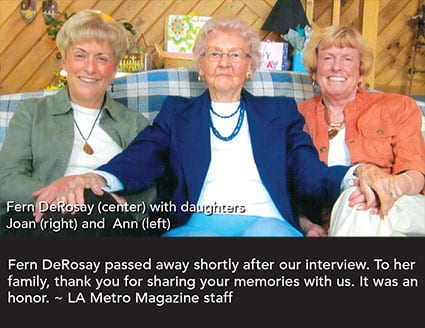 Eight years after The Stardust, DeRosay constructed his second motel, The Auburn Motor Inn, on the trampoline center land. Larger than The Stardust (which the family sold), the new motel featured 20 rooms, parking in front and back, and doors exiting inside onto a hallway that led to the main office. In 1968, the family moved into the inn's large family residence. Proctor, who was 12 years old at that time, recalls, "The house was beautiful." The DeRosays sold the Auburn Motor Inn in the mid '70s; today, it serves as the Sarah Frye Home.
The DeRosays built their final home on Auburn's Garden Circle, near a log cabin built by daughter Ann and her husband, Larry Proctor. Fern resided there until she was 97 years old.
Youth scene
Though sisters Joan and Ann DeRosay were born 10 years apart, they have fond, common memories of their teenage years in Auburn. "Foodtown (where Hannaford is today) sponsored dances in their parking lot, after the store closed," Proctor explains. "Larry and I got together there."
Dehetre adds, "Tabers was a big deal at the time. They still had miniature golf, a driving range, and a food shack, but it's not the same today as it was then." She also remembers ice skating behind Macomber's Dairy (where Quilt Essentials is today) and attending dances at the YMCA. "And after the dances, you would come out and Marshall's Popcorn Truck would be there."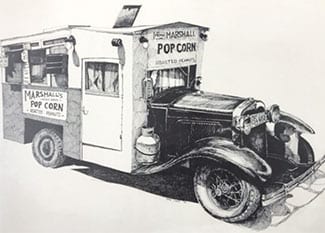 "Marshall's had the best popcorn!" exclaims Proctor. "If you went out, you always looked for it. They popped and served the popcorn out of the back of the vehicle and they used old-fashioned butter. The machine would churn the butter through the popcorn, so it was all covered."
Teenage "hangouts" were abundant. Mac's (now Thai Dish) and Stevie's (where the old police station stands) had old-fashioned soda fountains; Callahan's had great french fries, and Eddie's Diner (across from where the Village Inn is today) was a favorite haunt for Dehetre and her friends when they got out of Edward Little High School (now Community Little Theater) in the afternoon. DeRosay marvels at her daughters' reminiscences, "They remember more than I do!"
The joys of dancing and gathering together may have lost their luster for today's social media generation; the sisters shake their heads at what the kids are missing. Nothing can take the shine from their memories of family and dancing away their teenage nights in Auburn.
Calling the Rollerdrome "home"
Having grown up under the Rollerdrome roof in Auburn, Dan Larrivee and sister, Rachel Potvin, have been in the center of one of Auburn's "hot spots" since the 1960s.
"We lived in Lewiston, but we grew up with our family and our cousins, at the rink," Larrivee says, laughing. "We had to be here every weekend; we were rink rats!"
Potvin agrees. "We were always at the Rollerdrome because our parents were here."
Consequently, the two created a whole group of friends, outside of school and their own neighborhood.
"We had a diverse variety of characters, and mostly older kids at the rink," explains Larrivee. "Mom and Dad hosted live bands back then; half the night was skating, and the other was dancing with The Royal Knights and The Innkeepers. As young kids, we got to experience that."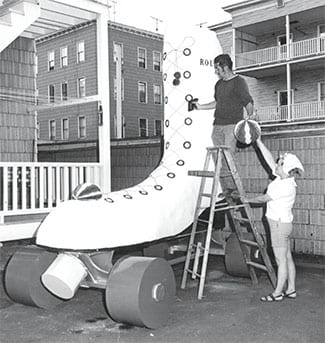 "Music became a big part of our lives. We knew all the words to those '60s songs," adds Potvin.
"The 'social media' of the day was the bulletin board our parents put up," says Larrivee.
"People would bring in pictures, some from the 'five-and-dime,'" says Potvin, smiling. "It was a big deal to have your picture on the board." Looking back on the photos, Larrivee and Potvin can still name some of the more colorful personalities.
They, too, recall participating in Auburn's Centennial Celebration in 1969. "There was a big parade with floats. The men all grew beards and people dressed in costume. My parents built a huge roller skate float, and we roller skated all the way down Center Street," says Larrivee.
A 'mom and pop' rink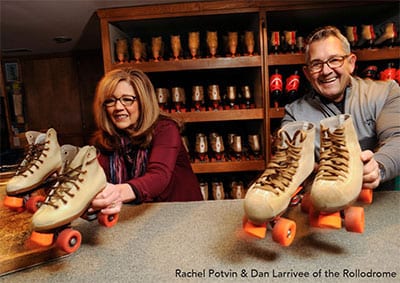 Today, as third-generation owners of their Auburn home-away-from-home, these siblings continue to run the rink in the same spirit as their parents, though it has its challenges. "We are a 'mom and pop' rink. When our parents were here, the regulars felt like part of our family. We knew everyone by name. There was respect. Today, most kids don't interact with us at all. I actually had to make a rule about 'no phones while skating,'" admits Larrivee, who welcomes the kind words people still express about his parents.
It was during the Flood of '87 when Larrivee and Potvin experienced the true loyalty of their Auburn community. That spring, the Androscoggin River broke its banks. "We never asked for help," expresses Potvin. "There were no cell phones or social media." And yet the people came: customers, neighbors, people driving by.
"Hundreds of people came in shifts, helping sandbag and bringing food. It was the community; it was their rink and they were trying to save it," remembers Larrivee, still struck by the level of support. "It was April – raw and raining- and there were thousands of sandbags. From aerial views, we [the Rollerdrome] looked like an island, with everyone around us flooded. We sustained no damage."
Later, in December 1999, the rink's roof partially collapsed under snow, forcing the Rollerdrome to close for nine months. Brother and sister thought it might be the end of an era but, with the help of a local contractor, this landmark reached its 45th year in September, 2000. This time, the community turned out in celebratory fashion, with over a thousand people over two nights.
Where the heart is
A city may be built with brick and mortar, roads and bridges, but its people breathe life into it. Auburn's people are its heartbeat. Whether they are biking for cancer, holding off floods, or sending up fireworks in celebration, they shore up their city in bad times and embrace her in the good. Their memory is long for laughter and all that is worth remembering.
Happy 150th anniversary, Auburn!

Read the next story in the series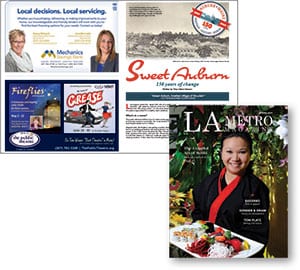 A message from Jason Levesque, mayor of Auburn: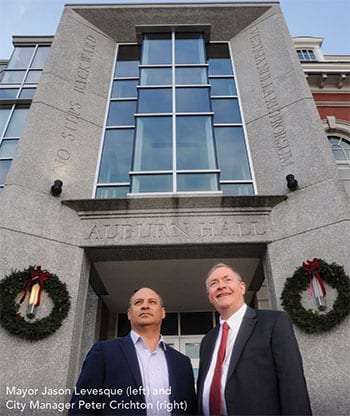 For 150 years, Auburn has been one of New England's most innovative, economically advanced, and forward-thinking cities, all while enjoying a quality of life that I truly believe is second to none. Our founders knew that our location and assets would attract individuals seeking opportunity: people who were ready to create energy and excitement and never give up. Over the years, that has been true, from the hard-working people who made this the shoe capital of the world, to Olympic skiers and world-class politicians, and so many more. We are home to one of the most diverse economies in the region – Auburn is truly living up to its founding expectations.
It's my honor to be mayor of this great city, and in that role, to help nurture and carry on Auburn's rich heritage for the next 150 years. When I graduated from Edward Little High School, 25 years ago, I would never have thought I would be back in my home city, working with my neighbors, friends, and family, to continue the work started 150 years ago. I am proud to be building a stronger Auburn, with yet more opportunities for the next generation.
A message from Peter Crichton, city manager:
It is a privilege and honor to serve as the city manager for the City of Auburn. Team Auburn is knowledgeable and capable – I truly enjoy working with our city staff. Incorporated in 1869, the City of Auburn is celebrating its wonderful heritage and 150th birthday in 2019, beginning with a New Year's celebration to remember. One of Maine's largest cities, Auburn boasts many natural assets and attributes. There is not a day that goes by that I am not excited by the challenges and opportunities that await us. We have much to be thankful for and much to do, as we make Auburn one of the best small cities in America. It is indeed a very exciting time!