Written by Andrew Watson | Photography by Paul Michaud
Some businesses are fascinating. Fascinating in the sense that you just know there's got to be a story behind it, a genuinely interesting history that has culminated into what they're doing today. When you delve a little deeper into their story and what they're doing, suddenly the business morphs from fascinating to downright thrilling. Hemond's MX and Offroad Park, in Minot, is that kind of business.
Hemond's MX – A thrilling adventure in our backyard
Imagine this: It's a gorgeous summer day in Maine. You're outside; the sun is shining. You can smell the pine pitch on the breeze, and you're standing in plain view of a massive motocross track. The track rests in a park that encompasses over 500 acres of land and 400 feet in elevation change. As you're taking in the view, you then hear that unmistakable sound. A group of riders, in full gear, kick-start their bikes. The engines rumble. Can you hear that vrrrrrggggmmmmm sound as they take off full throttle?
They're off, and it's intense. They'll soon be tightly navigating curves at high speeds and going airborne over jumps with the hopes of securing that coveted victory.
Races like these are just part of the thrilling entertainment at Hemond's MX and Offroad Park.
Designed for the whole family
You might not think a motocross park is the ideal family getaway on a summer afternoon in Maine but, oh, is it ever. There's a concession stand at the facility, and many families set up camp for the afternoon, enjoying a chargrilled burger and cold beverage while watching the riders, whether they're racing or practicing freestyle. If your children are interested in the sport, great news: there's a permanent kid's track coming this season.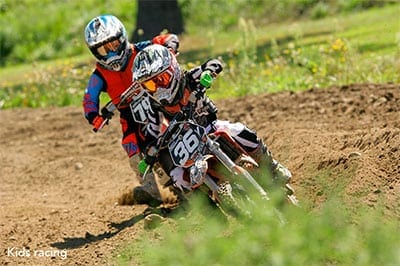 The motocross tracks themselves are a major attraction, bringing in hundreds from out of state. Sawmill MX, a track designed for the experienced rider, has substantial elevation and goes both uphill and downhill at several different intervals. It's a faster, wider track that requires a level of expertise to successfully navigate. Hilltop MX, the original track, is slower and a little more technical, in that it has more curves and fewer straightaways. It's great for beginner and intermediate riders.
There is programming and opportunity for riders of all types, whether you're a low-key rider wanting a space to simply practice your technique, a brand-new rider wanting to taste the experience and then potentially move on to master the intricacies of the sport, or even a professional looking to train aggressively.
If you have a jeep, you know that it's hungry for off-roading adventures. Hemond's trails make for an extraordinary experience. They're accessible by jeep, side-by-side, motocross, and four wheeler. The trails are loaded with rugged, rocky terrain, which is certain to keep your jeep satisfed. If you're looking to put the pedal to the metal and let it rip, you'll like the smooth and flat stretches. Have at it!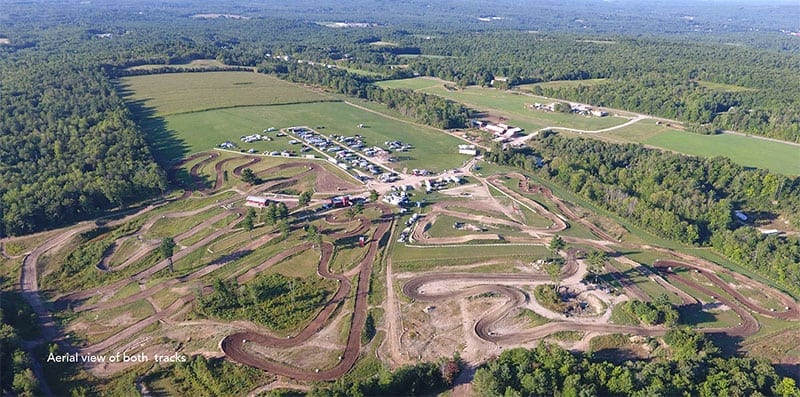 Tradition across generations
How is a concept for a motocross park formulated, and then what does it take to actually make it happen?
For that, we look to owner Michael Hemond. He used to ride motocross himself and has an innate love for the sport, having raced regularly throughout his life. When he was younger, he told his father and grandfather that he wanted to build a motocross track. They both scoffed and essentially said he was crazy.
But soon his father and grandfather warmed to the idea and jumped on board. So together, he and his father built what would be the Hilltop MX track, and the first race opened on his grandfather's birthday, July 21, 2002. His grandfather, who was in attendance for this major family milestone, said, "Michael, I can't believe it."  Turnout exceeded their expectations, and it set a fire in them to cultivate their multi-generational passion for motocross and expand the business.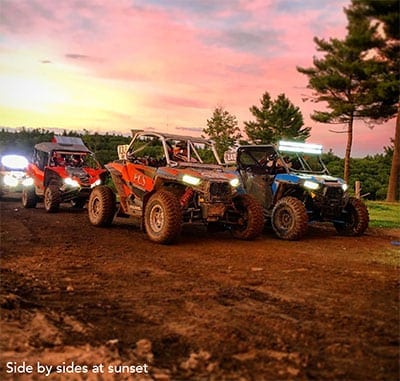 That they did. A few short years later in 2008, they opened a second track, Sawmill MX, which is much larger and called for a massive expansion. The tracks continue to prove popular, and attract hundreds of motocross enthusiasts from around the country.
Patrons include well established clubs and organizations, like New England Sports Club, which organizes a two-day sanctioned event at Hemond's. J-Day Offroad holds its "hare scramble" race through the woods here. And New England Motocross (NEMX) riders race and host their own events here, with the first-place finisher getting a gold cup.
Events attract thousands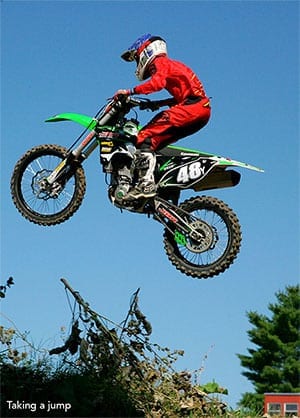 Hemond and his wife, Brittnay, who joined the business as director of operations in 2012, put their creative thinking caps on to envision what was possible at Hemond's. With fun as the intent behind the brand, they host a multitude of events.
The park is open from spring to fall. To launch the season, Hemond's puts on an extraordinary Spring Break celebration, which includes two days of motocross practice, a night band, a pig roast, and a barbecue that'll have you licking your fingers – pulled pork, beans, salads, and all of the fixings. They repeat the event at the conclusion of the season in the fall with Harvest Fest. You're officially invited.
In September, Hemond's hosts the Great North Music and Arts Festival, attracting thousands of people who come to camp out, paint murals, do yoga, and meditate. The Disco Biscuits, a jam band from Philadelphia, headlined the festival in 2016. This year, there will even be a circus. Bring the kids!
Check out their website for the event schedule.
Not without challenges

Managing noise was a pressing concern for the park. After all, motocross racing can get loud, and there are local noise ordinances to follow that are binding. Hemond's ordered an official noise study, to prove they're not above a specified threshold (it turns out, they're not).
Environmental concerns are an ongoing challenge. Hemond's works very closely with the Maine Department of Environmental Protection to ensure they're not disrupting the natural ecosystem.
Another challenge is safety. Riders wear helmets, chest protectors, and other required gear. Even with precautions taken, accidents can happen, so there's a first aid room for minor injuries. There are two ambulances and four medics on hand for each race. In addition, the town's rescue service is just minutes away.
Future, too, looks thrilling
What's next for Hemond's? Development plans include restoring a huge barn on the property. The new event facility, to be completed in 2019, will house a restaurant and bar. Permanent tracks for kids and beginners, and a new septic system for more showers and restrooms, are also in the works. And the new events always seem to expand the definition of "thrilling."
Brittnay Hemond says, "We want people to come out, have a great experience, and go home happy."
With official motocross races, off-roading, pig roasts, a family circus, motocross engines revving and riders freestyling, families spectating, kids practicing, an abundance of hot food and cold beverages, sunshine, and welcoming people – a great experience is all but guaranteed.
Hemond's Motocross and Offroad Park
695 Woodman Hill Road, Minot