by Michael Krapovicky | photography by Brewster Burns
Call of the Wild RV Center, Inc. boasts the largest display of RV units, new and used, in the state of Maine. Their success can be attributed to a congenial and knowledgeable staff, with their eleven employees averaging 15 years of experience. From initial sale, through care and maintenance, to possible trade-in on a newer camper – the same team will be helping the customer each step of the way. At Call of the Wild RV, the recreational vehicle enthusiast is treated as a member of the family.
Origin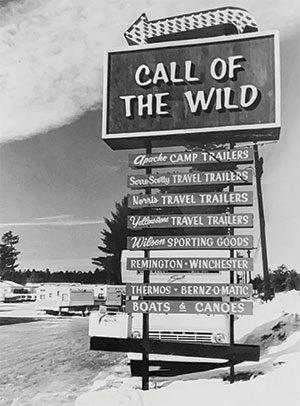 In 1965, Herb Andrews started the business. When Andrews first opened, it was a sporting goods store selling boat engines, canoes, snowmobiles, and camping equipment. Rick Emmert – sales manager at Call of the Wild RV – says that Andrews identified a growing trend towards camping at that juncture. Traveling and recreational vehicles was seen as a great way for families to get out and spend time together. 
"Campers were reasonably priced at the time and made good business sense," says Emmert. "He decided that trailers should be his focus, and it's been that way ever since."
Andrews sold the business to his daughter Linda and son-in-law Scott Hill in 1994, who ran it until 2020 when they presented a proposition to their longtime employee, Jeremy Kennison.
"I started working for Scott and Linda in 1999 in the service department – and after many years of learning all the roles here, they decided to offer me the opportunity to purchase it," recalls Kennison. "We set out on a five-year plan for the transfer, which finally took place on January 1st of 2020."
Changing times
Pictures in the large showroom on Route 26 show how the building has been improved over time. Where once there were docking bays and later, large glass windows – the now insulated structure displays landscape paintings – reminiscent of the views seen by traveling campers. Although the building has undergone renovations, the dedication of the staff at Call of the Wild RV has remained constant. 
"The biggest thing that has changed about the RV business is technology – the Internet," says Emmert when asked about the differences he has witnessed in the industry. "There is a lot more knowledge available online, so the customer can be properly informed before they make a purchase."
What Call of the Wild has consistently offered despite the tumultuous business climate is quality service. The eleven members of the staff have mostly been there for over a decade, so the clientele recognizes them and is secure making requests or asking questions.     
"Call of the Wild has been able to stay in existence because of the relationships we build," says Derek Shelton, General Manager at Call of the Wild RV. "We put our customers first, always."
Experts
Expertise in their field goes hand-in-hand with cordial communication. Therefore, all team members are qualified to help the customer throughout all the departments seamlessly.  
"Our sales force is tied into the mechanical side – these guys have the answers," asserts Emmert. "The experience of the salespeople allows the customers to ask questions and get answers from people who know what they are talking about from hands-on working knowledge of the RVs." 
Eschewing high-pressure sales tactics, the team at Call of the Wild prefers to let their familiarity with the product do the selling. 
"People, like Jeff Meserve, our parts manager and master tech, are as well-versed in these trailers as anyone in the state," Emmert says. "We've got a team in our shop that's going to take care of any need you have."
When it comes to customer interaction, Call of the Wild RV follows 'the golden rule', employing behavior they would expect from a salesperson.   
"We treat everyone the same way we would expect to be treated when we're shopping," Kennison maintains. "When you are shopping for an RV, it is supposed to be relaxing, enjoyable, and family oriented – it is extremely important to us that everyone that visits with us has fun during the experience."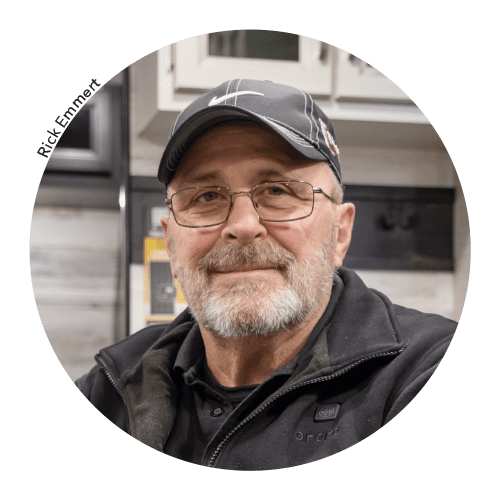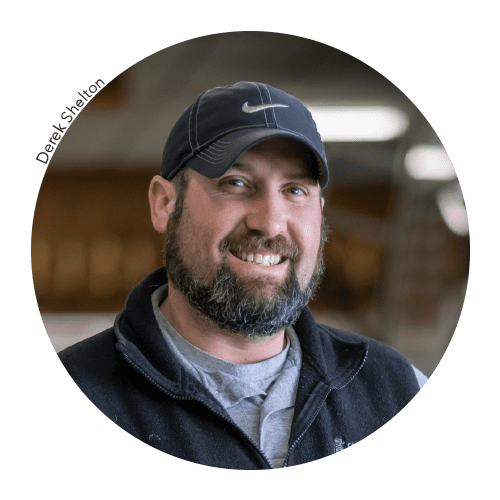 Exemplary service
The RV's are set up and powered on at Call of the Wild's outside display area. Visitors are encouraged to see and experience the product inside and out.
"Walk-ins are always welcome; no appointment necessary," Shelton affirms.  "Everything is open, unlocked, easy, stress-free sales policy."
The team at Call of the Wild prepares their customers on proper use and maintenance of their purchases in minute detail.
"When someone orders a trailer, we set a date to come back," says Emmert. "That trailer goes into our shop, Derek's guys will spend a day, day-and-a-half checking every system, every moving part – then the customer gets a full demonstration of all the features of the trailer."
A demonstration can take 1-4 hours, depending on the customer's level of knowledge and how fully they want to be informed.
Customer for life
Every purchase of an RV at Call of the Wild comes with an exclusive Platinum Customer for Life Plan. The plan offers – at no extra charge – the use of on-site facilities, a 10 percent discount on parts, and a yearly comprehensive inspection.
"We check tires, seam seals, the works – all for free," says Emmert. "The customer gets longer life from their trailer, and it retains its value longer."
The team at Call of the Wild RV is proud of the fact that they are servicing 3rd and 4th generations of customers, a testament to the benefits of the RV adventure.
"We always try to explain to people that this experience will be what you make it," says Kennison. "The RV lifestyle can be some of the most enjoyable and relaxing times you will have – you can't try to find time; you need to make it!"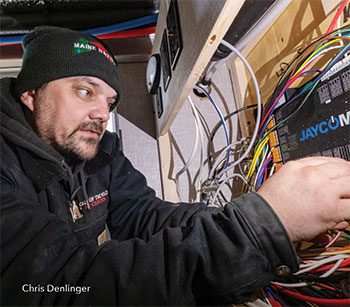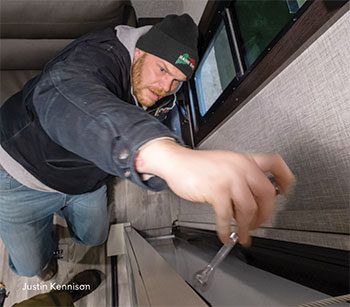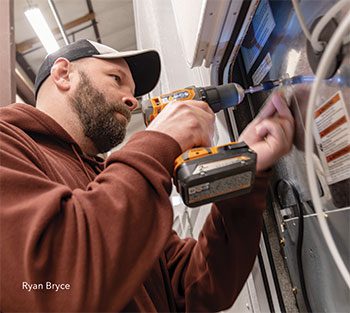 Evolving RVs
The Call of the Wild team has seen immense changes in the products they sell.
"Technology has changed over the years – everything has gotten stronger and lighter," Emmert asserts.  "RV construction and materials have become more environmentally friendly as well."
"The build structures are seeing the use of a lot more aluminum and composite materials," adds Kennison. "This makes the RV more durable and also lighter weight."
"With fiberglass construction, water could get in and make the components swell, damaging the unit over time," explains Emmert. "Many modern RVs use a material called Azdel for the paneling that does not absorb water."
Some of the most impressive changes are within the RVs – where the term 'mobile home' is becoming redefined in current times.
"As far as technology advances, the environment within an RV has really taken off as of late – we are seeing onboard tablets, modems, voice command systems, and the like," decries Kennison. "If you can have it in your home, then you will find it in the RV industry!"
"Some have power awnings that are weather-sensitive, power jacks, air conditioning ducted throughout the trailer, fireplaces, and many other amenities," says Emmert. "These advances have modernized the camping experience."   
Technology has allowed for a more universally palatable journey for those who might prefer a less rustic scenario.      
"Family members may have varying interest in camping – they might want the comforts of home, but also be out in the woods enjoying themselves in front of a fire," relates Emmert. "You give them a place to be comfortable, and it gives families more opportunities to be together."
Pandemic uncertainty
Months after the sale of Call of the Wild to Kennison, the world was in the throes of the pandemic. For those in the RV business, there was a nebulous time ahead. 
"I was extremely nervous as to what COVID was going to do to us, but I could not have been more wrong – in a positive way!" Kennison relates. "Business took off about mid-May of 2020, and the industry set new records."
Although sales were up, problems occurred with supply.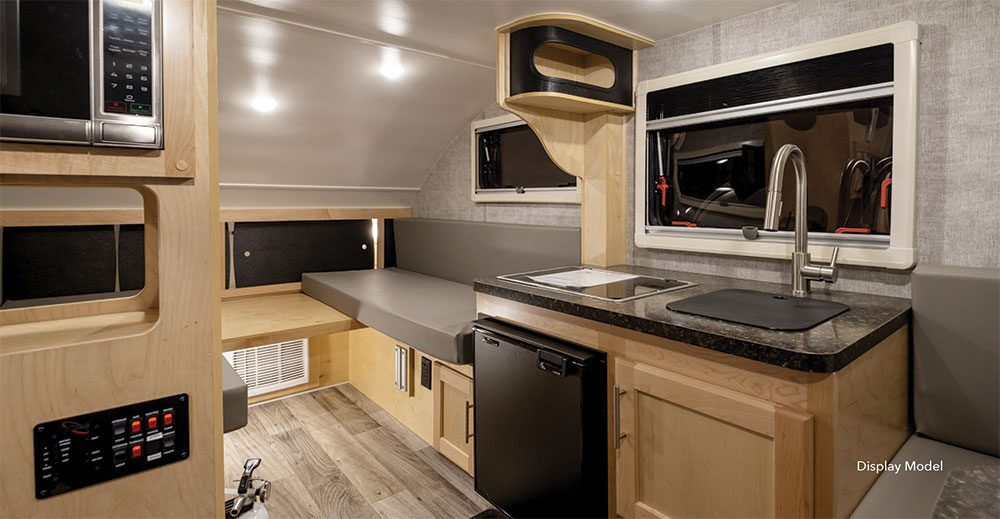 "Our biggest challenge during these times was certainly getting inventory," says Kennison. "The RV's were selling quicker than we could get them from the factory, and we were also experiencing the same issue for repair parts and accessories."
Kennison called on his contacts within the industry to obtain stock. 
"There were many days and nights spent on the phone and emailing to suppliers to keep things coming to the best of our ability," says Kennison, who weathered the uncertainty and prospered. "The industry had experienced its best years in 2021 and 2022 due to COVID, and we did too." 
Now supply is returning to the status quo, catching up with the public's steady demand for RVs. 
"The factories and dealers were finally able to get restocked by the fall of 2022," says Kennison. "Things are now finally going back to a sense of normalcy in the industry."
Advice for buyers
Emmert and Shelton know there are many questions potential buyers have for them, so they encourage folks to be informed on what might fit their budget and towing ability. 
"We tell people to do their research," states Emmert. "Find out what your vehicle is rated to pull – there are guides online." 
"You can pick up the phone and call here, and we can tell you what your vehicle is rated for," adds Shelton. "We would not recommend a camper that could put your vehicle at risk."
Emmert and Shelton also entreat buyers that the dealer that they pick is one who will take care of them. 
"If repairs are needed any time of year, our staff is there to perform the tasks necessary, available year-round," says Shelton. "If it's an emergency situation, these guys will go out of their way to make sure your vehicle is taken care of in time for you to go on your trip."
Heard it through the grapevine
Being a family-owned establishment since 1965, Call of the Wild RV has always relied on customer testimonials.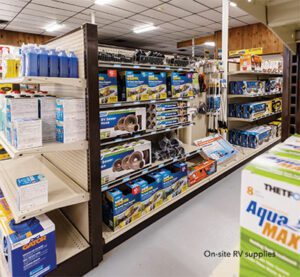 "If you take care of every customer that has put their trust in you for their adventures, then they tell their friends and family about the experience," says Kennison. "This is why Call of the Wild has been successful over the years in a small western Maine town." 
"Word of mouth, the unofficial grapevine among RV users, is pretty amazing," Emmert acknowledges. "If you have a group of people in a campground, the same questions get asked – where did you get your camper, and how were you treated by the salespeople?" 
Due to the overwhelmingly positive response to their transactions with Call of the Wild, shoppers are coming from far and wide to receive the same treatment. 
"They hear the positive and the negative – how we take care of them," Emmert says. "Because of other customer's feedback, we get folks that shop here from New York, New Jersey, the Midwest, even Canada."  
Kennison and the staff wish to extend their gratitude to their loyal customer base. 
"We here at the Call of the Wild take a lot of pride in everything we do," Kennison concludes. "We may be a small team, but we all work extremely hard to make the customers' experience – from start to finish – what they deserve!"
Call of the Wild RV Center, Inc. 
Oxford | 207.539.4410 | callofthewildrv.com