by Sara Poulin | photography by Mark Turcotte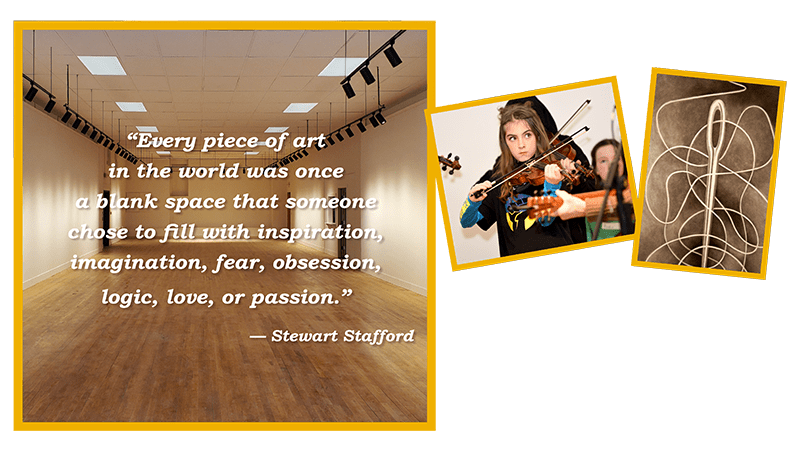 LA Arts was established in 1973 as a program through the Lewiston and Auburn Public Libraries, called LPL Plus APL. Developed by the trustees of the library, the program was intended to fill gaps in the region's arts and cultural offerings. Volunteers and library staff worked together to produce an assortment of arts and humanities to the Twin Cities, including concerts, foreign films, art lectures, and public policy discussions. Later, the organization would help develop programs to bring art and artists into the school systems of Lewiston and Auburn.
By 1988, LPL Plus APL became LA Arts and was made the official arts agency of the Twin Cities by the two cities' governments. LAMM spoke with Jim Parakilas, Chair of the LA Arts Board of Directors, to talk about the mission of LA Arts, their new gallery space, and its future plans.
The growth of art
As the cities have grown, so have the opportunities to enjoy the arts, along with the number of arts and cultural venues. LA Arts has had some growth of their own, opening in a new location in January at 168 Lisbon Street in Lewiston. The ribbon-cutting celebration was well attended; with representatives from both mayor's offices, Shanna Cox – the LA Metro Chamber of Commerce president – and other dignitaries from the state and local government. The opening of the new space is especially exciting, as LA Arts is celebrating their fiftieth anniversary this year.
Parakilas was the emcee, and music was provided by Three Point Jazz, singer-songwriter Michael Krapovicky, and fiddlers Greg and Jessie Boardman with their students. It's the kind of event that LA Arts would like to host on a regular basis. Gerald Walsh, Arts Agency Manager for LA Arts states, "Having all avenues of art available to the public is the goal of the organization, with programs that overlap, enrich, and amplify one another."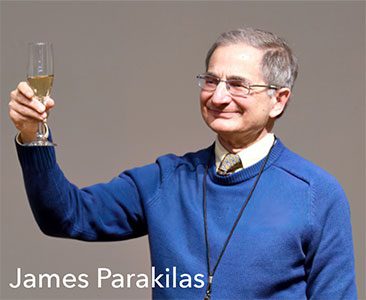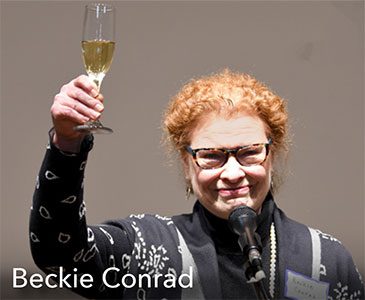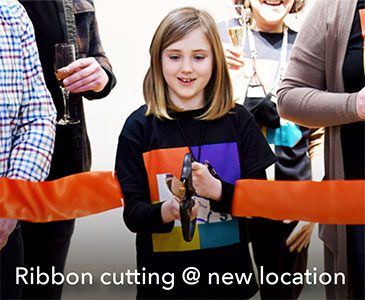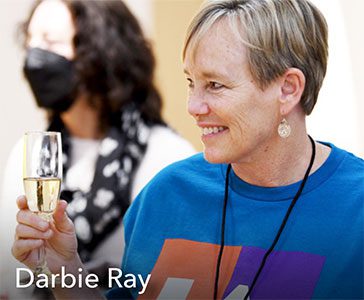 Not just visual
LA Arts' previous space, which was just a block away from their current spot, was a great location, but when they lost the use of the basement – which served as a performance area – they began the search for something that would allow for live performances and film showings. The ribbon-cutting ceremony is a testament to how well the new gallery can be adapted to suit all types of art and performance.

"Our new space is a large room that can serve flexibly as our office, art gallery, and space for performances, showings, receptions, and meetings of all sorts," says Parakilas. "By staying on Lisbon Street, we are still at the heart of Art Walk LA, which we organize."
"We have an exciting lineup of programming, focusing on youth arts, social justice, ecology and the broader community of inclusion, featuring art from paintings to sculpture and installation, ranging from the novice to the professional," Walsh adds. "When we host an exhibition, we have accompanying artist talks, panel discussions, and workshops – and if there is a children's play or performance, we expand this programming to include additional interactive children's activities."
Rejuvenating interest in the arts
The opening art exhibit in the new space, "Reuse-Repair-Reconsider," is by the artist Lesia Sochor. Sochor, an interdisciplinary artist from Waldo County, has been a part of the artistic fiber of Maine, where she has lived, created and taught for more than 40 years.  Her exhibit at LA Arts explores the concept of repair and can be viewed in the gallery until mid-March.
"Waste was not a word or concept my childhood family could conceive of," Sochor says.  "Clothes were sewn, repaired, and passed on, or kept as treasured garments. I was brought up to practically idolize fabric."
Sochor's paintings – her primary medium – use the image of ripped jeans, which she 'stitches' with gouache, a water-based paint with natural pigment and a binding agent, like the Japanese practice of Boro – re-purposing and stitching worn cloth to prolong the life of a garment.  The gallery also had an interactive Sashiko Stitching workshop with another artist, Lissa Widoff, where guests of the gallery could take up needle and thread.
Follow your art
With the new facility, LA Arts will be able to present many more events of all kinds, events of their own, and those in which they partner with other local arts and culture organizations, social service organizations, and agencies of the two cities.
"It expands our capacity to reach people throughout our cities with new opportunities to make and experience the arts," Parakilas states. "It is a real home for the arts – not just a place where the arts can happen, but also a place where adventures in the arts can be imagined and then launched into other spaces all around the community."
LA Arts is always looking for help. They have ongoing needs for volunteers to:
Welcome guests to the LA Arts Gallery
Assist with Music in the Park events
Help produce Art Walk LA from May through October
Distribute event fliers
Perform research and administrative tasks
It is the aim of LA Arts to increase opportunities for all Lewiston and Auburn residents to make and experience art of all kinds. They are especially committed to providing artistic opportunities for community members with limited access or exposure to artistic endeavors.  An integral belief of LA Arts is that, "The arts are transformative – for everyone to experience and create."
LA Arts
Lewiston | 207.782.7228 | LAArts.org