A Norwegian family-owned brewhouse
Written by Michael Krapovicky | Photography by Jennifer Grace
Small-town ambiance, delicious food offerings, and Maine-crafted beer are the staples of what defines Norway Brewing Company.
Western Maine flavor
"Our focus is using all the resources we can from this area, to show the world what a little slice of western Maine is like," says Charles Magne Melhus, head brewer and co-owner of the brewhouse and restaurant. "I've seen a lot of renewed interest in living the Maine lifestyle, certainly coming for vacation, but also people moving here for good. We sought to use the "Norway, Maine" brand in a brewpub format to bring people to the area."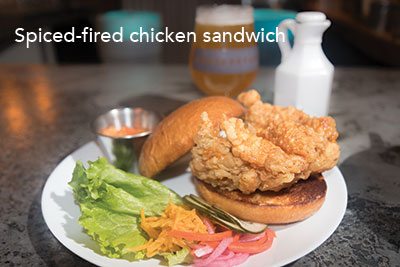 Melhus earned a pedigree in the culinary arts in his native Scandanavia, learning the large-scale brewing process while working at Lervig Aktiebryggeri in Norway's capitol city, Stavanger. A dual citizen of the country of Norway and the U.S., Charlie and his wife, Erika Hoffman-Melhus, moved back here in 2014, to begin the process of opening their own brewery in an old trolley building at 237 Main Street in Norway, Maine. Co-owners with Charlie's parents, Olas and Brenda, they established Norway Brewing Company in 2016.
Erika's background in furniture design and woodworking at the Maine College of Art informed the design of the tasting room. The bar has a natural stone appearance. The brewing process and beer selections are displayed on large chalkboards. The wood finish on the walls comes from a 200 year-old Norway barn, razed near the time of the brewery's inception. "The environment is literally Norway, Maine, history," Charlie avows.

Norway Brewing Company serves farm-to-table dishes, with a wide range of ethnic influence. The fare varies seasonally with what is available from area farmers, gardeners, and butchers. "Our mission is to bring hand-made food from local sources, and craft beer, to Western Maine," proffers Charlie. "We strive to do anything we can to put money back in the local economy, and utilize the natural bounty of Western Maine. We reach out to individual farms, dealing with a wide range of providers from Maine, offering customers a richer variety." Most of the menu selection and food preparation is handled by head chef Corey Dilts, and the Melhus' hand-picked staff.
Charlie adds, "Generally folks are equally wowed by the food and the beer here, as opposed to most brewhouses, where one or the other is the attraction."
Farmhouse style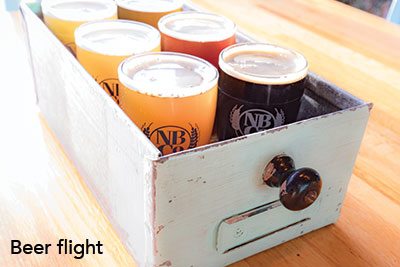 Overseeing brewing operations remains Charlie's metier; his passion is evident as he related the styles Norway Brewing Company serves. "We always have a core line-up of four or five beers that are brewpub standards," says Charlie. "Left Turn Pale Ale, named for the left turn you take off Route 26 heading north, to get here, is a popular favorite. Green Machine Session Ale is named after the local bicycle repair shop. For Maine Maple Sunday we released Triple Stack, a wheat beer dosed three times with Maine maple syrup – in the kettle, in the tank during fermentation, and in the bottle for carbonation."
"Our best selling beer is Lust For Gold IPA," Charlie reports, attributing this to both a ubiquitous trend towards the hoppy ale, and Norway Brewing procuring a commendable representation of the style. "However, our signature beer is Mr. Grumpypants, made with Blue Ox Malt from Lisbon Falls. Using local malt is a point of pride for us. We've committed to buying 24,000 pounds in 2018. We also use Maine grains, and our farmhouse yeast- a little bit more expressive, more tart and funky, a character indicative of Maine terroir. We go out of our way to use locally-sourced ingredients as much as possible. If we are going to use fruit or syrup or anything like that it's got to be Maine-made. All of the adjuncts we use, with the exception of the coffee, are Maine products."
Norway Brewing Company has plans to partner with Lewiston-based Bear Bones Beer on a recipe. "The brewing industry is very collegial; the best way to for us to interact with our competitors is to work alongside them," Charlie attests. "We collaborate on the recipe, and then brew together, co-branding the beer, extending reach into each others' markets. With Bear Bones it makes particular sense, because they are a small brewery like us, and have a lot of the same philosophy- using fine ingredients, making wild and funky barrel-aged beers. We are already in the Lewiston Auburn area at DaVincis, Rails, and Mac's Grill. We love that exposure; as people order different beers, they get curious, potentially traveling here for a meal, having a good experience and spreading the word."
Organic growth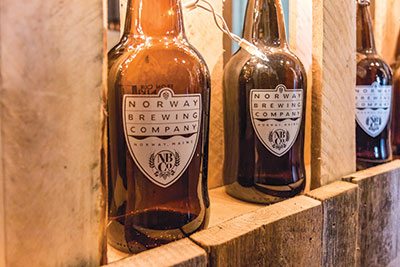 Norway Brewing Company seeks to continue its slow, sustainable growth into new areas as it becomes feasible. "We are a small brewery, and I want to grow organically," Charlie maintains. "All of our products are sold in Maine, except when we do international beer festivals, which we did four times in 2017. I still have contacts in Norway, Sweden, and several countries."
"The beers that we bottle to sell are all farmhouse ales, naturally conditioned with yeast in the bottle to produce the carbonation," Charlie continues. "These beers are created with wild yeast strains that will mature over time, but yet will travel in bottle. That's the type of beer we're going to be looking at producing and packaging, sending out into new markets. We're getting new tanks that will effectively double our production, for the second time in two years. I could easily see us having a small distribution in Sweden, Estonia…Massachusetts, New York, Vermont, Connecticut, on a similar scale."
"With a global network, I'm expecting to expand," Melhus predicts, "but also keep the mission the same: to promote Norway, Maine, and everything that makes it unique. The general consensus is that the business community of Norway, Maine, is growing which, 10 years ago, would have been viewed the opposite. We're banking on what's indigenous to this area, getting that out to the rest of the world."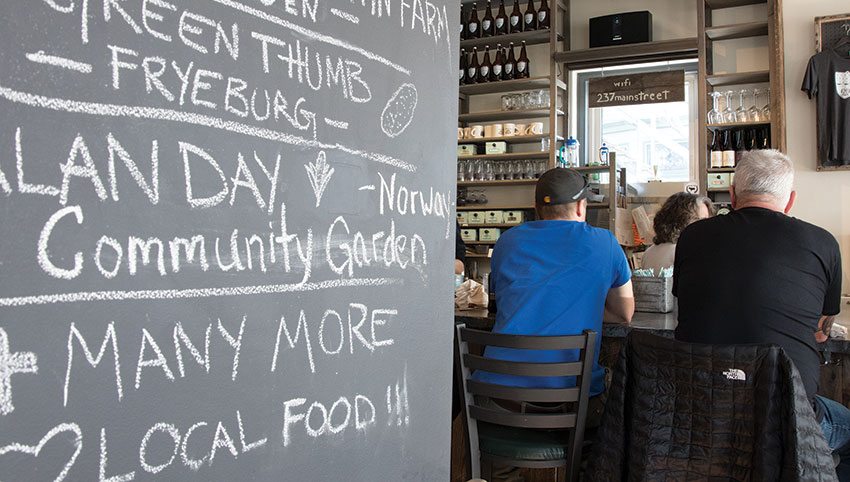 Norway Brewing Co.
237 Main St. Norway, Maine