Written by Nicole Breton  |  Photography by Jennifer Grace & Adam Bouffard
A new public house for LA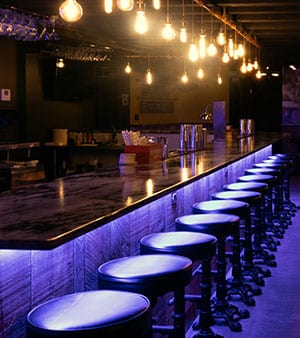 If you're looking for something unique in LA, you must plan a visit to Sonder & Dram. Just a few steps from the hubbub of Lisbon Street, Sonder & Dram's inconspicuous, underground corner entrance, and its rugged brick façade, emit the vibe of a secret speakeasy from yesteryear. Located at 12 Ash Street in Lewiston, Sonder & Dram welcomes you during the hours of 4 p.m. – 1 a.m., Wednesday through Saturday. Have a seat upon a vintage cast iron bar stool and relish the steam-punk lighting, as you prepare to enjoy a bit of good-mood food along with a soulful cocktail or two. Carve out some time to relax and enjoy this attractive spot.
Mixing things up
Thomas Ardia, Sonder & Dram's mixologist, will greet you at the bar. Ardia, a graduate from Lewiston High School, has been in the restaurant business for 20 years. After 10 years in Southern California, he moved back to Maine, where he worked behind the bar for several restaurants in this area, including Orchid and Marché.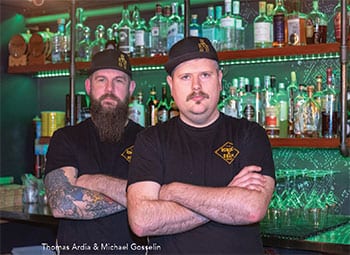 Ardia's cocktails are works of art. His 'Somewhere Not Here' cocktail, inspired by the cold, dark Maine winter, contains rum, coconut balsamic vinegar, pineapple juice, and bubbles, giving it a tropical essence with a skosh of sweetness, and a slight kick from the balsamic. His 'Plantation Daiquiri' is a blend of rum, turbinado syrup, allspice, lime juice, and aromatics, making this cocktail a fragrantly fresh surprise.
Ardia admits he likes to push boundaries, when it comes to his cocktails. His secret? Switching up how the acids mix in the drink and how the drink smells as it's being consumed.
"It all starts with a basic cocktail, but I like to add something a bit different from the traditional variation, without adding any extra calories or sugar, by way of bitters or aromatics, among other things," he explains.
If you're not adventurous and prefer something tried-and-true, you can simply ask Ardia to make you something fun based on what you like. Other offerings include featured beer by Bissell Brothers, Deciduous Brewing, and Grimm Artisanal Ales, as well as Schlitz and Narragansett, for the nostalgic. A selection of wine and domestic beer is available, as well as mocktails, for those looking for a non-alcoholic option.
Not your ordinary pub fare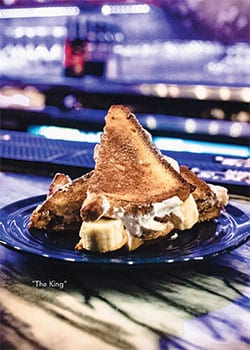 Michael Gosselin creates the food at Sonder & Dram, evoking the taste of down-to-earth, delicious nostalgia. Gosselin, also a Lewiston High School graduate, attended The Culinary Institute of America in New York. Gosselin has been employed at several area restaurants, as sous-chef at The Black Point Inn in Scarborough, and 10 years as chef at Fuel.
Inspired by the foods of his childhood, and by Elvis, the king of rock 'n' roll, Gosselin's sandwich, The King, was born. A perfect blend of sweet and salty, The King is a tasty blend of fluffernutter, bacon, and banana, on buttery grilled bread.
"I grew up, as a kid, eating fluffernutter sandwiches on white bread," he relates. "As an adult, I traveled to the birthplace of Elvis, sat in the diner where he used to order his favorite peanut butter and banana sandwiches, and that's how the idea came to me," Gosselin recalls.
Other favorites created by Gosselin include his pan-fried brussel sprouts, with bacon, beer maple mustard glaze, topped with bread crumbs. "I've been threatened with death if I ever remove the brussel sprouts from the menu," Gosselin jokes.
His grilled cheese sandwich is another popular item, with its blend of three cheeses, bacon, and a spread of onion jam. Gosselin's twist on burgers is another must-try menu item. Weekly specials are motivated by feel-good foods, like American-style hard shell tacos, for instance. Gosselin watches for potential of new menu items, based on what his customers are gravitating toward.
"There's a huge trend in food right now. People want quality, but they want comfort as well, like the foods Mom used to make."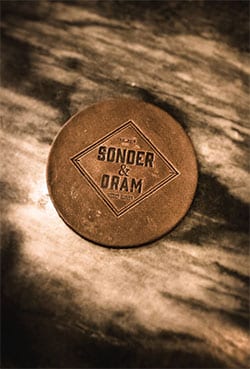 Sonder – (noun)
the realization that each random passerby is living a life as vivid and complex as your own-populated with their own ambitions, friends, routines, worries, and inherited craziness – an epic story that continues invisibly around you like an anthill sprawling deep underground, with elaborate passageways to thousands of other lives that you'll never know existed, in which you might appear only once, as an extra sipping whiskey in the background, as a blur of traffic passing on the highway, as a lighted window at dusk.
(from The Dictionary of Obscure Sorrows)
Dram – (noun)
a small drink of whiskey or other spirits; a small portion of something to drink.
(from The Oxford Dictionary)
Teaming up
"I always wanted to open a bar, but I wanted it to be a true bar, not a restaurant with a bar in it," Ardia differentiates.
Working within the same industry, and often in restaurants that were in close proximity with one another, Gosselin and Ardia were acquainted with each other. "I knew Tom wanted to open a bar; we had talked about it over the years."
At that time, Ardia was already cultivating the idea of opening a bar with the members of the Great Falls Development Group (GFDG), so approaching them about serving food at the bar was only logical. Although some time had passed since the two connected, at the suggestion of Ardia's wife, he rang him up.
"The group agreed if they were going to have really good drinks, they might as well have really good food, and I knew I could deliver," Gosselin recalls.
New kids on the McGillicuddy Block
"I wanted to have a place that was a little different," reflects Ardia. After looking at several 
spaces over the years, he found the space at 12 Ash Street appealing. He liked the "aesthetics of the brick and old wood," he relates, "and the size was comfortable and not overwhelming."
The space happened to belong to Peter Flanders, a partner in the GFDG, along with Jon Mercier, Rick Roy, Jim Pross, Eric Potvin, Jake Nason, and Jason Renchy. While this group of visionaries has taken on many notable projects in the Twin Cities, typically renovating rundown residential properties to make them viable again, they had not ever considered starting a bar.
So when Ardia approached Flanders about using his basement office space, located in the historic McGillicuddy Block, for the new establishment, Flanders was excited for the challenge.
"I had an office in the space Ardia liked," Flanders says. "After discussing things with him, I decided to refurbish it, because we were looking to try something new.
Each of the seven members of GFDG brought their own expertise to bear, to establish a working floor plan in a very small space. From building the bar and the kitchen, to selecting the furnishings- right down to the soapstone counter tops, Flanders and the group brought Sonder & Dram to life for Ardia and Gosselin, who were focused on their roles as bartender and chef.
Sonder & Dram opened in June 2018; it employs seven people, in addition to Ardia and Gosselin. The two entrepreneurs not only work at the bar and oversee the daily operations, they also co-own the business, with the other members of the GFDG. Ardia and Gosselin work primarily with Flanders and a few others on business decisions and advertising, although all of the partners like to visit the bar with friends and family.
"We were very lucky with the investors. They were very eager to try something new, and to build a place for Tom to play in," Gosselin jokes.
Future plans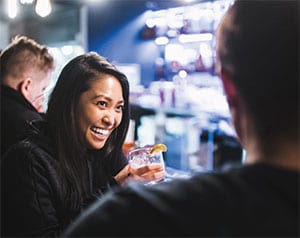 As far as the patrons of Sonder & Dram, Ardia and Gosselin are excited to see a mix of people from all demographics, half of whom are returning customers, and half new customers.
"Our responsibility is creating a great bar experience," Ardia states, "by providing a comfortable place that makes people want to return." 
Sonder & Dram
12 Ash Street, Lewiston • www.sonderdram.com