Making a splash in LA
Written by T.S. Chamberland  |  Photography by Jose Leiva
Until roughly seven years ago, the LA area had no options when it came to sushi. Today, there are a number of local restaurants offering sushi cuisine- raw and even cooked- on their menus. If you eat sushi, it's easier than ever to order up your favorites. If you don't, you can throw caution to the wind by trying this centuries old style of food for the first time.
Enter: sushi
In 2012, Auburn welcomed the Jasmine Café Asian Fusion Lounge, owned by Supannee Saengwong. She got her start working in Boston area Asian restaurants, alongside her parents.
"When I first started working for them, I was a host," she explains. "We had to learn about all this food, so we got the chance to taste and to learn it."
That experience helped Saengwong discover the different types of sushi. She soon fell in love with the food, and the varied ways she could create beautiful, colorful presentations.
Sea40 Japanese Cuisine, in Lewiston, was also a new kid on the block in 2012, but owner Franki Tam already had 18 years of experience managing restaurants. He embraced the LA area; bringing sushi to people who likely had little experience with this food was a challenge Tam welcomed.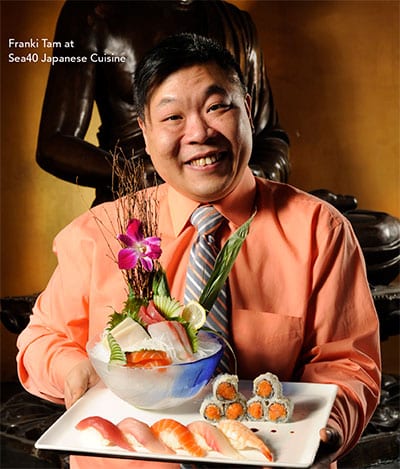 "We try our best to make sure the quality is good for the customer," says Tam.
Minh Nguyen opened Orchid Restaurant in downtown Lewiston in 2013. He had felt the vibe, and noticed that big things were happening in Lewiston. With restaurants like Marché, Fuel, Forage, Mother India, DaVinci's, and Fish Bones- Nguyen says the writing was truly on the wall.
"We wanted to be part of the revolution," says Nguyen.
Sushi 101
Curious to know what all the fuss is about? Or do you simply want to expand your knowledge on the topic? LAMM can help you take one brave step forward toward trying sushi, and add to whatever you already know about this style of cuisine.
Although the origin of sushi is often believed to be Japan, the actual birthplace was somewhere along the Mekong River in Southeast Asia around 3500 B.C. Sushi didn't arrive in Japanese culture until sometime between 400-700 A.D.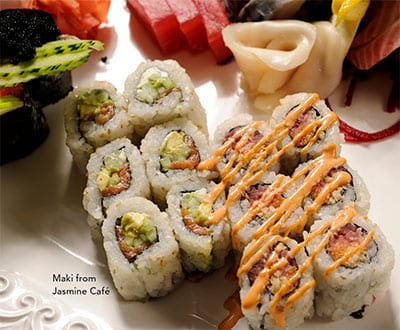 Domodaruma.com tells us sushi was initially devised as a way to preserve fish; the practice of wrapping fish in rice was meant to ferment it, and thereby extend its "shelf life." When the fish was eaten, the rice was discarded. It wasn't until the 1400s that the Japanese began to eat the rice, along with the fish. Modern forms of sushi came about in 1810 in Edo, now known as Tokyo.
While it may have evolved over the many centuries, sushi has maintained the basic components of raw fish and rice. Some of the more recent and obvious changes are represented in the artful presentation associated with the cuisine, as well as the manner in which it is served. There's over 5,500 years of history behind sushi, adding to the allure for restaurant goers, and definitely exemplifying sushi's popularity.
Orchid's Nguyen outlines the basic types of sushi:
nigiri – comprised of an oblong piece of raw fish over a small mound of rice
sashimi – small pieces of raw fish
maki – served as a layer of sushi rice, with seaweed or soybean paper, and a wide variety of vegetable, fish and even cooked foods, rolled snugly together and sliced in bite-sized pieces
He also notes two other popular classifications of sushi:
uramaki – maki with seaweed or soybean paper
temaki – a cone-shaped version of the maki roll
Preparation
"The soul of sushi is the rice," explains Tam.
Rice, the backbone of a sushi menu, is the first thing that is prepared each day. Proper preparation is essential to the appearance and taste of sushi.
"We use only short-grain sushi rice," explains Nguyen. "It's starchy and absorbent, which makes it sticky."
Sushi rice needs to be washed with cold water before it's cooked, to remove bran compounds or powder.
"If rice is not cleaned thoroughly, it may be too sticky or smelly," Nguyen cautions.
Once the water runs clear, the rice is cooked. Because it's served at room temperature, a vinegar mix is added to keep the pH consistent.
Equally important is the treatment of the fish, according to Saengwong. The key is keeping fish cool, and not allowing it to sit in the natural juices that are produced.
"The fish that we choose has become a really big part of how we are providing our food," she explains.
Sea40's Tam explains that sushi restaurants get most of their fish supply in whole form. These fish need to be deboned, sliced, and skinned, as part of the daily sushi preparation. Nearly every part of the fish is utilized. For instance, Tam explains that with tuna, the meat around where the bones were removed is softer than the rest of the fish, making it perfect for their spicy tuna maki roll.
Nguyen explains that the kitchen tools are just as important as the manner in which the food is prepared. Key items include: a professional rice cooker; sushi-grade knives, for deboning fish and chopping vegetables; and a rolling mat for keeping rice sticky when making rolls.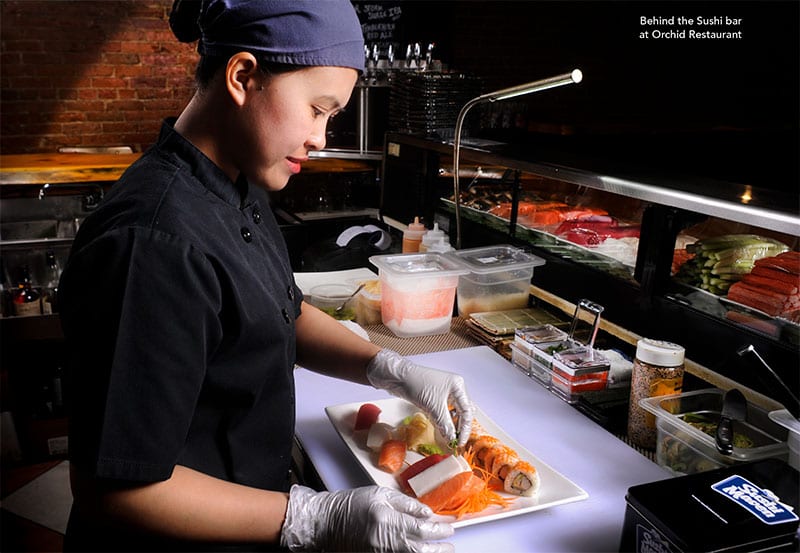 At Jasmine Café, all employees learn about sushi first-hand by trying it, and then making it. Saengwong loves making sushi because it allows the chef preparing it to be creative. If you present yourself well, she maintains, you apply that same care and attention to your sushi presentation. As a result, maki rolls may differ from day to day, based on who is making them and what their inspiration might be.
Finger food
Whereas pasta or bread tend to be the carb of choice in America, rice is the most versatile and popular carbohydrate in Japanese cuisine. Saengwong draws the comparison that the rice and seaweed are essentially the bun, and the fish is the protein most often found in between.
"Just think of sushi as a sandwich, an Asian version of one," explains Saengwong. "You put pretty much anything on a wrap or a roll. Sushi sits on a base of rice and seaweed, like you'd put on a bun."
One of the draws of sushi in Asia is portability. The food is perfect for packing convenient and easy to eat lunches, Tam says.
"You can eat it with your fingers," says Tam. "Don't need chopsticks."
For anyone who just can't get used to raw fish, Jasmine Café offers tempura and deep-fried options, ensuring any patron who comes to the restaurant will find something they can eat and enjoy.
When in doubt, ask what's good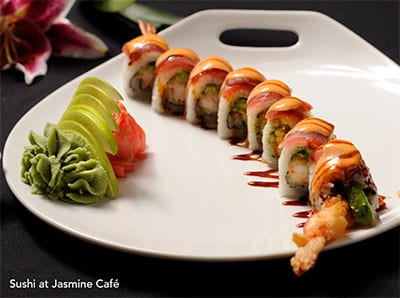 The key to enjoying a sushi experience, particularly if it's a first-time foray, according to Saengwong, is having an "open mind." She says the texture of raw fish can be off-putting to some people, so she has some advice for anyone wanting to try sushi, but who isn't ready to dive right in.
"For people who haven't had sushi before, try the ones that are not raw," suggests Saengwong.
Tam recommends any novice sushi taster to start with a maki, like the California roll. And he says that American culture and tastes have led to some nontraditional offerings, such as deep-fried maki rolls – a favorite of Sea40 customers.
"I'll ask my customer if they eat raw fish or not. If they eat fish, I have tuna, salmon, and a lot of different kinds of rolls they can try," explains Tam. "If they don't eat raw fish, we have the Crazy Roll – the whole roll is breaded and deep-fried."
This menu item was born out of the American cuisine influence, says Tam, and his customers love it. While there is a specific Crazy Roll on the menu, Tam encourages anyone who isn't comfortable eating raw fish to order any roll as "crazy;" Sea40 will deep-fry anything, to suit a customer's palette.
If you don't eat raw fish, or simply aren't ready to jump into that pond yet, fried rolls seem to be the best place to start. Nguyen suggests Orchid's chicken tempura roll, which he describes as chicken that's deep-fried with panko.
"It's rolled with avocado and cucumber," describes Nguyen. "Then topped with our signature unagi sauce and honey mayo."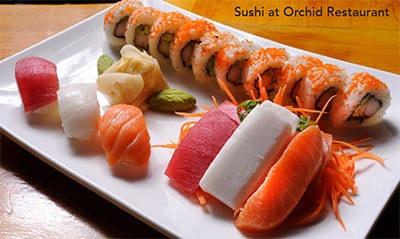 This might not be your first experience with raw fish. Thankfully, all three restaurants have an incredible array of options. But, if you're new to raw fish and willing to take the leap to try it, a great place to start, according to Nguyen, is their best-seller.
"We recommend the Spicy Tuna Roll," said Nguyen. "It's tuna, mixed with tempura and spicy mayo."
These restaurateurs encourage the novice diner to spend their first few times exploring the world of raw fish, like super white tuna and tilapia.
Eating a vegetarian or low carb diet? Maki rolls with tofu, or just vegetables, are available, as are rolls without rice.
Specialties and customer favorites
The hard work and detail of making sushi are Nguyen's favorite things. Orchid is proud to offer a variety of options, so that each customer enjoys their experience. Nguyen claims their sauce sets them apart, leaving an impression on their customers.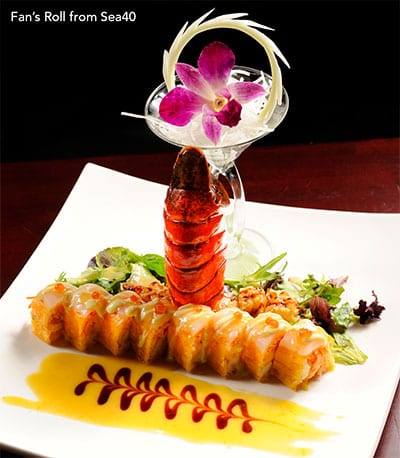 "We make all of our sauces," explains Nguyen. "We use our freshest ingredients."
Sea40's Maine-inspired Fan's Roll, made with a tempura lobster tail inside and scallops on top, is a popular treat. Another customer favorite, called the Flame Thrower, is a tribute to American barbecue: a spicy tuna and asparagus roll wrapped in foil and served flambe!
Tam's favorite dish is cooked scallops mixed with spicy mayonnaise, atop a ball of seaweed wrapped sushi rice.
Saengwong's favorite menu offering is the maki roll, full of taste and pleasing to the eye. Because of Jasmine Café's versatility to offer many different options, Saengwong says simply switching up the sauces can create a whole new experience.
"I won't go back to a sandwich again," says Saengwong.
Possibilities
No matter how you order it, sushi is a food that has countless possibilities. There are no hard and fast rules to this cuisine, and all three restaurant owners say they can accommodate most palettes.
So, let's review. Have an open mind. Know what you like and what you don't (e.g., texture or aromas). Be bold – if you want your selection deep-fried, then go for it! Don't be afraid to try something new. When in doubt, seek advice from the experts. LA's restaurants are ready and willing to help you make the most of your sushi dining experience. 
Sea40 Japanese Cuisine
40 East Ave., Lewiston • sea40me.com
Jasmine Café Asian Fusion Lounge
730 Center St, Auburn • jasminecafemaine.com
Orchid Restaurant
29 Lisbon St, Lewiston • orchidlewiston.com