Written by Michael Krapovicky | Photography by David Fuller
Polymer Laboratories & Solutions, LLC is a manufacturer of advanced molded polyurethane components found in several cutting-edge consumer, industrial, defense, and medical applications. Poly Labs strongly focuses on bolstering the U.S. manufacturing landscape and is committed to the value of "Made in the USA" products. Poly Labs occupies an 88,000 square foot polyurethane production facility in Lewiston, a fixture of the rich culture of LA footwear manufacturing. The skill and work ethic of the twin cities' shoemaking artisans strengthens the opportunities for the future of Poly Labs and the surrounding community.
Roots
Jones & Vining, the progenitor of Poly Labs, was established in Brockton, MA, in 1930. The company expanded into Maine by purchasing Auburn Last Co. and Corey Last Remodeling Co., two companies with an extensive legacy in the Maine shoe industry. In the 1960s and 70s, Jones & Vining Maine invested in converting its equipment and focus to becoming a global leader in polyurethane shoe outsole and insole production. With a booming facility at 765 Webster St. in Lewiston, Jones & Vining continued to pioneer the world shoemaking industry for nearly a century, and the Lewiston factory became Jones & Vining's Industrial Products Division, looking to expand into different lines apart from footwear. But in September of 2020, due to reduced production activity caused by the COVID-19 pandemic and the closure of some of the company's customers, Jones & Vining ceased operations in Lewiston.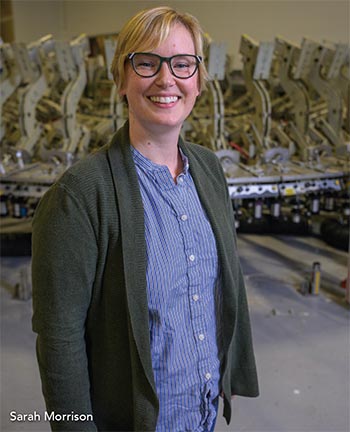 Portland-based Anania & Associates – in partnership with FAME, the city of Lewiston's economic and community development office, individual investors, company management, and several key customers – created a new organization: Polymer Laboratories & Solutions, LLC, and acquired Jones & Vining's Lewiston interests. The company doubled its workforce in the first 100 days since the official Poly Labs launch. Currently, Poly Labs has 70 employees, primarily local LA folk and other parts of central and southern Maine. Typical positions include machine operators, engineers, trimmers, packers, and stainers, as well as various other production, administrative, sales, managerial, and executive personnel.
"If you look around Lewiston and Maine, you'll be reminded of the deep-rooted footwear history," asserts Sarah Morrison, CEO of Poly Labs. "Poly Labs is committed to keeping Maine manufacturing alive and supporting jobs here in the Lewiston-Auburn area."
Transition
Poly Labs sought to retain or rehire the Jones & Vining team and access the vast knowledge within their employee base. The group employs an attentive hands-on management approach, providing resources and tools to fully utilize the capability and expertise of their in-house staff, cultivated from decades of experience.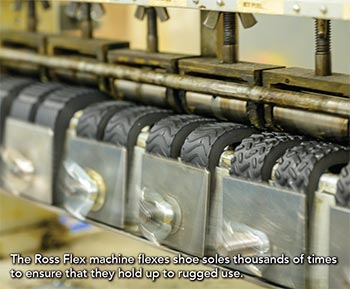 "When J&V originally opened the Industrial Products division at the current HQ factory site of Poly Labs, it helped strengthen the manufacturing industry in this area," recalls Morrison. "Now, as Poly Labs, we're honoring the tradition of footwear manufacturing in Maine, continuing to grow jobs in the Lewiston-Auburn area."
Jones & Vining had less than 25 employees at the point of acquisition. Those employees had proven that they were valuable assets to the company through decades of commitment, and their expertise.
"There were many unsung heroes behind the scenes who built systems, formulations, equipment, and processes to benefit the business," confirms Morrison. "They showed up every day and gave one hundred percent, even as resources, markets, and industries diminished."
Experience rewarded
The Poly Labs facility underwent extensive renovations. The parking lot, perimeter of buildings, and driveway all were restored. Investment in the expansion of the R&D and testing lab – new equipment and renovation. A new employee break room and café were a welcome addition for the Poly Labs workers.
In addition to upgrading the building, creating a better workplace environment was a goal of Poly Labs. The work environment and culture at Poly Labs strongly emphasize teamwork and communication.
Many of the former J&V employees have grown into senior leadership and management positions at Poly Labs. "Their flexibility in helping guide us all through the transition to Poly Labs was truly the difference-maker," says Morrison.
"At Poly Labs it was and is important for us to recognize the knowledge and commitment of those employees and encourage their continued growth," affirms Morrison.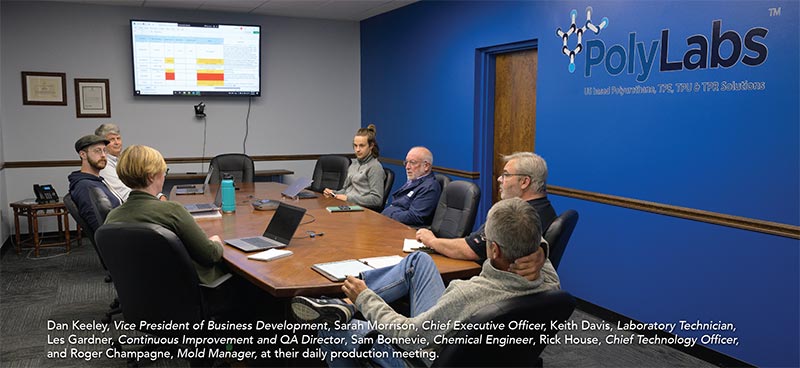 The J&V acquisition was successful partially due to Anania's experience working with manufacturing companies and helping them grow to their full potential. However, the know-how of the veteran J&V employees was crucial to Poly Labs' transition.
"We've hired a lot of new personnel – from entry-level production employees to high-level chemical and process engineers," avows Morrison. "However, we retained a lot of core employees from the J&V days. That group has been integral to helping us shift and transition into Poly Labs, providing us the flexibility we need to help the newer team members integrate."
Change
Like most industries, the initial shift to offshore manufacturing had the most significant effect on footwear manufacturing in the LA area. But Poly Labs research is seeing a trend toward working with onshore businesses.
"With a growing demand for US-based production, we are seeing opportunities to partner with suppliers and customers that value what 'USA made' can mean," says Morrison. "This notion opens us up to more opportunities than just footwear."
Thusly, Poly Labs has branched out into working with other polyurethane- based products. They are a 100% US-based leader in producing highly engineered molded, self-skinning, and small-pour polyurethane.
"It is imperative to diversify the business and customer base, to be a manufacturer of polyurethane products, not just footwear," Morrison maintains. "If we can make your product fit our manufacturing model, we want to partner with you regardless of your industry or market."
Poly Labs creates specialized polyurethane foam systems – engineering, designing, and manufacturing polyurethane foam materials into molded components that many use or wear daily. As a result, they serve an amalgam of markets in addition to footwear, including medical, automotive, defense, and industrial safety.
"All products are produced on polyurethane pouring equipment, utilizing both manual and automated pouring lines," Morrison explains. "We manufacture polyurethane components for various industries – footwear, small furniture, medical cushioning, and military ear cushions, just to name a few."
Innovations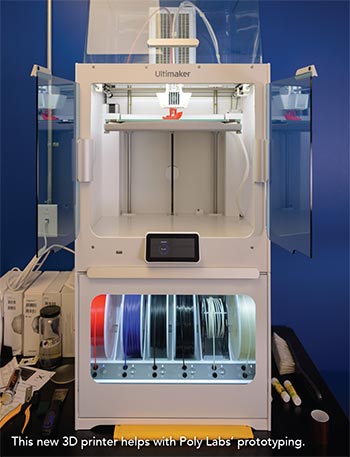 Poly Labs business model is partnering with industrial and consumer OEM (Original Equipment Manufacturer) partners to develop, pour, mold, and manufacture polyurethane components and materials. Poly Labs has grown with changing technology by adding new machinery, equipment, and tooling to keep its capabilities growing. From fully-robotic machinery to 3D printers for prototyping components – Poly Labs has availed themselves of advanced technology and specialized equipment that is unique in the manufacturing industry.
"Not only are we implanting new equipment in production settings, but we are also investing in our R&D programs to ensure we are participating in new technologies in both equipment and materials as they develop," says Morrison. "The growth and development of our engineering team has given us the resources to partner with suppliers and customers to lead the implementation of new technologies."
Exposure became a critical component of the growth of Poly Labs, and new marketing strategies yielded substantial dividends.
"As simple as its sounds, a new website and minimal advertising with Google launched Poly Labs into new markets and got us in front of new customers," claims Morrison. "Within a short time, we had more new opportunities than we could support."
In the summer of 2021, Poly Labs was awarded the Ken Additon Small Business Advocacy Award from the Lewiston Auburn Metropolitan Chamber of Commerce.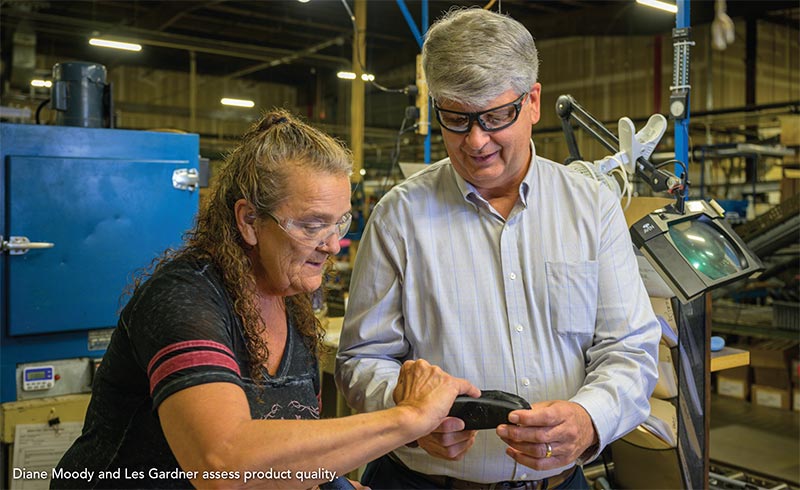 Made in the USA
Poly Labs is focused on adapting to the world's mutable manufacturing climate.
"The models for supplying the factory with materials have changed, but what hasn't changed is our customer's desire for quality products delivered on time," says Les Gardner, Continuous Improvement & QA Director at Poly Labs. "Our manufacturing strategy supports buying from U.S. Suppliers."
Businesses that once were acquiring their goods from overseas are leaning towards partnering with United States owned-and-operated companies to access their component and material manufacturing onshore.
"Our focus on 'Made in the USA' components is popular with big brands, as well as independent companies and even startups looking to partner with us and source their materials and components from within the United States," says Morrison. "We're working with companies and helping educate them about why making components in the U.S. is so important."
Poly Labs, in most instances, will not compete with overseas competitors regarding price, feeling their products and service are worth the potential for the added expense.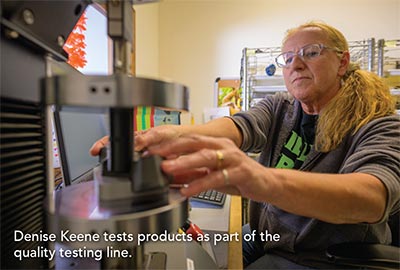 "What we can offer is quality precision parts made in the USA, coupled with a strong relationship and commitment to our customers," Morrison proffers. "In the current market, consistent quality, timeliness, and excellent customer support provide a competitive edge for Poly Labs."
Poly Labs often produces and delivers molded polyurethane components to their partners much quicker than foreign competitors, helping to reinvigorate the domestic market.
"We support customer satisfaction through execution of standardized quality-focused processes, recognized worldwide," Gardner quantifies.
On the map
Dan Keeley is Vice President of Sales & Development at Poly Labs. He is also a member of the Board of Directors for the United States Footwear Manufacturers Association, an organization dedicated to the resurgence of footwear manufacturing and supply chain development in the U.S.
"Our growth in the multiple industries we serve is fabulous, but as an old Jones & Vining employee, it is super exciting for Poly Labs to be playing a role in helping reshore footwear manufacturing in the U.S. after an extended absence," Keeley states. "Domestic footwear manufacturing is the reason our plant was built, and really one of the main reasons Lewiston is on the map."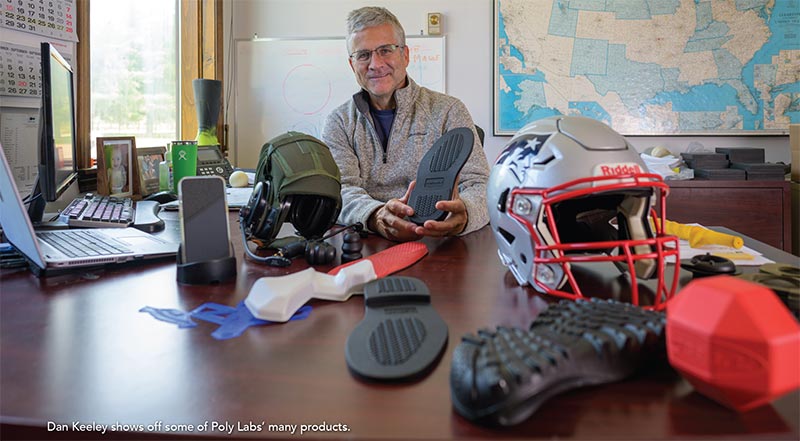 The Lewiston-Auburn area has a rich history of industrial manufacturing. Within its aged mill buildings, LA's workers produced not only footwear, but textiles, bricks, and other valuable commodities.
"Lewiston always has and will continue to be an industrial city," says Morrison. "The culture, expertise, and resources are ever present in here."
Poly Labs representatives acknowledge the business-positive climate here in LA.
"The chamber of commerce and economic development teams in and around the Lewiston area played a critical role in saving jobs and manufacturing opportunities for Poly Labs and its employees," Morrison attests. "Whether Jones & Vining or Poly Labs, we have been in Lewiston, and Lewiston has continued to support us and our growing business."
Past, Present, and Future
Poly Labs remains invested in LA's manufacturing legacy and wishes to continue it moving forward.
"The Lewiston community is part of our DNA, and Poly Labs supports hiring locally to contribute toward the success of the area," says Gardner. "Our investment is here in our one location, and there are possibilities for additional expansion on-site."
Poly Labs is poised to enact new projects, with a focus on new employment growth and even further production expansion.
"It's important to us to continue manufacturing in Lewiston because of the past, present, and future," Morrison says. "The past tells us how big manufacturing is to this area, and the present shows us the importance of manufacturing jobs in Lewiston. In terms of the future, we hope to add even more personnel and continue growing our capabilities through our people and our equipment."
Taking over where Jones & Vining left off as a valued member of LA's business community, Poly Labs is a burgeoning resource for employment here in Maine.
Polymer Laboratories & Solutions, LLC
765 Webster Street, Lewiston • polyurethanelaboratories.com