Fondue Restaurant and Show Lounge
by Michael Krapovicky
Entering Lava Fondue Restaurant and Show Lounge through a sliding bookcase door recalls the speakeasies of the 1920s Prohibition Era. The atmosphere is cozy and elegant, the feel intimate and unique. Marcus Verrill and Joe Richards established the innovative and exciting venue after running successful nightclubs and restaurants in other Maine cities. They settled on 34 Court Street in Auburn over more southern environs.
"We had a lot of options," said Richards," and we chose to start fresh here in Auburn."
"This brings us closer to home," said Verrill." I grew up in 'Little Canada,' so what better place to bring our business ideas? I also have a great love for this building and the space, since it was No Tomatoes. I always felt if No Tomatoes could last for 30 years, and we brought something different and totally unique, we could last 30 years here. We definitely intend to be here for the foreseeable future."
Road to success
"Joe and I started working together at Styxx Nightclub in Portland, which I owned and operated for six years," Verrill recounted.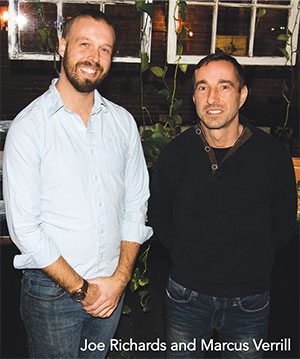 Richards added, "I learned the managerial aspects of the restaurant and nightclub business from Marcus."
"We were looking for a geographical area that was fun, and that didn't have a lot of competition," recalls Verill. "We opened Fresco, a small 36-seat restaurant in Sanford, and within four months we were so busy the town said we needed a bigger spot."
Richards transitioned in as Fresco's manager. "After that, we opened Let's Get Bacon together as co-owners. That's when we realized the potential of the bacon-themed restaurant."
"We moved back to Portland and opened Studio 55, a burlesque club," Verrill said. "We had a great group of teams performing cabaret theater and just thought adding fondue would be a great addition to the next venue we opened."
But could Central Maine support a burlesque club? It appears that it can.
Maine cabaret
About 25% of Lava's customers are from LA, and the rest are coming from out of town to see the shows. Lava's patrons vary widely in age and background. The owners attribute the diversity of their clientele to the desire for new forms of entertainment.
"They make the journey to Auburn because of what we offer," Verrill asserted.
The ensemble performers at Lava are all veterans of burlesque entertainment, with a flair for the kind of drama and production values sold-out LA audiences are enjoying. The cast comes up each week from Portland for two full-day dress rehearsals.
Verrill boasts, "They sing, they act, they dance; it's an art form."
As you'd expect, the owners are as involved with the shows as they are with the food and service aspects.
"We work with the director and the troupe on material for a show," Verrill said. "We have the final say; we make sure the costuming adheres to city ordinances. "Our shows are classy- it's like attending a full-on theater production.
Hands-on style
"Right now this restaurant is our heart," Verrill said. "We are seeing great growth every week. The younger generation coming in is definitely stepping up and bringing positive growth to the area."
You can see why the overwhelmingly positive online reviews of Lava refer to Marcus and Joe by name, a direct result of the pair's hands-on business model.
"We really care about the customer feedback, always trying to make things better," Verrill affirmed. "If we made people feel good about their experience, that's how we define a good day!"
The future looks promising for Lava. With sales and attendance steadily increasing, the owners are already planning improvements and expansion.
Lava Fondue Restaurant & Show Lounge
34 Court Street, Auburn
Visit Lava Fondue Restaurant and Show Lounge on facebook

The House of Bacon is a newly-launched Auburn eatery, owned by Marcus Verrill and Joe Richards. The proprietors expanded on an idea from their first endeavour as co-owners of the Ogunquit-based Let's Get Bacon. The tremendous success of this seasonal restaurant led them to seek a year-round location. They revamped the name and menu, and opened the House of Bacon here in September of 2017.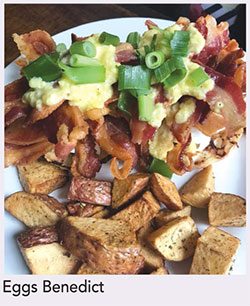 The House of Bacon's staple attraction is the Free Bacon Happy Hour, offering free bacon from 4-6pm. "
"One Friday, we gave away nearly 90 pounds of bacon," Verrill extolled. "We consider that our 'entertainment.' We posted online about our Happy Hour and received 20,000 views and 500 comments about our post; we felt like this was a good start for us."
They offer over 13 flavors of bacon, such as Smoke-House Maple, Sweet Cajun, even Pumpkin. "Our bacon is locally-sourced," Richards said, "and we are working on getting our own pigs from Maine farms. We're excited to bring other local farms on board, farm eggs as well as bacon."
The House of Bacon has a comedy night every weekend, hosted by Sam Pelletier.
"We are trying to be the new comedy spot in LA," Verrill said. "We've been filling up 60 seats Friday and Saturday nights. The comedy show is done by 9:50; and we have a show at Lava beginning then, so there is the opportunity for a whole new atmosphere and experience. It makes for a wonderful night out."
"We're working on making House of Bacon more uniform, transferable to other locales," Verrill explained, when asked about the future plans the two have for the restaurant. "We'll be looking for maybe a few more locations in the future. But we still want to retain direct interaction with the customers."
House of Bacon
34 Court Street, Auburn
Facebook: House of Bacon