by T.S. Chamberland | photography by David Fuller
If you've lived in the Lewiston-Auburn area or even frequented downtown in the past 16 years, chances are you've stopped into She Doesn't Like Guthries for coffee, a bite to eat, or an event. At the very least you've heard of it. Whether because of their interesting and fun menu, or because of the array of events, the LA community seems to love it. And what's not to love?
Of all the things she doesn't like
Husband and wife team, Randy and Heather Letourneau, opened their doors on Middle Street in Lewiston with the hope of providing something unique to the area. Heather says that Randy's desire to own a business of his own, paired with each of them wanting more out of their work lives, led to their opening the restaurant. At the same time, Heather was in a master's program and sought to explore new avenues.
"This ended up being my project and I suppose you could say his dream come true," Heather explains.
The initial inspiration came about in part because of Randy's love of a friend's burrito shop in New Hampshire that he would frequent.  With burritos as a staple, their approach to the menu attempted to use their ingredients, and their limited preparation space, most efficiently. Once the food offerings took shape, the two came up with catchy names for the menu based on music.
"We didn't want to be just a burrito shop," Heather expressed. "We wanted to be varied to appeal to everybody."
One question they get often is how the name originated. As Heather describes it, when they chose to start the business, they went through a number of names, but couldn't decide on one.
"My husband is a Bob Dylan fan, who was a Woody Guthrie fan," explains Heather. "He felt that our values were in line with both of those artists, and he wanted to name the business Guthrie's."
Thinking she might be able to come up with something else that she liked better, Heather rejected Randy's suggestion.  Try as she might, she wasn't able to come up with any other options she preferred, and Randy was champing at the bit to design the logo.
"He was itching to make a logo and he added 'she doesn't like' to the logo he'd made as a joke," Heather says. "But then we both ended up agreeing that it was super cute – it worked, and we liked it."
Defining a niche
At the time they hung their open flag, there wasn't a lot of weekend traffic in the area – their location a bit off the beaten path of Lisbon and Main Streets. Heather says they weren't sure what would attract patrons, so they tried a number of things – a kind of process of elimination. Their approach was to cast a wide net with their menu offerings; burritos, shakes, sandwiches, coffee, and more. Also, during their first 14 years, they hosted live music – something about which both Heather and Randy are passionate.
"We weren't really super sticklers about it, but we wanted it to be original," Heather says of their live music hosting. "We wanted it to be something that they created."
There was a period of time when the location held numerous art events, was open on Saturdays, and served beer and wine alongside their ever-changing menu. Many aspects of the business have changed over the past decade and a half, but the Letourneau's commitment to being active within the community has not. Being able to provide a space and be flexible about how it is used, has defined She Doesn't Like Guthries.
In addition to the live music, the restaurant served as a unique and welcoming venue for storytellers, actors, film makers, and comedians. They also held monthly visual art events, showcasing artists, potters, and jewelry makers. The Letourneau's dedication to their community doesn't stop there. The products they purchase are mostly locally sourced, from the breads they use to the coffee they serve, a priority for the couple.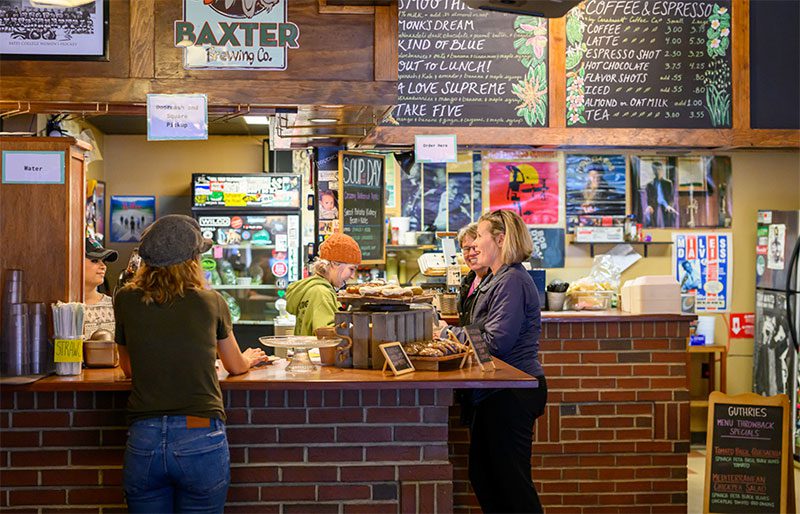 The menu, while still based on minimal ingredients with maximum variation, has changed significantly over the years. One thing that hasn't is the creative titling of menu items.
"Every items' name is related to music," Heather explains. "Like our smoothies are all named after jazz albums."
A little of their passions outside of work have helped shape the restaurant, adding to their overall appeal. Good food, a fun and eclectic atmosphere, well-established connections with neighbors, and the Letourneau's dedication make for a lasting, loved recipe of small business success.
The Covid effect
The spring of 2020 brought an uncertainty that, like most business owners, Heather and Randy hadn't expected. Having to close their doors for over four months, Heather credits their frugality since opening the business with emerging from the pandemic intact. By adhering to a strict budget – and with the help of small business assistance during those early months – She Doesn't Like Guthries was able to re-open, employing predominately online ordering.
While she says that she and Randy were initially on the fence about taking orders via the Internet, COVID operating guidelines tipped the scales in favor of it. By altering their hours and having a more flexible menu, they were able to make online ordering work for them.
"Our website is our online menu, so people can either come and pick up their order or use Doordash," Heather states.
Staying within their budget means that they aren't able to do some of the things they'd like, but it does mean they have been able to remain open. Currently, the business serves breakfast and lunch, still has online ordering, and they may well have found their groove. Heather says that of all the shifts they've made in the business' direction, it's been a comfort and encouragement to know that the customers they serve have been understanding and have continued to support them.
What's next?
Since the pandemic, things have changed quite a bit in terms of their hours and what they do during that time. They aren't open during the evening, events they once hosted and helped foster have moved to other venues, and beer and wine are currently off the menu. Heather says that while these changes may have come about as a result of the pandemic, she and Randy enjoy having their nights and weekends off, and they've been able to make this new version of their business work for them and for their patrons. Though they are enjoying their current operating hours, she wouldn't rule out bringing back some things if the situation is right for them.
"It's not out of the realm of possibility, but we're really enjoying the ability to come in early and be home for supper," says Heather.
She Doesn't Like Guthries
Lewiston | 207.376.3344 | guthriesplace.com