Singing artist Ron Bergeron has an estimable career performing in Lewiston Auburn clubs and beyond. His work ethic goes beyond the norm, constantly booking new engagements around New England. In addition to skillfully interpreting popular songs, Bergeron is a writer of original music, with several of his self-produced singles available on his social media sites. He is a staple of entertainment here in LA, setting an example for which solo musicians can aspire.
Early years
Bergeron's life-long love for music and performing began with family, where he was impressed by his mother and aunt's three-part harmony. His earliest performances were in church, singing hymns and writing many songs reflecting his faith. His secular influences are "classic pop" from the 50's through today, and his chief inspiration came from songs of the Beatles. He plays guitar, drums, and other instruments and produces music from a home studio.
Co-workers at Shaws Supermarkets in the produce department in the late 90's, Bergeron and 'Veggies By Day' founder Don Hebert, coached and fostered each other's visions of playing live shows in Lewiston Auburn. Their careers began in parallel, with Hebert developing his band, now known as "The Veggies," while Bergeron set out on a solo path.
"We used to practice in Donny's basement," recalls Bergeron. "That's where I started to learn enough guitar to have some confidence to play and sing in front of other people."
Bergeron's first paid show was at Fast Breaks on Lisbon Street in Lewiston, which, since it's inception, has been a music-forward establishment. Hebert was instrumental in securing the engagement there and at the Hilton Garden Inn. After a while, the manager at the Hilton would tell prospective musicians who sought to play there to follow Ron's example, both with volume level and song styling.
"Donny got me my first gigs with his contacts here in Lewiston Auburn," recounts Bergeron. "The first gig I got for myself was at Pedro O'Hara's, after my open mike performance."
Bergeron worked tirelessly learning new material and reaching out to clubs via phone, email, or showing up to tryout situations. Bergeron attributes much of his early success to performing at open mikes, where the management could judge how he would fare at a paid engagement. From these first shows and open mike appearances, the local folks began to notice Bergeron's vocal prowess and encyclopedic knowledge of rock and pop favorites.
Versatility
Bergeron prides himself on a vast repertoire that numbers nearly 1,700 tunes, relishing in playing obscure audience requests. "As a performer, I am inspired by the audience, getting feedback from them," affirms Bergeron. "I want to capitalize on where their energy is taking me."
Bergeron's song list includes fare from Queen, Elton John, as well as many songs by female artists – ones many performers might shy away from, but Bergeron employs his wide vocal range to incorporate these daunting gems.
"I try to do a good job of reading what an audience might like for songs," Bergeron comments. "I'm never sure, though – which is why I encourage people to make requests."
When not gigging, Bergeron can be seen at other performers' events, many times invited to sing harmonies along with them. Bergeron often informally collaborates on Beatles songs with John Hasnip, a host of many open mikes and solo performances – and when his old friends in the Veggies play, they call him up for the occasional song.
Venues
Bergeron's adaptability has brought him before a myriad of audiences.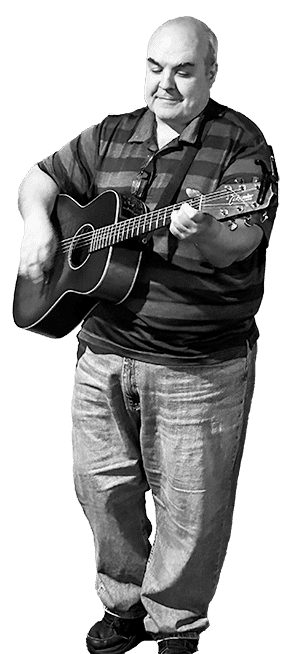 "At times, the job is to be background music- people are there to converse with their friends, and I try to perform songs that they can enjoy that way," explains Bergeron. "Then there are the places that the audience is willing to engage with the performer and you have some control of their energy with your performance."
Currently, Bergeron plays shows as far away as Bangor and Hampton Beach in New Hampshire – but still has regular engagements at local LA clubs like Fast Breaks, Sea 40 Japanese Cuisine, and Melissa's Pub, formerly Buddy T's, owned by Melissa Nickless Goucher.
"Melissa is providing a great place for musicians to perform," asserts Bergeron. "I consider Fast Breaks like home base – I've been playing there the longest and the staff and audiences have always made me feel welcomed."
In addition to taverns, restaurants, and private parties, Bergeron has found other avenues for performing; plying his trade for those in assisted living conditions.
"I really enjoy playing nursing homes – playing standards, balladsé Frank Sinatra-type stuff," says Bergeron. "It's always a fantastic experience playing for veterans and elderly folks, seeing their expressions change as they recognize a song."
Though opportunities to perform are spread all over the state, playing in one's home area has many advantages.
"I don't mind traveling for work at all," claims Bergeron. "But it's nice to be able to go 5 minutes down the road and play."
Bergeron wishes to extend his gratitude to the LA music scene, and offers support to burgeoning songwriters and musicians.
"The local community has been very supportive of me as I was starting out," says Bergeron. "I'm very appreciative, and I try to be supportive of other musicians, especially those starting out, as well."
Musical healing
When asked about his most memorable musical experience, Bergeron tells of an emotional encounter with a patron of King Eider's Pub in Damariscotta, Maine.
"There was an elderly gentleman, frail and for lack of a better term, almost lifeless as he came in with his family," describes Bergeron. "When I'd play some of the older songs in my set list, he would light up – which seemed to take his family by surprise. They were ecstatic and even moved to tears at times."
Both his family and Bergeron were nearly brought to tears by the man's reactions.
"Here was a man who had to be helped to walk to his table, and now he was trying to get up and dance to the music," Bergeron relates. "From that point on, I played mostly just for him."
This experience and many other rewards make the job of a musician one that Bergeron would not trade.
"Those moments are magical, and really stick with you," Ron attests.
Supportive community
Bergeron holds Maine music venues, especially those of Lewiston Auburn, in high regard and is extremely grateful for their continued fostering of professional musicians.
"Making a living from playing music starting in my 40's is something I never would have imagined," Bergeron confirms. "Even when things about it seem a little tough, I always remind myself just how blessed I am to be able to do this."