by Peggy DeBlois | Photography by Heidi Sawyer
Dedicated to community
Maine's Big Z radio station is, ironically, rather small. Housed in a converted home on Center Street in Auburn, the studio is the first thing you see when you open the door. Continue down the narrow hall to the back office, and one finds the large presence that personifies the station: Dick Gleason.
There are no pretentions in Gleason's office, aside from the plaque reminding the visitor that he was the Mayor of Auburn from 2009 to 2011. 'Old-guard businessman' is the best description of Dick Gleason – neutral dress shirt tucked into dark slacks, dress shoes. As he rises from his chair to come around the desk to greet you properly, you instantly know you will learn a lot about business from this man.
Gleason = Radio
Dick Gleason's name has been synonymous with local radio since 1972. He defines his company, Gleason Media, as "dedicating ourselves to local business and taking pride in offering affordable advertising solutions to businesses of all sizes," through its seven radio stations, and internet and direct mail marketing.
He is quick to point out that radio, at its heart, is about community. "Community is very important," he begins. "If people lose interest in building community in their own city, we are all going to have a rough time." He leans forward to emphasize his philosophy. "I watched over 50 years of construction in this area, and the dawn of the big box stores, and I worried that people would lose interest in their local community. As a radio station, we are constantly trying to give listeners what they want, and that's a connection to their local community."
In an era when everyone seems to be connected to a much larger world, Gleason found a way to remind people every day of all the things going on right here in Central Maine. The Breakfast Club, the station's most popular show, has interviewed over 1500 local businesses and organizations. To build on its popularity, the station also sends out a morning email alert with truly local news. Gleason Media also manage a local interest website, lewistonauburn.com, where one can find links to community and performing arts organizations.
Bonnie McHugh, Station Manager and Breakfast Club Producer for Maine's Big Z, emphasizes Gleason's persona. "I have worked for Dick Gleason for almost ten years and it has been a wonderful experience for me," says McHugh. "His honesty and integrity show through in everything he does and that is a rarity in today's world.  Most of all, Dick is passionate about the power of radio. He truly cares about our community and wants to see local businesses succeed."
Gleason = Community
Gleason's dedication to the local community led him to a tenure in local politics in 2006, when he held a position as councilor for a year, closely followed when he successfully ran for Mayor of Auburn. "Running for office and actually being mayor were fine, I enjoyed both," he says. "But politics does not mix well with business. When you make mistakes in politics, everyone knows it!" Gleason credits much of his enjoyment in the role of mayor to the fact that Larry Gilbert was mayor of Lewiston in the same time period. "Larry's the greatest guy," says Gleason, "a person who gets along with everyone."
Beyond politics, Gleason has been no stranger to community involvement. He cannot choose a favorite organization he has served, so he sums it up with three. "The Chapman House – all the improvements I have seen them make there – it's very rewarding," he starts, "and of course the Boys and Girls Clubs, because you want to keep kids involved in a positive way. And I have to add in the Central Maine Community College Foundation which works to provide scholarships for young people who are training to work right here. I like to think I've covered all my bases, from youth to young adults to seniors with these organizations."
Perhaps the best way to exemplify Gleason's dedication to community is reviewing the list of his recognitions:
Broadcaster of the Year, Maine Association of Broadcasters
Business Leadership Award, Androscoggin County Chamber of Commerce
Business Cornerstone Award, Maine State Senate
Honorary Degree, New England School of Communications
Legion of Honor, Kiwanis International
Ray Geiger Award, Androscoggin County Chamber of Commerce
Achievement in Business Award, University of Maine School of Business
Citizen of the Year of Auburn, Maine (2008) – Auburn Business Association
Business of the Year (2015) – Oxford Hills Chamber of Commerce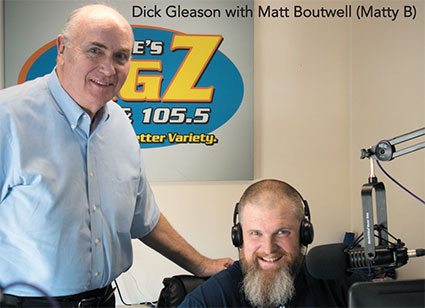 Understandably, he has a hard time deciding which of these recognitions is the most meaningful to him. "Well, definitely the Citizen of the Year," he begins, "because that's a really nice event where they not only recognize me, but the community. It's a real showcase of the community, so that was very enjoyable for me." He also acknowledges that the Ray Geiger Award from the local chamber was a true honor, as well as the recognition from the Oxford Hills Chamber. "Recognition from your business peers is always nice, particularly if it becomes a platform to show others how great your community is."
Gleason = Future
Gleason sees great promise in the future of our community. "I really like the local chamber's '40 Under 40' program," he says. "It's very good to give recognition to this younger group of business people; we like to see it, and it encourages them to continue their efforts. Between my two businesses in Norway and Auburn, about half of my employees are under 40. We're very proud that our own Matt Boutwell (known on the air as "Matty B.") has been nominated twice."
Gleason may be synonymous with local radio, but one cannot deny he is a pillar of the community in his infectious belief in Central Maine. "I want people to discover all that we have to offer here in Auburn," he begins, "and start looking to our central location, right off the turnpike, as the perfect place for regional events. We are so well suited to hosting events, and we are within 40 minutes of either the mountains or the ocean." He pauses before delivering his final words with a mischievous grin. "Portland is really a great suburb for Lewiston Auburn."
Gleason Media
555 Center Street, Auburn
http://gleasonmedia.com/