Written by Linda Leiva | Photography by Jose Leiva
It has been said there is a Chinese symbol for the word crisis, and it means danger and opportunity, or when something begins to change. This is a great way to describe the beginning of An Angel's Wing, a non-profit that helps people with Substance  Use Disorder find the help they need to recover and lead fulfilling lives.
Opportunity born
Their mission, "To ensure each person has every opportunity available to live, learn, and recover from Substance Use Disorder (SUD) with access to education, detoxification, rehabilitation, and employment," encompasses what An Angel's Wing can offer.
An Angel's Wing was born out of frustration when, in 2017, Debra York and her son Joshua Stoehner felt that there wasn't help available for Josh's older brother, who was fighting SUD. They looked for a place for him to get help, detox, and rehab, but there were no beds available, and the cost of private facilities was outright prohibitive. His downward spiral continued.
A labor of love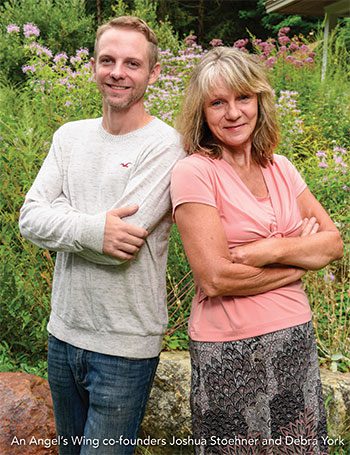 Stoehner was concerned for his brother and his mom. Having had a background in retail while living in Boston, Stoehner began with an idea and worked with his mom to create a solution.
The idea was to open a thrift shop and have the income from that business fund the cost, or at least part of the cost, of treatment. "I knew how retail works," says Stoehner, "I knew about customer service, operational standards, and set-up."
York, having owned her own business locally, went to work creating a business plan, working with the state, and setting up a non-profit 501C-3 organization. Their dream began. A building was rented, and Stoehner began renovations, and even cleaned out the kitchen for a bakery, eventually to be run by his fiancé, Danielle. In addition, technology was added to facilitate sales and record keeping.
Stoehner emphasizes, "Mom did 99% of the work with Federal and state tax stuff, licensing, and local government; she nailed down the board, and people who could help." The board is comprised of business people and medical professionals, the people who knew that a lack of help and resources was a problem.
The birth of An Angel's Wing
York recalls the way the organization got its name. "I had seen a picture of angels' wings covering a family and I took a photo of it." It seemed the perfect image and name for what they wanted to provide for folks needing help. The idea was to offer a full-service program from detox to leading a fulfilling life.
"We began to fund-raise. We were taking donations for the store, and no one knew who we were," says Stoehner. So, in 2017, a gala was held at the Portland Regency in efforts to raise money. That first year they found that they had a lot to learn, but the gala evolved and last year over $30,000 was raised. "It was a beautiful event attended by over 200, where everyone was dressed up, (we had) a fancy string band, and beautiful platters of food." This year's Gala is October 22, at the Hilton Garden Inn in Auburn.
There are now two locations for An Angel's Wing. One is located at 1567 Lisbon Street in Lewiston, the other is in the Auburn Mall. The stores are slightly different, while the Auburn store offers primarily a boutique vibe, selling clothing and accessories; the Lewiston store offers clothes, accessories, children's toys, furniture, sports items, collectibles, and electronics. There are at least 5,000 items that change all the time.

Opportunity to give and help
"We don't make a lot of money, but what we have, we give away," states Stoehner. His mother echoed this: "From 2017-2021, it was 100% volunteer for me." Now, as the executive director, York donates most of her pay back to An Angel's Wing. The proceeds go to overhead, and everything from detox to helping to get food, clothing, and job training.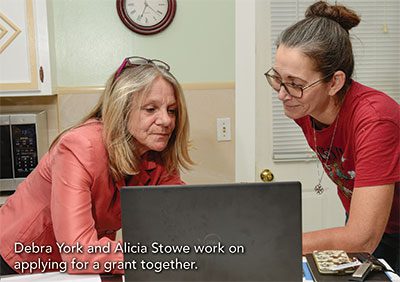 "When people are in crisis, they usually have nothing with them when they go to a detox facility," Stoehner says. York further explains, "Most often the cycle of SUD begins with Adverse Childhood Experiences (ACES). It can also be attributed to genetics or injuries. People become hopeless and vulnerable. We offer hope with An Angel's Wing. When someone waits three to five days just to find a detox bed, it can cause that person to give up and go back to the same environment they left to go into treatment." York continues, "They haven't changed their brain chemistry in 30 days, so we lose them." She explains that more comprehensive treatment plans must happen.
Currently, An Angel's Wing is working to establish a Medically Managed Crisis and Withdrawal Center, applying for a provisional license from the state so they can apply for a grant to get a facility for the center. The long-term goal and dream of both York and Stoehner is to build a camp for families who are affected by SUD. This would be a place where children can go and experience wholesome and healthy activities outdoors and with good nutrition and their parent(s) can go to get effective treatment in detox, rehab, and recovery.
An Angel's Wing works with over 23 community partners, such as Milestone, Wellspring, and St. Mary's Hospital. York says An Angel's Wing supplies clothing and household furniture as well. Currently, there are only three locations in the state of Maine that offer medical withdrawal services: Portland, Bangor, and Lewiston. York reiterates, "We take everyone." Stoehner says that the treatment partners they work with are "like a diamond with many facets, just like the journeys people go on."
Opportunity full cycle
Lynn Davis was one of those helped by An Angel's Wing as it first began. A friend left York's business card with Davis, and she simply put the card on her dashboard. One day, when life was particularly rough, she called, and York helped her get to rehab.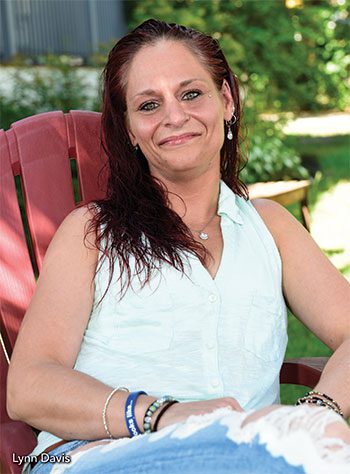 She drove me to the first rehab, paid for me to be admitted, and she's been a part of my journey." The journey involved a set-back and Davis found herself homeless and living under the Veteran's Bridge in Lewiston. York again assisted by contacting a place in Rhode Island at Salvation Army Recovery Center (ARC). It was here that Davis says she understood about her own ACES and what the ARC folks called Core Shame. "They talked about, as a child, someone's writing in your wet cement, 'You're not worthy to be loved.'"
"It made me realize stuff I went through that was not my fault. I was growing up with a single mom who did not know how to be a mother." Davis goes on to talk about things that led her to substance abuse.
Davis is now at Grace House and is getting her life back. She is now involved in her daughter's life and has a newborn granddaughter.
Davis says she finally woke up and took the first step, "I have no anxiety, and God's got my back." An Angel's Wing did not give up on her. York and Stoehner believe in their mission and are there to help those like Davis.
Davis has advice for others who struggle with SUD, "When you are ready, and you (must) be ready, take one day at a time. You are worth it."
An Angel's Wing
1567 Lisbon Street, Lewiston • anangelswing.com