Written by Jillian Netherland | Photography by Nicole Rand
KP's Place opened its doors in Auburn 10 years ago, but the seed for restaurant ownership was planted decades prior for owner and operator Keith Genest.
Trading spaces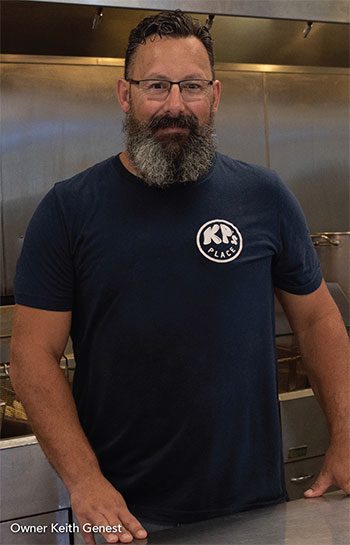 To say Genest grew up in the restaurant business would be an understatement. Between his father's restaurant and two additional restaurants owned by his brothers, Genest spent a large portion of his teen years working in the restaurant business – from running the cash register, to working with vendors, and learning the menu and recipes by heart. However, despite this perfect foundation and knowledge, Genest originally wanted nothing to do with restaurant ownership. "Prior to opening KP's Place, I worked in corporate America," says Genest of the first few decades of his career. After 10 years in the banking world, a buyout led Genest to working for a medical company – until they, too, experienced a buyout, sending Genest to do some soul searching on what would come next for him. "I knew I wanted to be self-employed, but wasn't sure what I wanted to do, so I decided to sleep on it," he explains. "I woke up the next day and decided to stop denying it. I knew how to run a restaurant, I knew a menu with recipes that worked, so I decided to give it a try to see if I liked it." Soon after his epiphany, Genest started small, opening KP's Place in half the space of its current location, and immediately fell in love with the work. "It has, without a doubt, been the best career decision I've ever made."
Great expectations
Stepping into KP's Place and seeing how Genest interacts with each of his customers, you'd think he had been an Auburn resident his entire life – but he actually lives in Augusta. "Part of me coming into this town was getting to know the people," recalls Genest, who employs an open kitchen model, not only to allow customers to witness their food being prepared, but to give Genest and his team the opportunity to interact with each person that walks through the door. "Our kitchen is crucial to what we do here – it's my name on the sign, and people want to know who KP is and what I'm about. I'm here every day interacting with my customers while I make their food."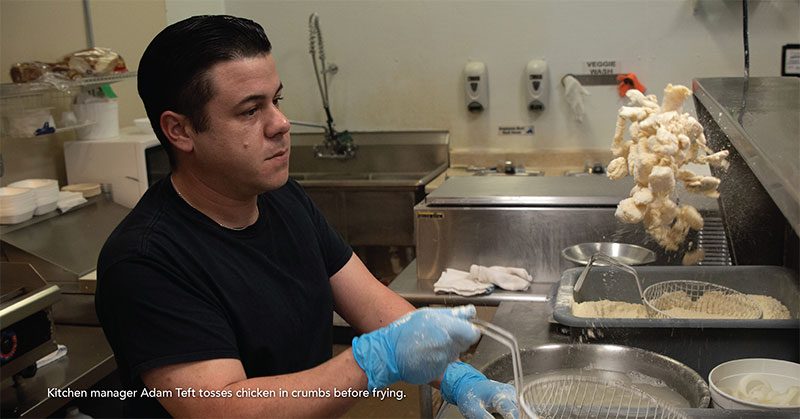 If KP's Place could be described in two words, it would be quality and consistency. Despite the ever-changing landscape of the economy, Genest does not budge regarding his menu and the ingredients he uses.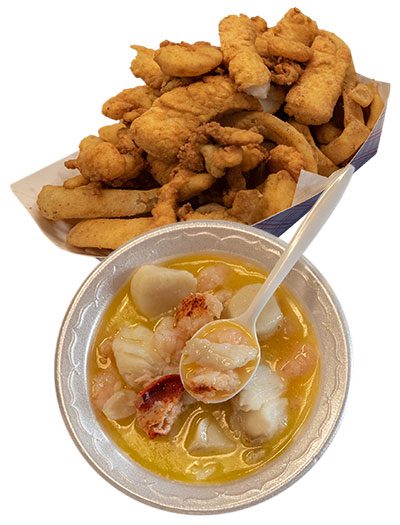 "I want my customers to have the same experience every time they come here," states Genest. This includes how the food looks and tastes, their interaction, and the dining environment. Specializing in hand-breaded and cooked-to-order chicken and seafood, KP's Place serves its food on paper plates with plastic utensils in a pay-when-you-order model, with a goal of receiving your food within 7 minutes of walking through the door. Something especially appealing for workday lunch breaks or families with young children, when taking the time to wait for a menu or a check, may not be an option.
"Especially in today's environment, people have to make a conscious decision to eat out," Genest explains. "It's an expense. It's a time commitment. We want people to come in and enjoy great food, but I also want to make sure they have that connection with who we are, understanding that the dollars they spend are staying local."
Community
Supporting local is a key value to Genest, and something he demonstrates through the commitment of KP's Place to its community through nonprofit fundraisers. Although Genest may not be in a position to write large checks or take time away from the restaurant, he has never said no when asked to help with a fundraiser.
"My soft spot is with the young kids coming in for their sports teams," says Genest, once a youth athlete, and equates his experience running a restaurant to coaching a sports team. "I use this as an opportunity to talk to the kids and connect with their families. I'd love to do more and will continue to do more as I am able."
Ten years strong and looking forward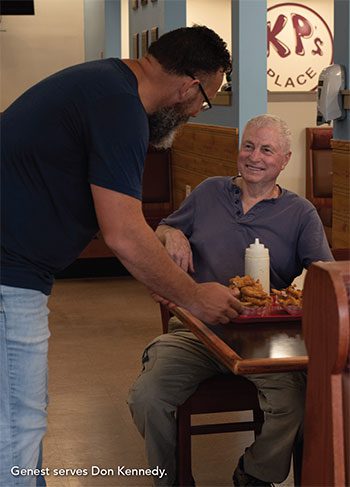 In commemoration of its first decade in business, KP's Place has begun celebrating in a big way: contracting with Pepsi in order to renovate their space. In addition to a fully revamped theme and color scheme, KP's Place will add additional, cozier seating areas and a front area dedicated to the Genest Family restaurant history.
"Three generations have run five restaurants over the years," shares Genest. "I have that conversation at least once per day about who I am and what we're doing here – now it will be on the wall with pictures of the original restaurant fronts."
Despite being hidden from the main road, KP's Place has remained consistently busy, even throughout the difficulties presented by the COVID-19 pandemic.
"Consistency is part of it. People know they can get fresh, made-to-order food in a clean environment very quickly," Genest explains. "But it's more than that. It's the connection. The customers know me, and I know them. That's everything. It's what I wake up every day excited to do, and I'm convinced it will keep me going for another 20 plus years."
KP's Place
245 Center Street, Auburn • www.facebook.com/KPSPLACE