Written by Dan Marois
Brenda Fontaine's career in real estate started with a suggestion from her husband, Claude. "He had seen that someone had received an award in real estate," explains Fontaine. "He turned to me and said, 'If she can do it, then so can you.'"
The idea did spark a bit of interest for the Lewiston native, but it was a newspaper that would change her direction forever.

"The ad said, 'Are you looking for a dream job, flexible hours, and unlimited income?'" remembers Fontaine, who responded to the inquiry seeking a realtor. "That's exactly what I was looking for."
After taking the appropriate training courses, Fontaine began her real estate career on September 13, 1983.
Today, she has her own company, Fontaine Family-The Real Estate Leader– with offices in Auburn and in Scarborough.
"We are a full service real estate brokerage with a long standing tradition of excellence, professionalism, and integrity," said Fontaine. "Our ever evolving approach  to market changes and unsurpassed commitment to the utmost in client satisfaction has enabled us to maintain successful relationship since first entering the business."
Within this past year after opening its Scarborough location, Fontaine Family went from 12 agents in 2 locations to 31 agents, and over 40 realtors when you add the licensed support staff. They serve a seven county area in Androscoggin, Cumberland, Franklin, Kennebec, York, Oxford, and Sagadahoc.
"Sales are up over 50%," notes Fontaine. Fontaine's agency is currently ranked as one of the top 1000 professional real estate teams in the United States as named by the Wall Street Journal and Real Trends. In Maine, Fontaine ranks in the top 15 out of 1001 real estate companies for the most closed units in a year. Fontaine boasts having among the highest per agent sales averages in the country, currently at 32 units per agent.
"We have a support team that helps our agents in their work. In most agencies, agents spend about 80% of their time on administrative duties and only 20% on actually selling," said Fontaine. "Ours is just the reverse. Our agents spend 80% of their time working with buyers and sellers and 20% of their time on administrative work. This allows them plenty of time to give their clients the advice and counsel they deserve."
Testimonial—

"Great customer relations! This is certainly a company to do business with. They WILL sell your property."

Lorraine Beauchesne, Belmont
Her agency is called Fontaine Family for a very clear reason. In addition to herself, there are six other members of her family working in the business. Together, they form the Leadership Team at the busy agency.
"The success of the Fontaine Team is due, in part, to the strong support staff," said Fontaine, pointing out that all seven staff members are licensed real estate professionals. "Having a highly trained staff means there is always someone available to take your call and working behind the scenes to make each transaction as smooth as possible."
Her husband, Claude, is the Bookkeeper for the agency who also works very closely with clients.
Fontaine's three daughters are also in the business. Melissa Field is the Office Manager and Closing Coordinator and Short Sale Specialist. She oversees the details on all transactions.
Angie Larochelle is the Showing/Feedback Coordinator who sets up showings for properties and contacts sellers with feedback from every showing.
Crystal Bergeron is the Staff Team Leader, REO Manager, and Lead Coordinator.
Two of Fontaine's sons-in-law, Clayton Larochelle and Bill Bergeron are top sales professionals, and are also Brokers, Designees, and trainers on the team.
"Every day is different. You meet people that need your help," said Fontaine, noting that her profession helps people through good times and sad times as a result of death, divorce, job moves, and other life events. "It is not just about selling property. It is helping people through an emotional event in their lives."
Fontaine said that in many cases, she is now working with third generation family members helping them to attain their dream of home ownership.
"We always strive to do the right thing…to sell the right house to the buyer," Fontaine said, comparing her works as being part counselor by advising customers about pricing their homes, about improvements that can help sell their home, and ways to sell their homes in the shortest amount of time."
Fontaine owes her success to a mission statement that keeps the team focused.
"We strive to give our clients 'world class' service by going above and beyond the call duty; thus creating 'raving fans' who will enthusiastically recommend us to their family and friends," said Fontaine, emphasizing every word. "Our goal is to obtain the highest level of customer satisfaction because our future business depends on it."
Testimonial—

"Responsive, easy to talk to, knowledgeable, reliable & professional. I consider the Fontaine Family as a professional team who go out of their way to assist clients."

Angela Theberge, Lewiston
Fontaine is especially proud of her community involvement supporting Make-A-Wish Maine, an agency that grants wishes for children diagnosed with a life threatening medical condition and their families.
"The average cost to fund a wish in Maine is $7,000 and we just completed our Bid for Wishes online auction that raised in excess of $8,000," said Fontaine, noting that this contribution level will allow her team to fund and witness a wish being made.
"We couldn't do this effort without support for our business community and friends," said Fontaine, adding that her agency has been involved in Walk For Wishes and other Make-A-Wish Maine fundraisers since 2009.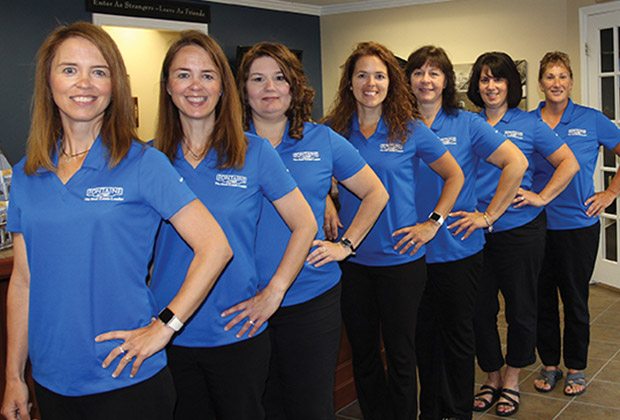 ---
The offices for Fontaine Family – The Real Estate Leader are at 336 Center Street in Auburn and 432 US Route 1 in Scarborough. Phone numbers are 207-784-3800 and 207-289-3830. The website is brendafontaine.com.