Echoes of yesterday, voices of tomorrow
Written by Peggy Faye Brown | Photography by Heidi Sawyer
There is almost a post-apocalyptic sensation as you step back in time at Museum L-A, located in the former Bates textile mill in Lewiston. Echoes can be heard as you walk through the chilly, silent mill rooms where, just a few decades ago, the machinery of the past churned out a deafening sound. Hundreds of employees tended to the work of creating beautiful bedspreads round-the-clock. It was noisy, hot, sweaty work with temperatures hovering near 100 degrees to keep the threads warm and less inclined to snap on the looms.
You can just imagine how uncomfortable it was to work here. Photos show workers wearing tank tops any time of year. Workers ate salt tablets throughout the day, to help decrease their perspiration. Many suffered hearing loss, or byssinosis from inhaling textile fibers.
This hard, but important work created great things, including necessities and national treasures. During WWII, fabric for cots, tents, and uniforms for our soldiers were made here. Rayon from the Pepperell division of the Lewiston mill was used to develop top-secret, anti-radar weapons, and parachutes were made with rayon and nylon fabric developed at the mill. Beautiful bedspreads of many designs were created by employees, their artistry completed in painstaking fashion. Designs were meticulously duplicated onto graph paper and then onto punch cards. These punch cards were fed into Jacquard looms to indicate the desired thread design. When IBM visited the mill to observe, these looms contributed to the development of early computer punch cards. Two of the most famous bedspread designs, named after George and Martha Washington, were given to each U.S. president and used as gifts by first ladies to dignitaries around the world.
Memories preserved
What was it like to work in these mills and live in the employee housing nearby? This was a place where the melting pot of America was a reality. Immigrants from Ireland, Canada, Lithuania, Germany, Scotland, Italy, China, Greece, and elsewhere made Lewiston their home. On a tour of the museum, you will still notice opposing walls with shamrocks painted on one side and a fleurs-de-lis on the other. In a symbolic sense, each of the thousands of employees of this textile mill can be thought of as an individual thread. Rachel Desgrosseilliers, Executive Director of Museum L-A states, "YOUR work is important and we want to honor it; it is a piece of the fabric of our community."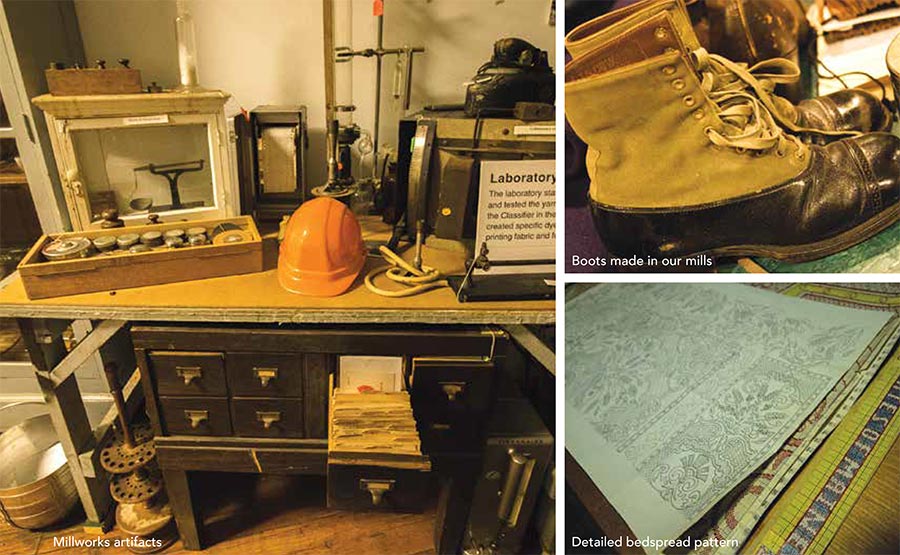 Fortunately for us, Museum L-A swooped in to salvage historical artifacts from destruction when the Bates Mill closed in 2001, notably retrieving 224 enormous bedspread-sized silk screens. The museum also rescued 5,000 shoe "lasts" from many of LA's shoe factories, which will be exhibited in a historical retrospective of how shoes developed over time.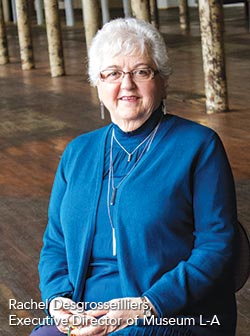 Rachel Desgrosseilliers describes how she herself retrieved items right out of dump trucks before they departed the mill site. Desgrosseilliers recalls removing two large linen carts from these trucks, which she later discovered held beautiful treasures: hand-painted, original artwork created by millwork designers of the art department. Had it not been for her efforts, these items would be gone forever. There are plans to display these silk screens in 2019. Some of the artwork is also being reproduced on merchandise like tote bags, plates and coffee mugs, to help raise funds for the museum. Visit the gift shop right in the museum lobby, or click this link to their online store from their website: museumla.org/MLA-Store.
After the Bates Mill closed, the Maine Heritage Weavers factory opened in Monmouth, Maine, carrying on the important work of creating beautiful bedspreads, using many of the same designs. These creations are also available at the Museum L-A gift shop.
Where the past prompts the future
This is not a dusty old museum. On any visit, you can feel the mission to share and educate. Museum L-A is constantly changing. The staff is growing. Many students come on field trips, college students work on projects, artists use the space, and great public events take place at this location, all to raise awareness of the treasures it preserves. When you see the photos from the past, you understand. As you share this knowledge with others and encourage them to see this for themselves, you teach history.
According to Desgrosseilliers, "We are blending generations and honoring our ancestors. There is vivid history here; Lewiston was first in the creation of many things." She invites the community to be part of the museum's work. "We are opening doors for local businesses and artists as we continue to develop programs. We are moving forward in a positive way. Please join us on this journey."
The museum is in the process of planning a move in the next few years to its new space on the riverfront. Reconstruction is underway for the new space, designed to provide the opportunity for great expansion of space for exhibits, a community gallery, storage, and temperature-controlled archiving.
Get involved
The museum seeks the untold memories of local people, and is also reaching out to local long-time business owners, both corporate and multi-generational family businesses, to learn their histories. Museum L-A provides a platform to share experiences before those memories are wisps of echoes floating away forever; much can be learned if we just listen.
Museum L-A
35 Canal Street, Box A7, Lewiston, ME
Ways to help Museum L-A
Share your stories
Visit the museum
Encourage others to visit
Donate
Volunteers needed for:
Tour guides
Greeters
Data entry
Marketing
Display changes
Recording oral histories
Archiving
Committees
Email: info@museumla.org