Written by Toby Haber-Giasson | Photography by Jennifer Grace
Top eats of the sweet season
In Maine, we wait all winter- and most of spring- for that all-too-brief outdoor season. LA Metro Magazines contributors help you explore outdoor eating in LA with this seasonal guide. Whether public or private spaces, urban or scenic, don't miss a single one!
Outdoor Oasis
While great food and excellent service is on the menu year-round at 84 Court, owners Enka and Genti Suli have just made their popular outdoor space even better for summer dining.
The patio, tucked behind the restaurant away from Court Street traffic, has had a makeover featuring new railings, and whimsical decorations. A suspended awning has replaced sunbrellas, for better sightlines, The Sulis even had custom benches and tables built, to maximize seating in their hideaway space.
LAMM Editor-in-Chief Pam Ashby likes the patio's secluded location. "84 Court is in the middle of town, but almost feels like you're in your own backyard."
Well, this backyard serves Fried Ravioli! This new appetizer, topped with bread crumbs and deep-fried, is definitely worth a visit. So are the supersized Tater Tots, loaded with cheddar cheese and bacon. Graze the Charcuterie tray, featuring mortadella, sweet capicola, blue cheese, and banana peppers hand-stuffed with mozzarella and prosciutto.
How about chasing that down with a "deck" of Sangria flights, featuring small tastes of four fruit-infused wines? Enjoy music on the patio, with local favorites like The Leftovers, on Thursday and Saturday nights, from 6-8pm.
Now more than ever, 84 Court is the ideal oasis for the outdoor season.
84 Court Pizza & Restaurant – 70 outdoor seats
84 Court Street, Auburn
Other LA oases
Heidi's Brooklyn Deli – 50 outdoor seats
624 Turner Street, Auburn
Lewiston House of Pizza – upper deck/35 outdoor seats
95 Lincoln Street, Lewiston
Pedro O'Hara's – 20 outdoor seats
134 Main Street, Lewiston
Urban piazza
In summer, DaVinci's enhances its iconic mill setting with the element of dining al fresco. Their patio, nestled in the courtyard of the Bates Mill complex, is the closest thing in LA to an Italian piazza.
"I love the patio, surrounded by the mill space," says LAMM's Peggy DeBlois. "It's uniquely Lewiston."
DaVinci's doesn't take reservations for the patio; you just have to wait for a table, and people do. As popular as the outside space is, the patio wasn't part of the original plan when the restaurant moved to Mill Street. Believe it or not, owner Jules Patry says, "It evolved as we designed this new space."
Try these new panini-style sandwiches for lunch. The Eggplant Press has fresh mozzarella and basil. Their Italian Press is loaded with meats and cheese.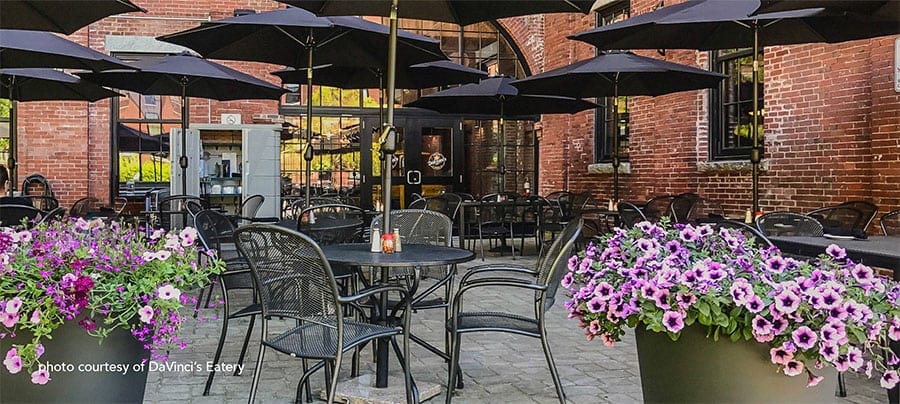 Couple one with a light, refreshing summer cocktail. Salads are the mainstay on the patio; try the Cobb, with gorgonzola and bacon, or the Yasso, with feta and olives, both served with grilled chicken.
Patry notes customer dining habits change as days get longer. "Our peak comes later on warmer days, with a 7:30-8 push for dinner; in midwinter it's closer to 6pm."
Take advantage of the season to enjoy DaVinci's patio; just don't feed the birds!
DaVinci's Eatery – 60 outdoor seats
150 Mill Street, Lewiston
Altro piazzi
Fish Bones – 30 outdoor seats
70 Lincoln Street
Rails – 50 outdoor seats
103 Lincoln Street, Lewiston
Water views
Located along the edge of the Androscoggin River, the Pat's Pizza deck is the best in LA for a view of the water.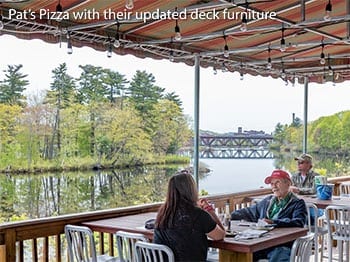 The deck has been in place since Pat's opened in 1985, but now it boasts new seating with custom-made high top tables. Why the change?
"It gives us a little less seating, but a lot more room," explains Manager Dave Bishop. Customers will find more space between tables, to lean back and spread out. Another reason: views. "We thought of changing the railing, to improve visibility," recalls Dave, "but I said, 'What if we raise the tables'?" Now that's thinking outside of the pizza box!
Even with fewer seats, Pat's volume increases in summer, thanks to more diners coming for outdoor lunch and midweek dinner. Who doesn't want to be at Pat's when the eagle flies to his nest, on the island in the river? Pat's also offers prime seating for the fireworks display on the Fourth of July.
Pat's adds seasonal items to their menu in summer. Try their Tropical Chicken salad, packed with grilled chicken, mandarin oranges, dried cranberries, sunflower seeds, feta cheese, tomatoes, and Asian sesame dressing. Pat's also offer an "all-purpose" lobster roll, that pleases both tourists and natives alike.
LAMM's Donna Rousseau says, "Nothing is better for some quick stress relief than sharing a plate of nachos and sipping an iced tea, overlooking the river with the light dancing off the waves. It's the perfect pick-me-up!"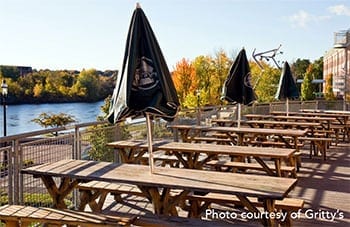 Pat's Pizza – 45 outdoor seats
85 Center Street, Auburn
More water views
Cyndi's Dockside – 36 dockside, 16 deckside seats
723 Maine Street, Poland
Gritty's – 180 outdoor seats
68 Main Street, Auburn
City sidewalk cafes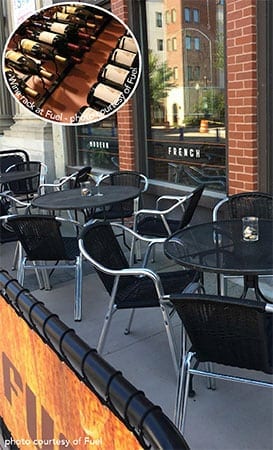 Owner Eric Agren first brought Fuel's French bistro fare out onto Lisbon Street nearly 10 years ago. Weekend patrons can spend a summer evening dining on the busy sidewalk. LAMM's David Muise says dining on steak frites and a velvety red from Fuel's extensive wine list is as close as you'll get to the bustling bistro vibe of Paris.
Fuel offers new menu items to enjoy. Try the Tuna Tartare, sushi grade fish on a bed of baby Maine seaweed, with black garlic. The accent is fingerlime, an exotic fruit you've definitely never had before, full of tart beads that give it the nickname "caviar lime." Is rabbit in your repertoire? Fuel does it braised with pappardelle, in a sauce of white wine, mushroom, and sour cream.
How about a cocktail? "Mules are very hot," says Agren of the classic chilled Russian drink. Fuel's refreshing Cranberry Mule combines spiced rum (instead of vodka), ginger beer, and lime juice, in a copper cup to keep it very cold. Or maybe Something Wicked, a bold combination of chocolate vodka and crème de cocoa with pomegranate juice.
How about a cold beer on the hot sidewalk? Agren is proud that all his beer taps draw Maine brews.
"Maine beers have a huge following. On Tuesday nights, when we run bar specials, people come just for the beer." With favorites like Bissell Brothers, Funky Bow, and local Baxter and Bear Bones on the list, people come out on the random night. "It's quite a movement."
Aficionados will appreciate the chance to experience an award-winning Chateau Montelena chardonnay, by the glass. Agren uses a Coravin system with an argon cartidge, which can preserve precious vintages for up to a year.
Join the vanguard this summer right on upper Lisbon Street at Fuel's sidewalk cafe.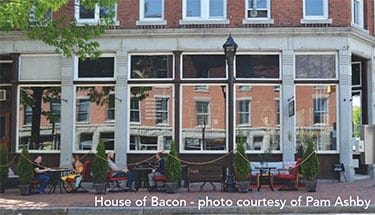 Fuel – 8 outdoor seats
49 Lisbon Street, Lewiston
Other sidewalk cafes
Forage – 8 seats
180 Lisbon Street, Lewiston
House of Bacon – 20 outdoor seats
Court Street, Auburn