Pinky D's Food Truck – Authentic poutine garners local fame
by Andrew Watson | Photography by Lauryn Hottinger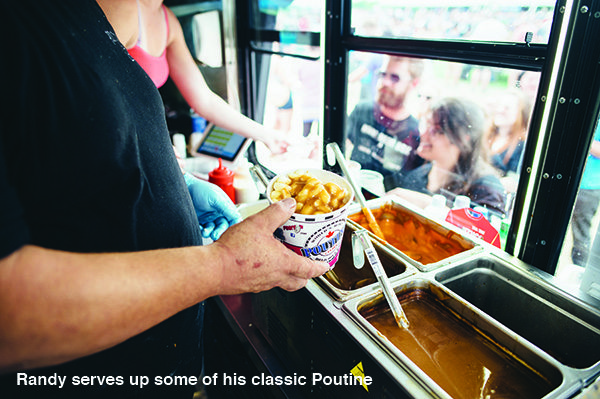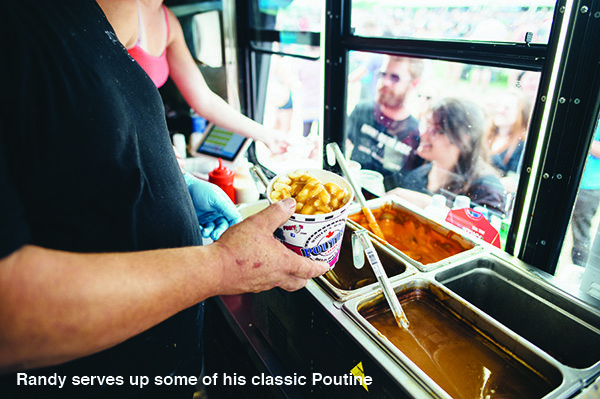 After 25 grueling years in the restaurant industry, Randall Smith decided it was time to shake things up. Like many of us, he dreamed of the opportunity to lead a self-sufficient career without having to report to others. He needed a career that would notonly ignite his passions but one that would also be practical enough to break the constraints of such a demanding industry. What is a man in such a precarious situation to do?
He started a food truck. Not just any food truck, but Pinky D's Food Truck. And his now-famous Canadian-inspired poutine has become a delicacy in the Lewiston Auburn community and beyond. The most popular dish on the menu – the classic poutine — is composed of hot, crispy french fries stacked with locally produced cheese curds that melt in your mouth, and then it's topped with an authentic, Canadian-style light brown gravy. Moans of sheer pleasure inevitably follow the first bite.
Perfecting the recipe
Pinky D's started by serving tater tots covered in an assortment of toppings, but the dishes were hard to explain and trial and error showed that some tater tots exploded in production. Something was missing. Then one day, a customer who was excitedly enjoying her lunch of tater tots covered in buffalo chicken, lettuce, a gorgonzola crumble and ranch dressing said, "I haven't had poutine in forever!" And Pinky D's found its true identity.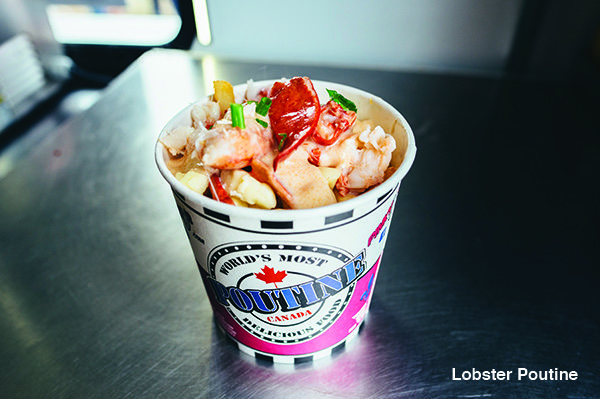 Smith switched from tater tots to french fries, rebranded, and delved deeply into ensuring he would be providing nothing short of top quality, phenomenal poutine.
To accomplish that, he immediately traveled to Canada and dined at every poutine shop he could find, engaging the professionals behind these culinary creations and learning the intricacies involved in making an authentic poutine. Armed with new information, Smith returned to Maine to create his very own classic poutine. His gravy is a top-secret recipe that mixes a pork, bacon, and chicken base with the finest locally produced cheese curds that exist. The classic poutine dish was ready, and Smith hit the road – literally.
Say yes to food trucks
The majority of all food trucks are street vendors, traveling from corner to corner. The practice is called street vending, and in major metropolitan areas street vendors can be seen daily on certain streets at certain times. When and where is based on local ordinances, though, which posed a problem for Smith. Lewiston – until recently – had no such ordinances, so Smith was confined to private businesses. After multiple conversations with local city officials, who collectively put substantial time and effort into reviewing and modifying current policy, the city has adjusted an ordinance that now allows food trucks. What does this means for Pinky D's? "More time on the streets," says Smith.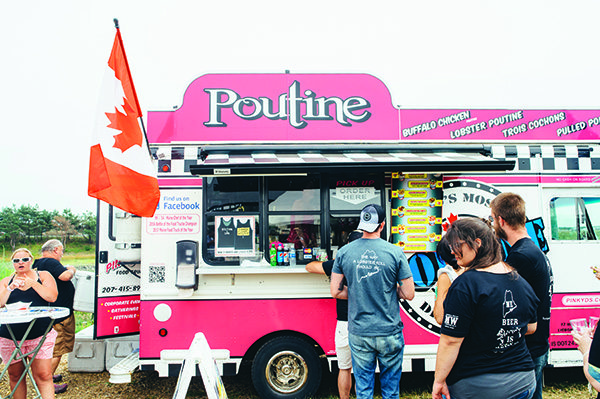 It was a mutually beneficial decision. The city of Lewiston has seen significant development in its downtown in recent years with multiple shops and businesses opening on lower Lisbon Street, and allowing food trucks to service the area will increase foot traffic. The increase in pedestrians contributes to a lively, bustling downtown. Food trucks bring something special, a variety of sorts, that is inherently exciting and shakes up the typical work day. Especially when it's Pinky D's.
Behind the scenes
The question now becomes how to track down Pinky D's to enjoy its delectable poutine. For that, social media is key. Pinky D's has a lively Facebook page (along with Twitter and Instagram) with a dedicated fandom and regularly posts its schedule and events. The schedule is diverse and availability is not always guaranteed, though. Smith maintains over 150 accounts and a lot of them book private events for employee or customer appreciation days.
Keeping up with that kind of demand is not easy. In addition to the clients Smith serves, he also fields hundreds of new requests to make an appearance. The majority of his everyday work is actually behind the scenes, managing phone calls, writing e-mails, and trying to organize a months-deep schedule that quickly turns chaotic without consistently active management. Truck maintenance hijacks a significant portion of his time and expenses as well, where maintenance is ongoing. His days are long and the work is hard.
All of this hard work has its benefits, though. Smith recently accepted an invitation from NASCAR to appear at an exclusive VIP Lounge at the New Hampshire Motor Speedway. The race was nationally televised and featured Pinky D's, where a reporter sampled his poutine and raved about it for all of America to see. On this day, hanging out with NASCAR drivers was just part of the job.
Sharing lessons
Despite the demand that comes with his new-found local fame and success, Smith still finds time to give back, too. He began teaching a class at Lewiston Adult Education on street vending, sharing the lessons he's learned and helping others get started. Opening a food truck is a low-barrier entry into the restaurant industry; it costs much less, and gives people the opportunity to create their craft, see if they like the work, and garner success. Success in street vending often means graduating from a food truck to opening a "brick and mortar" restaurant.
And that is exactly what Smith has in mind. In fact, he's actively looking for a permanent location for Pinky D's. Rejoice, fellow citizens of the Lewiston-Auburn community: the poutine we've come to love will soon be available permanently, and the menu is expanding. Along with a full restaurant, Smith also plans to introduce The Smart Cart, a second food truck featuring healthier street food options like gourmet chicken sausage and taco lettuce wraps. A spinach asiago sausage with avocado, tomato, cucumber, and pico de gallo topped with a lime yogurt sauce is on the menu.
The journey has been long for Smith, but Pinky D's has made an impactful impression on the community and its future is bright. Has all of the hard work been worth it? "Absolutely," Smith says. "It's like Christmas morning for a lot of customers when they get a Poutine. Food is instant gratification, and we're truly delighting customers. What I love the most, though, is the constant interaction with people of this community."
Pinky D's Food Truck 207-415-8997, www.pinkyds.com