Written by T.S. Chamberland | Photography by Brewster Burns
There's a new business on Middle Street in Lewiston that specializes in cannabinoid-based products. Tinctures, marijuana flower (bud), lip balm, dog treats, lotions, and more are available here, all made with CBD (cannabinoid), some with THC (tetrahydrocannabinol). Sinsemilla (sinsəˈmēyə) is not a head shop from days gone by; you won't find cases of glass paraphernalia on display, and the atmosphere here is anything but seedy or sketchy.  
Ryan Richards, owner and operator, opened the store with the intent to offer quality cannabis products, while also working to dispel stereotypes of both the medicinal use of marijuana, as well as recreational. He and his staff have created a purposefully welcoming atmosphere, one that Richards says makes people feel like staying for a while, learning, conversing, and getting comfortable in what could be called the latest evolution in self-care and pain management for any lifestyle.
"We're trying to get away from the stigma of marijuana, we want this to be a wellness center." – Ryan Richards, owner & operator of Sinsemilla  
Comfortable atmosphere
Part of the comfortable and professional atmosphere at Sinsemilla is the integration of visual art. The walls showcase and promote local artists' paintings and photographs highlighting the beauty of marijuana, which is reassuring to an apprehensive patron seeking information, according to Kerry Landry, manager.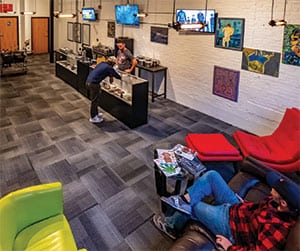 "We wanted to give a flavor of local art," explains Landry. "We think art just adds more to the environment, more of a presence. We have plenty of space here and we think visual arts are important."  
Easing patrons' minds makes the education component far more beneficial, which Richards says is the overall objective. This will set the store apart from other dispensary storefronts in the area. Here, you will find a plethora of information on cannabis and its uses, which types alleviate which ailments, and everything from dosage to choosing the right form of cannabinoid for each individual.  
"I would love this to be a place that you would recommend to your grandmother or mother, and be comfortable with it," Richards expresses.
No longer just the '60s psychedelic high
The baby boomer generation has some awareness of cannabinoids, but they may not completely understand the extent to which CBD and THC can be used to treat ailments and issues they may be suffering from. The staff and management at Sinsemilla are ready to answer questions and help their customers get comfortable in this new age of treatment choice.  
"I hate when people say that marijuana is a gateway drug," explains Richards. "We absolutely feel that it's the exit drug. It's what we are choosing to call it."  
Cannabis has long been known for easing pain which is one of the reasons that it is becoming more widely used in treating opioid addiction. It affects the same areas of the brain as opioids, in similar ways. The biggest differences are the anti-inflammatory effects of cannabis. According to U.S. News & World Report, the use of cannabis can lessen withdrawal symptoms and cravings for opioids, and because of the plant's promotion of positive, even euphoric moods, can stave off the anxiety that often leads to opioid relapse.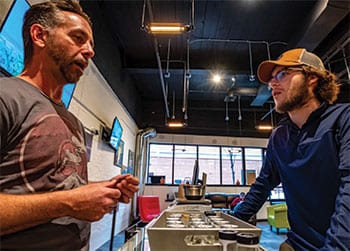 Most people are familiar with the recreational form of marijuana (also referred to as: weed, pot, chronic, grass, and, of course, reefer). Some might be aware that cannabis is available in tinctures and edibles, as well as in leaf form. There are also concentrates, like butane hash oil (aka dab, BHO or shatter) that use a specific solvent to extract THC and other cannabinoids. All of these forms of cannabis can be used both medicinally and recreationally (where legal) and have varying effects.
Concentrates, in general, are not full spectrum (not considered whole-plant extract) according to Richards, and are used primarily for the psychoactive properties over medicinal purposes. While they stock this form of cannabis, it is not their main focus.
Options bring new hope
Richards says that one of his goals for Sinsemilla is that his customers see the kind of results with cannabinoids that allow them to function better and be contributing members to their community again. According to the online Massachusetts Medical Cannabis Guide, studies have shown that conditions like anxiety, PTSD, epilepsy, insomnia, and arthritis have improved with regular cannabinoid treatment.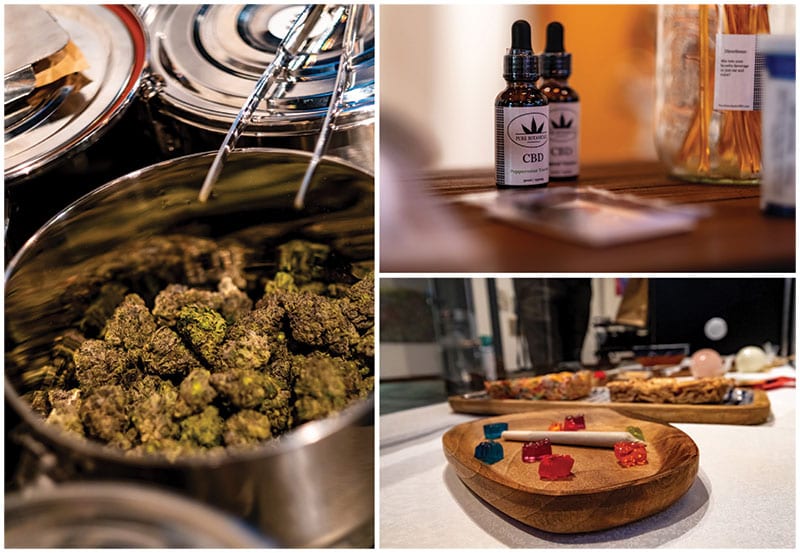 Brittany Carrier, an employee, says that the business recently partnered with an area organization dedicated to helping people with drug addiction.  
"Last month [September 2018] we had an event with Facing Change," she says, referring to the Lewiston-based substance abuse and mental health counseling practice, "using marijuana to get off opiates and things like that."  
Both Richards and Carrier say they are finding that cannabis is helping with addiction-related issues, like withdrawals when people are detoxing from drug use.  
Medicinally, cannabinoids have become a viable alternative to pharmaceuticals, an option that people like Whitney Casavina, of Poland, are choosing. Discharged honorably from the military with a serious back injury, she sought a pain management path that did not involve an array of opioids or other heavy pain medications often prescribed for injuries like hers.  
"It's so easy to get a script when you're in chronic pain," explains Casavina. "It's a big difference to use this instead, and not set myself up for possible addiction."  
She says she also uses cannabis to help with her PTSD and to sleep at night. "It's a much safer alternative than other things that are out there," comments Casavina.  
That opinion is one shared by many others, as evidenced by the growing number of businesses tied to cannabis. Another Sinsemilla patron, E.M., of Auburn, is interested in both homeopathic use and responsible recreation, choosing cannabinoids over alcohol and over-the-counter pain medications.  
E.M. and Casavina agree that behaviorally, they much prefer the effects of cannabis over alcohol, as they feel they are less likely to engage in dangerous or questionable activity. Their sentiments are echoed in volume among the younger generations, as more appear to be choosing marijuana over alcohol (Georgiou, 2018, newsweek.com; Young People Choosing Marijuana Over Alcohol and Cigarettes as Their First Drug).
Changing minds, changing times
It would appear, based on patrons' opinions like those of Casavina and E.M., that Richards and his staff are succeeding in creating an all-inclusive, welcoming environment with purpose, unlike other businesses in the industry.  
In E.M.'s experience, most other storefronts are virtual clichés, where either it's too boutique or too hippy. "I feel like this is the happy blend of people – everyone can come in here. It's kind of like that vibe that encompasses anyone."  
"The first time I came in here — I mean, the employees that work here — they know what they're talking about," reflects Casavina. "They're knowledgeable on everything they have to offer."  
That knowledge is what Cassavina believes is a huge part of why customers return to Sinsemilla. Her experience with other cannabis storefronts didn't have the same welcoming, safe, and informative feeling Richards and his staff provide.  
Being an active and beneficial part of the community is something that is important to Richards and the staff at Sinsemilla. That's why Sinsemilla has hosted events like Medical Card Monday where a qualified nurse is on-site to help patrons go through the medical card process. While anyone can buy CBD products, you must have a medical card to buy products with THC. They also present CBD Restore Yoga, which targets the body, mind, and spirit, beginning with a CBD ceremony followed by 50 minutes of yoga. These kinds of activities help open the channels of communication and involvement.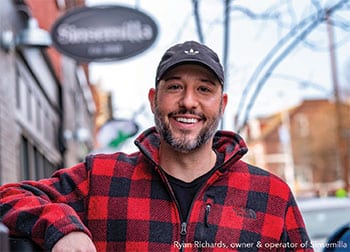 Richards advises anyone considering cannabinoid options should know what it is they are searching for from the plant. Knowing whether the main objective is for health benefits, or if it's simply a preferred recreational indulgence, will assist the staff at Sinsemilla in confidently guiding a person to the best options available.  
In Sinsemilla's future, Richards hopes to include seminars like "Cannabis for Beginners," and to coordinate events with area hospitals and substance abuse services. Their intent is to continue to offer quality products and service, provide education, and work toward dispelling the stigma and misinformation regarding cannabinoids and cannabis, enabling customers to feel more comfortable about their use.  
"We want to be so much more than just buying product; we want to be an overall experience, from start to finish," says Richards, "that feeling right away that this is a place you can just sit on the couch and hang out."  
Sinsemilla
155 Middle Street, Lewiston • Facebook: Sinsemilla.me