Field to Family – by Karen Landry
Blackie's Farm Fresh Produce
A fixture in Lewiston/Auburn for decades now, Blackie's is the go-to place for many seeking fresh local produce. Located in Auburn (the Lewiston location was sold this year) they offer stellar produce and other food at exceptional prices. Blackie's grows some seasonal vegetables such as cucumbers, corn, lettuce, cabbage, carrots, and squash on the family farm in Minot. He also supplements his produce with other local growers (potatoes from the aforementioned Bell Farms or strawberries from Pineland Farms in New Gloucester, for example). More exotic fare, such as pineapples, or out-of-season fruits, veggies, and goods are bought wholesale.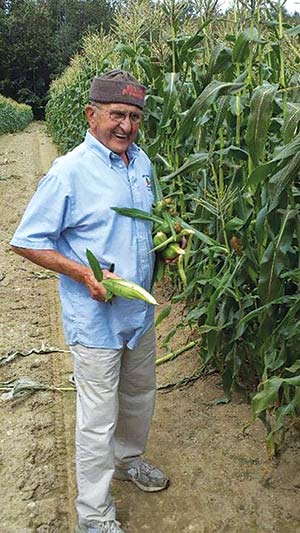 Norman "Blackie" Labbe likes to keep things simple and old school. Why change something if it still works? A character as famous as his farm stand, 86 year-old Blackie still works full time. Whether it's on the farm, or at his desk doing actual "paperwork" (no computers, just phones and fax), Blackie is working hard and keeping it real. He couldn't have done it without his equally diligent wife, Jacqueline, who still works some at the farm stand. The couple raised eight children, ran their farm, and ran the business together. A multiple-time survivor or cancer, Blackie just can't stay home from work.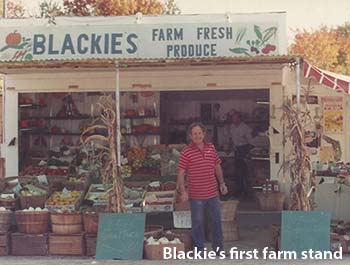 In 2013, the old farm burned down on Christmas Day. (Eerily, 75 years to the day that the family's farm in Turner burned down). Matt Manson, honorary family member who has worked with the Labbes, said the 2013 fire was, "Like a blessing in disguise. That farm was very old. We'd split wood for them, then Blackie and his wife would have to feed the wood-burning furnace all winter. The new farm has a lot of updates to make it easier on them, including an oil furnace."
Blackie, himself, can still be found at his Auburn farm stand, mingling with customers. If he's not handing out lollipops to the little ones, he's joking with the customers. During corn season, most locals can quote Blackie by heart now. He's always reminding them, "Boil the corn for only five minutes!"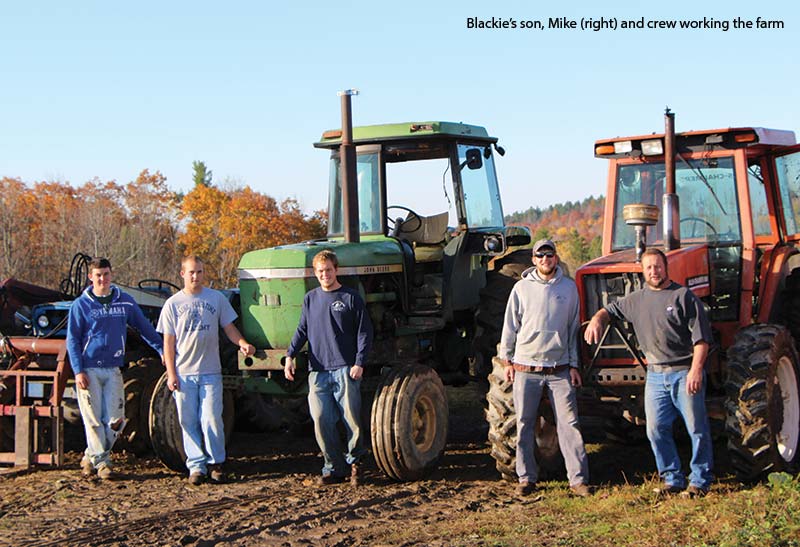 ---
A Fresh Crop Grows at the Reopened Whiting Farm
By Dan Marois
---
A farm that closed its doors in 2013 has found new life and direction under a new owner.
The farm in question is Whiting Farm, an iconic local institution founded some eighty years ago. The Whiting family owned and operated the farm for many years mostly under the watchful guidance of brothers, Elmer and Buster.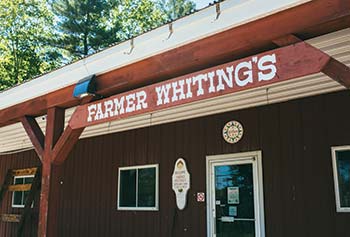 Elmer Whiting closed the farm in the spring of 2013, following the death of his brother and after a medical condition worsened in his right hand. No family members stepped forward to continue the family farm.
Because of debts, Whiting was faced with having to sell the farm to buyers who would have developed the land rather than use it as a working farm.  John F. Murphy Homes JFM) literally "bought the farm" and saved it from extinction.
The new owner is a nonprofit that houses, educates and supports people with physical and intellectual disabilities. JFM Chief Executive Officer, Peter Kowalski, said that the agency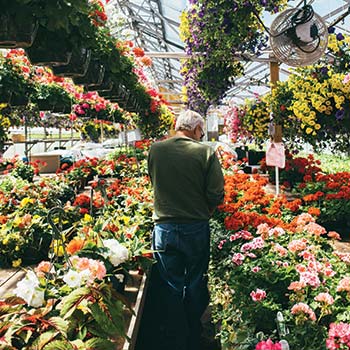 purchased the farm with its 127 acres in December of 2013 for about $600,000.
Running the farm
Kim Finnerty, a former chemistry teacher at Edward Little High School, now serves as Whiting Farm Director for JFM Homes.  She says the farm is an opportunity to continue the mission of the organization and to keep farming alive in the area.
"The farm will provide jobs and developmental programs for Murphy clients. Right now, we have two clients that are employees working in the greenhouses and farm stand and we have eight students from the school that visit once a week," said Finnerty.  "It will also become a resource for anyone in the community who wants to learn about gardening and agriculture.  We are so pleased that we are able to continue the legacy started by the Whitings by keeping the property as a working farm."
Finnerty became familiar with the Whiting Farm when she first brought her chemistry students from the high school there with the goal of teaching chemistry through agriculture.
"I simply used the farm as a classroom in the model of Maine Agriculture in the Classroom, a program that uses farming as a teaching resource," said Finnerty.
In her first year offering the program at the high school, she had 18 students participate.  In the second year, 108 students signed up for the farm learning experience.
Elmer Whiting- volunteer
When JFM Homes acquired the farm, Finnerty left her teaching position to become the full-time leader of the farm and resident visionary of what might happen there.  She's been fortunate to learn from Elmer Whiting, who volunteers at her side in just about every venture.  She says that everything she's learned about farming comes from Elmer.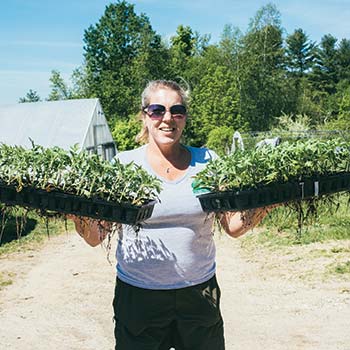 "Elmer is like a father to me," explains Finnerty.  "He shares his knowledge and keeps the farming tradition alive."
The farm will become a combination of old and new ventures in the years ahead.
"We'll have mums in the fall. Poinsettias in the winter," said Finnerty. "In the greenhouses, visitors will find vegetable seedlings, tomato, basil, mint, cabbage and lettuce. There will be the array of hanging flower baskets, tables full of bright red geraniums, marigolds, asters, petunias and pansies."
Finnerty will continue to teach, but her students will be of all ages and backgrounds. "Eventually, the farm will have a very large educational aspect," she said, with visions that the community with thrive at the Whiting Farm.
"The University of Maine Cooperative Extension Master Gardener Volunteers program provides participants with at least 40 hours of in-depth training in the art and science of horticulture," said Finnerty.  "In return, trained Master Gardeners will volunteer their time and expertise for activities at Whiting Farm."
Planting seeds for more programs
Another project will involve the Somali Bantu Community Organization of Lewiston-Auburn, with members growing their own vegetables.  "They come from a farming culture and will be working on 10 acres."
Finnerty said that plans are on tap for the Busy Bee Boxes program.  "Customers can go online and place an order from the food stand and pay for it online.  Then all people have to do is to drive to the stand and everything will be packaged for them in their own box and ready to go."
She envisions the Crock Pot Club where customers can pick up vegetables all cut and processed for crock pot cooking.  "People can simply add their own protein to the mix."
"It would be nice to have our own café," adds Finnerty.  "I can even see a farmer-in-training program in the summer."
FARMER'S MARKETS
LEWISTON FARMER'S MARKET
Late May through mid-October
Summer Market – Bates Mill No. 5 parking lot
Sundays 10:00am to 1:00pm
POLAND FARMER'S MARKET
Mid-June through September
Route 26in the Poland Crossing Plaza
Fridays 2:00pm to 6:00pm
4 SEASON FARMER'S MARKET
Year round
9 Third Street, Auburn
Monday through Friday 12:00pm to 6:00pm,
Saturday 10:00am to 4:00pm
AUBURN FARMER'S MARKET
Late May through early October
67 Mill Street, Auburn (Happy Days Diner parking lot)
Every Tuesday 4:00pm to 7:00pm
KENNEDY PARK FARMER'S MARKET
June through September
120 Park Street, Lewiston, Me.
Every Tuesday 2:00pm to 5:00pm
Community Supported Agriculture
Some local farms offering CSA's are:
Valley View Farm, Auburn
Food Joy and South Auburn Organic Farm
Little Ridge Farm, Lisbon
Nezinscot Farm, Turner
River Rise Farm, Turner
Willow Pond Farm, Sabattus
207-375-6662
Harvest Tide Organics, Brunswick