Written by Donna Keene Rousseau  |  Photography by Brewster Burns
Stanton Bird Club, established in February 1919, is celebrating a century of conservation, stewardship, and service. Over its history, the club has established three sanctuaries on 850 acres of gifted and club-purchased land– Thorncrag Nature and Applesass Hill Sanctuaries in Lewiston, and Woodbury Nature Sanctuary in Monmouth. As responsible stewards, club volunteers have maintained the land's integrity for the continued enjoyment of generations.
Jeri Maurer, Stanton's president since 2015, is particularly proud of the club's history of educational outreach, environmental protection, and perpetual care of the land. In her President's message, she confirms that even 100 years later, the club's objectives remain,
"to increase the protection of wild birds, to stimulate interest in bird life, to establish a model bird sanctuary, to foster and encourage research work in all branches of natural science, to inculcate the love of nature and science, and to perpetuate the memory of Professor Jonathan Stanton," the club's namesake.
A feathered history
Naturally, the birth of Stanton Bird Club (SBC) was wrought of love and concern for birds. Back in the early 1900s, several species of birds had become extinct, owing to the fashion industry's demand for feather plumes on women's hats. Harold Ernest Baynes, nationally known for his advocacy in saving wildlife, came to Lewiston Auburn in 1918, to speak about the plight of birds in the United States. Baynes, who had founded the nation's first bird club, set forth a challenge to the LA community to organize a club, actually refusing to leave the stage unless one was formed that very day. Be assured our community did not dare refuse; even Theodore Roosevelt became the president of a bird club in New York at Baynes' behest!
Although the Stanton Bird Club has always been open to all, many of its original members had ties to Bates College. The club is named in honor of Dr. Jonathan Y. Stanton, a Bates professor who often took his ornithology students on bird outings.
Dr. Alfred Williams Anthony, also from the Bates faculty, presented the club with their first parcel of land in Lewiston. The name "Thorncrag" was coined by Dr. Anthony for the summit of Thorne's Mountain, and "crag" for its rocky nature. Though it was begun with just 45 acres, the sanctuary's current acreage consists of 14 parcels of land totaling 450 acres, varying in size and characteristics, all gifted to or purchased by the club.
In 1929, the daughters of Mary Ann Woodbury gifted a parcel of land in Monmouth to the club. This 160-acre gift served as the beginning of a second preserve, the Woodbury Nature Sanctuary. Years later, after long negotiations, Stanton granted a perpetual easement over its property to Central Maine Power in return for a 240-acre wetland mitigation parcel abutting the existing sanctuary. This property is marked by natural bodies of water – Mud Pond, Jock Stream, and a cedar swamp – in addition to its established meadow and woodlands. Like its fellow Thorncrag, Woodbury is open for the public's enjoyment.
Applesass Hill is the latest of the club's sanctuaries, established in 1930. The two-acre parcel of land, located at the crest of Pleasant Street in Lewiston, was gifted to the club by the Field-Davis family. It was to serve as a "wildflower and bird sanctuary, animal and forest preserve, and arboretum" available for public enjoyment. It is marked by a welcome sign supported by two stone pillars. Today, large pines, oaks and sugar maples reign.
Thorncrag Nature Sanctuary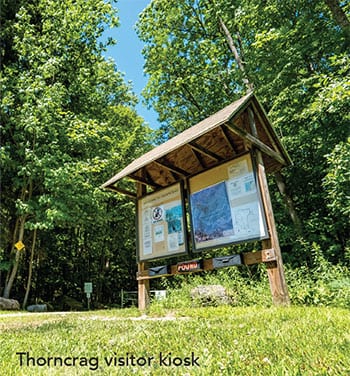 Though a busy city sits along its borders, there is a different bustle in the deep greens of Thorncrag, the largest of the club's sanctuaries. From birdsong to the rustle of brush, visitors discover a world that seems far from the urban clamor of Lewiston.
Explorers can access Thorncrag's preserve from a wildflower-bordered entry area. The visitor kiosk offers maps of the trails and activities of interest. Stone fireplaces, benches, and landmarks all along its network of maintained trails whisper of the sanctuary's historical benefactors and volunteers – the Kate Anthony and Carrie Miller fireplaces, the Landry Bench, and the Trafton Pinnacle Memorial. This last structure is constructed from the stone foundation of a farmhouse owned by the Wood/Michaud family who once owned and worked a parcel of Thorncrag's land.
At the summit, visitors get a 360-degree vista on the environs from the highest point in Lewiston, as well as a view of the Western mountain range and Tuckerman's Ravine.
This landmark's original intent was always more than just a "model bird sanctuary." Dr. Anthony saw his gift as one of great hope; he believed Thorncrag "gave promise of uniting persons of different races, religions, professions and callings, in a broad and inclusive manner perhaps superior to any other organization then existing." So it would seem that some 10-15,000 visitors to Thorncrag each year share his passion.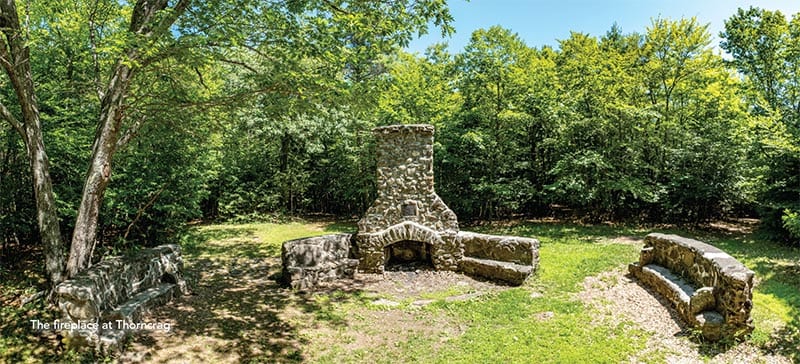 Stewardship
Gary Maurer, Jeri's spouse, has served as a dedicated steward of the club's land for 20 years. He is committed to the year-round care of the wildlife habitats, maintaining trails and land in the midst of the surrounding development His focus is creating a place where nature and people exist in mutual respect.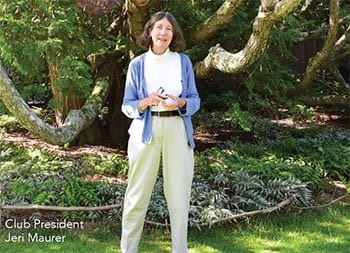 "Like many organizations, the Stanton Bird Club experienced periods of inactivity during its history," explains Gary. "When we [he and Maurer] arrived in the '70s, the sanctuary was a mess, from people using it as a party site. Susan Hayward, a local science teacher and longtime member of the SBC board of directors, headed a cleanup with the help of federal grant money."
Thorncrag now provides an invaluable resource for LA and beyond. The man-made ponds and vernal pools, as well as the surrounding forest and meadowland, all serve as nature-based classrooms for students of all ages. The sanctuary also serves as a demonstration and workshop site for professional and service groups including University of Maine wildlife biologists, wetland engineers, and the Boy and Girl Scouts of America.
Public Programs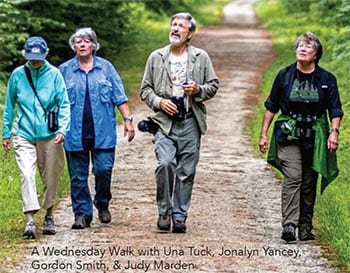 From May through October, the club hosts various birding expeditions, as well as regular Wednesday Walks. These walks consist of two-mile explorations of landscapes close to home and further afield. Knowledgeable guides teach identification, bird song, and migratory patterns. Some of the 14 Wednesday Walk sites for 2019 include have included Riverside Trail in Lewiston, Sherwood Forest in Auburn, the Fitzgerald Preserve in Brunswick, and Packard-Littlefield Farm in Lisbon, as well as several privately-owned properties from Litchfield to New Gloucester.
Field trips, guest speakers, and special events, including the centennial celebration snowshoe trek, are all available to adult members. Offerings from January through June 2019 included visits to Plum Island in Massachusetts, to view birds preparing for migration north; Evergreen Cemetery in Portland, a popular place for spring migrant birds; and Thorncrag, for the annual Larry Nadeau Memorial Walk, to name but a few.
On a wing and a prayer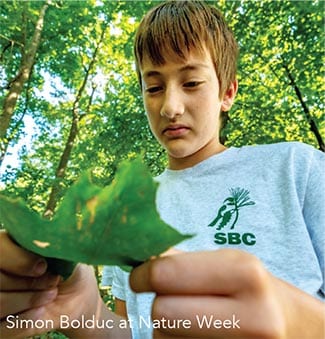 Stanton Bird Club's dual challenge is to hold fast to its original objectives, and ensure the future of the club. SBC is inspiring the next generation of membership by actively engaging youth.
"Thorncrag is such a draw for younger community members," says Jeri Maurer. "By educating the community about Stanton, who we are and what we do, we hope to recruit future members."
As an illustration of growing membership one person at a time, Maurer remembers a child, exuberant after hiking in the sanctuary. "When I asked him what he wanted to do when he grew up, he said, 'I just want to be a member of this Stanton Bird Club!'"
Youth programs for sustainability
Jeri Maurer originally became a club member in the '90s to work with the youth programs. She recalls one young explorer examining a bit of robin's droppings with great intensity.
"He was using his magnifying glass, really studying that poop, when he suddenly shouted, 'My God! I AM AN EXPLORER!'" laughs Maurer.
Indeed, children's excitement for nature serves as a cornerstone for future membership. In the summer, the club hosts Nature Week, when children can explore the elements of nature at Thorncrag. This year's study of earth, wind, fire, and water featured kite flying and making s'mores in solar ovens.
Another way Stanton plants seeds for the next generation of members is the Junior Naturalist Program, designed for children in grades 2 – 6 with an interest in the outdoor world. The group meets at Mr. Drew's Exotic Animal Rescue and Education Center in Lewiston on the first Tuesday of every month, from October to May, with field trips held on the following Saturdays. Drew Desjardins (known as Mr. Drew) and SBC members conduct classes on a variety of natural science and environmental topics and lead field trips around Lewiston Auburn to explore and discover natural habitats. Among this year's field activities: ice fishing and dissecting owl pellets.
"Every month is a new surprise," says Junior Naturalist Nelson Bolduc, age 11. "Sometimes we handle reptiles or eat bugs, or take a scavenger hunt. It's a lot of fun."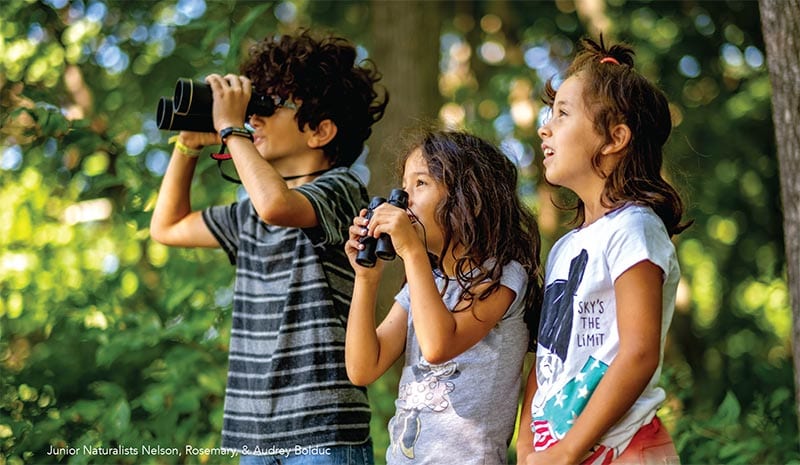 "The group's goal," says Program Coordinator Nancy Long, "is to help children learn about nature and become good land stewards. They can recognize the importance of their role in the protection of our natural resources in Maine."
In addition to guest speakers and special programs, Junior Naturalists also lead "Bird of the Month" presentations involving a selected Maine native bird or one that migrates through Maine. The children create posters about each bird, their nest and eggs, plus fun facts.
Program alumnus Simon Bolduc, now 12, recalls, "The most exciting experience was making the bird presentations, because they were on display in the kiosk for a few weeks."
Long says this year's programming will include children's book author Melissa Kim reading her book, A Snowy Owl Story. Other programs include presentations on Maine's fish, "Bugs for Dinner," and celebrating National Save a Spider Day on March 14.
Those who wander
Those who wander and wonder have always led the way, and the Stanton Bird Club plans to continue in that tradition, inviting others to come along for the hike. There is always work to be done by the club members. Working with a small budget, volunteers serve as the land's lifeblood, performing vital labors of love.
Their latest project is a gift of an 80-acre contiguous parcel of meadowland within Thorncrag. With recent concerns over bees and pollination in the news, Gary Maurer says he and club volunteers plan to design smaller gardens of indigenous plants and flowers that support pollinators – bees, insects, butterflies, and birds – and help the environment sustain itself.
Sustainable living is an idea "on trend" with the younger generation, and nature may be the best teacher for demonstrating the intricate balance necessary. "Did you know," asks Maurer, "that 90-95% of songbirds feed their young only caterpillars, or that an oak tree supports 300 types of caterpillars? One chickadee nest – one set of parents- must feed their young approximately 5,000 caterpillars to get them to fledglings. Helping people understand how a habitat sustains its wildlife will be especially important as urban development continues," he explains.
Precious gift
For one hundred years, the membership of the Stanton Bird Club has called people to the woods, imparting their knowledge, and sharing their love of nature. For the next century, their hope is that nature will make its mark on the hearts of its explorers.
"What a gift these early people gave us in Thorncrag," Maurer reflects, "in the middle of the city, a place of discovery, solace, and health. And the best part of all, everything is free."
Stanton Bird Club
https://stantonbirdclub.org/